U.S. national parks to enjoy the winter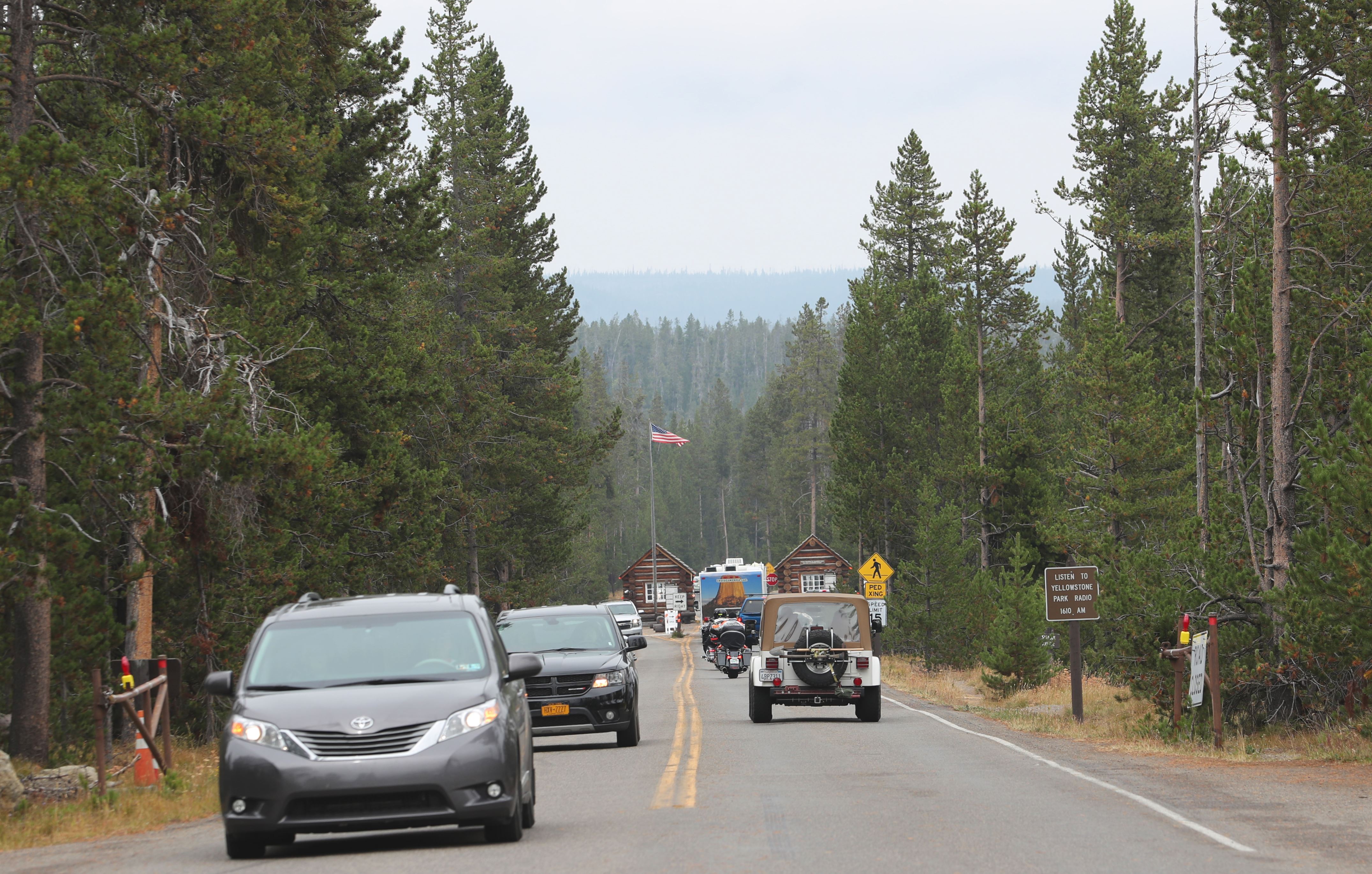 U.S. national parks to enjoy the winter
Although for many, holidaying in the country's national parks is a summer staple, for others, colder temperatures bring out the best of the parks. Wildlife, stunning landscapes and smaller crowds are just a few of the perks of visiting then.
This winter, instead of running away from the snow, put on your hiking boots and head to these 20 U.S. national parks.
Rocky Mountain National Park
With snow-capped peaks above 12,000 feet, Rocky Mountain National Park, in the State of Colorado, is a perfect destination for ice climbing, winter mountaineering, sledding, snowshoeing, skiing, or simply taking in the view. It is one of the few national parks that allows wilderness camping in the winter, but do check in with rangers first as the area is avalanche-prone.
Bryce Canyon National Park
Bryce Canyon National Park's hoodoos—those famous red rock spires—become even more awe-inspiring when covered in a fresh dusting of sparkly snow. In the daytime, the park's temperature rarely drops below freezing, and at nighttime, stargazing opportunities are excellent, making it a perfect winter destination. There are also free ranger-guided full moon snowshoe hikes and astronomy sessions. Additionally, a winter festival is held each year in this Utah national park.
Arches National Park
Some say that Utah's Arches National Park offers some of America's most breathtaking scenery: the contrast of the white snow with the red rocks and the blue skies creates majestic sights. Most of the park's hiking trails are open year-round, but even scant snowfall can make some impassable, so be sure to plan ahead for the chance to see Delicate Arch topped with a layer of fresh snow.
Grand Teton National Park
Grand Teton National Park's mountains are covered in snow from November to May, making for jaw-dropping landscapes to photograph. This Wyoming park is a haven for cold-weather fanatics (the coldest temperature ever recorded was -63°F!), but requires some planning to visit in the winter, as some roads are inaccessible.
Mount Rainier National Park
Washington's Mount Rainier National Park shines in the winter. From snowshoeing and skiing to sledding and ice climbing, the aptly named Paradise area offers it all. It is truly a snow lover's dream: it receives an average of 53 feet of snow every year!
Yosemite National Park
In the summer, Yosemite National Park can get busy. Winter is therefore a perfect time to take in this California park's striking landscapes, especially beautiful in a light dusting of snow. Some roads close during the cold season, but many areas remain open for winter sports enthusiasts. Also, stop at the Half Dome Village skating rink, opened since the 1930s.
Denali National Park and Preserve
Of course, Alaska is a prime destination for winter tourism, and Denali National Park and Preserve is no exception. Daylight is short (sometimes as little as five hours per day), but this should not stop you from visiting. While the sun is out, try snowshoeing, skiing or dog sledding, and at night, if you are lucky, you may get a glimpse of the aurora borealis.
Apostle Islands National Lakeshore
Located in Wisconsin, Apostle Islands National Lakeshore is home to impressive ice caverns along the shores of Lake Superior. When icy, these orange rock formations become even more ethereal. This breathtaking landscape is a photographer's dream.
Lassen Volcanic National Park
Winter is long at the Lassen Volcanic National Park, stretching from October through June. This California park is great for backcountry skiing, but also for snowshoeing, sledding or simply taking in the snow-covered views.
Zion National Park
The sunrises at Utah's Zion National Park are a sight to be seen, especially in the winter. The snow, in contrast to the red rock canyon and colored skies, simply sparkles. During the colder months, some trails close, but temperatures remain comfortable, making it a perfect destination for a tranquil hike.
Acadia National Park
On average, five feet of snow blanket Maine's Acadia National Park each year. Waves wildly crash on its ice-coated coastal cliffs, a sight to be seen in this paradise for cross-country skiers, snowmobilers and snowshoers. Dog sledding and ice fishing are also available, as well as abundant wildlife spotting opportunities.
Great Smoky Mountains National Park
Often referred to as "The Smokies", Great Smoky Mountains National Park is located in North Carolina and Tennessee. Winter allows for a completely different experience in America's most visited park. The site of parts of the famed Appalachian Trail becomes a true winter wonderland when its trees are cloaked in white, and it is a great place to spot wildlife.
Glacier National Park
If its name wasn't a good enough indication, Glacier National Park, located in Montana, is a fantastic place to visit in the wintertime. You will need to use skis or snowshoes to discover the most spectacular scenery. Sunsets are particularly breathtaking, and backcountry camping is allowed in certain areas.
Crater Lake National Park
Crater Lake National Park never fails to amaze in the winter. An average of 43 feet of snow falls on this Oregon national park each year, which contributes to Crater Lake! Some roads close in the winter, but the road up to Rim Village is normally plowed. Ranger-led hikes are offered every weekend, and there are also extensive skiing and snowshoeing trails.
Yellowstone National Park
Yellowstone National Park offers some of the most stunning landscapes in the country, and this scenery only becomes more bizarre and impressive when the air is crisp and cold. Located at the border of Wyoming, Idaho and Montana, it is home to one of the world's most famous geysers, Old Faithful, which sometimes gets overrun with tourists in the summer; take advantage of winter to observe this phenomenon in serenity. Snowcoach, ski and snowshoe tours are offered in the park, which also has great wildlife spotting opportunities.
Grand Canyon National Park
A helicopter tour is one of the best ways to experience Arizona's Grand Canyon National Park, and it is no different in winter, when you may even spot a fresh dusting of snow in some areas. Only the south rim is open year-round, but it still offers visitors plenty to see. The canyon floor has jaw-dropping hiking trails, and Phantom Ranch is absolutely worth a visit.
Olympic National Park
Olympic National Park comes alive in the winter. Located on Washington's coast, it has three distinct ecosystems: of course, the shore, but also old-growth forest and subalpine meadows, and each offers very different landscapes. The Hurricane Ridge section of the park, named for its cold winds, is great for winter activities including skiing, snowboarding, sledding, tubing and snowshoeing.
Joshua Tree National Park
Winter is a perfect time to see Joshua Tree National Park's iconic spiky trees and towering boulder formations in pleasant temperatures—summers can get too hot for comfort. While snowfall does sometimes happen in this region of California, most winter days offer clear skies and a temperature in the 60s, great for hiking and climbing.
Death Valley National Park
Another park known for its sweltering summer temperatures, Death Valley National Park is a lot more comfortable in the wintertime, and you may even catch snow-capped mountain peaks. This actually means that winter is high season, so it's best to reserve to guarantee admittance. Located in both California and Nevada, it also offers amazing stargazing opportunities at night and many events are organized.
Everglades National Park
If winter truly is not your thing, it is by far the best time to visit Florida's Everglades National Park. When temperatures are dropping around the country, it becomes a great place to escape the cold and observe the abundant wildlife. Mild temperatures and low humidity mean fewer mosquitoes and optimal migratory bird watching conditions.
Source: Read Full Article