Alaska's Tongass by foot, ATV and boat with Princess
As our small tour bus rolled out of Juneau, my group of about two dozen cruisers began spotting eagles sparring on building roofs and perched on trees, as prevalent as seagulls in coastal cities in the Lower 48. Bubbly with a sense of awe at the wildlife and surrounding mountains, we loaded up on bags of nuts from the bus and headed into Tongass National Forest, America's largest national forest.
The temperate rainforest covers most of Southeast Alaska and lines the Inside Passage, where most cruisers find themselves in Alaska. As a fan of heart-pumping adventure, I found myself in Tongass multiple times while venturing on land during a Princess Cruises sailing in July. 
I was on a seven-day itinerary on the Royal Princess that included three calls that touch the Tongass: Juneau, Skagway and Ketchikan. 
Princess offered various ways to experience the forest, and I wandered into the woods at each stop, including once to hike and once to drive an all-terrain vehicle (ATV) for the first time.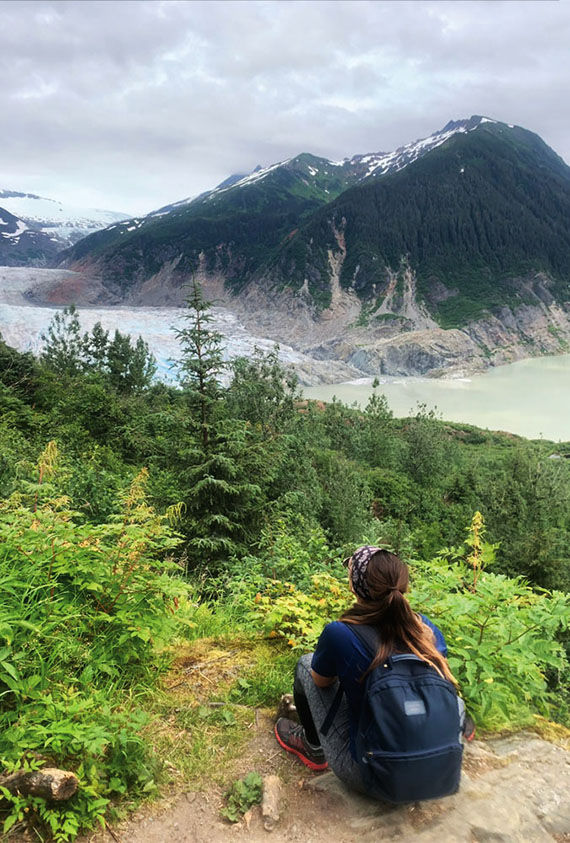 On foot
Juneau was our first stop, and as an avid hiker anxious to stretch her legs after a day at sea, I was ready for the climb to see my first glacier. 
This excursion was called the Mendenhall Glacier Guide's Choice hike, and one of my guides, Karina, said this trail was her favorite that they offer. We began at a sign showing how far the glacier stretched in 1910, a sobering reminder of its shrinking size. 
We would hike about two-and-a-half miles up the West Glacier trail then back down, climbing 800 feet to get a view from above the iconic glacier that graces T-shirts and hats in Juneau gift shops.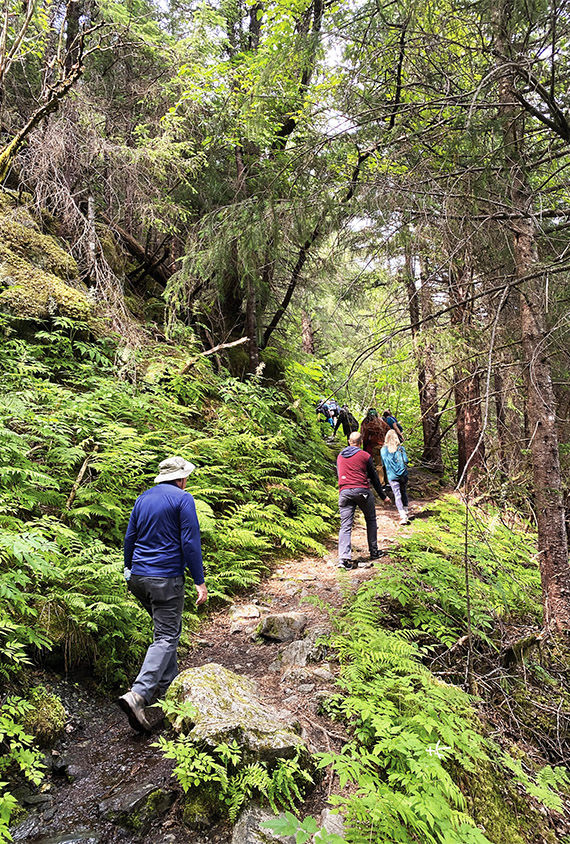 The hike, arranged by Princess and provided by Gastineau Guides, began with calm terrain and occasional breaks to learn about glaciers, the ecosystem, Sitka spruce trees and glacier flour, the powder-like silt caused by glaciers grinding rock. 
The trail began as a soft bed of spruce needles and transitioned to rock, including a granite staircase that led to a view above the glacier. The hike was rated as strenuous, although avid hikers may find it more moderate. Three stretches of incline were aided by metal ropes that I found largely unnecessary, but at times helpful. A few steep areas still took the wind out of all of us, but the trail transitioned to switchbacks until we reached another clearing with views above the glacier. All but one of us made it (and that person was worried about a recently replaced knee.)
As we gazed at the glacier, our guides explained that the cuts of blue were due to the ice's inability to absorb that wavelength of light. 
After catching our breath, we took photos of the glacier, knowing it would look different if any of us were to see it again.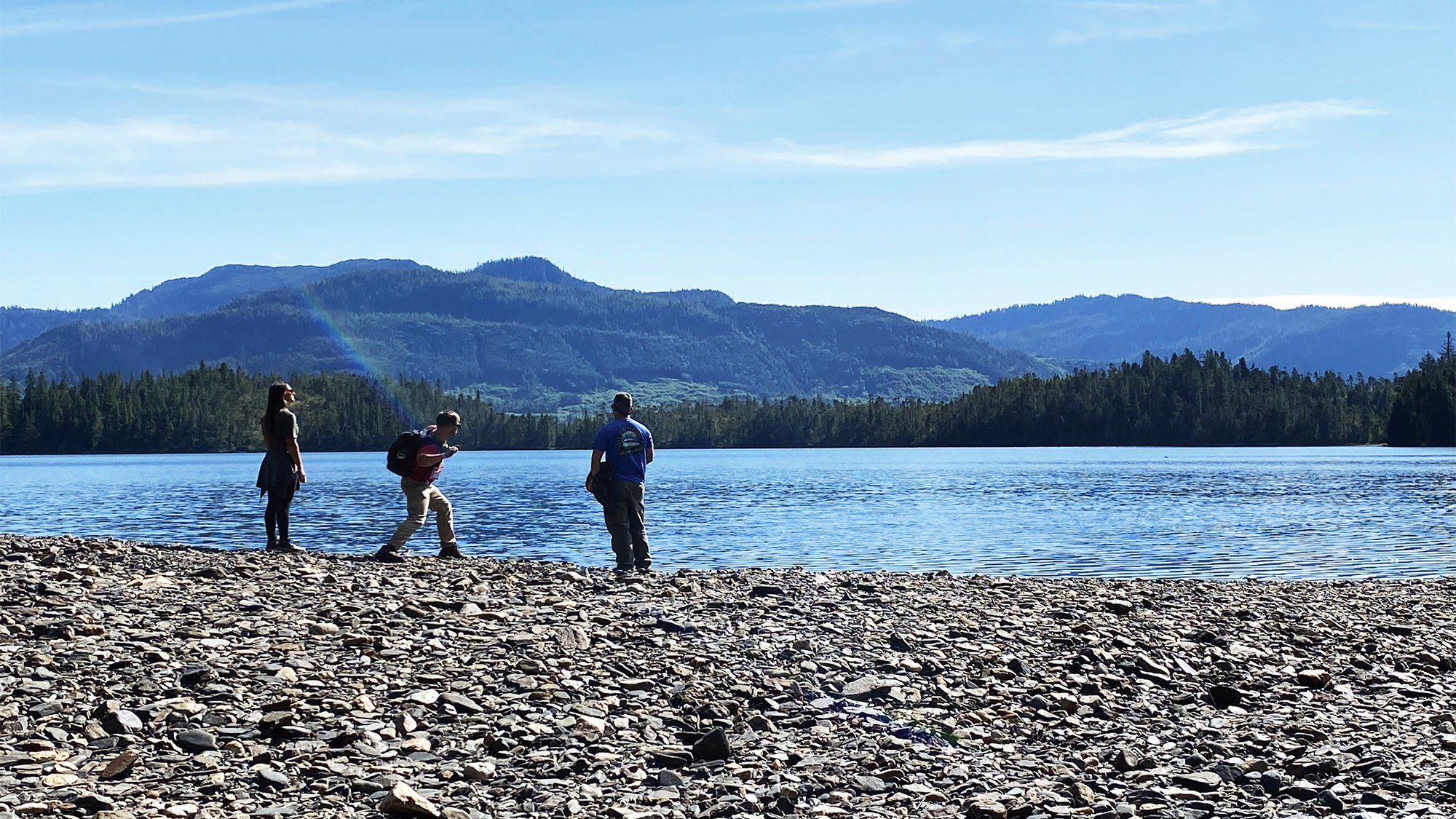 On wheels
The helmets, set on racks at Ketchikan Adventurevue, looked intimidatingly large. I found one in my size and walked out to the dirt parking lot to pick out my ride. 
My father and I were signed up for an off-road ATV safari tour up an old logging road beside the George Inlet. We took in a wide view of the camel hump-like hills before choosing our ATV, which would carry us to views of Mahoney Falls and Mahoney Lake. After some discussion, my father and I decided it would be more fun for us to ride in the same car instead of solo.
This vehicle was meant to get dirty. I was excited by the dusting of dirt inside and out on the open-air Yamaha, including on the dashboard and in its cup holders. We were warned we'd get dirty on this ride, but not one person in our group of at least two dozen wanted to wear the jackets offered by our tour guides.
This excursion has its limits: No children under 8 years old, no one more than 7 feet tall or weighing over 300 pounds.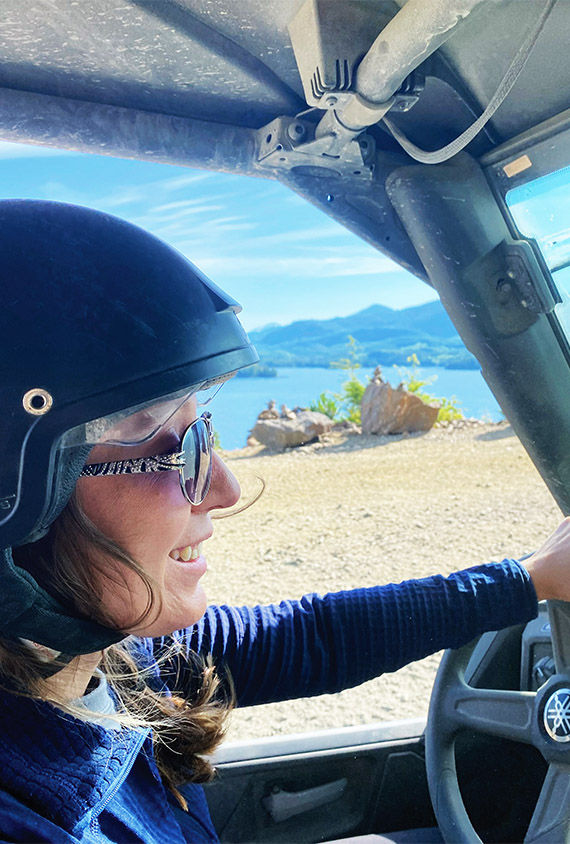 I took the wheel first. The engine roared to life, and we followed our tour guide up the mountain in a line like a brood of ducklings. We drove over rocks and dirt and were encouraged not to avoid potholes — these vehicles are made for it, our guide Collin said. His biggest warning was to watch the side of the dirt path to avoid sliding off the road.
Initially hesitant to go too fast or drive over rocks, I found the vehicle could handle a speed of at least 21 mph and that rocks were no obstacle for the ATV. I watched out of the corner of my eye as my dad bounced up and down in the passenger seat with every pothole and rock. I grinned as we turned a corner to a view of a snowy mountaintop: Not only were we in the same expansive forest that I had hiked in Juneau, but I could still see snow-crusted mountaintops.
After about half an hour, Mahoney Falls came into view above us, and our tour guide had us pull over to the side of the road. The quiet, 500-foot walk to Mahoney Lake felt serene after the rumble of ATV engines and the bouncing from the rocky terrain. The lake's surface was virtually still as it captured the reflection of the mountain beside it. Some guests skipped rocks on the water, others just drank in the view.
On our walk back to the ATVs for round two, our guide picked bright-orange salmonberries for us along the path, a tart but fun treat straight off the bush. 
The way down the mountain was just as fun as the way up. My father drove, pointing out views we missed on the way up, like a nearby creek. Other times, he pushed the gas.
And dirty we surely got. The weather had been dry, leaving me with a thin layer of dust on my pants and shirt, some of which I left on as a badge of honor. My water bottle earned its layer of dirt, too. 
Our excursion was followed by lunch and a beer tasting at George Inlet Lodge, a 20-minute boat ride away. During the ride our guide passed around various starfish for guests to view and told us about the whales that enter the bay.
At the lodge we were treated to five types of craft beer, a tasty corn chowder and crab — along with a tutorial on how to crack their shells. It was a fine way to wash down a morning of adventure.
Source: Read Full Article