The new hardcore hiking route trying to save Egypt's Bedouin heritage
"Rainbow people make this," says Mussalem as he resets the mystical-looking stones decorating the sand. He is talking about The Rainbow Family of Living Light – the Oregon-born group committed to achieving peace and love on earth which holds gatherings in Egypt. "From all over the world they came here to feast, to play music, just to be in a natural place. Some very intelligent, very wise." He looks up and smiles: "Some crazy."
Though I might not be in The Rainbow Family myself, packing a £10 eBay tent with snapped poles, boots now bound by duct tape and shouldering a rucksack held together with string, a few days into Egypt's first long-distance hiking route it's clear to which category I belong.
The 137-mile-long Sinai Trail, or Darb Sina, is part of a Middle East-wide hiking network voted the number one new trail in the world by National Geographic. It's neither the longest or the hardest of the world's long-distance routes but hiking a landscape steeped in history, guided by Bedouin whose lives are intertwined with the land, is definitely one of the most rewarding.
These days life is hard for the Bedouin of Sinai. Generations past led pilgrims through the mountains to the 6th century St Catherine's monastery or far further beyond to Mecca. In recent years events such as the Arab spring, revolution, coup d'état, insurgency and an airliner bombing have curtailed tourism in Sinai. "This trail creates work in a difficult time," says Mussalem. "But not just any work."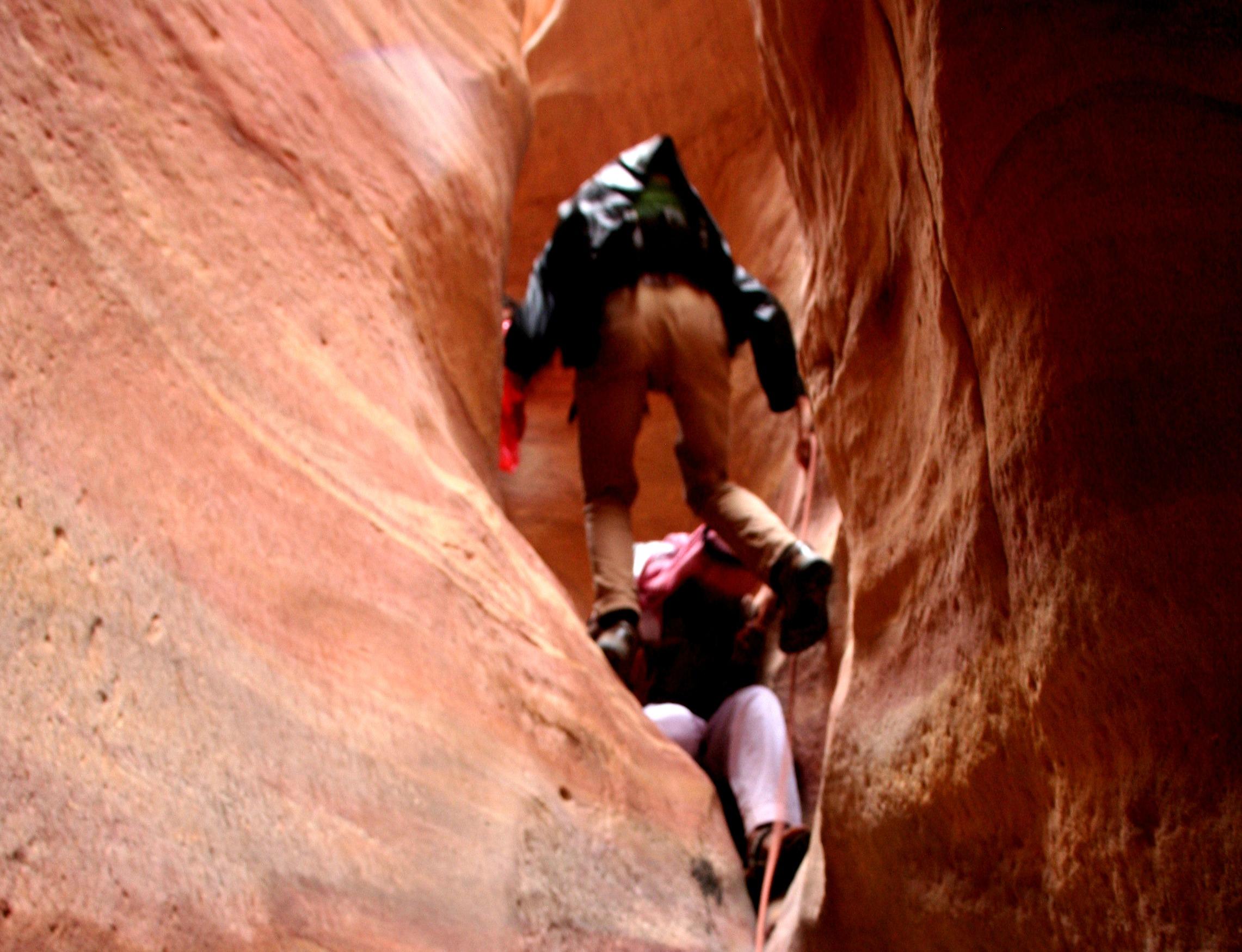 "We are worried a little bit about our culture – the young Bedouin, they don't know much," says Nassr, another guide. "We want to keep travelling, living the simple life. We want to keep our tribes, our families together. Training new guides means there will be others to carry on." The trail is the collective endeavour of three Bedouin tribes, championed by local volunteers, and an NGO – with no help from the government.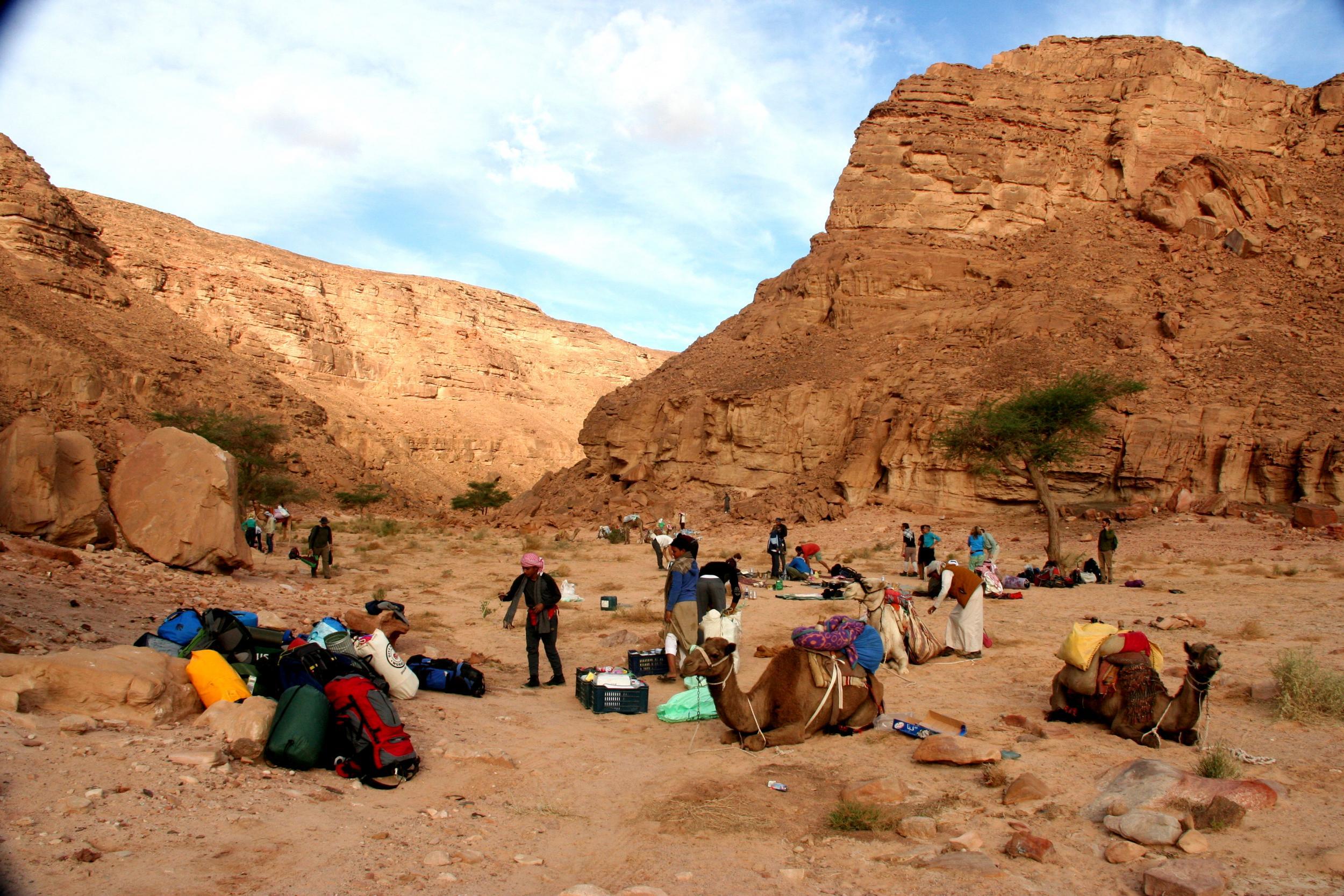 Since leaving the Gulf of Aqaba at Ras Shitan on the Sinai coast we've walked through desert wadis, squeezed through intestinal gorges, and used rope to haul each other through epic boulder fields. The route is expected to take 12 days, ending on the summit of Egypt's highest mountain, Jebel Katarina.
Now around 35km in we reach the towering stack of Jebel Milehis in south-east Sinai. Below, pillared rock formations carpeted with soft, ochre sand create a natural amphitheatre. The caravan relaxes into a disarray of tents, bed rolls and bags. This is home for the night. The camels settle too – into nosebags of corn, for once silent in their deep-seated disdain for our enterprise.
We number 22, mostly Egyptian along with resident foreigners and a few visiting ones. Bedouin guides from southern Sinai's Tarabin, Muzeina and Jebelaya tribes lead the way, supported by a changing cast of trainee guides, cooks, cameleers and camels. Ours is the first group to brave the entire trail.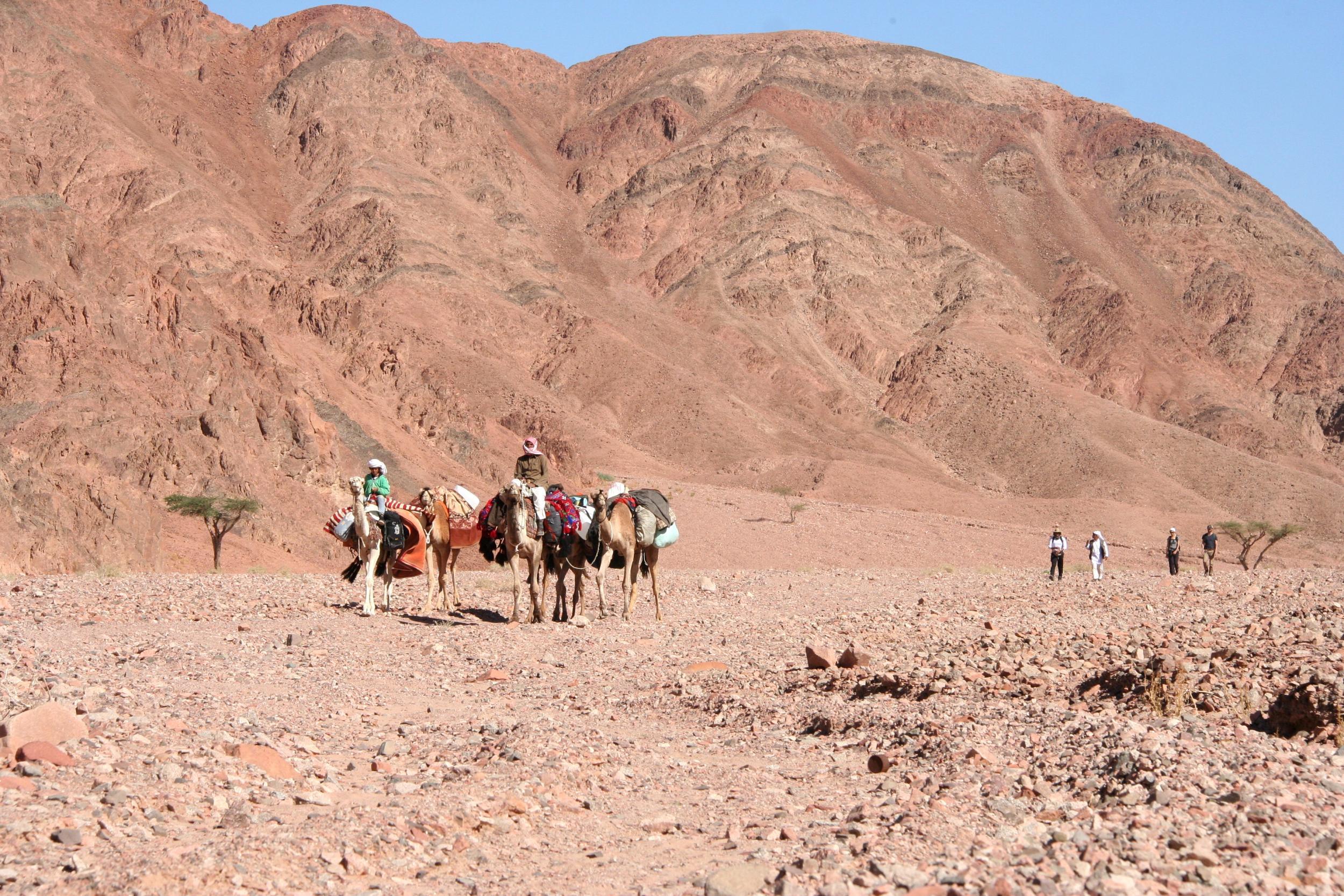 In the morning it's the ascent of Jebel Milehis. Steep at first, weathered sandstone is clean and firm, the easy grip a welcome change from soft sand. The party is soon strung out, the two Mohameds leading us – wiry, surefooted Jordanians – to the fore as usual. I inhabit the sweaty midfield, exchanging exaggeratedly polite chitchat with an Egyptian translator fascinated by British idioms. "I'm still glad we got rid of you bastards," he says. Soon the track loses its sense of humour. Precipitous ledges test nerves but when help is needed a firm Bedouin hand is never far away.
At the first ridge hard-won height is grudgingly ceded as the path drops in a rearwards approach to the summit. We walk in full sun, sweat stinging our eyes. Nassr points out petroglyphs on jutting boulders – social media from another age. "Look at the camel tails – they're up." A tribal skirmish is recorded in stone. Riders gallop, spears and bows raised. These are the victors.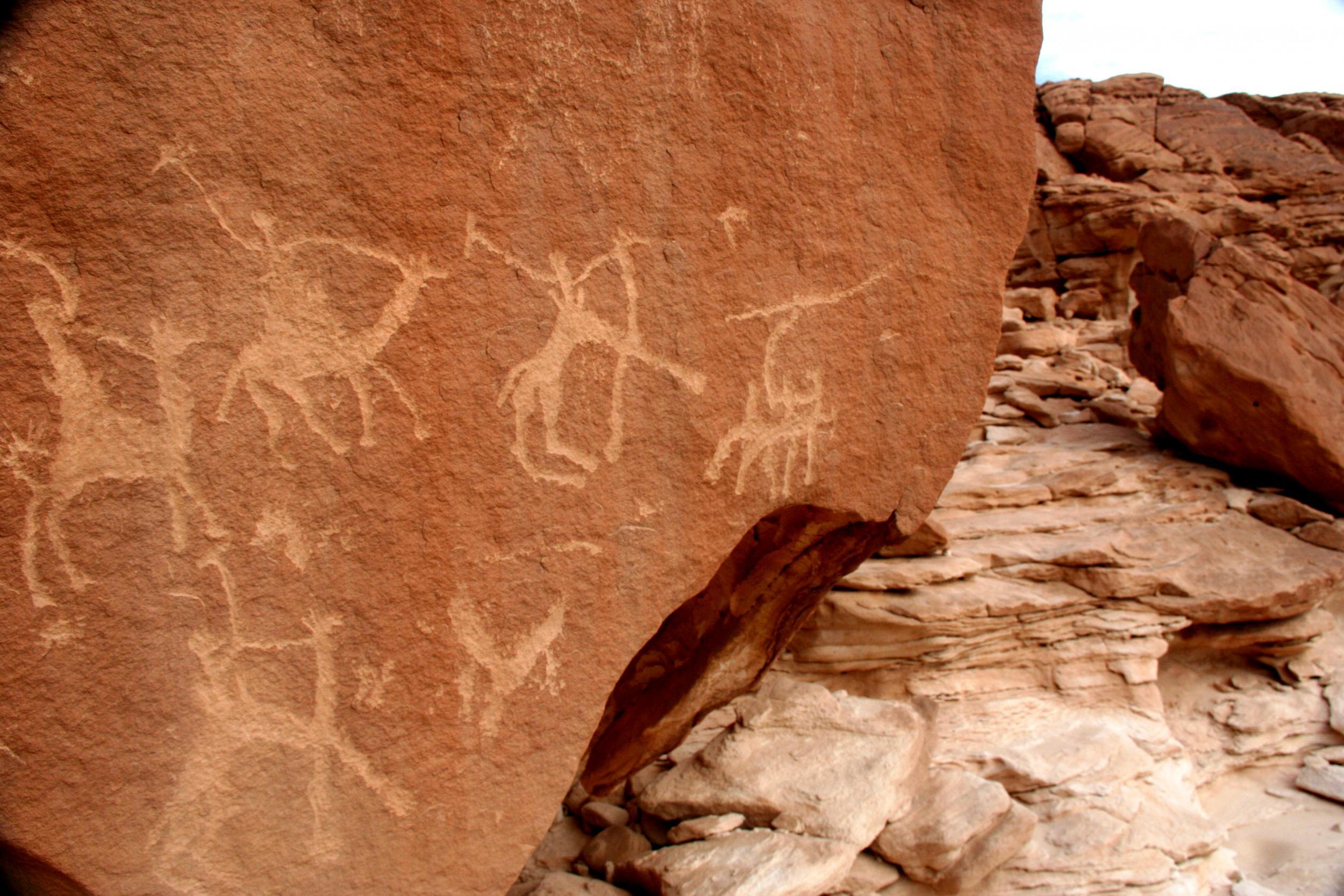 Petroglyphs record a tribal skirmish near Jebel Mileihis
Now begins the real climb. An indistinct path zigzags across a scree face. "Be careful," Mussalem, "there are many loose rocks, think of the persons below." He is right. Tumbling rocks and shouts of warning punctuate the ascent. Pausing to drink I peer down. The landscape appears unforgiving – and it is.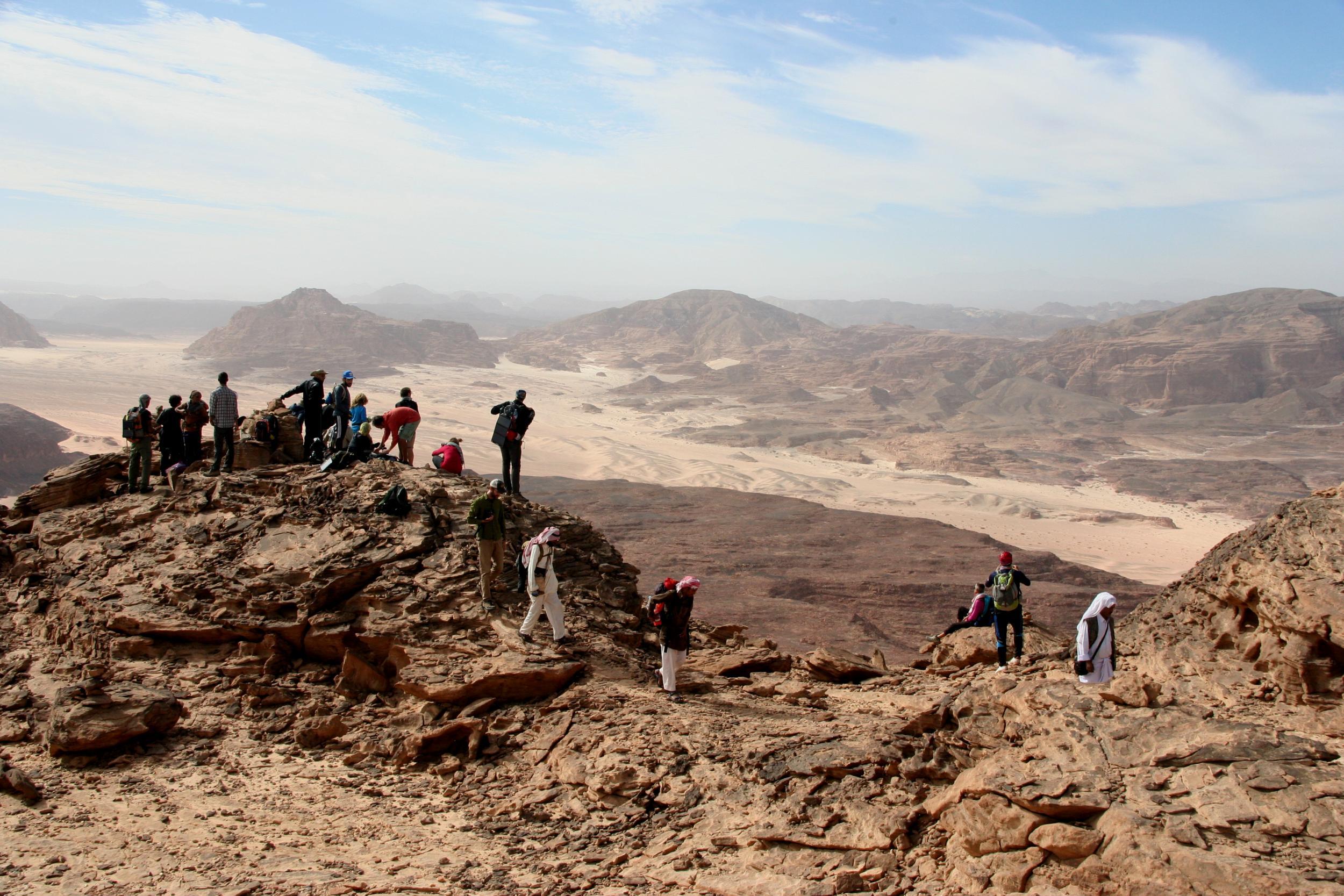 Eventually the summit dome heaves into view. Alternately baked by the sun and chilled by desert nights, bare rock acquires ceramic fragility, tinkling as we walked over it. Looking east, the Gulf of Aqaba is visible, beyond it rises the emphatic ridgeline of Saudi Arabia's mighty Hejaz mountains. One of the Jordanians takes out a flute and plays. His companion rolls a cigarette. Others lay on their backs, keffiyehs covering their faces. Six mountains lie along the trail.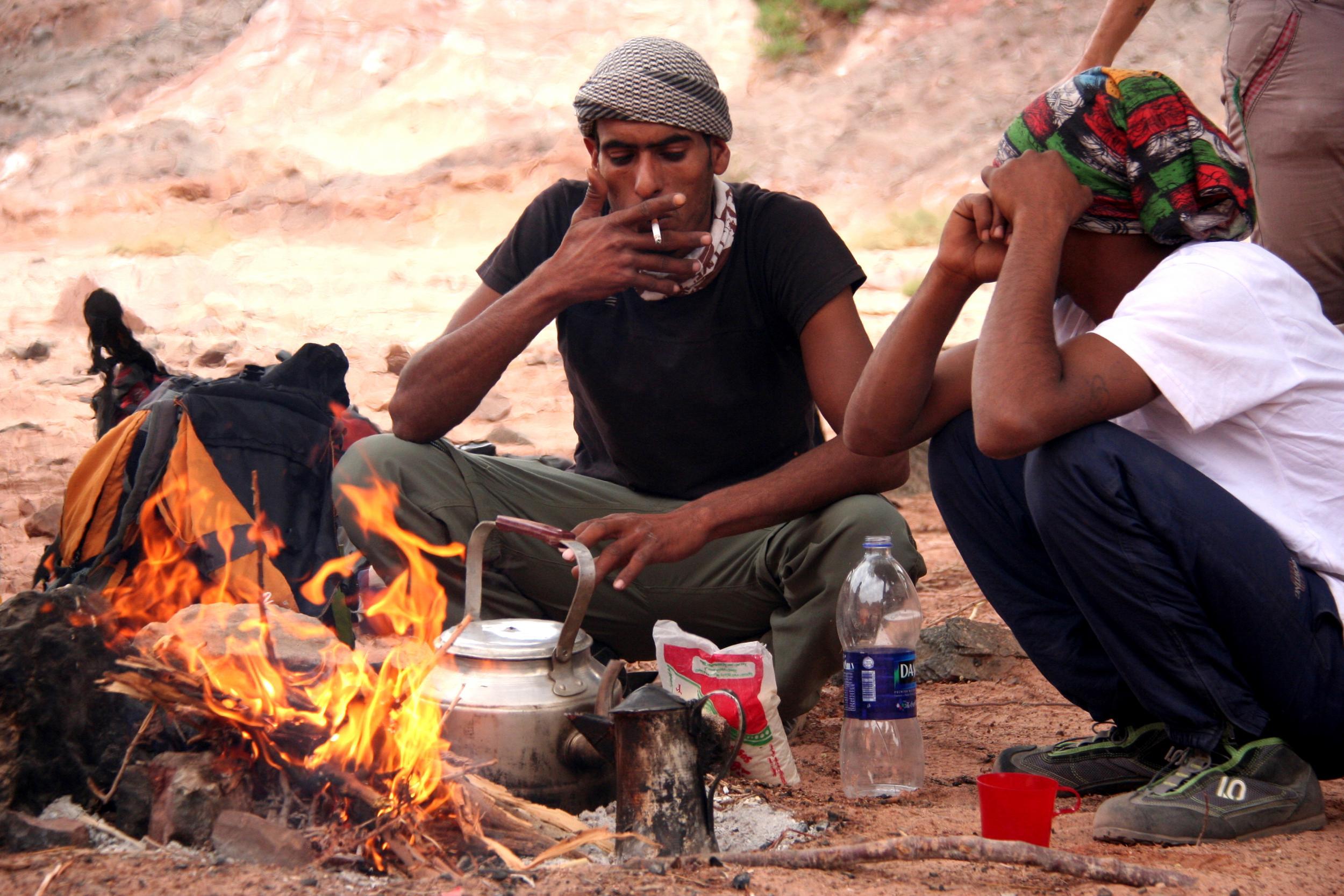 Surefooted Jordanians Mohamed and Mohamed rest up with sweet tea and cigarettes
After the immense expanse of the Blue Desert, 18 hikers remain, with sickness, fatigue and muscle strain having retired there others. These guys have grown stronger, more confident. Making camp by torchlight, harried by bone-chilling winds, levels us all. Ahead it is higher, colder and more remote.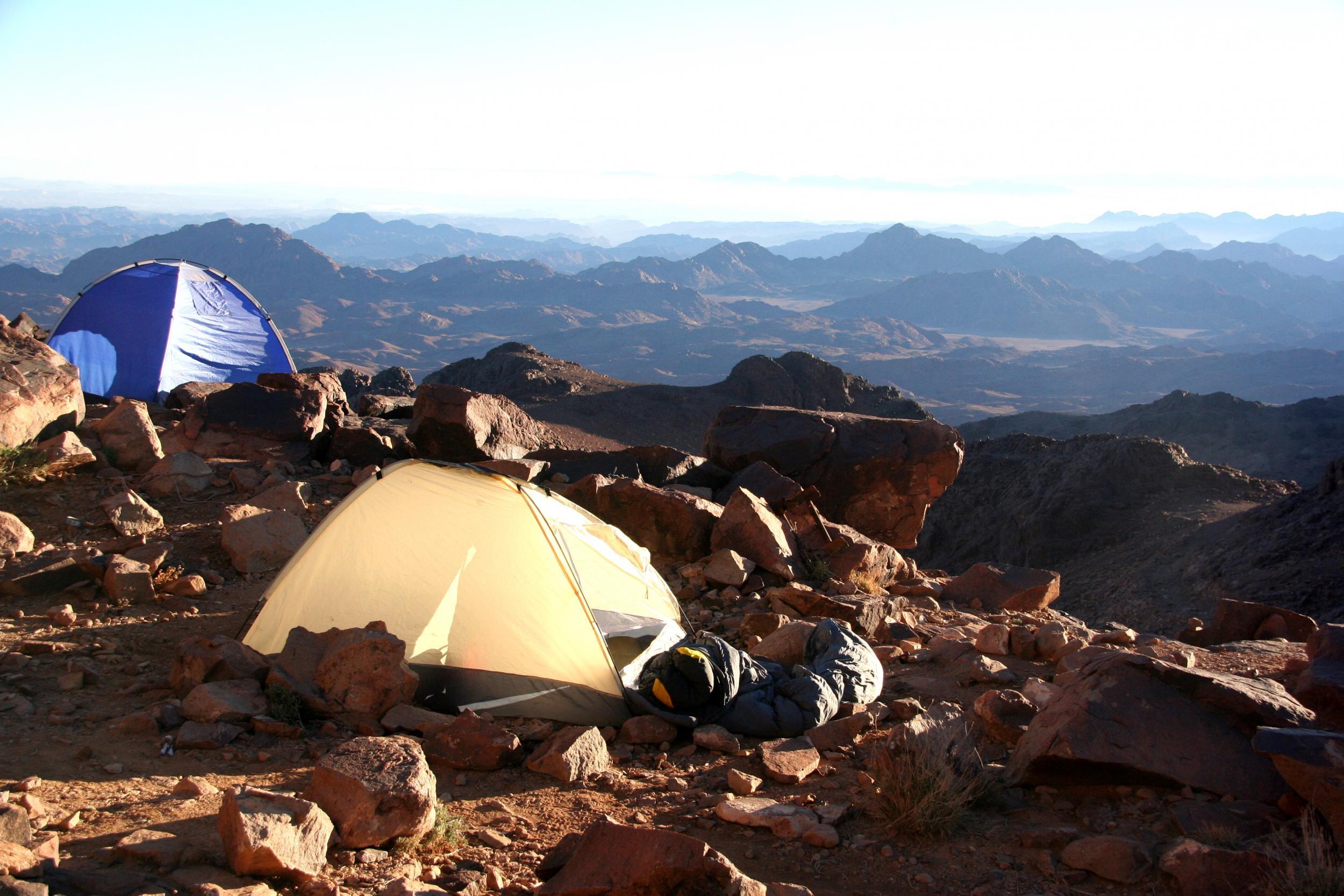 Entering the High Mountains of Egypt, a circle of jagged peaks surrounding Jebel Katarina, morning sunshine accompanies flurries of frost shaken from tents. Jebel Katarina delivers its promise of an unrelenting climb, opposed by icy winds and taunted by false summits. Firewood gathered along the way is strapped to rucksacks. Conversations are lost to buffeting gusts. Private thoughts, expletives for each misplaced footfall, compete with laboured breathes and thumping heartbeats.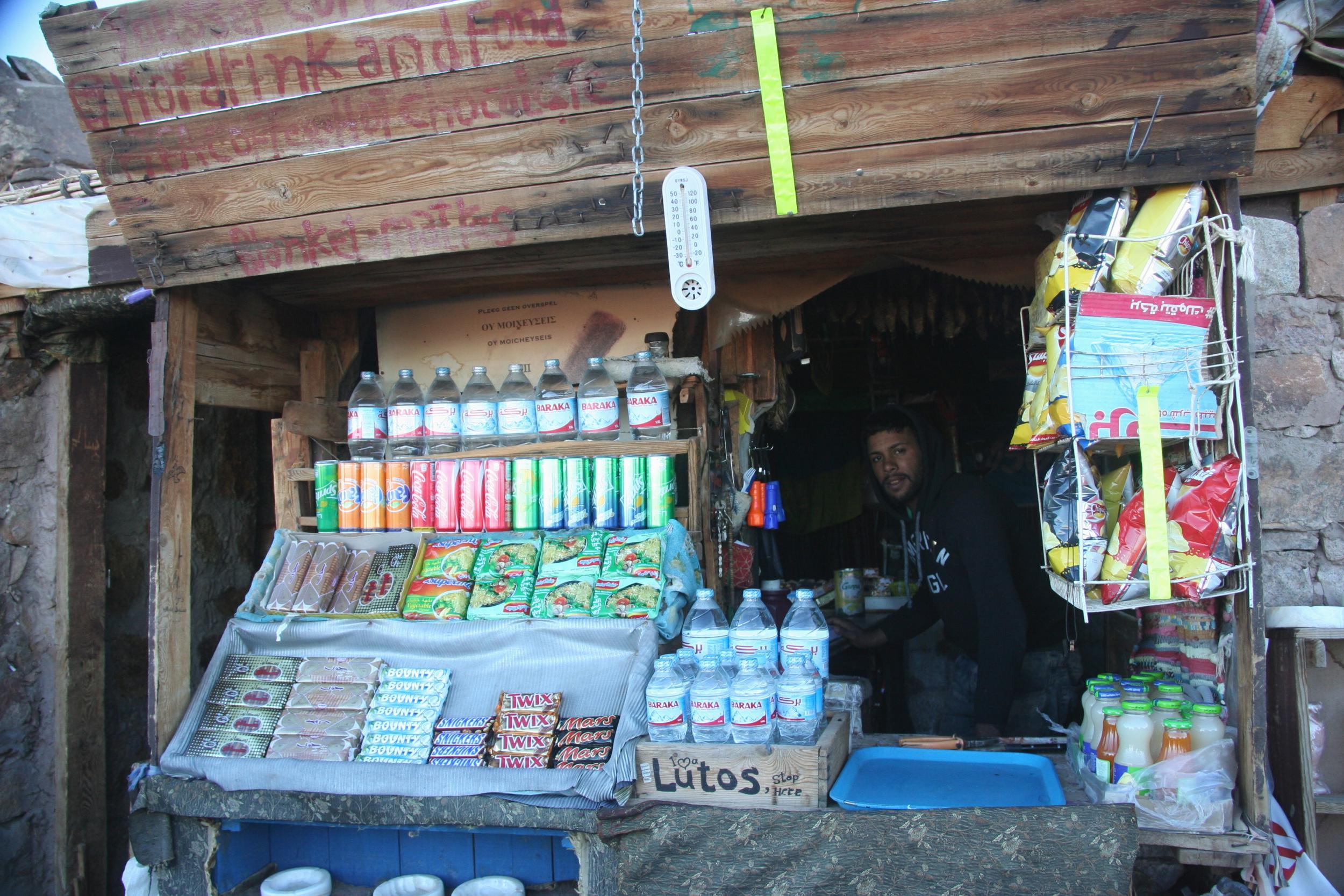 The sun sets over Africa as we reach the highest point. Photographs are taken, embraces exchanged. Burnt umbra skies bleach, fade to grey, then darken. Later, huddled around a smoky fire, sheltered by the walls of a half-enclosed refuge, Nassr pours glasses of hot chocolate for some and so-called Egyptian champagne for others. (Not bad actually – better than some proseccos.) "The people of the villages, they've heard about those who walked Darb Sina. It's been a long time since so many have trekked," says Nassr. "The Bedouin are happy, there will be work again. And each one of you, now you have a story."
Travel essentials
Getting there
Turkish Airlines (0844 800 6666; turkishairlines.com) flies from Edinburgh, Manchester, Birmingham and London to Sharm El Sheikh up to four times a week; from £265 return. Note that British airlines are currently barred from flying to Sharm El Sheikh. See the latest guidance.
Hikers will need to take a taxi from Sharm El Sheikh to begin the trail. Sinaitrail.org will book; a one-way ride should cost 500 Egyptian pounds (approx £25 sterling).
Hiking there
Sinaitrail.org co-ordinates treks with Bedouin tribes, from 7,500 Egyptian pounds per person (approx £380). The next departure is 4 April.
More information
The blog gotellitonthemountain.net offers more guidance and advice.
Source: Read Full Article