Tunisia is finally embracing its Berber culture
I didn't expect the sky to be white. There's a sandstorm in the Sahara and I'm at its gateway: a windy hilltop overlooking the arid landscape of the Dahar mountain chain in South Tunisia. Gigantic letters perched on the rocky outcrop I'm standing on spell out, "MATMATA".
Matmata is best known for its underground troglodyte houses where Star Wars was shot in 1976. Hotel Sidi Driss is still the main tourist attraction here – a few remains of the original film set are on display in this cavernous underground hotel dug out of the limestone rock. The robot-like structures made of wood, and caves with painted ceilings, are still here 40 years on, while photos of George Lucas, Mark Hamill and Harrison Ford tacked onto the walls have become a permanent tribute to the epic sci-fi film. Fans can even spend the night in the stark rooms and pretend they're in a galaxy far, far away.
While screen tourism is still a magnet for visitors to this mountainous region in Tunisia's south, the culture and heritage of its indigenous Berber people, the original inhabitants of North Africa, have only recently stepped into the spotlight. Interest in the Berber culture has emerged since Tunisia's 2011 revolution when protesters ousted the 23-year-long dictatorship of Zine El Abidine Ben Ali, sparking the Arab Spring. Since then, Berber heritage has been experiencing a revival of sorts. After decades of having their language and culture ignored and suppressed under the idea that a united nation is a homogeneous one, the Berber people have found a new sense of freedom to affirm their identity.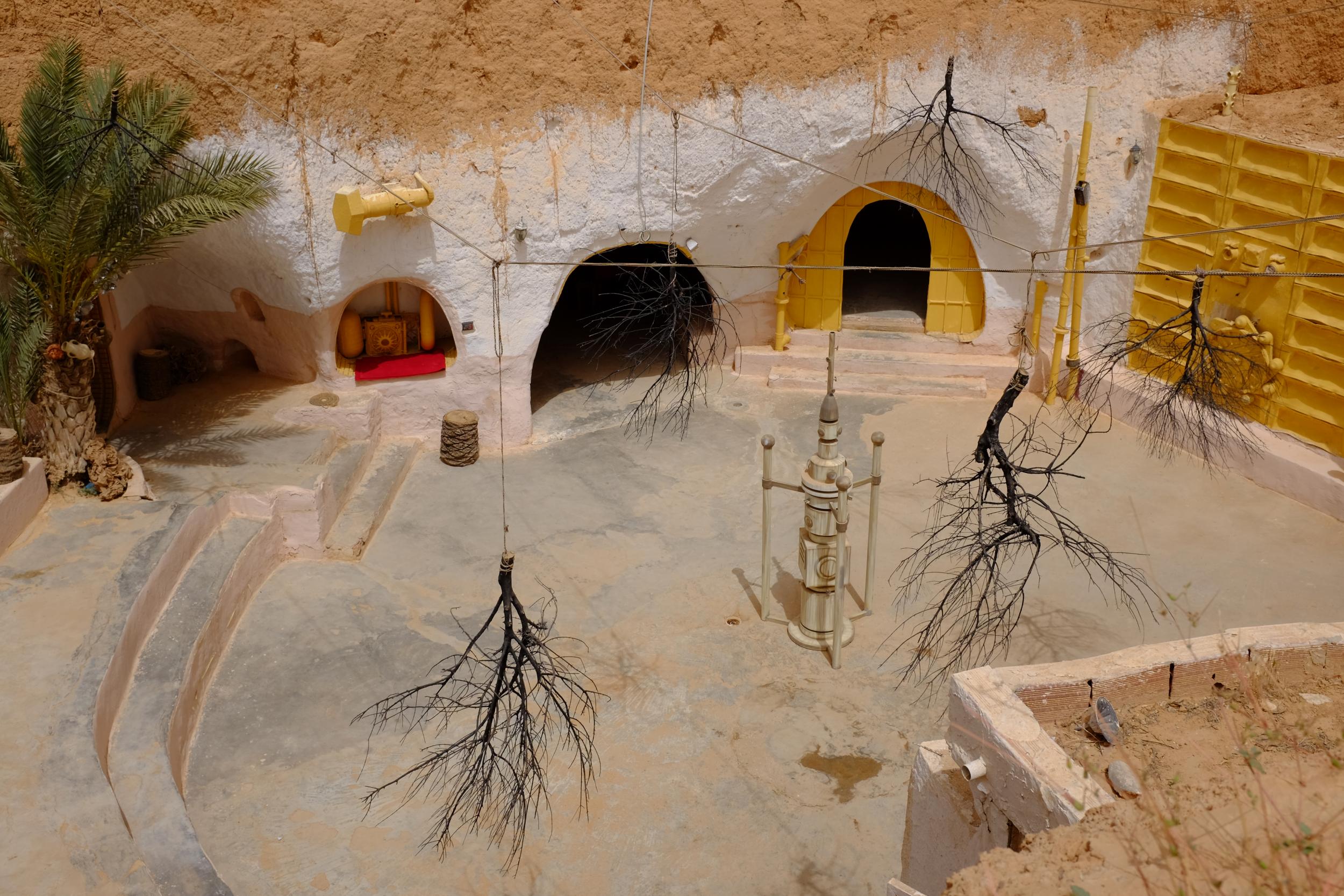 With the opening up of civil society, today there are two dozen associations working to actively promote Berber culture. "Amazigh is the word we use for Berber," says Izétén Houcine Belguith of the Tamaguit Association. "Before the revolution there wasn't a lot of freedom to talk about our heritage and culture. We would only speak our language at home and within our families but not in public. Now there are free language classes and we have the right to give Amazigh names to our children.
"Before, only Arabic names were allowed."
On the road from Matmata to Tamezret, a few traditional Berber homes are open to visitors. Dar Taoufik is a typical troglodyte home with its central courtyard chiselled out of the ground and open to the sky. From here, a series of subterranean rooms branch out, connected via passageways. On display in the dugout rooms, I see beds perched on ledges chipped out of the rock, a row of clay storage pots in the kitchen, and a collection of traditional tools.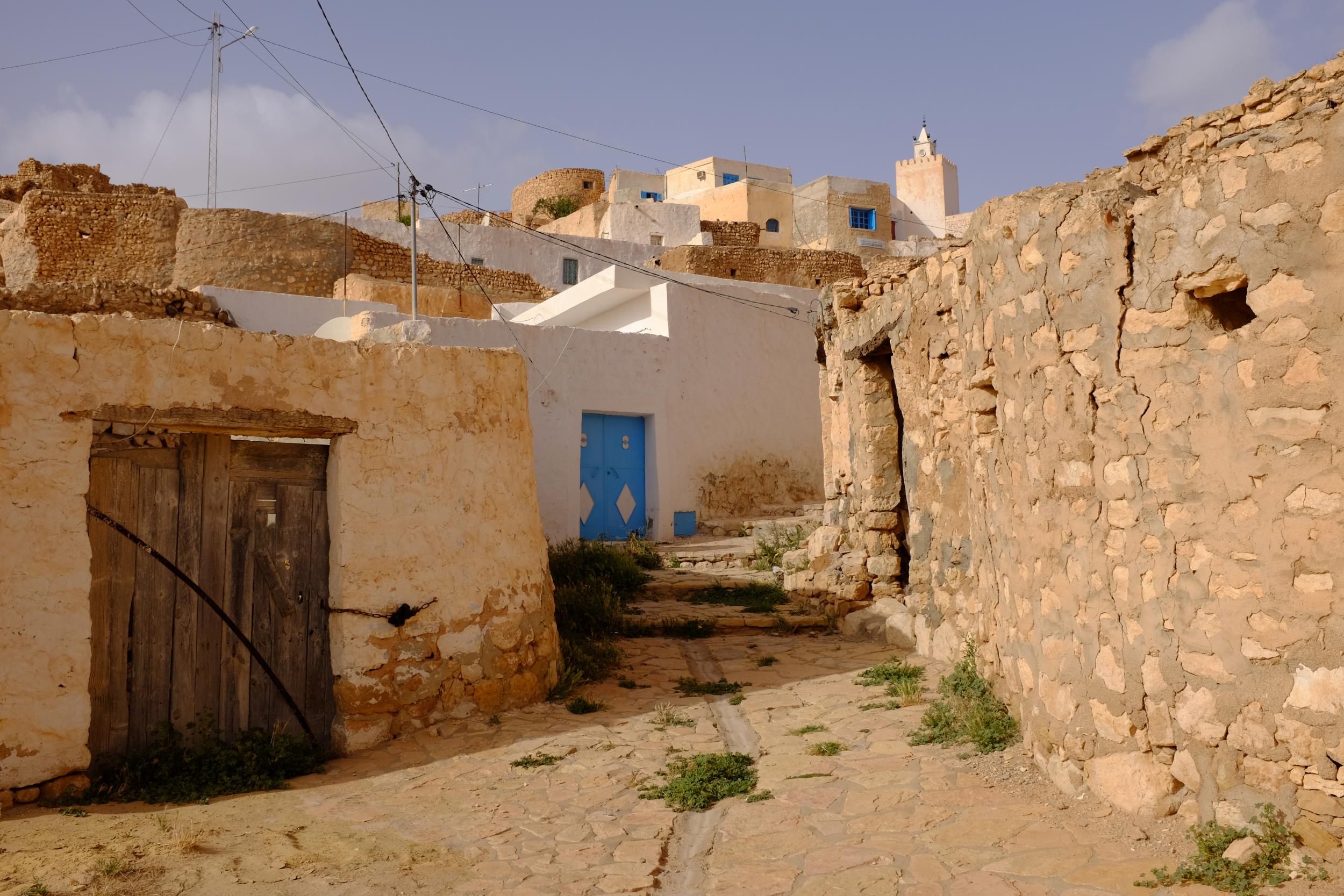 In contrast to the underground homes of Matmata, Tamezret's houses cover a hilltop rising to 460 metres with a mosque topping its highest point. This Berber town's collection of crumbling stone houses the same colour as the earth is almost invisible from a distance. But as I approach, I see that the stone structures are punctuated by bright blue doors and windows.
One of these, tucked under an arched doorway, is the entrance to the town's Berber Museum. Mongi Bouras, the museum's creator and curator, greets me warmly and ushers me inside. Bouras moved back to his native Tamezret almost two decades ago after working as an architect in the capital, Tunis.
"The Berber culture is not a tribe, it's a race," he says. "We are a minority making up 2.5 per cent of the population of Tunisia. But 96 per cent of Tunisians have Berber origins and the names of many towns and villages in Tunisia are actually Berber words. Many people are now interested in their Berber heritage and want to learn more about it."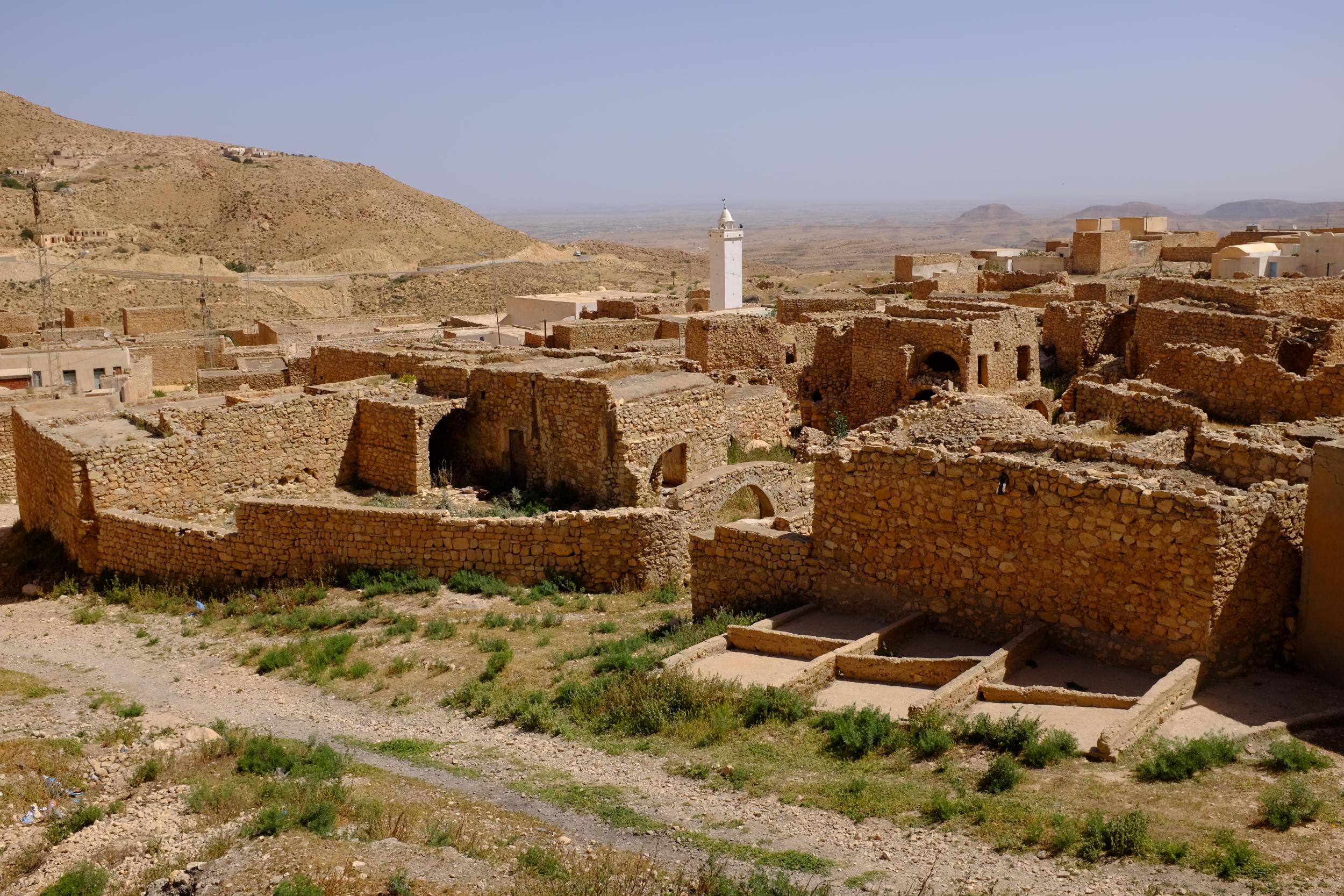 On display in his private museum is a fascinating collection of traditional Berber clothing, jewellery and intricately embroidered bridal veils. He shows me a pair of shoes he hand-embroidered . "This is an art that's being lost but I want to preserve it. Before, all this was considered 'folklore'. It's not folklore, it's our culture." Bouras also holds workshops on Berber culture and language and hosts traditional Berber meals in his home above the museum.
During a short tour of the compact town he points out symbols above doorways: the outline of a fish, a hand print and a zigzag of three peaks – the same ones I saw embroidered on the bridal veils on display in the museum. "These symbols actually have Christian origins," he says. "The fish symbolise the miracle of the loaves and fishes, the hand is the hand of god, and the three peaks represent the trinity."
In a courtyard, he shows me a trench and what appears to be the entrance to a tunnel. Stretching underneath the city is a centuries-old network of underground passageways that were dug to protect its residents from attacks. With the town built on a hilltop, these tunnels ran both horizontally and vertically underground with seven main access points. Today they're abandoned and filled with debris.
I spend the night at Auberge de Tamazret, a traditional house transformed into a comfortable guesthouse with three rooms arranged around a central courtyard. Outside, the howling of the desert wind continues but I feel sheltered in-between the thick stone walls.
I spend the next day exploring Toujane, another Berber village a 45-minute winding drive south-east of Tamezret. I find another largely abandoned village of narrow streets and stone houses enclosed in walled compounds, many with arched entranceways. In a courtyard I spy a mother and daughter busy at a loom weaving a colourful kilim.
Later I see these traditional handmade rugs for sale at Fethi Tarhouni's shop, alongside jars of locally produced honey and olive oil.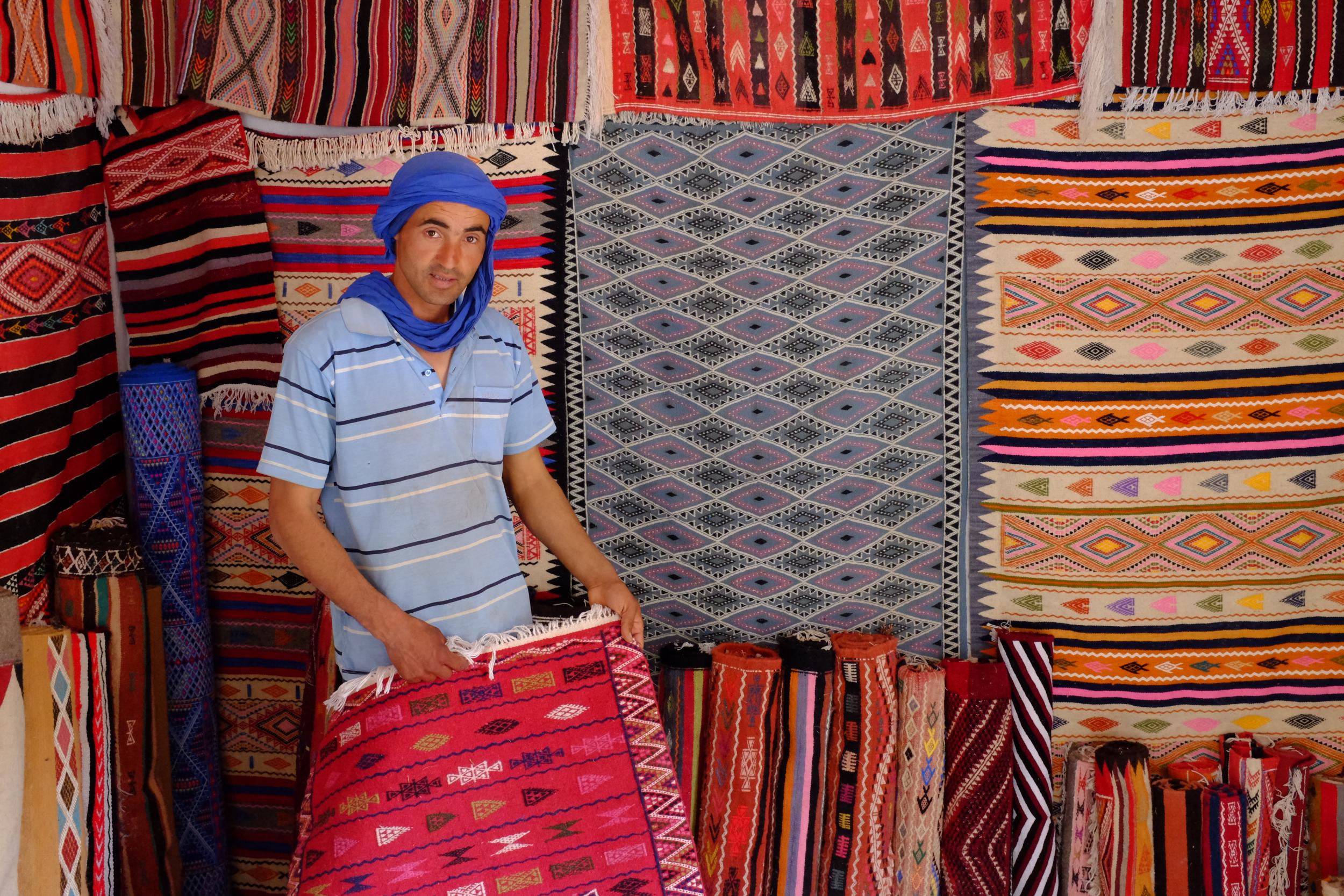 "There are 120 families living here in Toujane," he tells me, adding that Toujane Nouvelle a few miles away is a newer town with 2,500 inhabitants.
"Many young people prefer to move there and build new houses rather than preserve their ancestral homes," he says.
Tarhouni's family home has been converted into a guesthouse welcoming travellers keen to observe Berber village life from up close.
He shows me the path leading to the ksar, a fortified castle perched on the mountaintop overlooking the city. These fortified castles are a common sight in the region and served as lookouts to spot approaching invaders.
I follow the rocky path, framed with fragrant plants of rosemary and thyme, and before long reach the top. There are only a few crumbling walls remaining of the ksar, but the 360-degree view stretches beyond Toujane to the Dahar mountains. It's a fine, clear day and the sky is blue. No enemies or sandstorms on the horizon.
Travel essentials
Getting there
Tunisair flies direct to Tunis from London Gatwick from £200 return.
Staying there
The rustic Auberge de Tamazret is set in a tastefully restored stone house with three guest rooms arranged around a central courtyard, and rooftop terraces with panoramic views over the desert landscapes of the Dahar mountains. Doubles from €50, half-board.
More information
destinationdahar.com
Source: Read Full Article