This hotel might just change the future of Caribbean tourism
Caribbean hotels have always done a good job of attracting high-volume tourists seeking little more than the comforts of home in an exotic location: buffet-guzzlers who fly 2,000 miles for a swimming pool, white sandy beaches and absolutely nothing to do with the actual island they're staying on. Antigua? Bahamas? Barbados? As long as there's a beach, it's all the same to them.
Valmiki Kempadoo thinks the Caribbean deserves better. At his hotel, Belle Mont Farm on St Kitts – which was unaffected by 2017's punishing hurricane season – he has come up with a formula that infuses tourism with social good.
Not that you'd realise there was a community purpose to the place at first glance. The grey wood-shingled guesthouses, tucked into the slopes of Mount Liamuiga, are as five-star as they come: pools sit beside private wooden decks, and outdoor clawfoot bathtubs overlook the surrounding jungle and ocean. But beyond the luxury, these cottages are also a veil for a pioneering project aimed at empowering a community that has experienced centuries of slavery and the collapse of its dominant source of industry.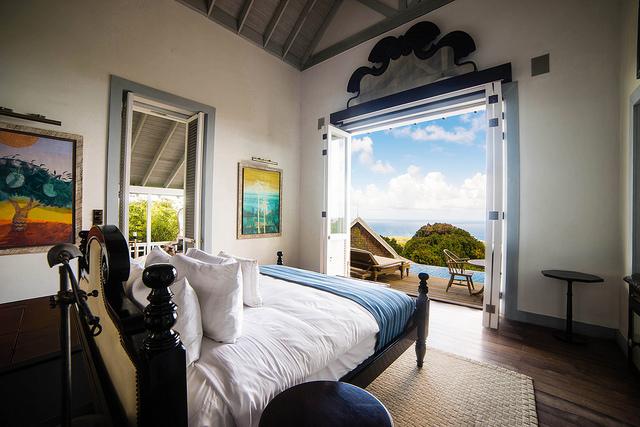 In 2005, St Kitts' sugar-cane production industry shut down due to the decline in global sugar prices. Jobs were hard to come by; new skills difficult to acquire. In December 2014, Kempadoo opened Belle Mont Farm with the aim to benefit the community financially without destroying its culture.
A Trinidadian by birth, Kempadoo is all too familiar with the regular exploitation of Caribbean communities by outsiders. Hoteliers often outsource the labour to build their giant resorts, and encourage guests to book all-inclusive holidays – meaning the money coming in rarely trickles down to locals.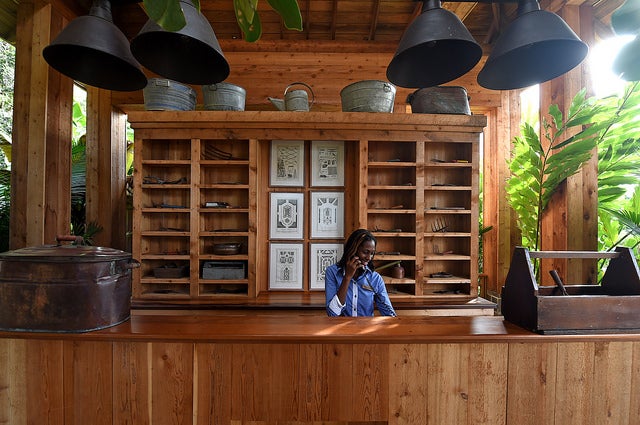 "There's a loss of confidence in these local communities," he says, describing Belle Mont Farm as a "Trojan horse" – a luxury hotel, but one serving a greater purpose. He talks with a vehemence that is almost contagious.
All the completed cottages are made from local materials, and were constructed by men from the community – stone masons were brought in to teach them how to do it. The fruit and veg served are grown on the farm, the fish is purchased from local fisherman and the eggs from local farmers. Everything is quintessentially Kittitian – even the bartender Michael makes a knock-your-socks-off rum cocktail, using his grandmother's age-old recipe.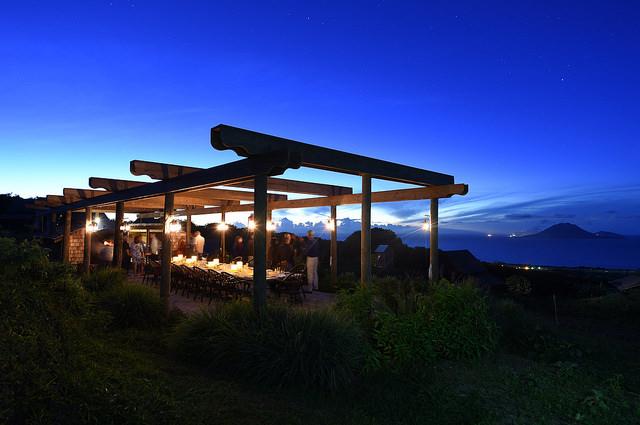 Rather than a bevy of unidentified waiters and managers with earpieces running around in uniform, Belle Mont Farm has an intimate team of staff. After four days on the farm, I know a handful by name; everyone I meet is attentive but easygoing, professional without being stiff. It's a balance that general manager Doug Brookes has worked hard to strike. "It's still a development," he tells me. "We do some things really well; other things we need to work on."
Like any legacy project, that "development" didn't happen overnight – and although the farm looks like the final product, it's still very much in progress. Kempadoo refers to the proverb: "Give a man a fish and he eats for a day; teach him to fish and you feed him for a lifetime." The idea is to provide locals with skills they might otherwise not have; skills they can use for the rest of their lives and pass on to others.
Now that they've cracked the hotel, they're onto stage two – helping local artisans. Mass tourism has ruined the artisan scene in St Kitts, says Kempadoo: "It has resulted in the proliferation of 'Made in China, stamped in St Kitts' goods at the expense of quality, locally made things."
In 2018, Belle Mont Farm will unveil a new "village square" filled with tents and stalls set up every Saturday showcasing various disciplines: jewellery, print and candle-making, essential oil and soap-making, and a chocolatier. "The concept is to address the lack of genuine handmade gifts and articles here, while building skill sets within the local population," says Kempadoo. Apprentices – who get scholarships to train – will learn from master artisans, and eventually be encouraged to set up businesses of their own.
It's all very worthy, but how does it affect the experience for tourists? After a four-day stay, I can safely say it's only different in a good way. I leave the island feeling like I've experienced a real dose of Kittitian culture – not just the pool chair of a generic resort.
Travel essentials
Getting there
American Airlines flies from Heathrow via Miami from £547
Staying there
Doubles from $340 (£250), B&B
More information
bellemontfarm.com
Source: Read Full Article