10 things to do in Lisbon
Lisbon's star has never shone brighter: Instagram feeds are littered with snaps of its ubiquitous indigo-hued tiles, tech startups are flocking there, and this year it had the dubious honour of playing host to Eurovision 2018. Portugal's so-called city of light lives up to the hype, too, offering visitors a winning combination of culture and cafés, a Mediterranean climate and great value for money. Want to find out what the fuss is about? Here's what to do.
See the view
Take a deep breath and zigzag up the bright limestone cobbled streets to the miradouros (viewpoints) at the top of the seven hills on which Lisbon is built. You'll emerge looking across the terracotta-roofed houses which ramble down towards the mouth of the Tagus river, flowing in from the north of the country. Spot landmarks such as the Moorish São Jorge castle, then refuel under the shade of an umbrella at one of the outdoor kiosk cafés, where the service is breezy, prices are fair and the bica (espresso) is strong.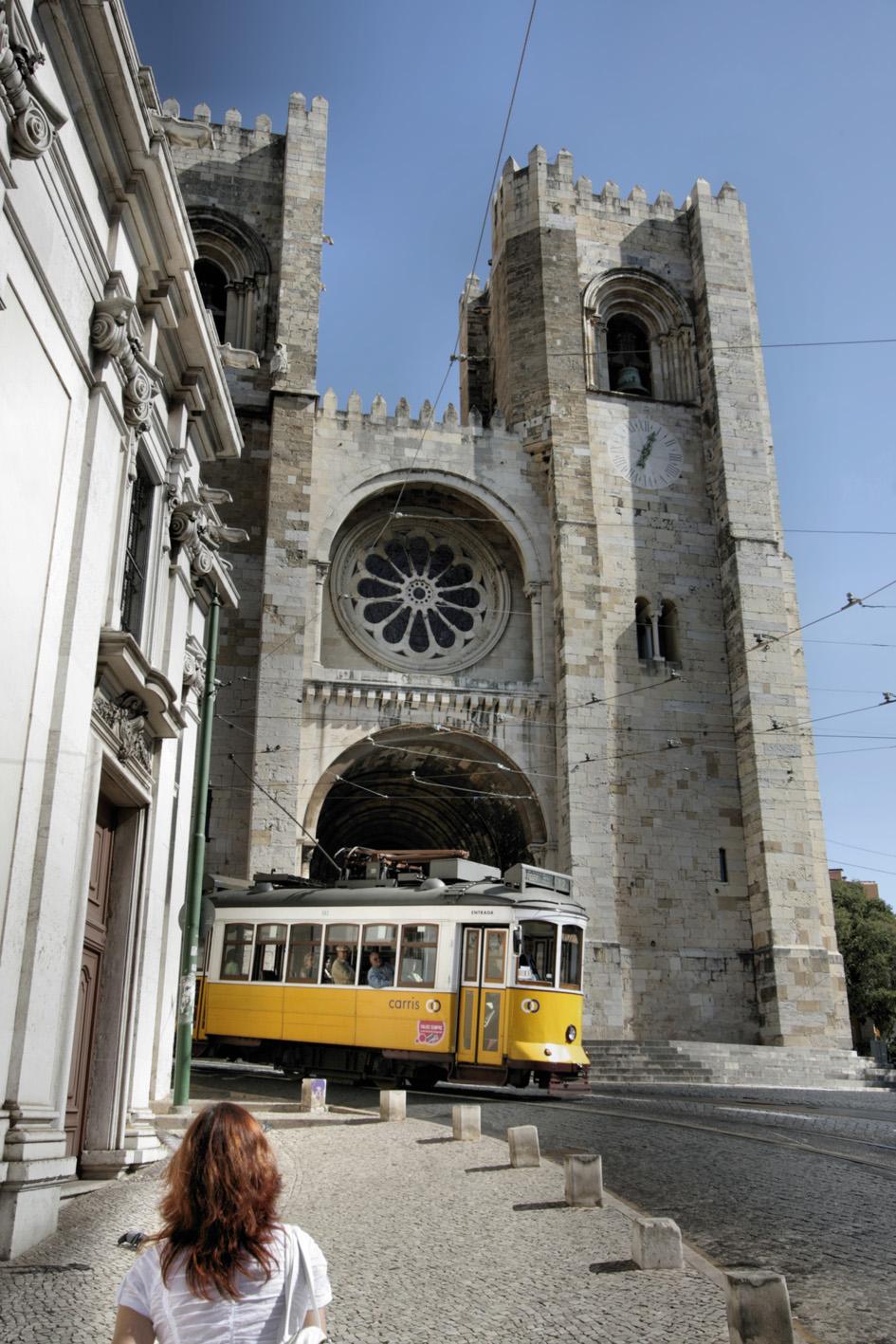 Buy a ticket to ride
Gravity-defying 1930s trams creak up narrow streets all over Lisbon, but the submarine-yellow number 28 offers the chance to see many of the city's attractions in one go. Board at Campo de Ourique for your best chance to get a seat – though be mindful of pickpockets – and spot the Baroque architecture in Estrela; the parliament headquarters in São Bento; and the ramshackle Arabic buildings in Alfama (the only district to have survived the 1755 earthquake which destroyed most of the Portuguese capital). A 24-hour ticket valid on trams, metro and buses costs €6.15, and is available from any metro station.
Sip white port and tonic
A glass of the locals' favourite aperitif – mellow, honeyed white port from the Douro Valley, mixed with bitter tonic and garnished with lemon – will soon have you questioning your loyalty to Aperol spritz. It's served everywhere, but the peaceful Limão Rooftop bar at the H10 Duque de Loulé has a side of exceptional views across the city.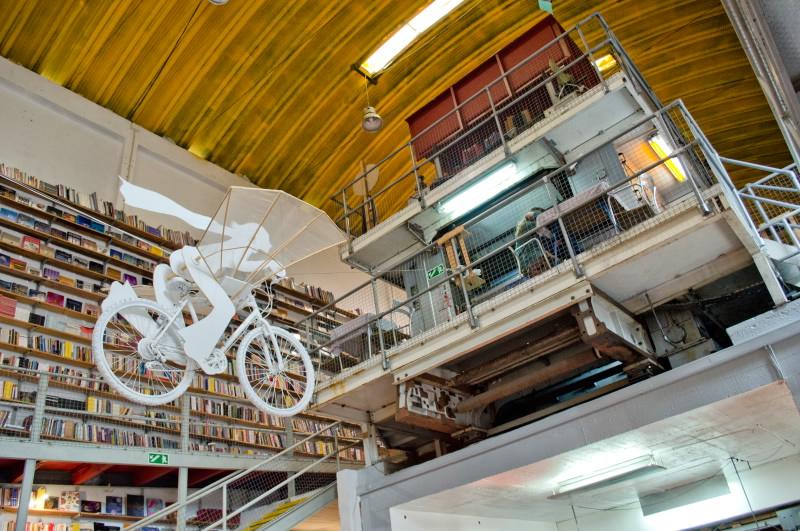 Be a bookworm
The smell hits you first, in Lisbon's independent bookshops: musty paper and leather, mixed with coffee (usually being sipped by a bespectacled cashier). Wood-panelled Livraria Bertrand is the oldest in Portugal, while Livraria Sa Da Costa often plays host to live music and art exhibitions. In an old printing factory in LX Factory, Lisbon's answer to Shoreditch, cavernous Ler Devagar plays folk music and has flying bicycles suspended from its ceiling. Keep an eye out for work by enigmatic Portuguese poet and critic, Fernando Pessoa – English versions of his books are sold throughout Lisbon.
Get your sugar fix
Monks and nuns are to blame for the irrefutable sweet tooth of the Lisboetas. Some of those ousted following the 1820 Liberal revolution escaped from the Mosteiro dos Jeronimós, in the Belém district (accessible via the 15 or 127 tram from the centre), to set up camp in a nearby bakery. They flogged pastéis de nata (custard tarts), and eventually sold their recipe to the building's owners. Today, customers queue at the Pastéis de Belém bakery to try the original incarnation of Portugal's favourite pastry-clad treat. They're dangerously good, though locals whisper that their favourites come from Manteigaria, in Chiado: vanilla-flecked custard in the flakiest casing, each is three bites of heaven.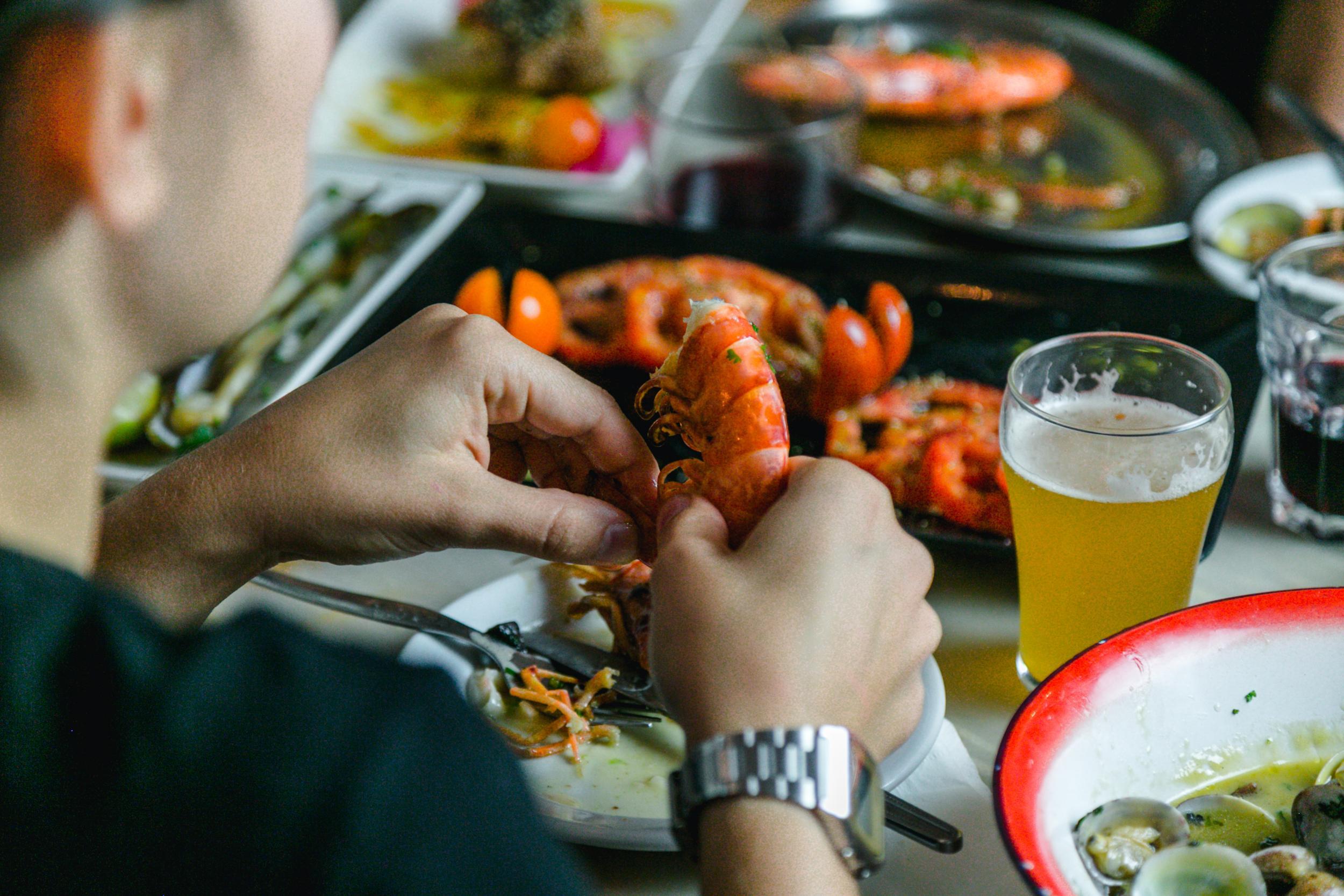 Eat a fish supper
The bountiful Atlantic provides the ingredients for the city's restaurants. Arrive early at Taberna Da Rua Das Flores – by 6.30pm, this tiny eatery is booked up for the night. Young chefs cook modern interpretations of traditional Portuguese dishes, scribbled daily on the blackboard menu (the tuna tartare is outstanding).
For a taste of old-school Lisbon, hop on a ferry from Cais do Sodré to Cacilhas. Turn right and walk past the warehouses to Restaurante Ponte Final, a no-frills joint for bubbling pots of monkfish and rice stew, or bulhão pato (clams cooked with white wine and coriander). Book ahead to bag one of the tables on the sandstone terrace: a prime spot to watch the sunset.
Get it in the bag
Beyond Lisbon's tacky tourist shops, you'll find hidden treasure. Hipsters descend on LX Factory every Sunday to browse vinyl and 1960s frocks at the flea market, while on Tuesdays and Saturdays, the Feira da Ladra market takes place in Alfama – if you're willing to rifle, there's a huge choice of antiques. In trendy Principe Real, Embaixada is a shopping gallery in a 19th-century palace, housing concept stores from independent designers.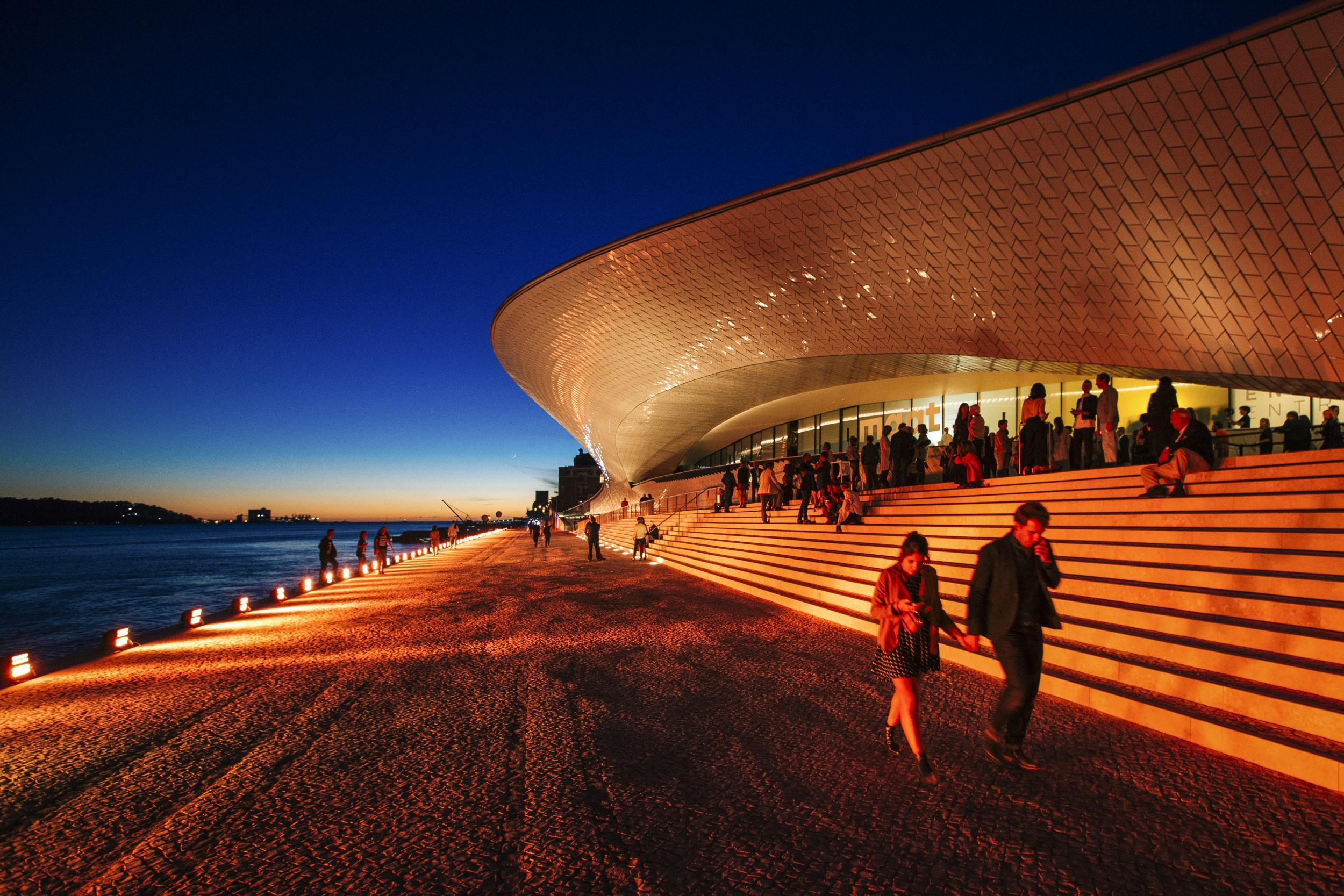 Soak up some art
The MAAT (Museum of Art, Architecture and Technology), cuts a graphic, undulating silhouette against the banks of the Tagus river. Opened last year, the building was designed by British architect Amanda Levete, and encompasses a roof which doubles as a public park, plus 7,000 square metres of exhibition space showcasing work from a roster of contemporary artists and designers. Lisbon's art isn't constrained to its galleries, however: whitewashed buildings provide a canvas for vibrant graffiti. Download the Lisbon Street Art app for tips on where to seek it out.
Hit the beach
The golden sands of Cascais are worth the 40-minute train ride from Lisbon (Cais de Sodre). Once the preferred holiday haunt of the Portuguese royal family, the seaside town blends palatial 19th-century architecture with fishing village charm. Wander along the coast to watch waves fizzing against the cliffs – and take an obligatory selfie at the Boca do Inferno (hell's mouth) cave – then tuck into catch of the day with a glass of vinho verde at family-run institution Mar do Inferno.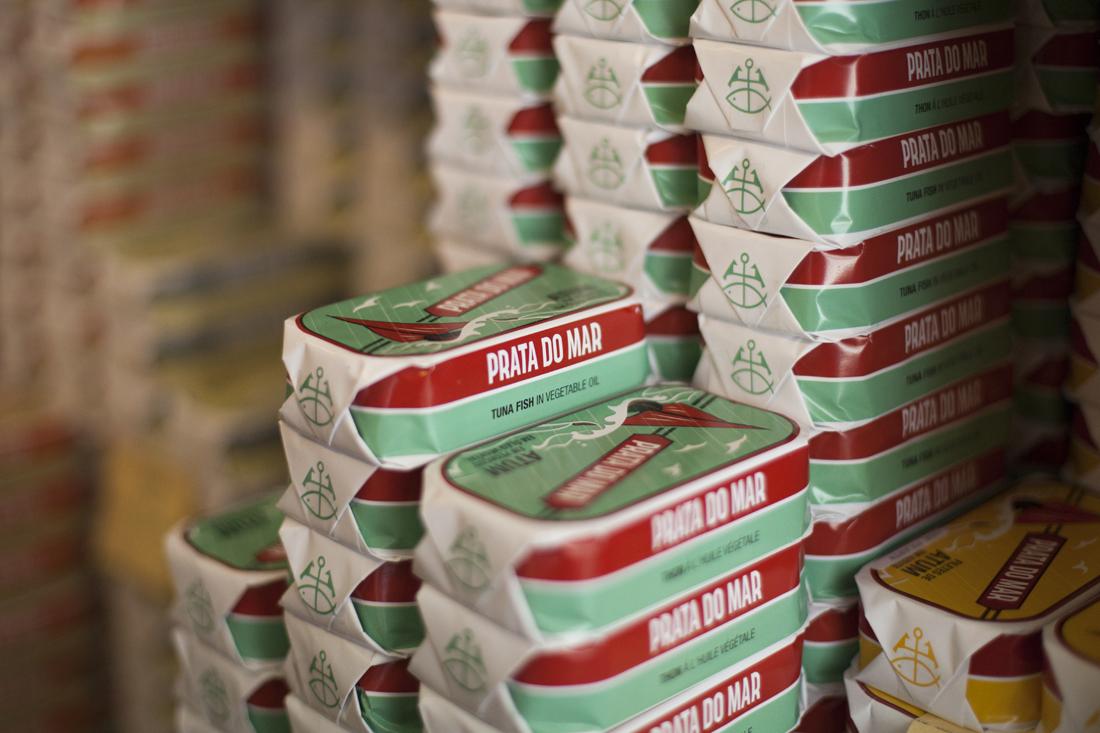 Learn to love tinned fish
Conserveira de Lisboa shops are stocked with endless rows of fishy treats in graphic tins: ideal Instagram fodder. Choose from whole, hand-packed sardines, octopus in spicy tomato sauce, or salty tuna in oil. The owners will tell you the fish develops in flavour the longer its preserved – a bit like a fine wine.
Source: Read Full Article