How this tiny Welsh town ended up holding the world's biggest Elvis festival
I am standing watching a hardened Welsh man in his sixties cry, and I don't know what to do.
"I'm sorry love," he says, his voice thick with emotion. "I gotta go. I'm sorry."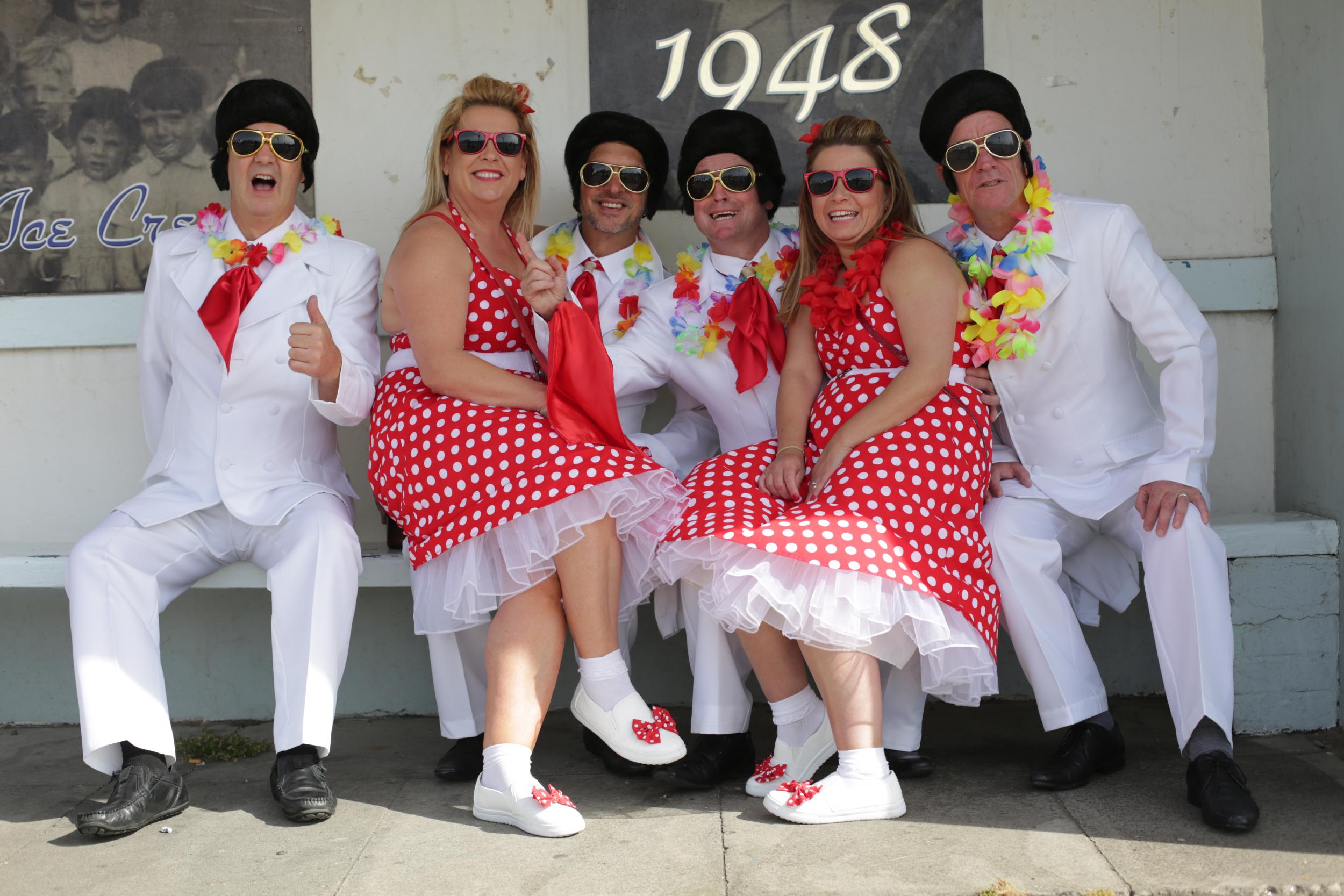 He stumbles away, wiping his eyes with the back of his hand, leaving me feeling like the outsider at some cult's annual moon-worshipping ceremony where I'm the only one who doesn't quite get why everyone is dancing around naked and howling at the sky. This pretty much sums up my entire experience at the world's biggest Elvis festival in Porthcawl – I never fully understand what's going on, but in the end it doesn't really matter.
Rewind five minutes and the man in question, Dave, simply approached me to tell me how much he was enjoying the evening. We're in the Grand Pavilion, a beautiful 1920s music hall, and had just been treated to a full Elvis concert complete with accompaniment from Cardiff Philharmonic Orchestra. Dave and I both agreed it was thoroughly delightful but, while I'm having a perfectly pleasant time, he is buzzing.
"I'm like a battery. I come to this festival, plug myself in, and I can feel the energy pouring through me. It keeps me going the whole rest of the year. There's nothing like it – the love, the affection, the enthusiasm. The love in this room…"
It's at this point that he breaks down and can no longer continue talking.
It's been a weekend full of surprises, the biggest one of all being that the world's biggest Elvis festival is held here in the first place. It just seems so unlikely – the little Welsh seaside town of Porthcawl attracting 35,000 Elvis-mad visitors every year. More people come to Porthcawl to celebrate Elvis in September than go to Memphis for Elvis Week in August. But the location is an integral part of its charm, according to festival organiser Peter Phillips.
"It works because it's the most ridiculous place to put on an Elvis festival," he told me. "If you put on an Elvis event in, say, Blackpool, it would be a great event in a venue, but if you go out of the building, you're in Blackpool.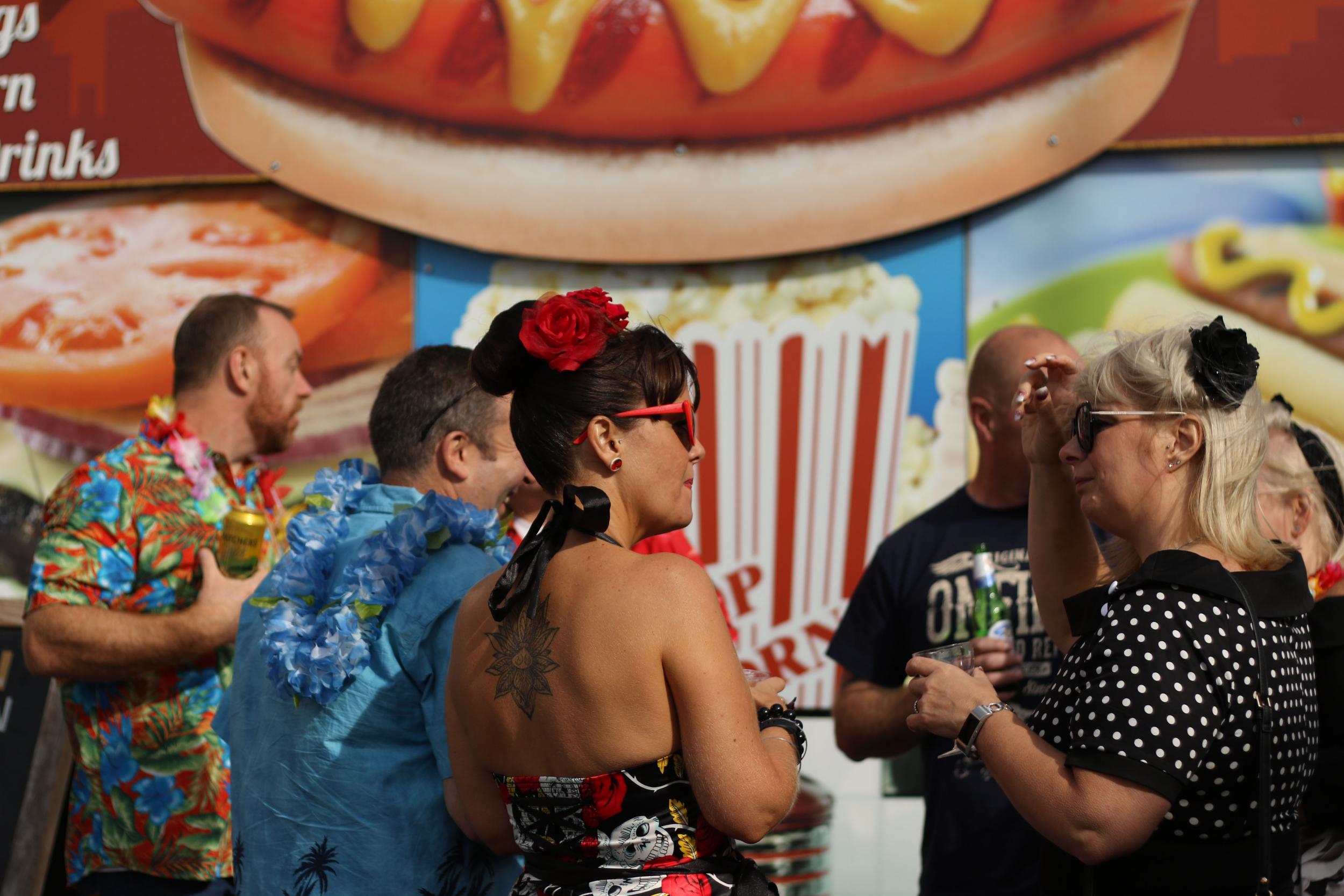 "You can't get away from Elvis here. Every pub, chip shop, café and hotel puts on its own mini Elvis festival for the weekend. It is wall-to-wall Elvis."
He's not wrong there. Wandering along the seafront earlier in the day, between the festival's two main venues of the Pavilion and the Hi-Tide, was an experience in itself. Crowds full of colourful fluffy cowboy hats, Fifties dresses, gold lamé jackets, full white jumpsuits and quiff after quiff, in Elvis's signature jet-black, jostled for position along the parade. There was even a group of dogs decked out in neon, Elvis-inspired outfits – they'd taken part in the popular Hound Dog competition the day before.
Porthcawl is the kind of traditional seaside town that would by now have become a ghost town were it elsewhere. There are gaudy arcades and stalls, beachside bars that have seen better days, funfair amusements and pony rides on the beach. Ask for a cappuccino in a café and they'll laugh and say they do two kinds of coffee – black or milky. But the place is thriving: the arcade is packed, the beer is flowing from 10am until who knows when, and there is a feeling of bonhomie that has settled over Porthcawl like a warm blanket. It's tacky and it's uncool and nobody cares.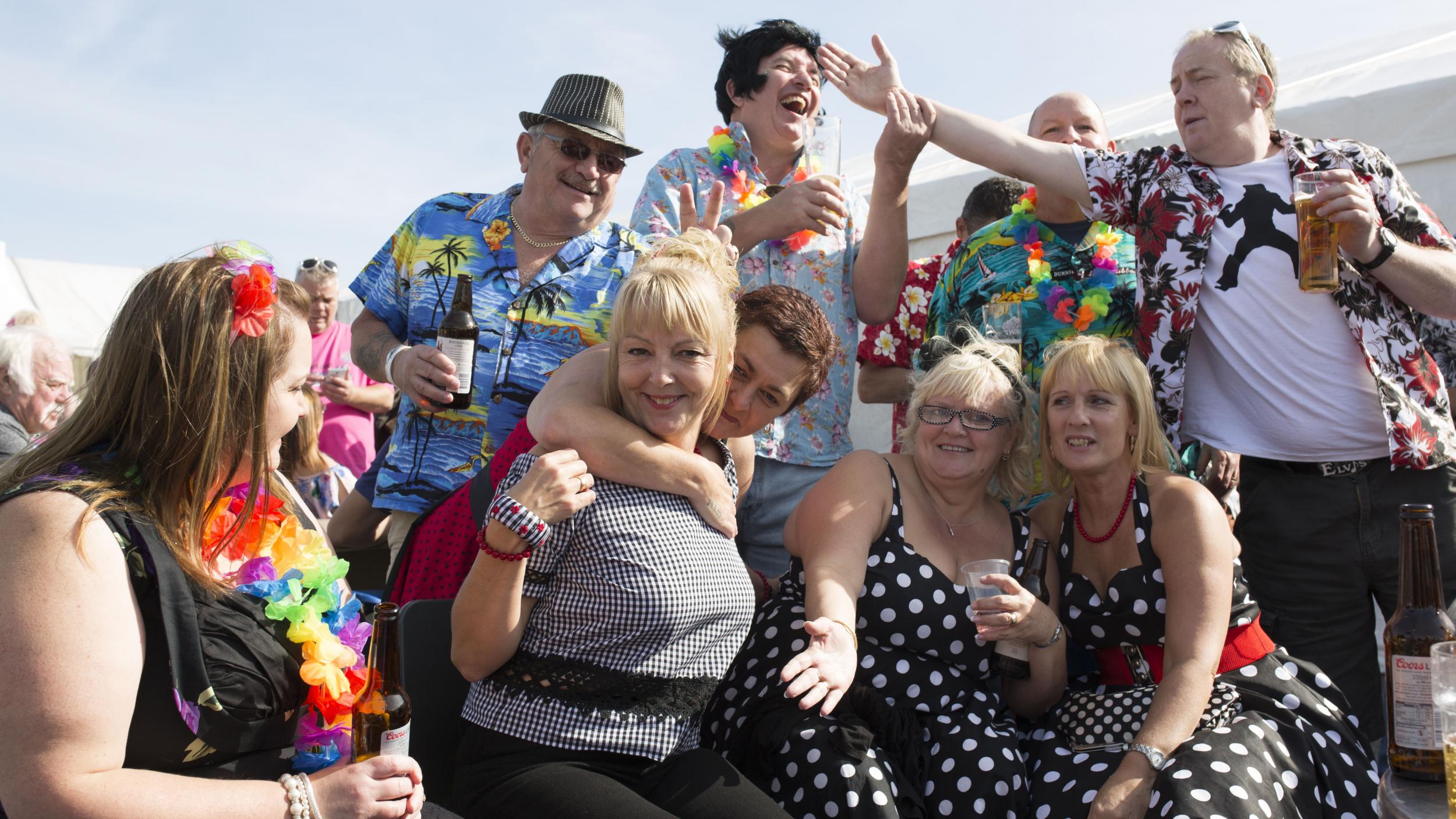 "What makes it so unique is the Welsh mindset," Peter told me, and I could see what he meant. There is what he describes as "a perfect alchemy" here in Porthcawl; the team has tried to replicate the festival elsewhere and it's never really clicked. Eugene Quinlan, an Irishman who manages another one of Peter's events, Tedfest (a festival for Father Ted fans), summed it up perfectly.
"It works here because the Welsh don't give a f***."
He added: "Seaside towns like this are dying in Ireland – but here, they love it. They love the arcades, they love the amusements. They don't look at this and think it isn't good enough. They aren't pretentious.
"This weekend, they'll have heard 'Suspicious Minds' five hundred times. But still, you'll see them stop in the street and go, 'Oh, I love this one,' when they hear it again.
"It's crazy – but in a good way."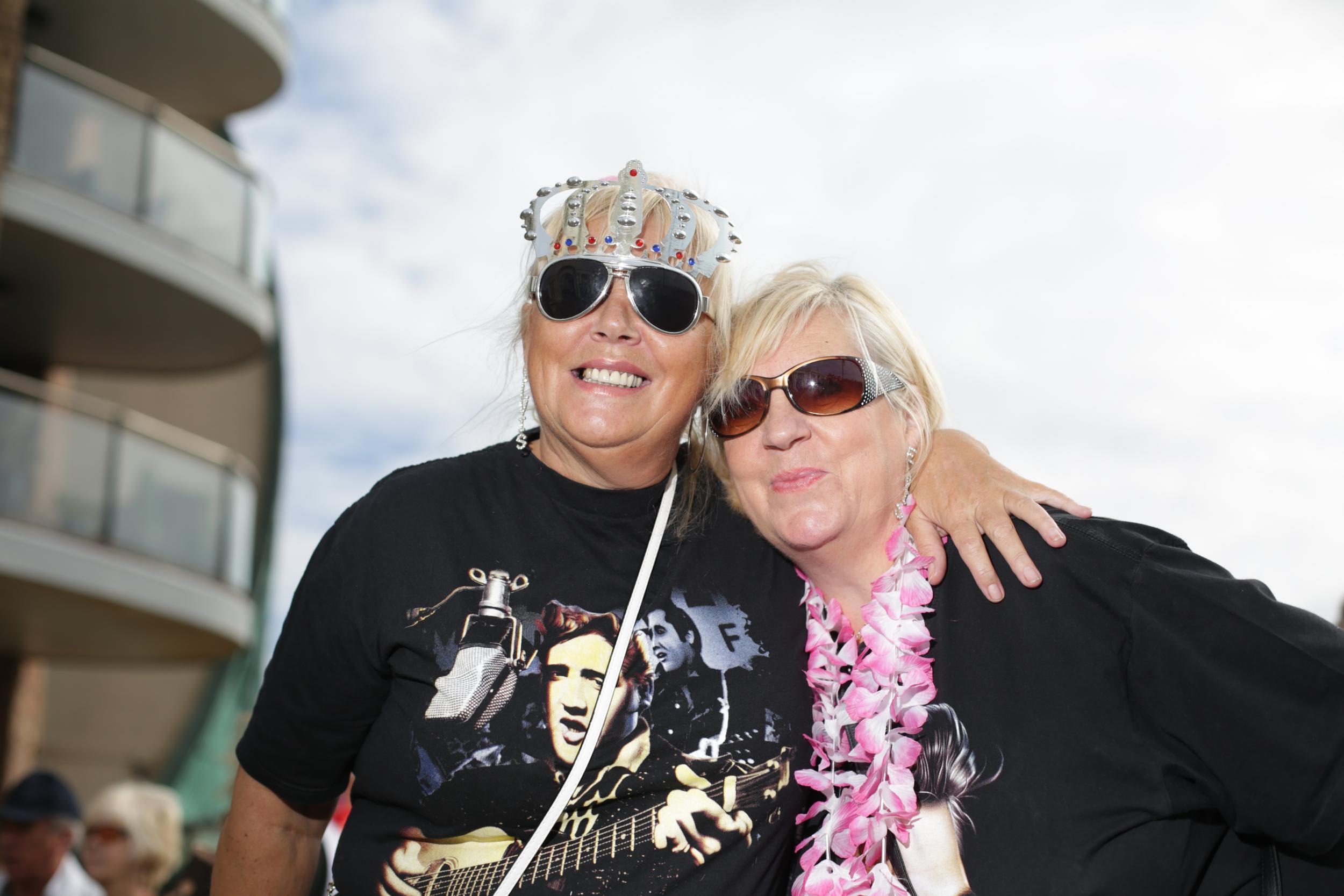 The day was grey and drizzly, and I ducked into the Brentwood pub – one of the first places to support the festival when it launched in 2004 – to escape the rain. It was – of course – bedecked with US flags and Hawaiian leis and there was – of course – an Elvis tribute artist serenading drinkers. "Never call them Elvis impersonators," one fan warned me. "They're not impersonators, because you can't impersonate perfection." Noted.
Making my way between the two sides of town for the third time that day, soaked to the skin from the unrelenting rain, I began to realise just how much the Welsh "don't-give-a-f***" mentality contributes to the success of the festival. If this were England, people would be ashen-faced and grumbling as they made the 15-minute trudge between venues. Here, there were easy smiles, big-bellied laughs, lilting Welsh accents expressing how much they had enjoyed the latest performance. It was like entering another world – one where people were genuinely happy with the small joys life had to offer. I smiled too. The "feel-good brand" of Elvis, as Peter describes it, was rubbing off on me.
After the big concert on Sunday night (the one which reduced poor Dave to tears), a farewell brunch at the Hi-Tide marks the end of the event on Monday morning. It's for the hardcore crowd – the ones who are up and out despite their raging hangovers, the ones who just can't bear to leave without hearing one last Elvis song.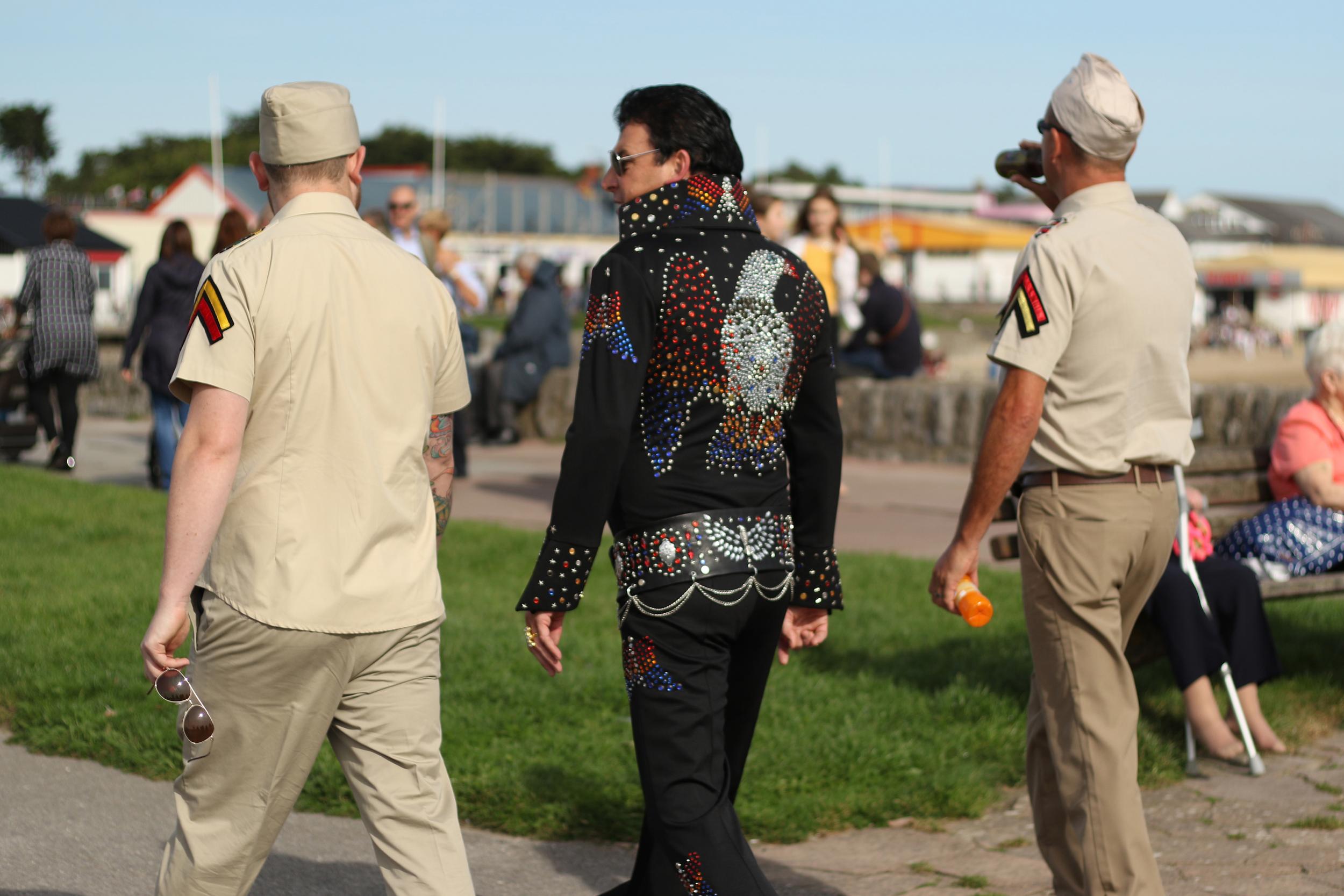 "I fell in love with him in Jailhouse Rock, when I was five years old," says one fan, Priscilla, misty eyed. "There's no one like him."
As we all chow down on a full English and I feel moved by the palpable love in the room, "Suspicious Minds" comes on for the five hundredth time. I find myself thinking, ever-so uncooly, "Oh, I love this one." And you know what? I don't give a f***.
Travel essentials
Getting there
The nearest train station is Bridgend; a taxi from there to Porthcawl takes 20 minutes and costs around £15.
Staying there
The Coed-Y-Mwstwr hotel (townandcountrycollective.co.uk/coed-y-mwstwr) is a beautifully-placed Victorian mansion in the middle of the Welsh countryside, with a superior dinner served in the Elliot Restaurant. It's a 25-minute drive from here to Porthcawl. Doubles from £90, B&B.
More information
Tickets for the 2018 festival's official shows will go on sale in January.
elvies.co.uk
Source: Read Full Article