If you go on this Scottish staycation you can craft your own gin
"Here's a Strathmashie secret," Chris whispered, lifting a jar of pine needles from the apothecary cabinet. All seven of us gathered round, noses poised, as he unscrewed the lid and held it out for us to smell. "Candy floss!" we breathed.
This sweet-smelling pine grows just outside in Chris's back garden, along with other botanicals such as daylilies and wild Scottish raspberries. Half of the 128 flavourings in his cabinet are local, while others are more exotic – there's orris root from Morocco and cassia bark from Indonesia.
"It's like cinnamon but more 'huggy'," Chris chuckled in his soft Scottish lilt, holding a twill of bark between his finger and thumb.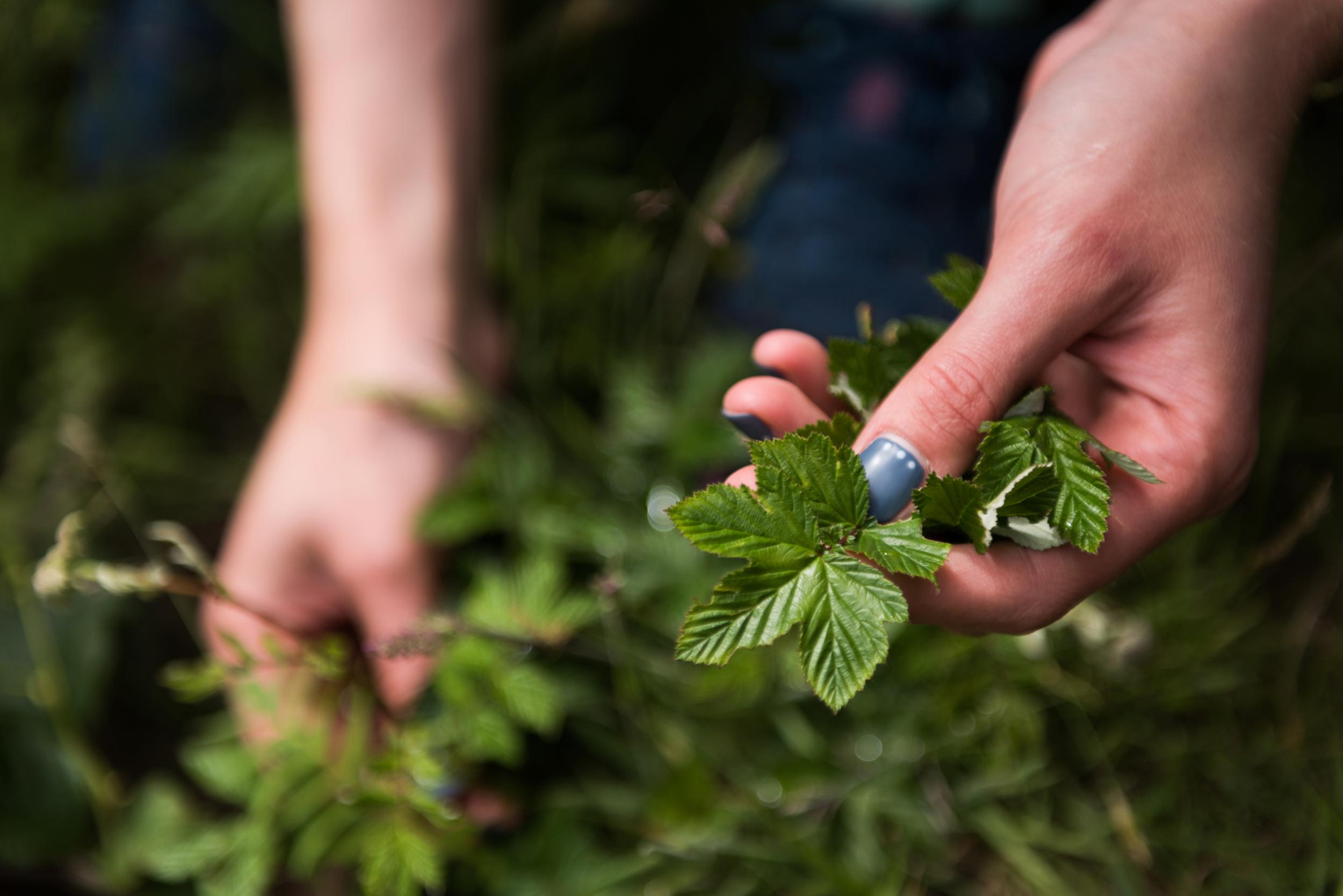 I'm on a weekend gin-making course in the Highlands led by Chris Molyneaux, founder of Daffy's gin. This summer, Daffy's launched its distillery school at Strathmashie House, a Victorian shooting lodge where Chris lives with his wife, two boys and Somersault the dog. Guests stay in self-catering accommodation, choosing the two-bedroom Butler's Flat or three-bedroom Distillery Cottage.
Surrounded by the wilds of the Cairngorms National Park, Strathmashie is an 80-minute drive from Inverness airport. When I arrived on Friday evening, Chris's wife was ushering three lambs and a turkey off the driveway, while a blue-eyed pony galloped around the garden. The River Mashie runs through the grounds, and Loch Ness is less than an hour away. It's a magical place to live, work or spend a weekend.
On Saturday morning I visited a local loch with resident botanist Gill Joyce and the six other guests on my course. "We're foraging for yarrow and bog myrtle – ideal gin botanicals," Gill explained as she handed out wicker baskets. "Yarrow is this feathery one," she showed us, plucking a frond from the ground. "And this is bog myrtle," she added, selecting a leafier sprig.
We scoured the banks on our hands and knees and paddled across the loch on Daffy's own-branded Red Paddle SUPs (stand up paddleboards) in search of fresh foraging ground. With baskets filled, we rewarded our efforts with G&Ts by the shore, drinking in the views of the rust-coloured Cairngorms.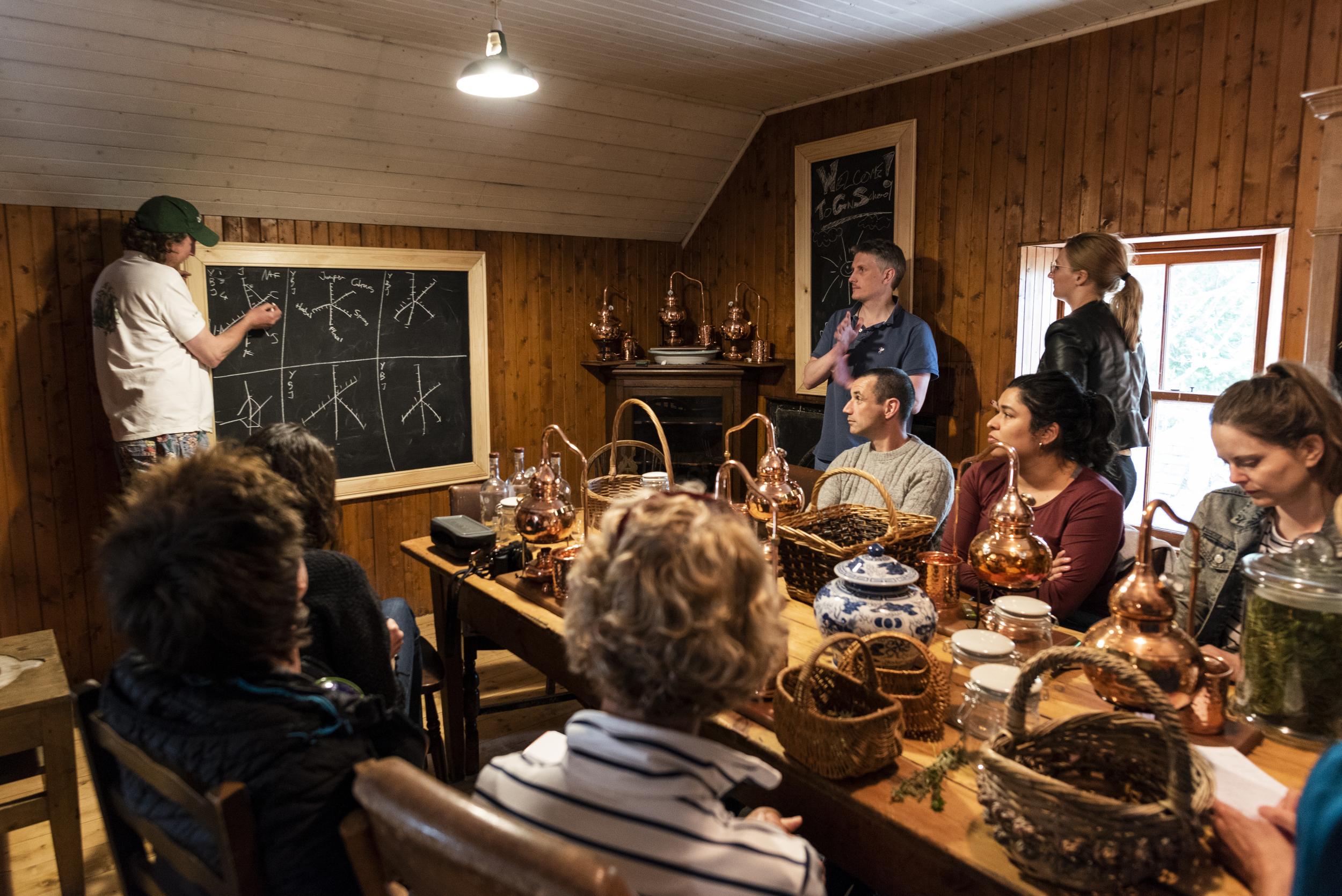 Back at the house, we followed Chris up a creaking staircase to the distillery school. Seven shiny copper stills awaited us on a wooden table, which Prince Albert danced on in 1847 when he visited with Queen Victoria. Settling myself behind a still, with the apothecary cabinet covering the entire back wall, I felt like I was in potions class at Hogwarts.
"We're going to balance five elements: juniper, citrus, spice, herbal and floral," Chris explained, standing beside the blackboard (a far cry from Severus Snape in his pink Bermuda shorts). "On a scale of one to five, how much do you like juniper?" he asked, passing me a bowl of dried berries. I chose five – the highest rating.
Quizzing me on each element, he chalked my personal "flavour profile" on the board, suggesting which botanicals I could use to enhance my gin, like yarrow for a citrus zing or chilli for extra punch. Chris uses this same process to craft new flavours, such as the wild boar and apple gin he made last autumn. "It was excellent!" he grinned.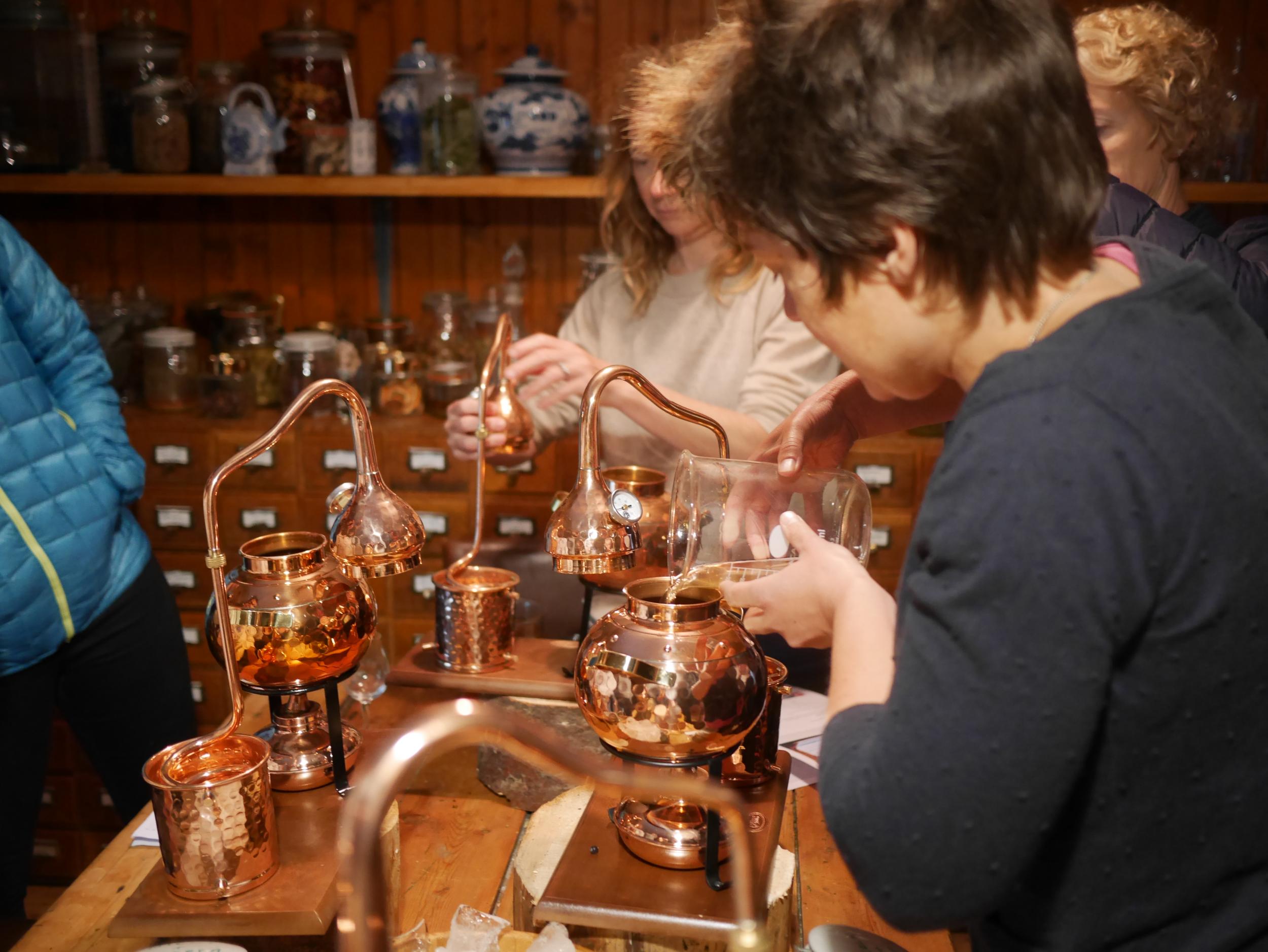 After crushing our ingredients, we added them to glass beakers topped with Chris's personally made 96 per cent base spirit. My beaker received big handfuls of juniper, along with lemon peel and Jamaican black peppercorns. Others added star anise and rose petals, heather and blackcurrant leaves, or dried slices of honeydew melon.
You can create gin in as little as two hours but, to draw out the flavours, we left ours to macerate overnight. With our concoctions infusing, we headed downstairs for a gin cocktail, which descended into a late night of songs around the piano, with Chris's friend on the keys.
The next morning we returned to the distillery school bleary-eyed. Chris looked far fresher, having started his day as he always does, with a wild swim in the loch.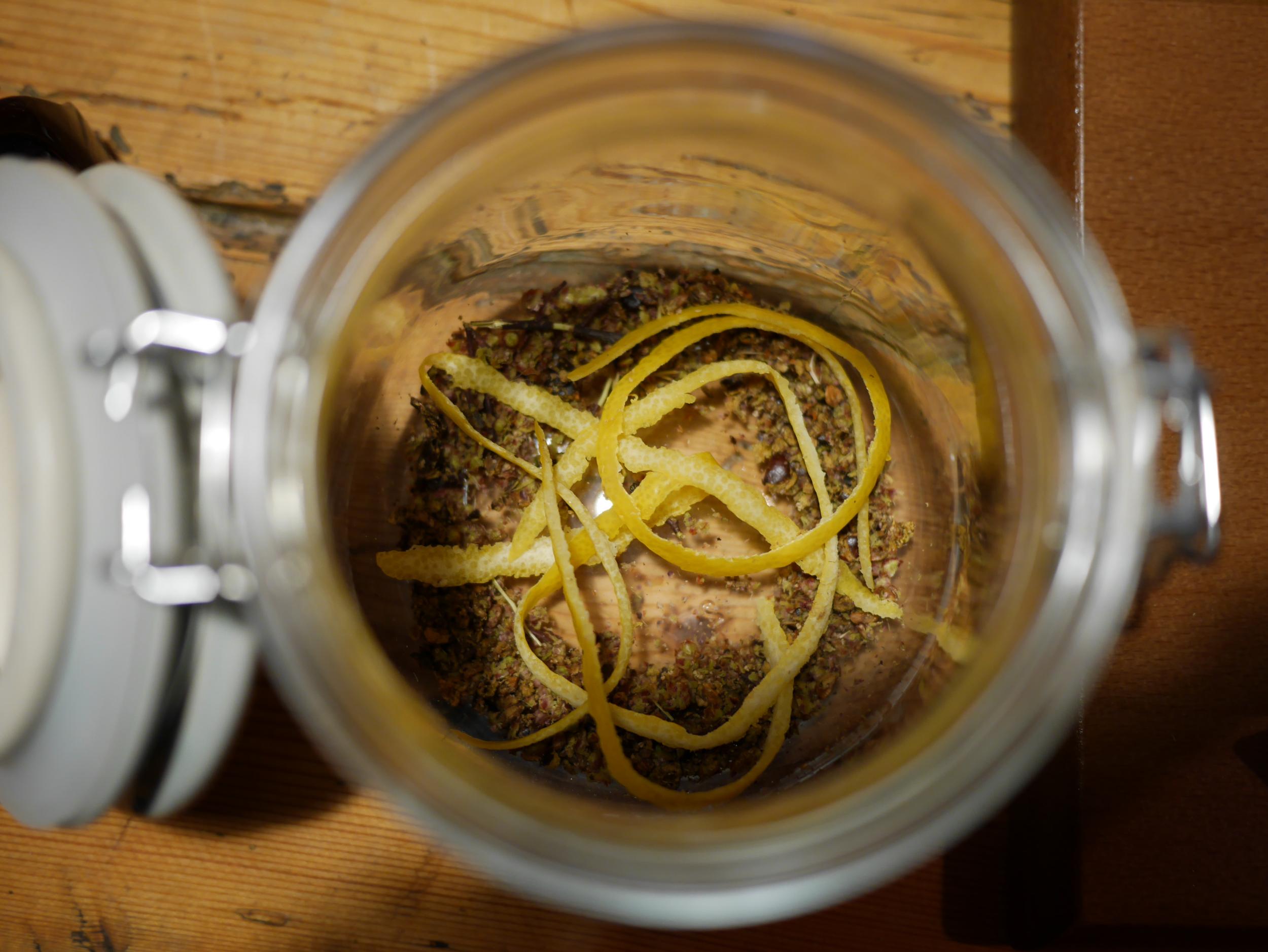 Straining my macerated liquid, I poured it into a copper still and lit the candle beneath. Ten minutes later, with our stills approaching 70°C, a cheer went up when the first drip of gin plopped into a waiting beaker.
Chris showed us how to "nose" our spirits by inhaling and tasting at intervals to detect the developing flavours. An important part of the process, you could spend up to two weeks tasting and refining your recipe under Chris's guidance. You could even design a gin for your wedding.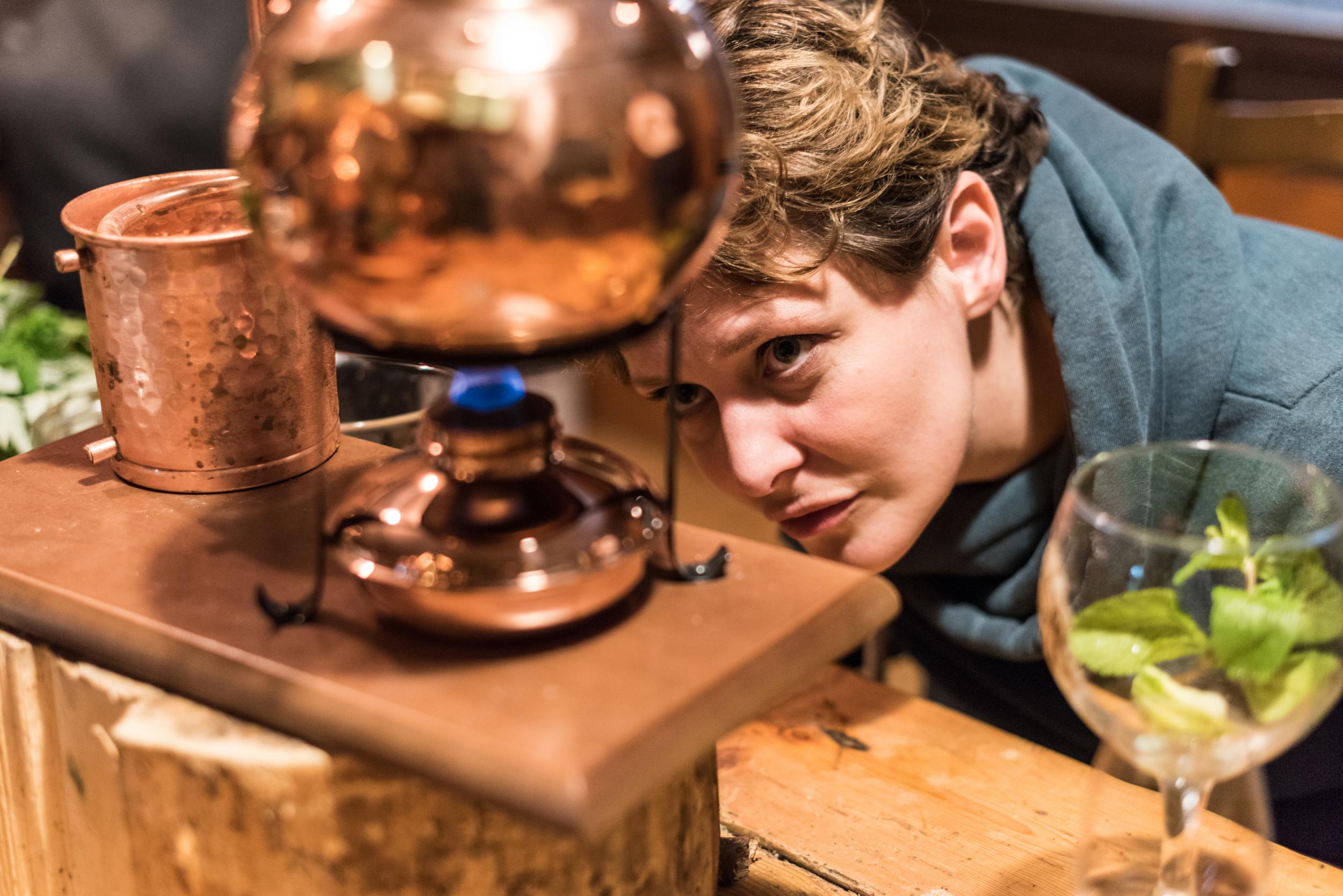 When the final drip had dropped, we decanted our creations into Daffy's distinctive bottles, designed by James Bond artist Robert McGinnis.
"Congratulations," Chris beamed as he handed me my cork-topped bottle and a gold-framed certificate declaring me a "gin distiller". I couldn't have felt more proud. From complete novice to certified distiller in one weekend: I'll drink to that.
Travel Essentials
Getting there
Lucy flew to Inverness from London Gatwick with EasyJet. Car hire starts at £26 per day with Arnold Clark in Inverness.
Staying there
Gin-making and foraging courses start from £120 per person, with a £40 supplement for SUP guiding (Red Paddle equipment included). Self-catering accommodation from £145 per night in Distillery Cottage (sleeps up to eight), or from £80 per night in Butlers Flat (sleeps up to five).
More information
strathmashie.co.uk
Source: Read Full Article