Six of the best escape room games
Escape the room games may have started life as a Japanese craze, but they have since spread far and wide, proving hugely popular as an off-beat activity right here in the UK.
Put simply, they involve being "locked" in a room with a timer counting down from an hour. You and your team must solve a series of puzzles, finding clues, opening locks and generally running around like headless chickens in order to escape before the time runs out.
Games vary in terms of the emphasis – some are focused on finding items by diligently searching every inch of a room, some are more about besting brain teasers and logic problems and others require physical dexterity – but they are all high-pressure, adrenaline-fuelled and very, very fun.
Here are six of the best London has to offer:
HintHunt
The premise: a murder has been committed and your team must discover whodunit before the hour's up. Simple.
What sets HintHunt apart is the sheer diligence required when sifting through a room bursting with objets to find the clues and items you need to complete the game.
"When you get into the room, check everything," said the young woman in charge of explaining the rules when I went. "Then check it again. And again. Don't trust your teammates' abilities – it doesn't matter if they've searched somewhere already, you search it for yourself."
This advice turns out to be sound, and a calm thoroughness is the key to beating the clock – although it's pretty hard to stay Zen when a giant timer is relentlessly (and very visibly) ticking the seconds away.
Where?
Eversholt Street, NW1 1BY (just down the road from Euston station)
How many?
Three to five players
How much?
From £17pp
ClueQuest
There are three games to choose from at clueQuest – one of which is for expert escape-the-roomers – but staff recommend novices opt for their original Plan 52, aka Red Box, challenge. Playing a spy for the evening, you must discover the identity of the double agent in your midst by – you guessed it – solving a range of puzzles. There are some really nice touches in this one; without giving anything away, there are a few good physical and visual challenges alongside the more traditional brain teasers. We found our team of five was stretched throughout, although the game was nicely paced so we felt we were constantly making progress (despite becoming increasingly frazzled).
Where?
Caledonian Road, N1 0SL (10-minute walk from Kings Cross station)
How many?
Three to five players
How much?
From £24pp
Omescape
Situated across the road from clueQuest – Cally Road is obviously the spiritual home of escape room games – Omescape is a bit darker in its themes than some of the other contenders. You can tell from the names of its three games that it's not messing around: choose from the Penitentiary, the Joker's Asylum and the Biohazard Laboratory. The team are very accommodating – although the minimum recommended number of players is three, they let my partner and I play as a pair. A lot of care and attention has gone into the props and design, creating a suitably eerie atmosphere, and there was a good range of puzzles requiring different skills to solve. The company has now branched out into VR games too – although I can't say I'll be rushing to play "Mind Horror".
Where?
Carnegie Street, N1 9QW (10-minute walk from Kings Cross station)
How many?
Three to seven players
How much?
From £17pp
The Crystal Maze
OK, this isn't strictly speaking an escape room game. But, since The Crystal Maze helped inspire the whole concept of escape room games, I think we can allow it. The attraction garnered huge attention when it first opened in 2016, with thousands of people keen to relive their favourite Nineties TV show. However, it has genuinely lived up to the hype – Game Masters guide teams around the maze, with much the same sardonic humour and energy that made original presenter Richard O'Brien so popular.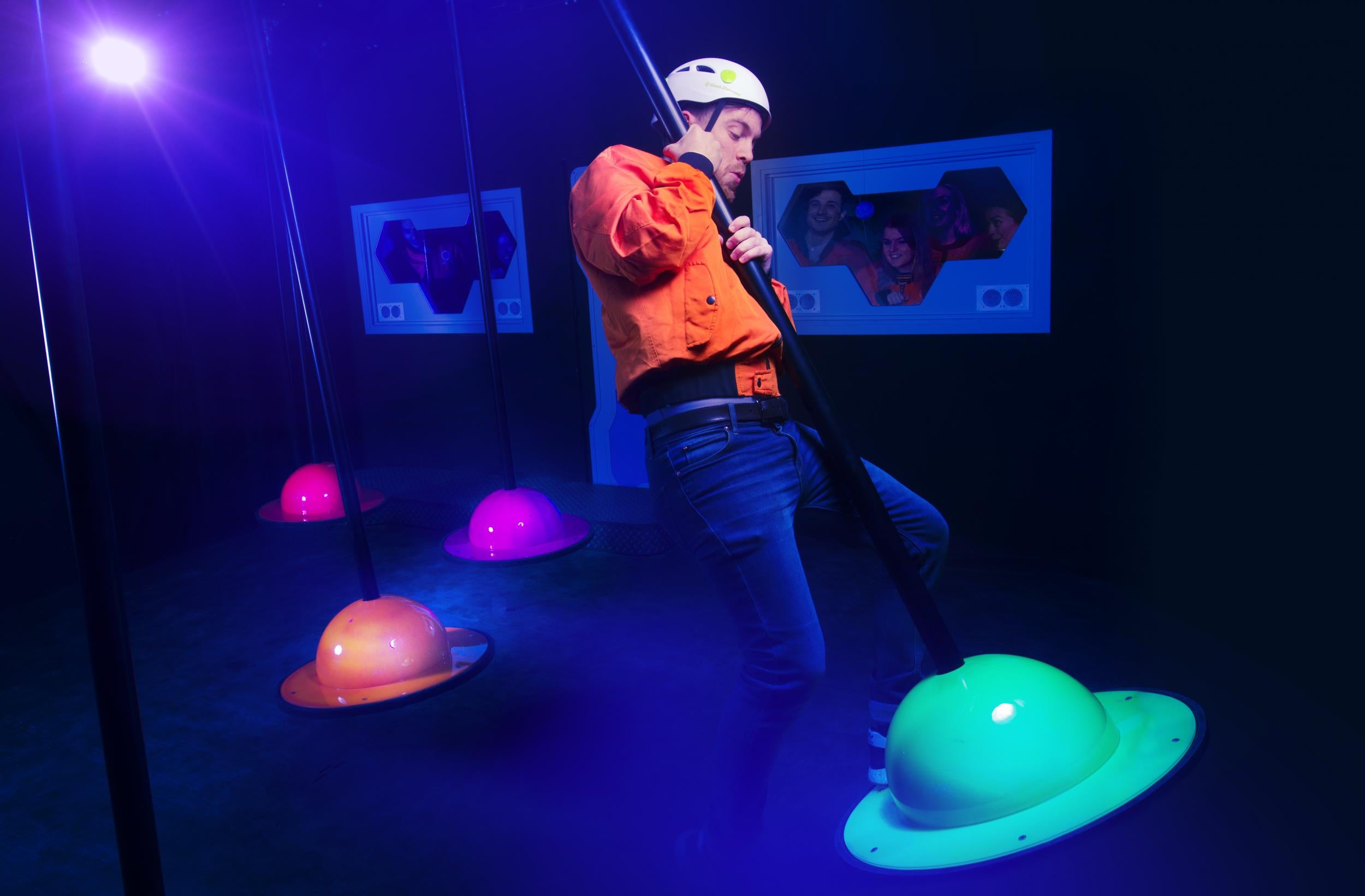 The zones – Aztec, Medieval, Futuristic and Industrial – are spot on, and many of the games are the same as the ones featured on the show. I got to try a new game in the recently refreshed Futuristic zone, which I hugely enjoyed (and not just because I got out in time). After winning as many crystals as possible by completing physical, mental, skill and mystery challenges, it's the bit you've been waiting for your whole life – collecting as many golden tickets as possible in the Crystal Dome. And yes, it is just as good as you dreamed it would be.
Where?
London: White Lion Street, N1 9PD (opposite Angel station)
Manchester: Lower Byrom Street, M3 4FP (next to the Museum of Science and Industry)
How many?
One to eight players
How much?
London, from £54.50pp; Manchester, from £32.50pp
Escape Rooms
Choose between two games at Escape Rooms: Pharaoh's Chamber and Room 33. Both have lots to offer, but my recommendation is the mysteriously named Room 33. Not only does it have a deliciously bonkers plot – you step into a time machine and are transported from 17th century China to the present day in order to recover a sacred vase from the British Museum – there are also lasers involved. You heard me: lasers. You get to dodge them while pretending to be Catherine Zeta-Jones in Entrapment or Tom Cruise in Mission: Impossible (delete as appropriate).
Where?
Tooley Street, SE1 2TU (near London Bridge station)
How many?
Three to seven players
How much?
From £17pp
Enigma Quests
This is the one place fans of escape room games and Harry Potter can combine their two passions. Enigma Quests boasts three games in total, but their big hitter is undoubtedly School of Witchcraft and Wizardry, inspired by the JK Rowling mega series. Your team's quest is to pass all exams and graduate from the School of Witchcraft and Wizardry – but you have to complete many challenges and obstacles to get there (of course). Channel your inner Hermione and get your geek on – this is the perfect night out for the Hogwarts-obsessive in your life.
Where?
Wilson Street, EC2M 7LS (near Moorgate station)
How many?
Three to five players
How much?
From £24pp
Source: Read Full Article