Why Cluj has Eastern Europe's coolest cafe culture
"Our world needs changing – our freedom of thought is being harmed," begins Lucian, founder of Q Caffe. "We need to speak about the real issues in society. I cannot change the world, but if each of us does something…"
For Lucian, that something was collaborating with local artists to produce one of the most visually stunning cafes in Europe. Duck into the surreptitious opening on strada Petru Maior, climb up the dark stairwell, and enter a dreamlike space filled with soaring figures, swirling clouds and haunting statues.
"Soul put this here. Not just work, not just money," Lucian says emphatically.
Cluj, Romania's second city and home to cafes like Q, has long been known for its bohemian style. As the largest town in Transylvania, Cluj is a blend of the region's cultures and nationalities, invigorated by a vast student population. I'm here to discover the city's cafe culture and its recent burst of creativity.
But this flourishing hasn't happened in a vacuum. As part of the USSR's eastern bloc, Romania suffered a decades-long stifling of creativity and individual expression.
"Because of communism, there's a culture of 'It's good enough'," says Lucian. "It makes it hard to make things better. It was a struggle to push my vision to the quality that was needed."
Even after the fall of communism, Romania has been plagued by political corruption. Q Caffe is a physical riposte, a philosophical reverie made real.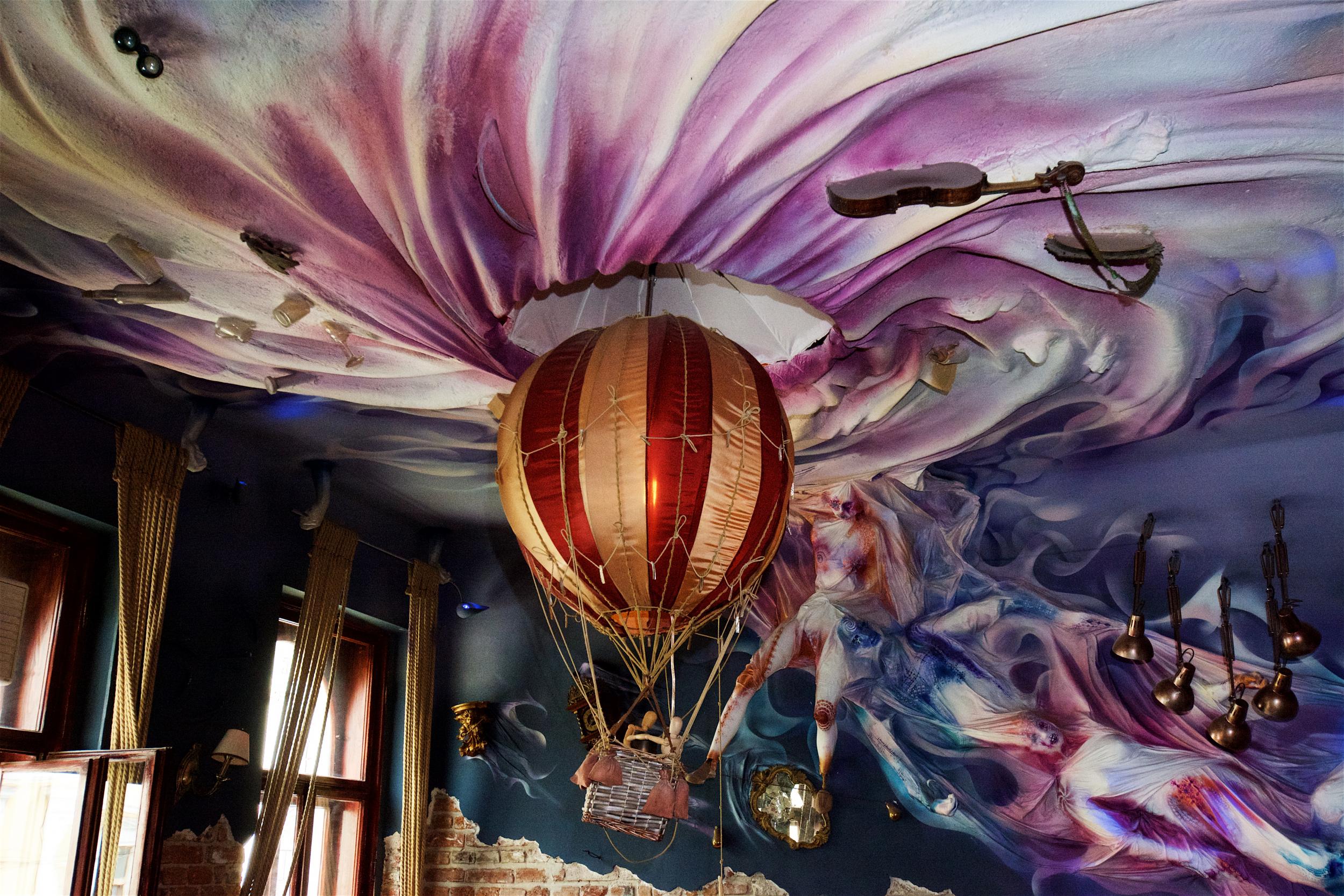 Nothing is here by chance. Walking in, you're struck by the life-size corporeal forms, shrouded in ghostly sheets and flowing across the walls, like souls escaping.
"The first room, with the bar, is about birth," says Lucian. "The second room is about society and what it does to us."
Lined up on the walls are open suitcases symbolising the baggage of society's burdens. Each one is a miniature stage revealing nightmarish Kafkaesque tableaus. Beneath them, beautifully crafted figures are seated around tables like regulars.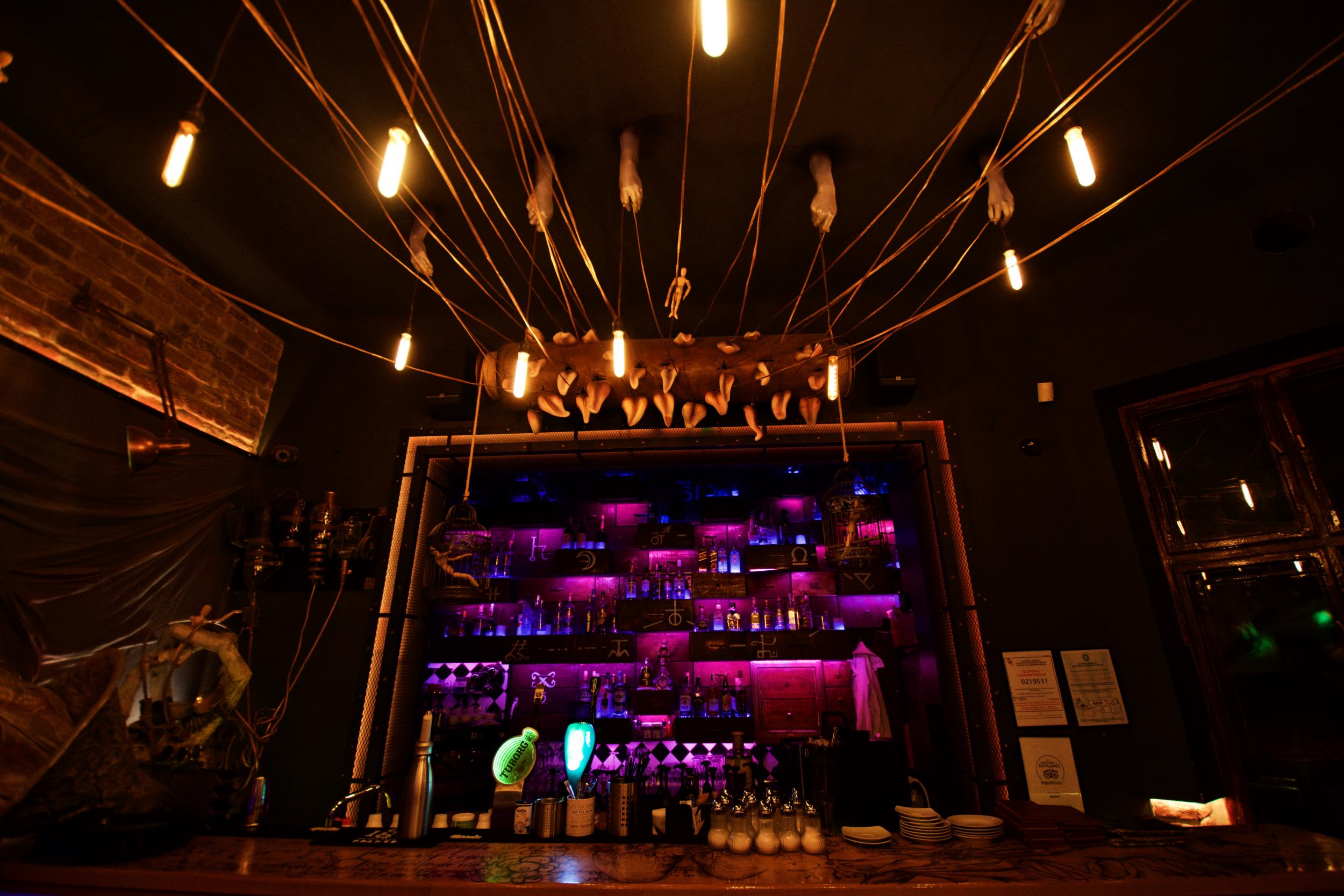 Lucian introduces me to these colourful – and disturbing – characters.
In the corner sits the collaborator: a monocle-wearing pig with a waistcoat of gold coins, greed personified. On another table is a cyborg, half-human and half-robot, illuminated by arteries of neon and a heart of cogs, the daily grind of work having turned him into an automaton. It might make you think twice about whipping out your laptop to catch up on emails.
Opposite the robot sits a man in a straightjacket, a remote smile on his face, leaning forward as if rocking himself.
So how did Lucian, who studied law, create such a unique space?
"I come from a poor background. I never had the luxury of deciding, 'what shall I do with my life?' I had to earn money. Maybe Q Caffe is my response to that, too."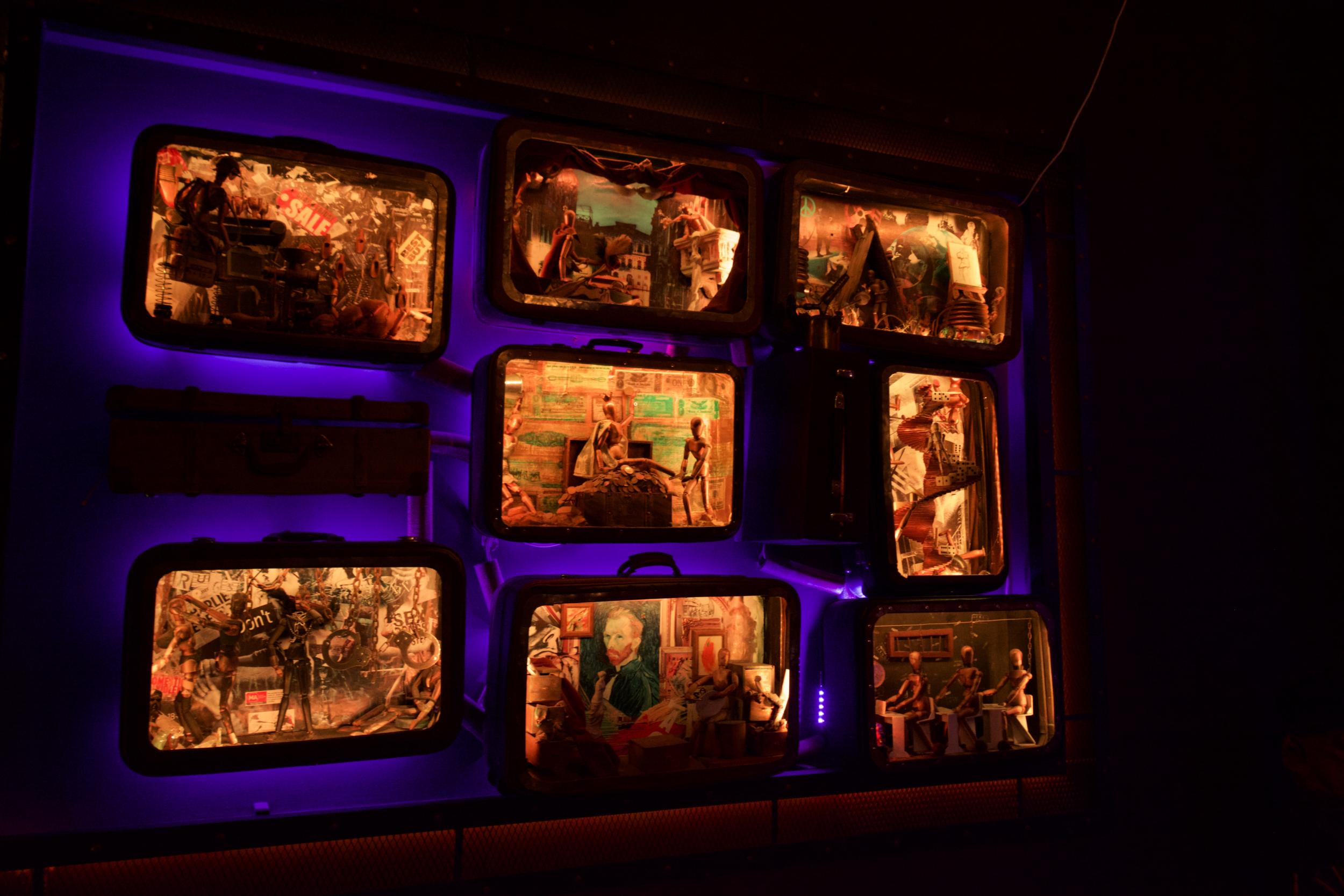 Its provocativeness is a sharp contrast to the generic, clichéd cafes that dominate the average high street. Sharing a coffee with friends is a different experience when you've got a shrouded corpse bearing down on you.
But, for Lucian, that's the point – to put on a performance.
"If you're a musician, you perform to 100,000 people. But we have had 100,000 people coming into Q Caffe in one year. Maybe it's the same thing."
It's made all the more believable by the sheer level of detail – the stick figures walking on the wires suspended above the bar, the swirling cloud of clocks and musical instruments literally embedded in the ceiling. The collaborator pig even has his own newspaper, a four-page satire on the world of 2050.
"This is my life's work. I didn't win the lottery. This took 10 years and the belief that it was not in vain. I want it to have an echo, and when I see that echo it's beautiful."
For all its idiosyncrasy, Q Caffe is just one part of Cluj's blossoming cafe culture. Over the past few years, imaginative new coffee shops and bars have emerged across the city.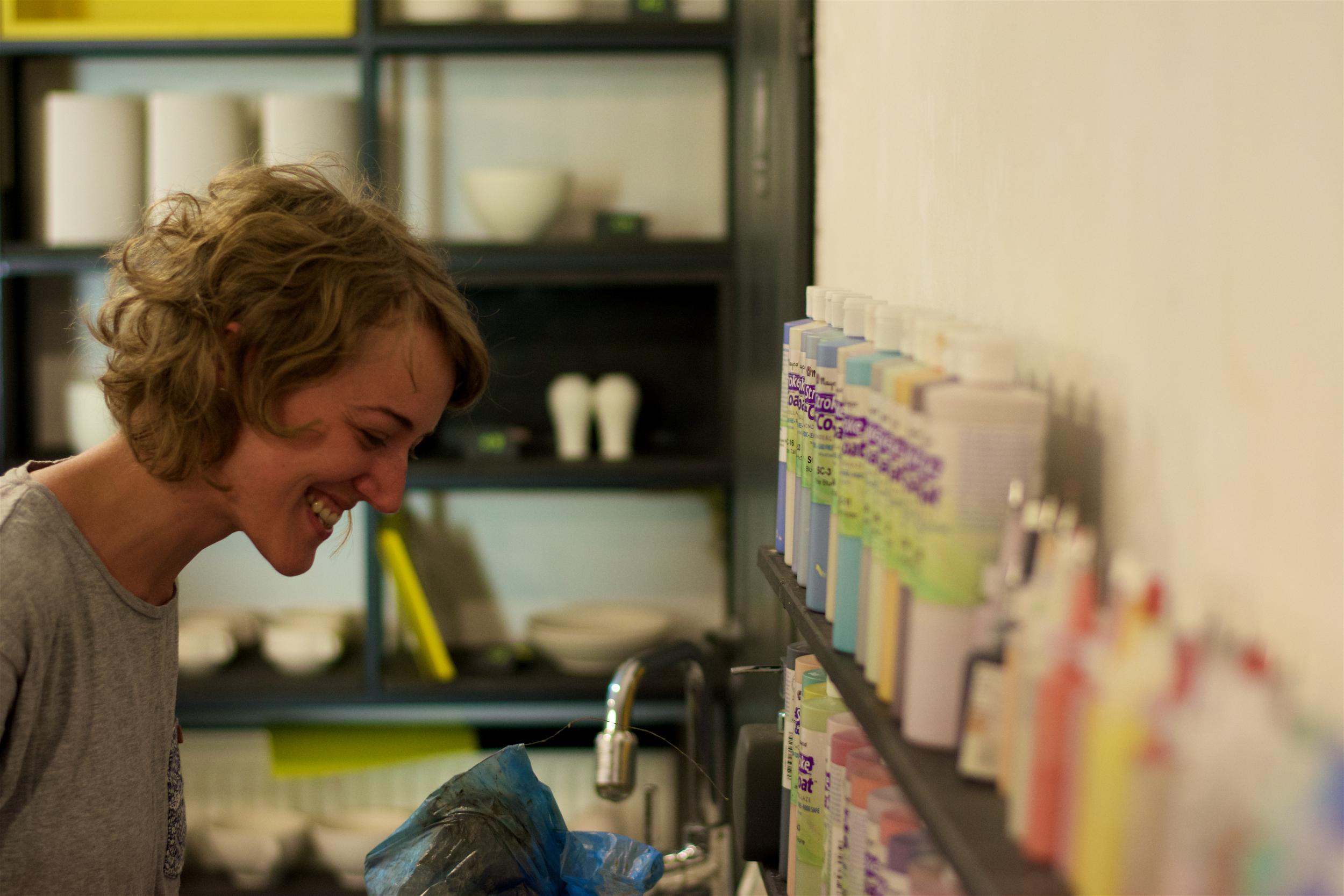 "There has been a revolution, absolutely," says Carina Ilea, founder of Ceramic Cafe. Tucked within a backstreet inside another backstreet in Cluj's old town, it encourages guests to get creative with their coffee.
"When we first opened, people were curious. They were saying, 'OK, so I can really come in here and do what I want?'"
At Ceramic Cafe guests can order a drink and enjoy some food – but they're also encouraged to shape clay, paint it and create something. "We tell our guests, make whatever you want," Carina says, "And take your time doing it."
We sit in on a class: from children to art students, everyone is engrossed. Some are dabbing strokes of paint to finished pots; others are still twisting the clay with their fingers.
"We want people to connect with one another," says Carina. "Here, you're sharing a table, you're sharing paintbrushes, you're sharing the space."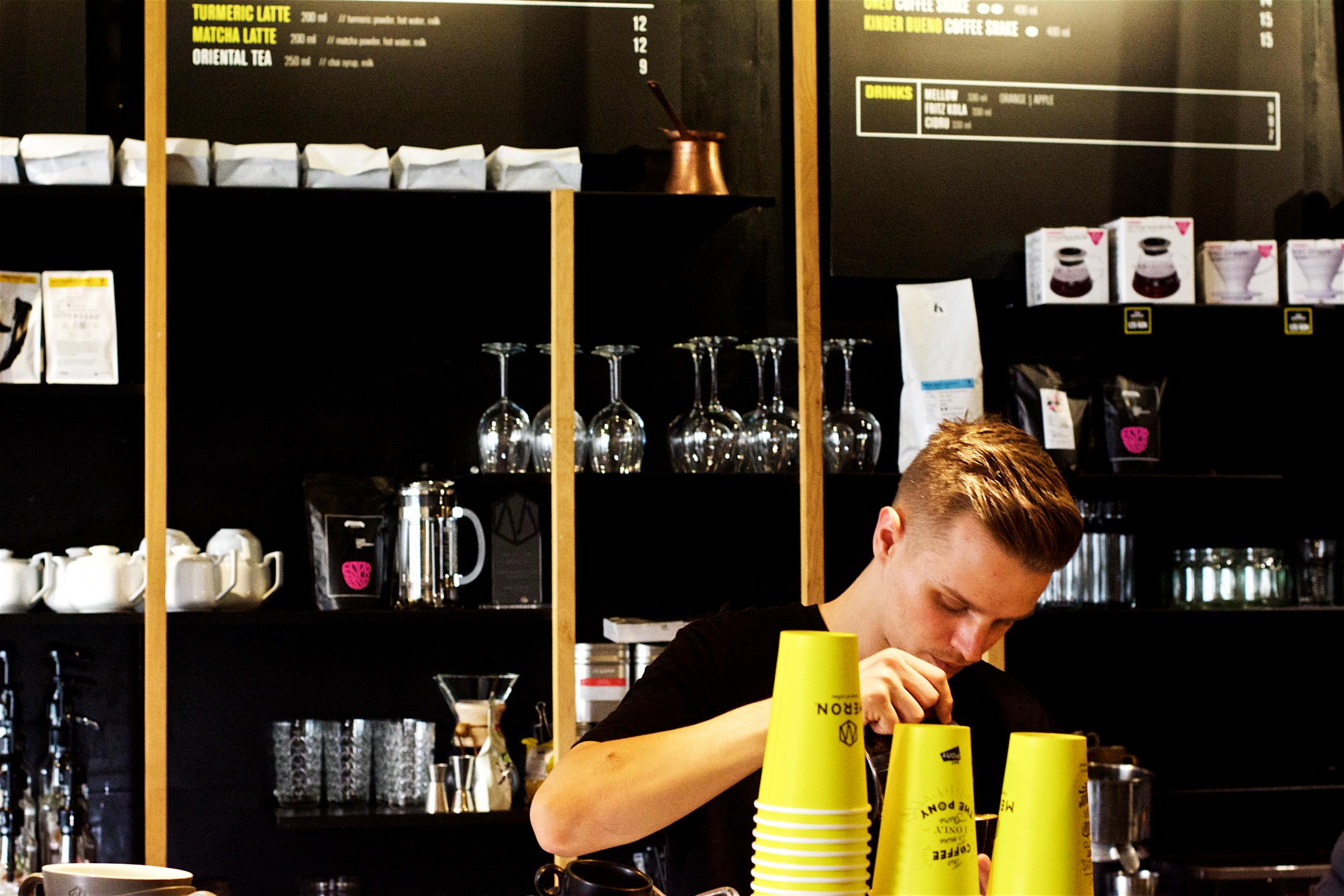 So why is Cluj going through such a creative transformation?
"It's been building for years," Carina insists, her eyes lighting up. "Romania's energy is stunning. And it's not just cafes, it's bars, it's restaurants, it's festivals…we're part of a wider movement."
Later, a visit to steampunk bar Enigma proves Carina right – it's not just cafes. From the countless cogs to the spinning wires opening the shutters surrounding the light bulbs, Enigma's machinery is kinetic.
Another steampunk bar, Joben ("top hat") indulges in the same aesthetic. A zeppelin dominates one ceiling, a masked robot another.
"Our owner was inspired by Q Caffe," admits Florin the bartender. "We saw what they did and wanted to do something unique, too."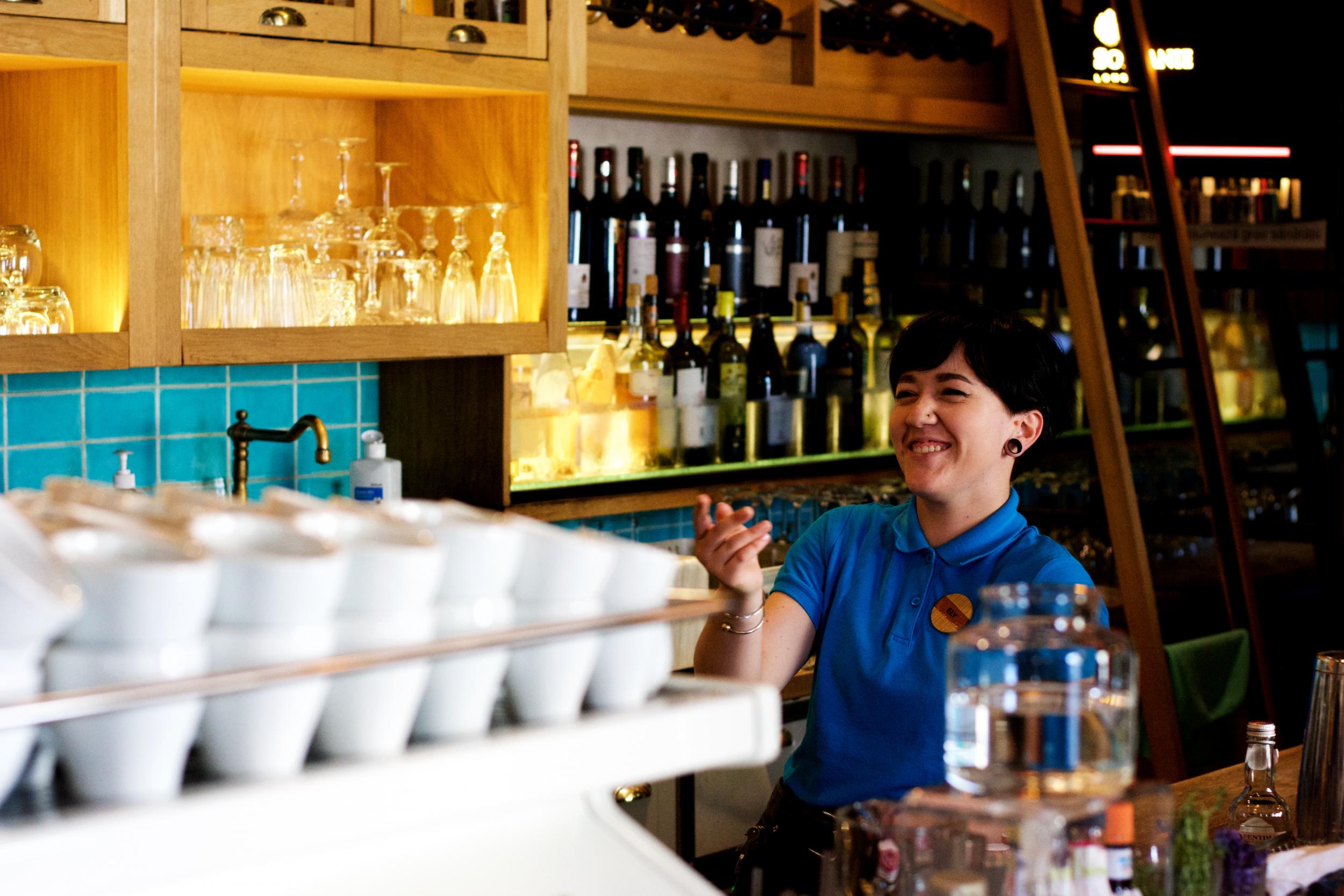 But by the time Sunday morning rolls around, I just need a decent coffee. We head over St Michael's square towards Strada Napoca, cobbled home of Meron.
"In Cluj, everyone working in coffee knows each other," says Laszlo, the barista. "We learn from one another."
At Meron, the coffee is obsessed over. On our table, a folded notice explains that while laptops are welcome during the weekdays, over the weekend they're forbidden.
"We want you to focus on the coffee," says Laszlo. "If you walk in to 20 people on laptops, you don't feel like you're in a coffee shop, you feel like you're in the office."
At Bujole, a foodie café on St Michael's square, I test Laszlo's conviction that all the baristas know each other by questioning our waitress.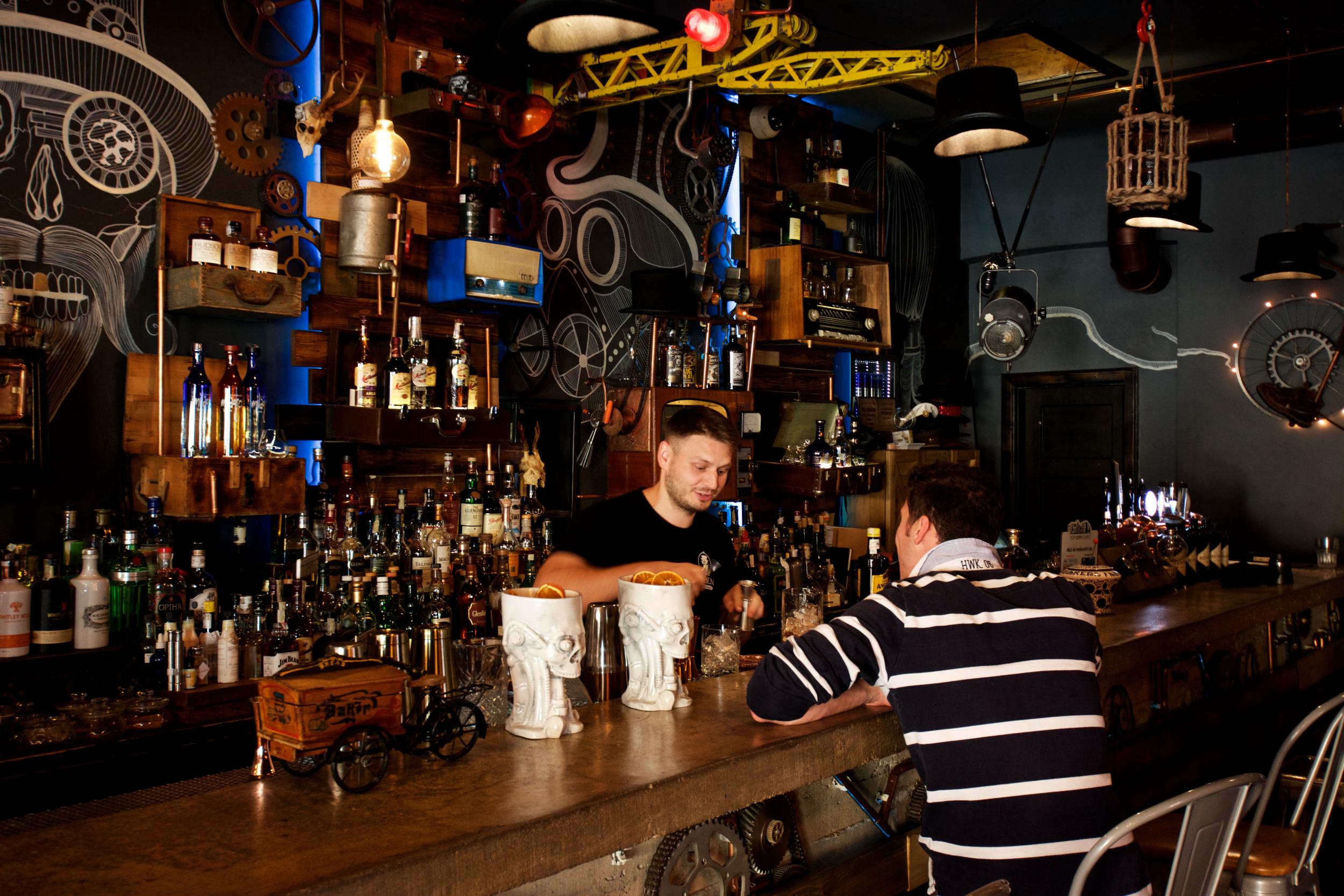 "Yes, we know Meron very well," smiles Ely. "We all know each other!" she echoes.
The interior designers must know each other too – Bujole is another beautiful space. But whereas Meron is sleek, Bujole has a more natural palette. Everything is turquoise or coffee-coloured.
The menu lives up to the decor – riotously fresh tagliatelle adorned with jewel-like tomatoes and juicy artichokes, followed by a cold-brew coffee blended with pear juice. I tell Ely that I love it.
Ely laughs. "Young people are expressing themselves," she says. "They want to make things better!"
Thinking back to Q Caffe, I can't help but smile – perhaps Lucian's hopes for the new generation are coming true.
Travel essentials
Getting there
WizzAir flies from London Luton to Cluj International Airport from £64 return.
Staying there
Lol Et Lola Hotel offers individually-themed doubles from €76, B&B.
Source: Read Full Article