Meet the Midnight Runners: 'It bonds us with the city'
It's a hot, sticky evening on the banks of the Thames in central London. Smells of beer and sounds of laughter rise up from people drinking in the sun. Hearing the bass blaring from the beatbox strapped to the back of the first runner, they look, almost as one, as the mass of bodies pass by. There is a subtle shift in the source of energy, a change in the dynamic: who is having the most fun, the pub-goers or the runners? Then we are gone.
Welcome to Midnight Runners. Along with groups such as such as Project Awesome, BlacklistLA and GoodGym, these tribes are changing the face of running in cities around the world.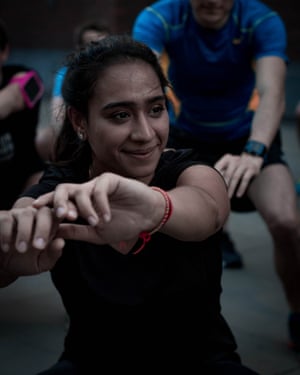 It was with no little trepidation that I turned up to a bar called Sama, in a recently renovated railway arch near Blackfriars Bridge, to join a group of more than 150 runners. I was greeted warmly by James Holt, the lithe 28-year-old run leader and his team of fellow volunteers – or "crew" as they call themselves. Each crew member sports an orange armband to distinguish them from the rest of the runners, should we have any questions.
Holt works as a tech consultant for a financial services company by day and, as of a year ago, leads London Midnight Runners by night. "Everyone at work knows I am a keen runner, and that I do this," he says, gesturing to the conversations that are striking up around us as runners arrive. "I've developed a lot. I get a lot of pride from working with such a diverse group of people. There is no mincing of words. Among the crew and the rest of the running community there are people who really know their minds and their stuff, be that the running routes, the music, the photography, the exercises we do. It is a team effort, and everyone has a role to play."
He adds: "There are blockers. Some people, sometimes nearby residents, have a view on the route we take, or the music we play, or the spaces we gather in. We listen, we change things. And on balance we know that we're adding to the city, not making it worse."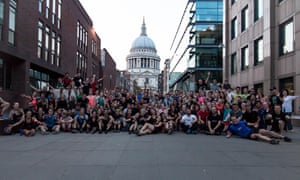 The Midnight Runners have recently expanded to Barcelona, New York, Berlin, Boston and Paris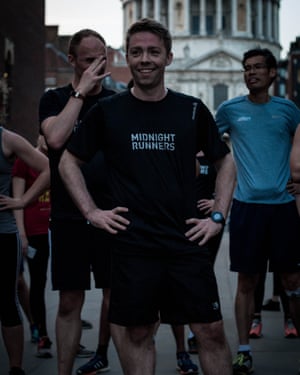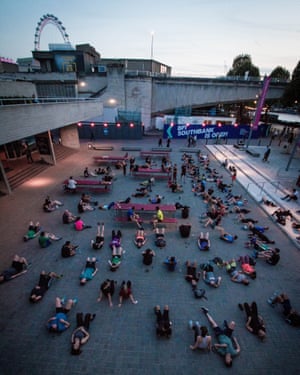 Given the growing levels of obesity in cities around the world – not to mention congestion, air pollution, social isolation and loneliness – he may well have a point.
By now the place is packed. Many of the assembled runners are wearing black, looking like running ninjas. Lots are in Midnight Runners t-shirts, some with a dash of neon colour as a hairband or around their wrist. It's a young crowd, but there are a few others with as much grey hair as me.
It's 7.30pm, not midnight. The name Midnight Runners is not the best example of a name that does exactly what it says on the tin – or at least not any more. Most people prefer to run earlier, at times that fit around day jobs. None of the sessions held each week are actually at midnightany more, says Jody Bragger, one of only two full-time Midnight Runners staff. I guess the "Noon Weekend Long Run Club" or "The Tuesday 7.30pm" wouldn't have the same pull.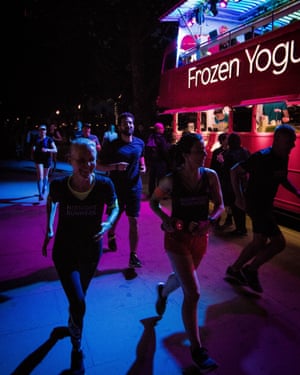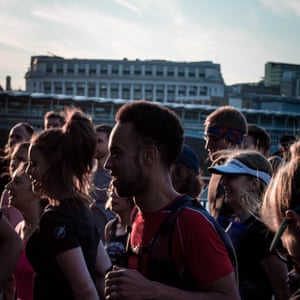 I barely have time to ponder this: we're off. Slowly at first, down the cobbles, towards the south side of the Embankment, past Blackfriars station, with its 4,000 solar panels glimmering in the sun.
We soon stop in an open space between Tate Modern and the river. Holt and a couple of other crew members jump on to a raised concrete bollard to welcome us. "Introduce yourself to someone you don't know," he proposes. I turn to my right, where I'm met with the smiling face of a fellow mature runner, Amanda Burt, who at 58 is helping me up the average age. She looks younger and livelier than many people 20 years younger.
Burt has been Midnight Running for more than two years. "I just love it," she says as we make our way around the six-mile route. "I make it an extension of my working day. On Tuesdays I plan to be here, and I make sure that I am no matter what. By the time I get home it's after 11pm, but the running, the amazing crew who motivate you, the people – there's a great social side. I tend to be towards the back of the group but never feel left out."
I am curious what non-runners think, so I ask bystanders as we run past. "Rather you than me," says one man enjoying a beer in the sunshine. I ask a policeman on Tower Bridge if he thinks we are a nuisance. "No, it looks … epic," he replies.
The photography and music play a big part, both in enhancing the experience in the moment and in creating images and video that people want to share afterwards. Pictures and footage of people having a good time is clearly a great way to spread the word.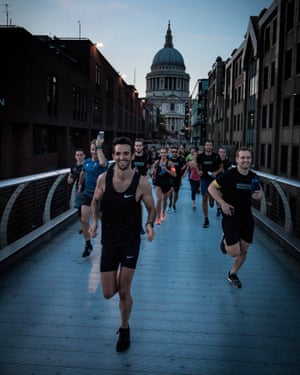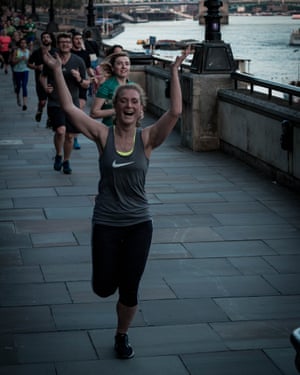 Photographer Daniel Varga, 42, a long-time crew member originally from Budapest, describes his approach. "I look for characters, people enjoying themselves," he says. "Lots of the runners, both boys and girls, are in great shape. They have six-packs, but that, in itself, doesn't make for good photos. What matters is, who is really feeling it?"
Varga says taking photos for Midnight Runners and doing other crew roles has brought him out of his shell: "I am an introvert. I used to hide round pillars, try to make myself invisible. I'd capture people that way, as a surprise, but now I engage, I interact."
The music is mostly dance and pop with a heavy bass. It is carefully considered and sequenced by the volunteers, who have a Slack channel to debate what gets used in the sessions. Music that adds energy is key, which is just as well if you're not accustomed to the intense bursts of squats, sit-ups and burpees we perform every mile or so.
There are now six cities with a weekly Midnight Runners programme: Barcelona, Berlin, Boston, Paris and New York as well as London.
Marina, 29, a teacher who moved to London from Spain, is a long-term crew member. "London can be a lonely place," she says. "This is a great way to connect you with the people of the city, and the city itself. It teaches you to navigate new places, and it brings you together. We make friends and it bonds us with the city."
Scott Cain is CEO of Run Friendly. He can be found on Twitter at @scottcainuk
Follow Guardian Cities on Twitter, Facebook and Instagram to join the discussion, and explore our archive here
Source: Read Full Article