Gliding along Aspen's scenic cross-country trails
I lived in Aspen, Colo., for many years, so when I return I know exactly where to head in order to find true charm. It's 12 miles and a century away, up Castle Creek Valley at Ashcroft's cross-country trails, ghost town and cookhouse.
Located just out the back door from Aspen's vibrant downtown and world-class ski areas, Ashcroft Ski Touring's King Cabin provides Nordic lessons and classic and skate ski rentals from November to April. The $25 day pass grants unlimited access to more than 20 miles of groomed trails threading through 600 acres of peaceful meadows and aspen groves along Castle Creek.
This tour of the area on skis includes the intrigue of the silver-mining ghost town of Ashcroft, with houses built in the 1880s restored for a 1950s television series. It also includes the Highland-Bavarian Lodge, which was conceived as the base of the first ski resort in Colorado in the 1930s and used instead by the 10th Mountain Division, training there during World War II.
When it's completed later this year, I'm looking forward to the new Catto Center at Toklat, a wilderness retreat under renovation by the Aspen Center for Environmental Studies, better known as ACES. The former home of Stuart and Isabel Mace, it once housed a lodge, restaurant, gallery and base for dog sled tours with dogs that moonlighted on the 1950s TV series, "Sergeant Preston of the Yukon."
When it reopens, visitors can don Nordic skis or snowshoes and learn more about the history and environs on a four-hour guided nature tour with a knowledgeable naturalist from ACES.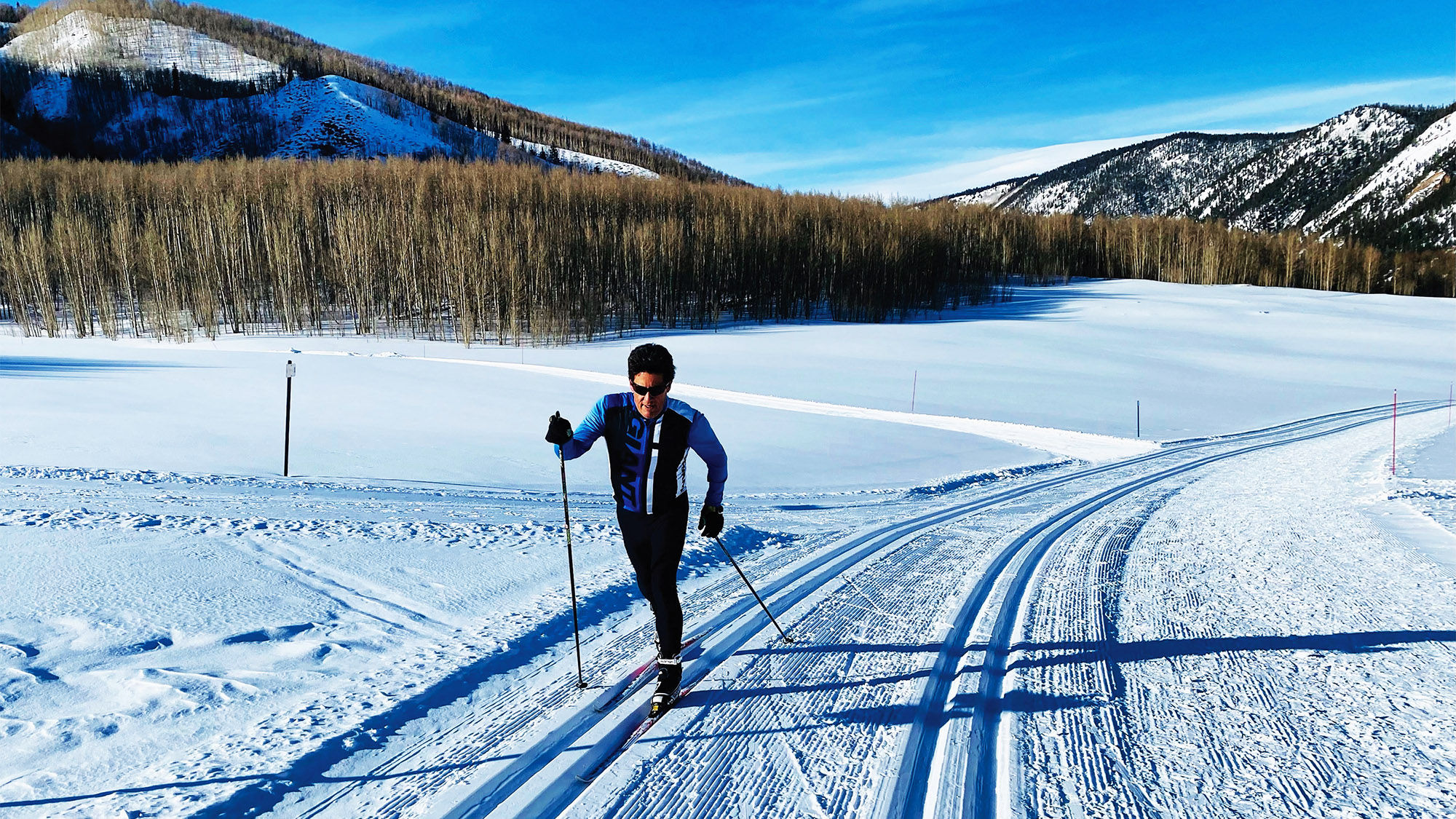 Creature comforts
If I feel like a treat, I'll reserve ahead at the Pine Creek Cookhouse for a prix fixe lunch (served 11:30 a.m. to 2:30 p.m.) or dinner (6 p.m. to 8 p.m). The lodge can only be reached on skis or snowshoes (with headlamps after dinner) or via draft horse-drawn wooden sleigh.
The full bar and inspired meals whipped up from locally sourced and organic game, fish and vegetables are enjoyed in an open-concept log interior offering floor-to-ceiling views of the valley.
To match Ashcroft's charm, my first choice for lodging in town is Aspen Meadows. Secreted on the Aspen Institute's campus, 40 acres in the West End between downtown and Red Mountain, the property's Bauhaus-inspired design features add red, blue and yellow to the white winter landscape. Aspen Meadows offers storage for guests' outdoor equipment.
I was pleasantly surprised to find recent renovations by Suomi Design Works maintain the aesthetic of original designer Herbert Bayer while bringing modern touches to the 98 suites, each with living, working and sleeping areas. 
The museum at the nearby Bayer Center is an excellent recent addition for learning more about the history of the institute and the town. (The Aspen Institute is a Washington-based think tank and research center that hosts conferences and corporate retreats at its Aspen campus.)
And I love the Health Center for a dip in the outdoor heated pool and hot tub with the sounds of the Roaring Fork River rushing below. The center, located at the institute, is free to resort guests.
Rates at Aspen Meadows start at $619. Learn more at www.aspenmeadows.com. 
Source: Read Full Article