A local's guide to Marseille: 10 top tips
Alexandre Mazzia's AM
Alexandre is a modernist chef who I admire a lot, and his restaurant is worth a gourmet splash out, especially at lunchtime (midday tasting menus from €39-92). He opened AM four years ago and was awarded a Michelin star in 2016. A meal here is very much a surprise: no written menu, just tasting selections that can run to 10 servings, but actually include 20-30 tiny dishes. Alexandre was born in the Congo, and incorporates surprising global ingredients in his cuisine – tapioca from Africa, kumbawa fruits, satay and sake from Asia – but also the wonderful fish and seafood we have in the Mediterranean.
Pizza at La Bonne Mère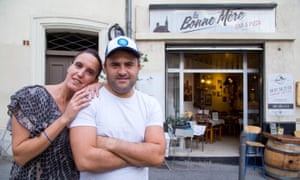 We've been passionate about pizza here ever since the 1950s, when the town hall authorised pizza trucks with wood-fired ovens – early street food. There's a pizzeria on every street corner, including legendary addresses such as Chez Etienne and Chez Sauveur, known for the classic thin, crispy tomate, anchois, olive. But I have recently discovered La Bonne Mère, a tiny place behind Notre-Dame de la Charité. Young owners Jeremy and Mahéva are purists, serving a small but tasty selection (from €12). Pizzas made with organic flour and juicy buffalo mozzarella are cooked in a wood-fired oven. I like their speciality Bonne Mère with extra anchovies. Booking essential.
Food shopping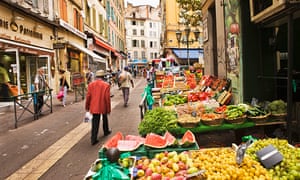 Le Marché des Capucins, in a maze of narrow streets, is the foodie heart of Marseille. Tourists will find fresh, cheap fruit, vegetables and picnic supplies. I have always found inspiration from its exotic food stores, such as Saladin, whose spice emporium is as well stocked as Marrakech's souk. Up the street, check out Maison Empereur, a labyrinth dating from 1827, with every kitchen gadget under the sun. For lunch, try a €6 plate of grilled sardines, Algerian salads and chorba soup at the street-corner Comptoir des Beaux Arts, or join a more chic crowd at L'Epicerie l'Ideal, a new cafe-deli recently opened by Julia Sammut, from France's influential Le Fooding guide.
Swim in a calanque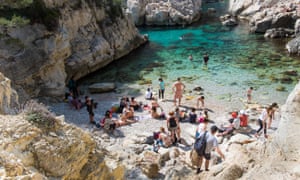 It doesn't take long to get out of our city to the calanques, wild, gorge-like creeks along the coast as far as Cassis. The nearest calanques, Sormiou and Callelongue, are half an hour away, with quiet beaches and nature trails. But I would recommend the less accessible but spectacular Calanque de Sugiton. Take bus 21 to Marseille University's Luminy campus for a dramatic and strenuous trek of over an hour. Even better, take a boat tour that visits several calanques before dropping anchor in Sugiton for a swim in the turquoise waters.
• Half-day trips depart from the Vieux-Port (€32pp), visite-des-calanques.com
Patisserie and picnic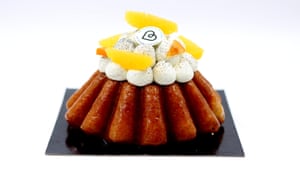 Clément Higgins is a talented young baker who recently opened Pâtisserie Bricoleurs de Douceurs, a modern bakery-boutique in an old garage south of the city. Don't expect baguettes and sandwiches – Clément concentrates on sweet stuff, producing just seven fun, inventive pastries, tarts and gateaux each day, inspired by local seasonal fruits, with no colourants or preservatives. Don't miss his praline Marseille-Brest, a contemporary take on the classic Paris-Brest choux creation, and the succulent Peach Me I'm Famous. There is a small salon de thé, but a better plan, after buying a selection of pastries (€5 each), is to walk down to the seafront, with its numerous steps leading down to huge rocks and tiny beaches … perfect for a picnic.
Funky food kiosk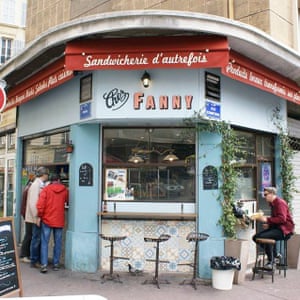 Fanny opened her eponymous snack bar in the historic Panier neighbourhood when she was 21. Everything is prepared fresh each morning, though she admits to being hopeless with recipes: "I can't do the same dish two days running, as it always comes out different." So one day she might cook a traditional beef daube, the next a vegetarian tagine, then pasta with clams. She dubs the kiosk sandwicherie d'autrefois (old-style), so while burgers may well be on the menu – you can't ignore what everyone wants to eat – she makes them her own way, with, say, organic goat's cheese or homemade tapenade. The plat du jour is €6, either at the counter or in a cardboard container.
Herbalist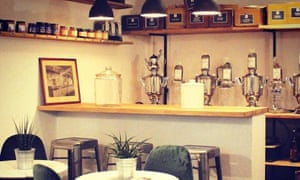 Founded in 1815 L'Herboristerie du Père Blaize is a medicinal herbalist, and is an institution, stocking over 1,000 dried herbs, plants, essential oils and spices. When I was growing up, my schoolmates and I would get dragged to this strange, aromatic apothecary by our grandmothers, who came here for magic potions to cure every ailment under the sun. Ten years ago, I saw that people were drinking less alcohol, so I collaborated with Père Blaize to create a range of "Herbes de Vifs" – a modern cocktail of infusions that can be drunk hot or chilled, neat, or mixed with fruit or vegetable extracts.
And a few months ago, the Herboristerie itself opened its own Tisanerie, where you can choose and taste your own detox concoctions, under the guidance of Vincent Eliot, who used to be my barman.
Arts hub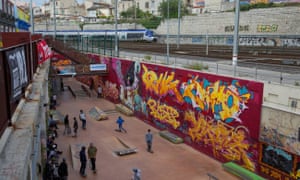 Friche la Belle de Mai has been around a long time now, but it still dominates Marseille's alternative arts and culture scene. Located in one of the city's poorest neighbourhoods, just behind Saint-Charles train station, this friche, an urban regeneration project, sprawls over what was once an enormous cigarette factory producing France's emblematic Gitanes and Gauloises cigarettes. You can find avant-garde art exhibitions here, a Saturday morning farmers' market, free outdoor cinema screenings, a huge skateboard park and graffiti artists, and everything from jazz to techno concerts. In summer, the whole of the rooftop is opened up for performances, picnics and parties.
They have an excellent canteen, Les Grandes Tables, which hosts memorable one-off events – such as when we organised the first Le Fooding extravaganza in Marseille, bringing together innovative chefs and regional farm producers.
The best bars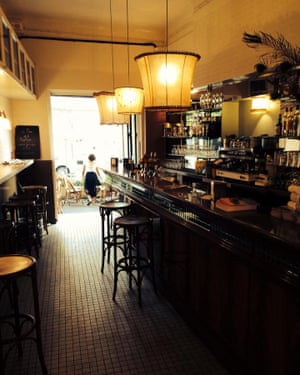 The Endoume is the most interesting quarter in Marseille right now, throwing off its old, sleazy reputation dating back to the days of The French Connection movie. Although it has become one of the city's trendiest addresses, there is still a real neighbourhood atmosphere, typified by the rebirth of the historic La Relève bar.
I remember when this was a real dive. Now there are craft beers and a selection of organic and natural wines. The place comes to life for early-evening apéro, packed out from 7pm with a fun, young crowd from all over the city. However, I would also still say that no visitor to Marseille should miss the cafe terraces of Place de Lenche in the Panier quarter, where Le Barjac serves mojitos and caipirinhas for €5, while a generous shot of Ricard is still only €2, with no extra charge for sitting outside.
Cantini museum
Marseille now has a brilliant selection of world-class museums, from the avant-garde Mucem toLa Vieille Charité, housed in a former 17th-century almshouse But this is the new, modern Marseille; when I was growing up, pretty much the only museum kids were taken to was Cantini, right in the city centre. It impressed me enormously at the time: an immense mansion originally constructed as the headquarters of an African trading company, with a remarkable collection of 20th-century art, including works by Max Ernst and Miró, Picasso, Matisse, Balthus and Francis Bacon. Now I suggest friends visit it as somewhere under the radar, away from the crowds, where you can stand in front of a canvas without being surrounded by a scrum of people.
Gérald Passedat was interviewed by John Brunton
Getting there
EasyJet and Ryanair fly to Marseille from several UK airports; Eurostar train travel via Paris costs from £68 one-way.
Where to stay
Two stylish but affordable B&Bs near the train station are Casa Ortega (doubles from €90 B&B) and Pension Edelweiss (doubles from €85 B&B).
What's on
The traditional Foire aux Santons (santons are the terrracotta figurines used in Provençal crib scenes) runs from 18 Nov-31 December at Marseille's Vieux Port.
Further information
marseille-tourisme.com.
Source: Read Full Article