40 Clever Friendsgiving Puns You'll Love Cranberry Much
As it gets closer to the holidays, you're probably getting more pumped thinking about eating pumpkin pie, savoring mashed potatoes, and spending quality time with some of your fave people, especially your best friends. Of course, like most celebrations in 2020, a Thanksgiving potluck with your pals (aka Friendsgiving) will look a little bit different this year due to the ongoing coronavirus pandemic. The Centers for Disease Control and Prevention (CDC) states that any small gathering bringing different households together in one place presents the risk of contracting COVID-19. So, celebrating the occasion with your roommates, with whom you've been quarantining for months, or perhaps hosting a virtual Friendsgiving feast with your besties, is a more responsible option, should you choose to continue with this tradition. You can still give thanks to the friends who make you feel all warm and fuzzy inside in a safe way, and snap some cute pics to post on Instagram with any of these clever Friendsgiving puns.
Making new traditions, combined with some of the old ones, will make your celebration and pics so special. Your pictures, of course, can use some puns to make perfect Instagram captions. Like your friends, puns make you laugh, they're always there at the right time, and they're great dinner companions. No matter what dish you have in front of you, there's sure to be a food pun to go along with it. A simple "pie love Thanksgiving" is the whipped cream you need on top of your pumpkin pie pics. Or, show that you're having a gourd time with a candid shot of your roommates laughing around the table.
Grab a second helping of sweet potatoes and LOL at a funny story your roomie is telling, because we've got you covered with any of these 40 clever Friendsgiving puns to use as your captions. Now that creative Instagram captions have been served, if you plan on participating on Friendsgiving this year, be sure that it's safe and stuffed with fun at home.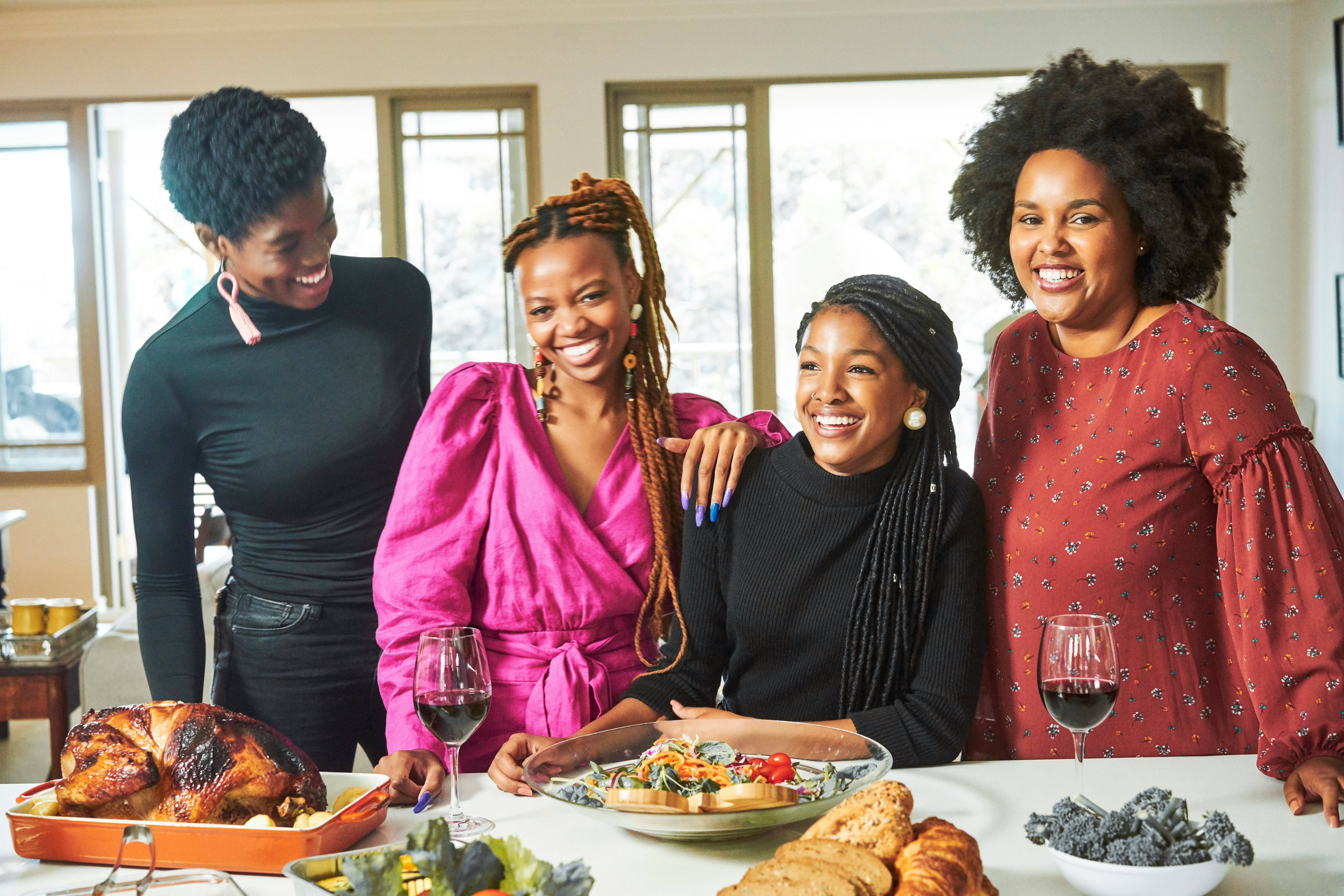 1. "My friends are plucking hilarious."
2. "Love is ale we need."
3. "I get pie with a little help from my friends."
4. "Feast your eyes on this squad."
5. "Talk about squash goals."
6. "Let's give 'em pumpkin to talk about."
7. "Pie love spending time with my friends."
8. "You want a piece of this?"
9. "You are the pumpkin of my pie."
10. "Stop, drop, and pass the rolls."
11. "My friends are the turkey to my heart."
12. "Let's get stuffed."
13. "Let's crock 'n' roll."
14. "You know we're all about that baste."
15. "Having a good thyme with my friends."
16. "I know it's cheesy, but my friends are really grate."
17. "We're in feast mode."
18. "Talk turkey to me."
19. "Thanks a brunch for spending Thanksgiving with me."
20. "My friends are truly a-maize-ing."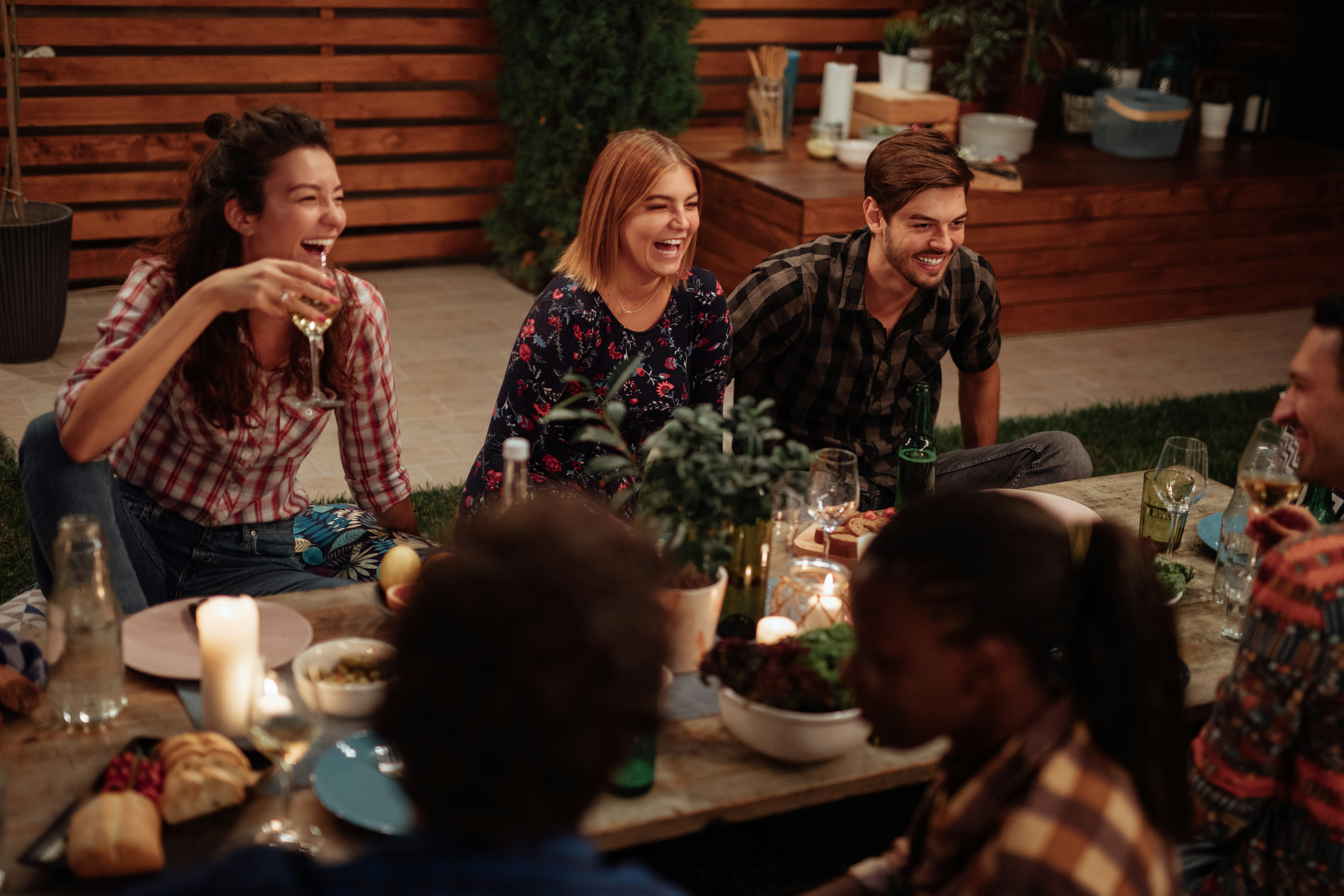 21. "I'm full from all the thanks."
22. "I'm soy thankful to have friends and food."
23. "Yes we cran finish all this food."
24. "I love you all cranberry much."
25. "We like big beans and we cannot lie."
26. "I'm filled with love this Thanksgiving."
27. "Have a hap-pie Thanksgiving."
28. "My friends are gourdgeous."
29. "I crust my friends with my whole heart."
30. "Having a butterball with my besties."
31. "I'm not kneady. I just love spending time with my friends."
32. "You can't have a crumby Thanksgiving when your squad is around."
33. "Tis the seasoning to spend thyme with your friends."
34. "Spending Thanksgiving with the ones I loaf."
35. "I'm pie-ning for more girls' nights like this one."
36. "My friends bake me berry happy."
37. "All you knead is love, and eating pie with your best friends."
38. "Having a gourd time with my friends."
39. "My friends always know how to make everything butter."
40. "Stuffin' compares to my squad."
This article was originally published on
Source: Read Full Article