8 of Scotland's best beaches and coastal treasures
Making a feature of Scotland's less-travelled coast is a responsibility and a challenge. Even its quieter corners are seeing a tourist boom. Much of the rural north-west, deserted in the romantic imagination, is to all intents "full". Skye, where accommodation is booked months ahead and camper vans form tailbacks on single-track roads, may be reaching crisis point. Some say we should think of the isle as we do Venice – under threat from the rising tide of tourism. Parts of Edinburgh are becoming an ordeal to visit, and that's before the festival crowds arrive.
But no one wants to turn off the tap. Scotland has what tourists want in buckets: diverse and magnificent landscape, history, first-class culture, friendly people and, now, much improved food and drink. Scotland gets tourism and turns out to be really good at it. All we have to do is work out how to manage all these lovely visitors so we don't kill the capercaillie that laid the golden egg.
Visit Scotland, the official tourist body, and Edinburgh city council, keeper of the main gateway to the country, are beginning to focus on how to spread this bounty to unsung parts of Scotland. In line with this strategy, I have picked beaches and coastal villages that are not only discreetly authentic but keen for more visitors. I've deliberately avoided those that appeal to the purist seeking a "secret" beach. My own deserted "Pete's Beach" on the north coast, which I described 25 years ago in the first edition of Scotland the Best, now has a lay-by and, in my selfish view, an annoying zipwire business. All the places below can absorb and accommodate you. For the really secret beaches, there are plenty to find for yourself.
Gullane, East Lothian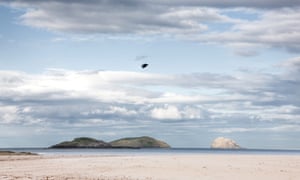 This quietly refined village about 45 minutes' drive from Edinburgh is a good centre for the beaches of East Lothian. Its beach is part of a long sandy stretch of coast. Beachcombers, barbecuers, bold swimmers and kids all have their favourites, such as Tyninghame, Yellowcraig and Seacliff (this last is less frequented, perhaps because you pay two quid to take your car down to it). In all weathers, and the often ethereal East Lothian light, these beaches are a great escape. Down the road in North Berwick, the hotels, restaurants and cafes are all much improved of late. Basically there's no need to face the throng in the capital.
Where to stay and eat The Open Arms hotel in nearby Dirleton has doubles from £90 B&B. The Old Clubhouse in Gullane does grills, haggis and veggie dishes.
Arisaig and Mallaig, the Highlands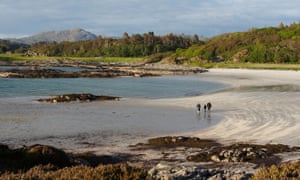 The Road to the Isles from Fort William is the stepping-off point from the mainland – and of everyday life. Boats run to some of Scotland's most enigmatic islands – Rum, Eigg, Muck – and the Knoydart peninsula (made ever more accessible by the vibrant community of Inverie and the Knoydart Foundation). Arisaig and Mallaig bookend golden beaches, beginning where Loch Morar leaks out to sea on one of the UK's shortest rivers. Famous Camusdarach beach is just one of many.
Where to stay Arisaig House, one of the Highlands' most laid-back hotels, has doubles for £360 B&B for two nights. Doune Stone Lodge is a remote hostel/hotel on its own cove where seven nights in a double room with half-board (and packed lunch) costs £570pp. The Knoydart Foundation runs a bunkhouse (dorm beds £18) and a campsite (£7 for two), plus B&B and cottage listings.
Moray coast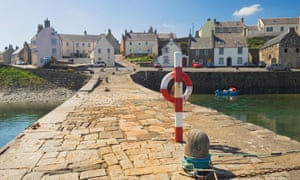 From Spey Bay, where the river slips in to the sea, to Fraserburgh in the north-east, this is some of Scotland's best coastal scenery, with villages in cliff and cove settings: no rush, no traffic, no noise except sea and birds. Notable are Portsoy, with a 17th-century harbour, a waterside pub and a boat festival; Pennan, where much of Local Hero was filmed; Gardenstown, with a walk along the water's edge to coast-clinging Crovie, with great bird-watching cliffs at Troup Head; and Cullen, on the main road with a wide beach, a new, cool cafe called Rockpool and a 5km walk to Sunnyside, one of Scotland's most sublime beaches.

Where to stay: Royal Oak Hotel in Cullen is two minutes from the beach, with eight rooms from £80 B&B.
Cromarty, the Highlands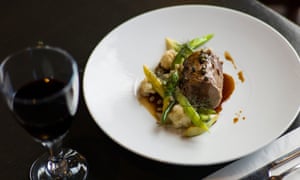 At the end of the road across the Black Isle peninsula, Cromarty has a times-gone-by atmosphere without being at all twee. Kids run about freely; there's a pink beach and redundant oil platforms in the bay. Unusual delights include the East Church with its clear-glazed windows, Hugh (the geologist) Miller's Cottage and a brilliant cheese shop. The South Sutor affords a bracing walk round the entrance to Cromarty Firth, with dolphins to spot.
Where to stay and eat The Anderson in nearby Fortrose has doubles from £109 B&B. Cromarty does have a cute tearoom, Couper's Creek, and a well-regarded restaurant and pizzeria, Sutor Creek.
Bowmore and Islay, Hebrides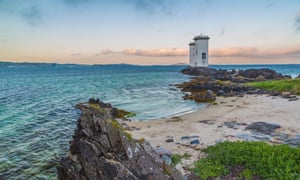 Islay may not have Skye's mountains or the small island delights of the Inner Hebrides but a two-hour ferry ride takes you into a thriving community well aware of its responsibilities as custodians of a precious Arcadia. Bowmore, on the Indaal sea loch, is one of several villages with a special relationship with land and sea: the quiet, the seafood, the migrating birds and the peat, a key ingredient in Islay's world-famous malts. There are countless coves, crannies and wild beaches to discover.

Where to stay The Harbour Inn in Bowmore has doubles from £145 B&B. Glenegedale House B&B, on the way to Port Ellen, has doubles from £90.
Durness and north coast, Highlands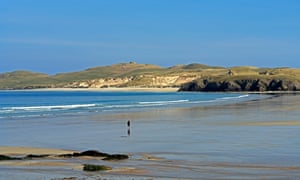 West of Thurso on the North Coast 500 route are many miles of unspoiled and unsung beaches (apart from my one with the bloody zipwire). Those worth seeking out, in order from Thurso, are: Strathy and Armadale; Farr and Torrisdale (the latter gets the mentions but Farr is easier to reach); Coldbackie; and Balnakeil by Durness – just after the same-named craft village with its cafe The Whale Tale and an artisan chocolate destination Cocoa Mountain. Durness, a straggly but very Highland village, has a John Lennon Memorial Garden and the Smoo Cave. After Durness, going south, is amazing Assynt.
Where to stay Mackay's Rooms has a "petite" double from £129 B&B.
Elie, Fife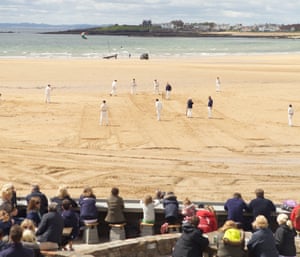 Long a weekend retreat across the water from Edinburgh, Elie is the cosiest corner in the East Neuk of Fife. Time moves slowly here, except perhaps at the Ship Inn, a destination pub with a beer garden and cricket pitch on the beach. It's only half an hour from bustling St Andrews, where tourists replace students in the summer, with lots of cool shopping and places to eat. Placid Elie is defined by its crescent of beach and unruffled sea, and there are walks from here along the Fife Coastal Path to Kingsbarns beach (with its toastie hut) and the Cambo estate and walled garden, or along the Chain Walk from Earlsferry, the conjoined village where the 19th Hole is another pub food destination run by the folk who have the Ship Inn.
Where to stay The Ship Inn has doubles from £130 B&B. Rufflets is a smart hotel and restaurant near St Andrews, with doubles from £153 B&B.
Portpatrick, Dumfries & Galloway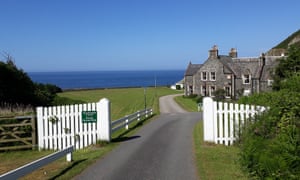 Here on the hammerhead peninsula known as the Rhins of Galloway, way south-west of everything else, Portpatrick clusters round its crescent-shaped harbour. Twenty miles away, and often visible from the cliff, is the coast of County Down – Portpatrick used to be Scotland's most important link with Ireland. Jealously protected by its legions of returning admirers, Portpatrick has a distinctly amiable air: with bars and restaurants along the waterfront, it makes a good centre for roaming the Rhins or starting out on the 212-mile Southern Upland Way. Or, more likely, just hanging out and shooting the southern breeze.
Where to stay Knockinaam Lodge has a five-course taster menu dinner, B&B from £360 for two. The Crown hotel has doubles from £95 B&B.
Pete Irvine is author of Scotland the Best, HarperCollins, £15.99
Source: Read Full Article