Argentina's Impenetrable forest opens up
In the far north of Argentina lies a vast and extremely hot lowland known as the Gran Chaco. Were you to find yourself in it, as I did, you might kayak across a lily-filled lagoon and stumble into a solitary mansion peeking out above an endless sea of green.
It was here, at Estancia La Fidelidad, that eccentric rancher Manuel Roseo lived until 2011, when he was brutally murdered by criminals hoping to take his large (and little-touched) property. Thanks to the quick actions of Argentinian conservationists, provincial officials and the federal government, that tragedy had a silver lining with the birth of a new national park that could just shine a light on a forgotten South American wilderness.
El Impenetrable national park opened to the public in August 2017, following a telenovela's worth of drama that included not only Roseo's murder but the hunt for his missing heirs and a long legal battle to expropriate his land. At 128,000 hectares, it's now the largest national park in northern Argentina and a beacon of hope for the entire Gran Chaco, which fans out into Paraguay, Bolivia and Brazil (where it is connected to the Pantanal region) and is South America's second-largest forest ecosystem after the Amazon.
While the Amazon has become a rallying cry for environmentalists, the bulbous silk floss trees, towering cacti and bushy bramble of the Chaco are disappearing in relative silence. Never as well-known – or as protected – as the Amazon, the Chaco is fast becoming the domain of cattle ranches and soya farms.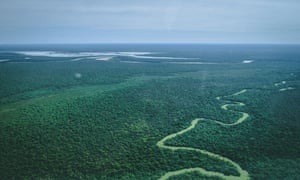 When my plane landed in the regional capital Resistencia (via Buenos Aires) I had expected a dusty frontier town. Instead, I found a surprisingly lush city that fashions itself as an open-air art museum.
Resistencia's neat and orderly streets are home to some 630 public sculptures, thanks to the Unesco-supported Bienal Internacional de Esculturas (sculpture biennial), and its residents frequent places like the eclectic El Fogón de los Arrieros, a cultural centre-meets-cabinet of curiosities with walls lined with outsider art that puts on evenings filled with tango, jazz and opera.
I hadn't come all this way to tarry in Resistencia, but found it hard to leave. I knew that the transition from this arty enclave into the wilds of greater Chaco province would be stark and startling, and that my ultimate destination, 250 miles away, would be far removed from the comforts of modern civilisation.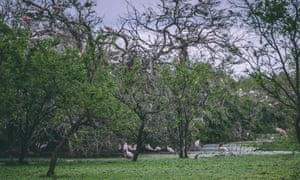 I spent one evening in town before hopping in a 4×4 (arranged by Daniel Gaona, of Vagabundos Viajes), the following morning. The landscape outside my window on the road out of Resistencia was pancake-flat and swampy green. Salmon-coloured roseate spoonbills waded in muddy puddles, while howler monkeys paraded through riverside trees. Then, rather jarringly, large cattle ranches and soya farms interrupted the pristine surroundings.
The World Land Trust claims that one hectare of Gran Chaco forest is lost every minute to these twin causes, yet there remain large tracts of land where South America's big five – jaguars, pumas, tapirs, giant anteaters and giant armadillos – still roam free. To get there, I had to bump down the dirt roads that penetrate the untamed bush of this "impenetrable" forest, trading the thick, sticky air of the Chaco's eastern half for the skin-sizzling heat of its arid core.
I chose to follow La Ruta de la Cultura Qom, a heritage route launched in 2013 to drive tourism to little-visited communities of the Qom, an indigenous group native to these forests. In the village of Fortín Lavalle, I met Juan Honorio Arguelles of Fundación Gran Chaco, an NGO working with local indigenous communities on reforestation and sustainable development projects.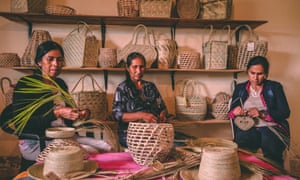 Arguelles introduced me to three local weavers the foundation sponsors and we joined them on a walk through prickly forests to gather the palm fronds they use to weave their baskets. As we strolled through the densely textured vegetation, the women pointed out medicinal plants they use: the shiny leaves of the cocu help with gallbladder problems, a tea made from molle leaves soothes bronchitis and the wispy "old man's beard" is a moss that tackles everyday foot odours.
"The forest has always provided the essentials for the indigenous communities of the Chaco," Arguelles explained. "Our goal is to give them the tools they need to organise themselves, share their culture and have a sustainable existence right here, because the future lies in the forest."
I travelled west that afternoon from tiny Fortin Lavalle to the agricultural city of Juan José Castelli, the gateway to El Impenetrable. I spent the night at its only lodge, the modern Hotel Portal Del Impenetrable, before departing, at long last, for the park.
El Impenetrable is a thick expanse of semi-arid and riparian forests with an herbaceous aroma and the kind of plants and trees that stick up for themselves, with spiky trunks and thorny branches. The Bermejo and Bermejito rivers border the park, making it a wet oasis in the otherwise dry region.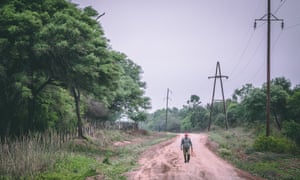 Birding is a top draw (there are roughly 350 species here), and to spot some I decided to camp under the shade of gnarled, 300-year-old algarrobo trees at Campamento Los Algarrobos, a riverside campground near the village of Nueva Población, on the park's south-west edge.
Paddling down the murky green Bermejito that afternoon in one of the camp's kayaks, I spotted great black hawks, little yellow cattle tyrants, slender anhingas (snakebirds) and prehistoric-looking southern screamers.
Back on the coral-coloured land the following morning, I ran across white-lipped peccaries (a hog-like animal), a sunbathing yacare caiman, a fast-moving geoffroy's cat and a massive hole dug by a giant armadillo – though it, like most of the park's big game, proved elusive.
Leonardo Juber, El Impenetrable's 36-year-old superintendent, told me that many of the animals here are so used to being hunted that they're not yet habituated to harmless wildlife-watchers. He plans to open a series of three-sided animal hides with attached campsites along at least two of the park's lagoons to make wildlife viewing more viable.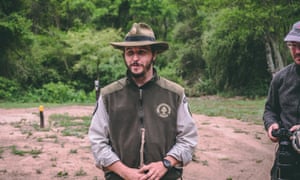 "The Chaco is one of the regions with the most biodiversity not only in Argentina, but in all of South America," he said as we hiked the short Sendero Conejo de los Palos, one of the park's first trails. It traverses a plain of large, columnar cardón cacti, and is a popular area for Chacoan mara (a rabbit-like rodent).
Back in Juan José Castelli the next evening, I made a beeline for Finca Don Miguel. This new farm-to-table restaurant is emblematic of the region's tourism hopes. It lies on the family farm of rising chef Alina Ruiz and specialises in regional cuisine, including roast squash, jerky stew and fantastic alfajor cookies made from the seeds of algarrobo trees.
The gregarious Adrián Contreras joined me for dinner. A fast-talking transplant from Buenos Aires, he's in charge of Master Plan El Impenetrable, a project to turn this undeveloped region into a hub of sustainable tourism. He told me that step one (due for completion in the first half of 2019) is to build an interactive interpretation centre in Miraflores, a village near the park entrance, and to make the local Qom and Wichí communities caretakers of four new eco-lodges on the park's edge. The communities will receive appropriate training, equipment (like kayaks and stoves) and spaces to sell their crafts.
Contreras admits that there is still much work ahead to arm El Impenetrable with the infrastructure it needs (and deserves) to lure the less intrepid. But it's an ambitious plan, and it may be exactly what the Gran Chaco has been waiting for: a new economic driver that sees the forest as an asset worth keeping.
• The trip was provided by Gran Chaco tourism (chaco.travel)
Getting there
Aerolineas Argentinas operates several daily flights between Buenos Aires and Resistencia, taking 90 minutes and costing from about £80 return. The journey by bus would take at least 12 hours and cost about £35.
Tours
Local travel company Vagabundos Viajes organise tours of the area; a three-day tour costs around £330pp, including accommodation, food, transport and activities.
When to go
The best time to visit is September-November and March-May, avoiding the heat and rain of summer. In winter, it can be too cool to camp.
Looking for a holiday with a difference? Browse Guardian Holidays to find a range of fantastic trips
Source: Read Full Article