Bite the bullet train and head to Japan
Getting to eat the good stuff in Tokyo can be a challenge. The problem isn't finding the right places. The concierge team at the city's hotels work harder than most making restaurant reservations, and ours at the Mandarin Oriental is no exception. They have sent us to a bustling, wood-lined izakaya, or food pub, down a side street in the city's Akasaka district. Here, smoke pirouettes from the grills in the open kitchens, the beer, like the air conditioning, is beautifully chilled and the tables are crowded with locals.
The problem is that the place is so very local, so very Tokyo, that quite reasonably no one here speaks English, and we speak no Japanese apart from the good manners of "hello" and "thank you". Or so we think. Suddenly our 18-year-old son, Eddie, is sorting the order. He can do numbers and a few other phrases, enough to get an omakase request – roughly, the chef's choice – under way. We are served blocks of silken tofu under umami-rich tangles of dried fish, plump, gossamer-skinned gyoza and tempura-ed fritters of sweetcorn. Thanks in part to Eddie, we do eat the good stuff.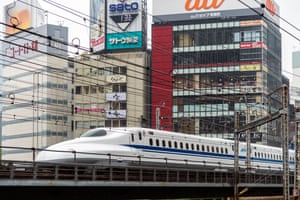 We shouldn't have been surprised. After all, the trip was based on our two teenage boys' engagement with Japanese culture from London. Eddie and his 14-year-old brother, Dan, have long been armpit deep in the stuff. They have watched endless anime, read manga and played the games. They know a good bowl of ramen from the merely mediocre. It should be no surprise that Eddie has picked up some of the language. I suggest to my other half that instead of our usual holiday lazing by a European pool, we should be intrepid and together explore the real Japan before our sons are too old to want anything to do with us. Pat looks at the weather forecast. "You know it's stinking hot in Japan in August," she says.
I nod and say: "But ramen… I have my priorities."
Exploring Japan is not straightforward. In the major cities, many signs and announcements are in English, but an awful lot isn't. The culture is deceptively complex, and a bit of help can save a lot of time and anxiety. We have a tour company called Inside Japan on our side. They have sorted the itinerary, supplying us with pre-loaded cards for the Tokyo metro, along with Japan Rail passes which enable us to take the famed bullet trains from Tokyo to Kyoto, and finally into the forest around Mount Fuji.
They secure us tickets for a sumo match and one morning we rattle out across the seemingly endless low-rise Tokyo suburbs to a local gymnasium, where we are among the very few non-Japanese in a crowd of thousands. Huge, melon-bellied men wrestle each other for mere seconds amid the slap of chest on chest, in between lengthy bouts of ritual and chanting. It's utterly compelling.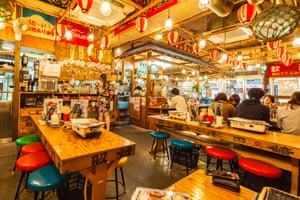 Naturally, we visit Akihabara, or "Electric Town", a tight knot of high-rise streets back in the centre of Tokyo full of gadget shops and video game arcades. I assume it will be a tribute to the cutting edge and there is a lot of that. But the boys, who in their bedrooms have quietly been turning the games of my youth into the stuff of their retro cool, take us back into our own pasts. On the fifth floor of a multi-layered, tinkling video arcade, we challenge each other to games of Bomberman and Street Fighter II circa 1991. I lose. Repeatedly. Later, Eddie returns on his own – he's completely untangled the Gordian Knot that is the Tokyo subway – and comes back with armfuls of manga merch. (He has also downloaded a language app, and his Japanese vocabulary is expanding daily.)
Dan picks up a piece of Akihabra's finest, a Nintendo GameCube from the early noughties complete with a copy of Super Mario Sunshine, which joins us on the Shinkansen or bullet train to Kyoto. It doesn't matter that the whip-fierce tail of Typhoon Shanshan crashed into Tokyo the night before, slapping the city with high winds and torrential rain. The trains keep to stereotype and run not just to the minute but to the second.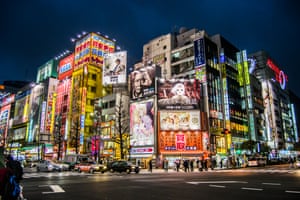 In Kyoto, one of the country's cultural and historic centres, we have a traditional townhouse, or machiya, just up the hill from the imposing Hokanji Temple Pagoda. It's a small, wood-built, two-storey affair with a window looking out on to an ornamental garden and the most delicious air-conditioning. Pat wasn't wrong: it is 37C in Kyoto, with humidity to match. By day, in the company of a guide, Pat and I attempt the shrines and pagodas, building a sweat climbing the myriad steps, and cooling down courtesy of sugar-flavoured shaved ice. We visit the 1,001 intricate golden statues, housed in the Sanjusangen-do temple, and guarded by 30 carved gods, many of whom look furious about being there. We tour a porcelain festival, gawp at the prices for the most delicate of ceramics, but find our way to bowls etched with images of branch and leaf at a price we can just about afford. We even take tea with a trainee geisha called Mameaki – a maiko in local dialect – although by this time the boys have bailed on us, defeated by the temperatures. We conclude this is no bad thing. They may well have found her, and the formality of the tea ceremony she presides over, disconcerting. She answers all our questions politely, but there is something jarring about a young woman of 17 who has chosen a role for herself that is essentially decorative.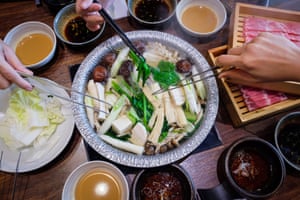 Still, as dusk falls, the whole family takes to the paved streets of Gion, the traditional Geisha area, where the alleyways teem with Japanese and Chinese tourists dressed in traditional kimonos for the day. Here every other building seems to be marked by a red lantern indicating an inn or restaurant. We queue up winding stairs for 45 minutes for intense and comforting bowls of "black" ramen, its thick stock made with charred miso. We try to look elegant, seated on the floor around burners of bubbling shabu-shabu hot pot. One night, in our own private tatami room, we are served a delicately poised multi-course kaiseki menu of sashimi and tempura.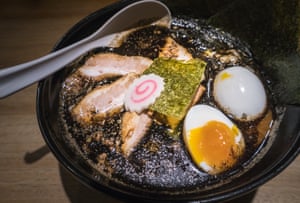 Finally, we board the train for the cool, dappled sanctuary of Hoshinoya Fuji, a "glamping" resort on a forested hillside overlooking Mount Fuji. (Rising early one morning I even manage to catch a rare cloudless image of Fuji San, as it's known in these parts.) Japan apparently does not have much of a camping culture and frankly neither do I so the set-up suits me perfectly: modernist stone cabins with wide balconies where they will serve you breakfast first thing and, at night, light guttering fires.
There are "cloud platforms", huge decked areas stacked up the hillside, where we can lie drinking steaming cups of green tea. It is a much-needed restorative after the heat and the clamour and the ringing of bells and the flashing of video arcades and the general cultural overload. One day, Eddie announces, he wants to come back to Japan. Only next time, without his mum and dad.
A taste of Japan: learn first hand about Japanese cuisine
Sake For the definitive sake experience, head to Niigata and its remote island, Sado, where you can talk with master brewers and, crucially, drink a fair amount of it, too. If visiting the 90 breweries in the area feels too much, you can always try out a spot of Kodō drumming on Sado island.
• From £200, saketours.com
Noodles Learn the secrets of Japanese cuisine from master chefs at Tokyo's Tsukiji Soba Academy. Discover how to make your own buckwheat soba noodles, from creating the dough to cooking the noodles in broth.
• Classes £200 for 3½ hours, soba.specialist.co.jp
Tea Get to know your hojicha from your matcha at a tea farm in Wazuka, Kyoto, famous for its premium Japanese tea. As well as touring the tea fields, there are tasting sessions and also the chance to take a two-week specialist course in becoming a Japanese tea master.
• Tour £21, obubutea.com
Way to go
Jay Rayner flew to Japan with ANA. Return fares from London to Tokyo start from £827. His travel there was organised by Inside Japan, which tailors itineraries to traveler's individual needs. Its 13-night Gastronomic Adventure costs £2,430pp, including accommodation, transport and certain restaurant experiences but excluding flights. Machiya townhouses in Kyoto start at £139 a night. Rooms at Hoshinoya, Fuji, start at £315 a night.
Email Jay at [email protected] or follow him on Twitter @jayrayner1
Looking for a holiday with a difference? Browse Guardian Holidays to find a range of fantastic trips
Source: Read Full Article