Cantal, France, holiday guide: what to see plus the best restaurants and hotels
The Cantal is the rural heartland of France's wild Auvergne region, right in the centre of the country and part of the Massif Central. Locals joke that there are more cows here than people and there certainly are not many tourists, despite a range of adventurous outdoor activities in summer and winter. Hotels and B&Bs could not be more reasonably priced, and the hearty regional cuisine – rustic rather than gourmet – comes in formidable four- or five-course bistro set menus, ideal for big appetites and small budgets. The Cantal also boasts some of the most spectacular sites in La Chaîne des Puys, the 80 or so extinct volcanoes that have just been recognised as a Unesco world heritage site.
What to see and do
Parc des Volcans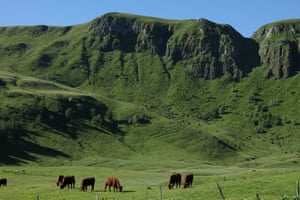 Extinct volcanoes, glacial valleys and lakes over 5 million years old form the remarkable Parc des Volcans, France's largest natural park. Outdoor activities range from trekking and mountain biking along craters of cone-like volcanoes, hot-air ballooning, paragliding or horse riding (in winter, there's downhill and cross-country skiing, and dog-sledding). The jewel in the Cantal's crown is majestic Le Puy Mary, at 1,783 metres. Stop off at Auberge du Puy Mary for a slice of its famous tarte aux myrtilles, then trek via the Pas de Peyrol to the summit for breathtaking views and myriad wild flowers and plants.
• parcdesvolcans.fr
Saint-Flour and the Truyère gorge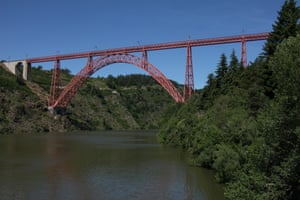 The grand, black-stone town of Saint-Flour perches atop a mass of volcanic magma petrified millions of years ago. Many buildings date from the middle ages, including a monumental twin-towered Gothic cathedral. The Saturday street market is perfect for stocking up on picnic goodies direct from local farmers. From Saint-Flour, explore the winding Truyère river, beginning at Gustave Eiffel's iconic Garabit viaduct. As the Truyère weaves south, every turn reveals steep wooded gorges, tiny islands and vast lakes. Fishing and boating are the big pastimes.
Aurillac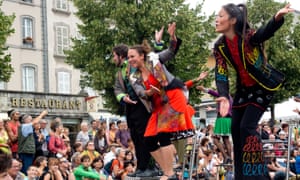 Cantal's capital is well worth a day's visit. It hosts a renowned international street theatre festival, which transforms the city into one huge open-air stage each August. As this is France's unofficial umbrella capital, its attractive shops include the quaint boutique Parapluies d'Aurillac, as well as Crèmerie Leroux (15 rue Emile-Duclaux), an ancient dairy filled with pungent ageing cheeses, and Louis Couderc, offering free tastings of an artisan distillery's liqueurs made from botanicals such as gentiane and verveine. Join the locals sitting on the terrace for an after-work aperitif at the lively Café de ma Mère (Place Claude Erignac).
Salers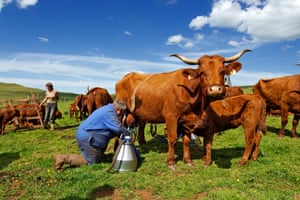 One of Les Plus Beaux Villages de France, Salers and its lava-stone mansions sit at the heart of the Parc des Volcans, surrounded by fields of cows – the distinctive red-fleeced, long-horn Salers breed, whose milk makes the famous eponymous cheese. From May to October, during the summer transhumance, it is possible to drive or hike up a rough mountain path from Col de Néronne to visit Buron d'Algour, where each afternoon Guy Chambon milks his cows and makes traditional Salers cheese straight afterwards in his spartan buron (shepherd's hut). Château de la Trémolière, a short drive north, has a rare collection of exotic Aubusson tapestries, while medieval Château d'Anjony, to the south, is decorated with very well-preserved 16th-century frescoes.
Chaudes-Aigues and the Aubrac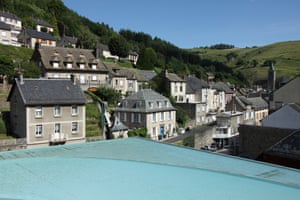 Chaudes-Aigues certainly lives up to its name, with a steaming river source bubbling up here at 32C (and reaching as high as 82C at the Par spring, making it the hottest natural water in Europe). Like many of France's venerable spa towns, Chaudes-Aigues has moved with the times, transforming its medicinal "taking the waters" thermal baths into a Scandinavian-style, family-friendly wellness centre, where a €20 day pass gives access to jacuzzis, saunas, steam baths and multiple thermal pools, including one on the roof looking out over the surrounding mountains. South of the town is the wild, lunar terrain of the 1,200-metre Aubrac plateau. Pack a picnic and head off hiking across this bewitching landscape.
Le Lioran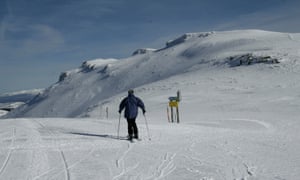 The region's principal ski station, Le Lioran, is a year-round resort, full of functional, purpose-built hotels and apartments, with rarely much of a queue for the télépherique. Once atop the slopes, explore Col de Prat de Bouc, a spectacular glacial pass that envelops the region's highest volcanic peak, Le Plomb du Cantal, before wending your way back through pine forest to Le Lioran. Ten minutes' drive away, Murat is a fortified, 14th-century town overshadowed by a towering basalt outcrop with a tiny chapel balanced on the pinnacle. There are often art exhibitions in the covered marketplace, and don't miss Coutellerie Le Murat for exquisite handmade mountain knives.
• lelioran.com
Where to eat and drink
Auberge des Montagnes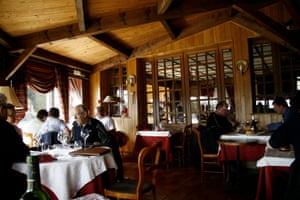 Four generations of the Comborieu family have welcomed travellers to this legendary auberge of the Parc des Volcans. Its stellar cuisine uses seasonal local products, from tangy Salers cheese, saucisson, cured ham and pâté, to foraged cep, girolle and morel mushrooms. Save a big appetite for the €32 menu tradition – six courses, including the signature duck pie, salmon trout in puff pastry, stuffed cabbage and truffade. The auberge also offers imaginative accommodation, including the chance to spend the night in a buron.
• Le Bourg, Pailherols, auberge-des-montagnes.com
Le Garage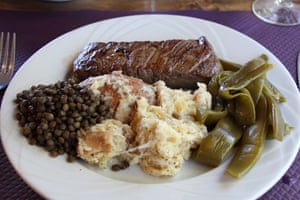 Ten minutes' drive from Lioran ski station, Dominique Peythieu has converted the family garage into a wonderfully eccentric bistro, popping out from the kitchen to man the pumps when the odd motorist pulls in for petrol. The €13 lunch menu, wine included, is terrific value, while foodies should try regional favourites like petit salé, lentils heaped with chunks of pork, or aligot, a memorable mix of mashed potatoes with creamy Tomme cheese.
• 2 route Mauriac, Trizac, le-garage-trizac.wixsite.com
Chez Adèle et Louis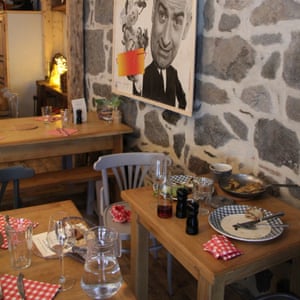 Aurillac has a good selection of creative bistros, but the local favourite is this temple to the Cantal's rustic, traditional cuisine. Diners sit at rough wooden tables with red-checked napkins, the wine list offers little-known wines from volcanic soils, and the menu chou farci (stuffed cabbage), tripoux (bundles of sheep's stomach filled with intestines, ham, garlic and parsley, which tastes much better than it sounds), and truffade, an awesome panful of thinly sliced potatoes, goose fat and gooey melted cheese.
• Mains from €9.50, 3 rue du Buis, Aurillac, chez-adele-et-louis.business.site
L'Epicerie de Dienne
This funky grocery-bistro is perfect for a delicious lunch before trekking up Le Puy Mary's volcanic slopes. If the dishes look creative it is because British chef Chris Wright owned a cult Parisian bistro before moving to the Cantal to open L'Epicerie. Chris has become something of a local celebrity in Dienne since his €22 set menu won Le Fooding's Village Bistro of the year 2016. Dishes change every day, offering surprises such as pumpkin soup with blue cheese, or succulent lamb shoulder with garden courgettes.
• 6 route du Puy Mary, lepiceriededienne.com
Local tip Lac Sauvagenear Dienne, a tiny lake hidden in the swirling volcanic countryside, is ideal for picnics, boating or home-cooked meals at the lakeside auberge: call +33 (0)4 71 20 82 65.
Le Buron du Chaussedier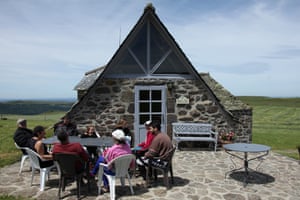 Stone buron huts are dotted across Cantal's wild countryside, but only four are still used by shepherds to make artisan cheese. Many are in ruins, but Alain Mathieu has renovated the isolated Chaussedier, high in the Parc des Volcans. Guests sit outside, enjoying a chilled volcanic Chardonnay and the spectacular views, before entering the cosy dining room where Alain's wife, Chantal, cooks memorable meals. The choice is limited, but everything is homegrown and homemade. Their son raises Salers cows, and fixed menus (from €18) feature thick, juicy steaks, farmhouse charcuterie, healthy salads and pounti, a tasty flan of prunes, bacon and chard.
• Le col d'Aulac, Le Vaulmier, buron.chaussedier.free.fr
Where to stay
La Maison de Jeanne
This imposing granite manor house atop a sleepy village has awesome views over the extinct volcanoes of the Parc des Volcans. Friendly owners Chrystelle and Hugues welcome visitors as part of the family, rooms are spacious and decorated with vintage furniture, and in the evening, for €20 a head, Chrystelle prepares a four-course meal, including aperitif and wine. Their old barn is now a vast playroom with games for kids and pool or table football for adults, plus spa and jacuzzi.
• Doubles from €70, 19 rue des Balcons, Thiézac, lamaisondejeanne.net
Local tip Domaine de Veirières is an idyllic private lake for trout fishing, where you can stay the night, too.
• Doubles from €68, veirieres-evasion.com
Auberge d'Aijean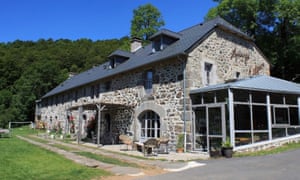 On the winding road that rises up to the Col du Pas de Peyrol and the summit of Le Puy Mary, this ancient farmhouse has been renovated into a comfortable seven-room auberge, where owner-chef Bruno Fabre creates innovative dishes based on local produce, like lentil soup with foie gras. In summer, guests sit out on a sunny grass terrace opposite an imposing mountain range, while in winter, a wood fire warms the cosy lounge and dining room. Bruno's partner, Valérie, is happy to help organise activities from hang-gliding and trekking, to cross-country skiing once the snow arrives.
• Doubles from €65, La Gandilhon, Lavigerie, auberge-puy-mary.com
Camping Saint-Urcize
On the windswept Aubrac plateau, this small campsite is tucked away beside a river, with simple facilities: communal BBQ rather than restaurant, no pool but an outdoor Finnish bath and sauna. Lively Saint-Urcize is just a couple of minutes away, with delicatessens, bars and old-fashioned bistros like Chez Remise. Campers pitch tents here as a base for the region's diverse, all-year outdoor activities. There are also simple wooden chalets, at only €32 a night, and six self-catering lodges, hewn cavelike into the rocks, which make for a unique stay.
• Tent pitches from €6, lodge for two from €85; Les Ourtals, Saint-Urcize, campingaubrac.fr/en
Auberge de la Tour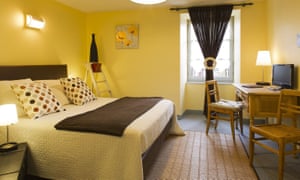 Marcolès is one of the most charming villages in the bucolic Châtaigneraie, an even quieter corner of the Cantal, with gentle rolling hills covered with chestnut trees. Now it is a gourmet hotspot, too, with Renaud Darmanin winning a Michelin star. He has transformed a rundown auberge into a comfortable, reasonably priced eight-room inn, where it is difficult not to be tempted by the gastronomic fare: six-course tasting menu (€66), five-course vegetarian (€50), set lunch (€25).
• Doubles from €75, Place de la Fontaine, Marcolès, aubergedela-tour.com
Local tip Lac Saint-Étienne-Cantalès and its secluded, tree-lined beaches are perfect for swimming, canoeing and kayaking, with floating chalets for rent.
Getting there
The nearest airport to the Cantal is Rodez, served by Ryanair and Flybe. Ryanair also flies from Stansted to Clermont-Ferrand. More information: cantal-destination.com
Source: Read Full Article