Ontario's wild beauty and rugged adventure is all in the outdoors
"It is wonderful to feel the grandness of Canada in the raw," wrote Emily Carr, an icon of 20th-century Canadian art, whose vibrant landscape works charted the colours and shapes of the country more evocatively than any before – or since.
To speak of this grandness in the raw is to speak of Ontario, the country's most populous province. Long before the 14 million who now call Ontario home got here, the place was shaped forever by glacial erosion that gouged and quarried so much of the land that falls within the province's boundaries.
The result left Ontario with upwards of 250,000 lakes, and while the province boasts Canada's largest city in Toronto and its capital city in Ottawa, it is away from the urban centres that it truly offers itself as a paradise for nature lovers.
Ontario is a place for all comers and all seasons. Adventure arrives adrenaline soaked or at a much slower pace … with plenty of options in between. And the best of those options usually come on, or at least very near, a body of water.
In the rustic cabins and cottages that hug every one of those quarter of a million lakes, kitschy slogan wall hangings are ubiquitous, but the advice they offer is nothing if not accurate: "Life is better at the lake."
1,000 Islands
Head downstream from Lake Ontario to the mouth of the mighty St Lawrence River and you'll reach 1,000 Islands, an archipelago of more than 1,800 islands that straddle the Canadian and US border. Cruise the islands from Kingston, Gananoque or Rockport all the way up the St Lawrence to take in stunning seasonal views. And yes, these same islands are forever commemorated in a condiment – the eponymous salad dressing originates from these parts.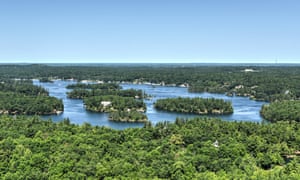 The 1,000 Islands are perfect for outdoor activities, on land and water
But of course there's a lot more to do in 1,000 Islands than just cruise around. There is a plethora of outdoor activities of varying levels of intensity, available for everyone to partake in. Alongside the obligatory boating, swimming and paddling, try cycling the 1,000 Islands Parkway Trail in summer – a glorious, winding 24-mile stretch skirting the coves and bays between Gananoque and Brockville. Meanwhile, the cooler months bring with them a whole array of new activities, from hiking the Marble Rock conservation area to high-octane snowmobile runs through the island backcountry.
Prince Edward County
Less than two-and-a-half hours east from the hustle of Toronto, Prince Edward County is an idyllic escape on Lake Ontario. Technically an island, it juts out into the eastern corner of the lake near the head of the St Lawrence River. A permanent home for almost 25,000 people, the county opens its arms to visitors who come for its mix of natural beauty, endless action options and one of the most happening artisanal food and drink scenes in Canada.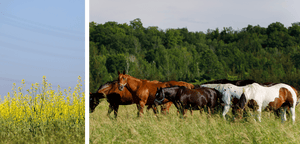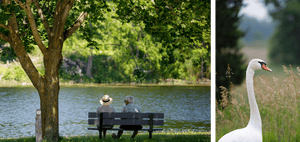 Sandbanks provincial park is the undoubted star of the county, a sprawling natural expanse that connects three beaches and ranks as the world's largest freshwater sand bar and dune system. Hiking trails crisscross the park and the pristine waters are perfect for a dip in summer. But don't be afraid to take things up a notch nearby (especially when the breeze picks up) with some kiteboarding and sailing lessons under the expert tutelage of the AirTime Kiteboarding team. Canoe and kayak rental options abound too.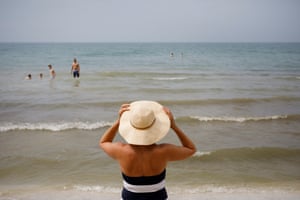 Sandbanks provincial park's pristine waters are perfect for a dip
No matter what you've been getting up to, it's not difficult to work up an appetite in the county. The best way to do so might well be by first quenching your thirst on two wheels. Cycle-and-sip tours of the island's up-and-coming wineries are outrageously good fun. But don't miss out on the brewery scene either (the area is renowned for its ciders), with Midtown and Parsons being the pick of the bunch.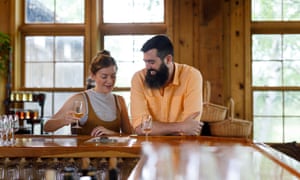 Stop off at one of the county's wineries or breweries for a tasting session
Picton, the island's main hub is full of excellent dining and drinking options such as Hartley's Tavern and 555 Brewing Co, but perhaps the biggest name around is the Drake Devonshire, located in the nearby waterfront town of Wellington. Billing itself as the ultra-hip country sister to its iconic downtown Toronto original, the Drake Devonshire delivers just as consistently as its urban sibling when it comes to the kitchen. Splurge and stay overnight at one of its unique rooms where every artsy detail is obsessed over. The Drake team also recently opened a more cost-conscious – but still cool – option next door with their Motor Inn.
Muskoka
Meanwhile, the nearby Muskoka region – or as Ontarians call it, "cottage country" – is both a relaxation and outdoor adventure hub.
The region is, like so many others in Ontario, famous for its lakes – and there's no shortage of action to be had out on the water or hugging the shoreline. There are plenty of great options for canoeing, kayaking and stand-up paddleboarding, as well as angling and boating trips and tours aplenty. But for a truly wild thrill, try flyboarding, the newest adrenaline rush available on water. Think of a flyboard as a water-powered jetpack for your feet. It sucks the water from the wake of a boat or jetski through an 18-metre hose and propels you high up over the lake. If it sounds unbelievable, just try it for yourself in Muskoka.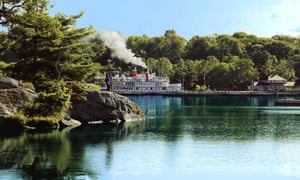 The Muskoka region is famous for its lakes and North America's oldest operating steam ship cruise
Back on dry land, step up your adventure settings with a visit to Muskoka Zip Lines and Aerial Park. Clamber over rope bridges and obstacles in the treetop aerial adventure course, or take the zip line canopy tour crisscrossing the park for a fast and fun high-altitude thrill over seven connected zip lines. For those inclined to keep their feet a bit closer to solid ground, take a horseback trail ride with Winding Fences Farm across the beautiful open terrain in the pastures surrounding the town of Windermere.
10 unmissable autumn experiences in Ontario
Those looking for an all-frills, all-inclusive experience will find it at the JW Marriott The Rosseau Muskoka. Not only is this luxury resort and spa considered one of Canada's finest, but its outdoor adventure options include stand-up paddleboarding, canoeing and kayaking from its exclusive lakeside beach, as well as a spectacular new 180-metre zipline that runs across the Five Bridges Trail on the resort's grounds.
Blue Mountain
Ontario's adrenaline hotspot – the Blue Mountain resort, which not only boasts the province's best winter sports but an amazing variety of activities the other nine months of the year – sits on the shores of another of the Great Lakes, Lake Huron. In the summer months, just 10 minutes from the resort is a private beach on the shores of Georgian Bay, where visitors can surf, and rent boats, canoes, kayaks and paddleboards, alongside other fun, family friendly activities on shore, from the Timber Challenge High Ropes Course to the Ridge Runner Mountain Coaster. Of course, when you're ready to take things down a gear or two, the resort's pedestrian-friendly village has a fantastic offering of restaurants, bars and pubs, as well as a great entertainment programme featuring live music and other events such as Movies Under the Stars.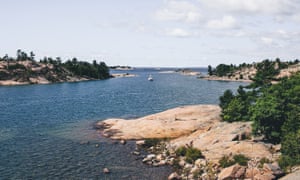 Georgian Bay near the Blue Mountain resort
There's also the perfect excuse to seriously chill at the Scandinave Spa Blue Mountain. Located in a tranquil forest, the spa has a strict "no electronic devices" policy to ensure maximum unwind time. But when you're basking in thermal and Nordic waterfalls, hot baths and Finnish and infrared saunas, why would you want to be thinking about the outside world anyway?
Algonquin provincial park
While no trip to Ontario could be considered complete without at least one trek through Algonquin provincial park in search of that blessed moose, or (from a distance) bear sighting, during the summer months fun on the water takes centre stage. Algonquin is home to dozens of lakes and small tributaries, and while some of them are only accessible through the backcountry, Algonquin Outfitters offers a number of excursions, from wildlife spotting day trips to canoeing. You could also try Parkbus, a fantastic and sustainable transport service that ensures city dwellers and tourists can fully connect with nature. Stops in Algonquin include paddlers' paradise, Lake Opeongo and the serene Pog Lake.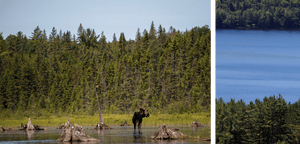 Algonquin provincial park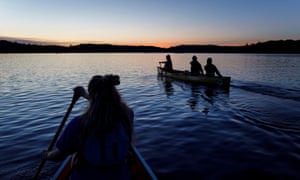 Go your own way
Of course it's not just about the resort towns and big name outdoor destinations, there are plenty of adventures to be had throughout cottage country – with ample options to hike, get out on the water or just generally unwind. From Haliburton to Huntsville and south to Gravenhurst, there are local gems with water access for lazy morning kayaking and nearby trails for afternoon hikes. And for those who really want to get away from it all, Cabinscape offers tiny custom-made, ecologically friendly cabins perched in the wilderness of southern Ontario – and some of the options are so off-grid that they're hike-in access only.
But much like the wider province itself, it's the far-off corners that reveal Ontario's true character – a little rugged, a little wild, altogether unforgettable.
Start planning your visit to Ontario this winter with Canadian Affair
Source: Read Full Article