The new mother's tale: a Kent walk in Chaucer's footsteps
In 1170, Thomas Becket, Archbishop of Canterbury, was murdered in his cathedral. In the centuries that followed, hundreds of thousands of people made the pilgrimage through the Kentish countryside to pray at his shrine. As Geoffrey Chaucer famously describes:
From every shire's end/Of England, to Canterbury they wend/The holy blissful martyr for to seek/That him hath helped when that they were sick".
There was no official route devotees followed: they picked their way east from Winchester, or London, along tracks and roads, stopping at churches for prayer, and villages for room and board. And that is where this truncated Canterbury trail goes – through the woodlands of the Kent Downs, along the fertile Medway valley, to two pilgrim churches. It is ancient and beautiful.
Just like the original travellers, walkers wanting to follow the Pilgrim's Way all the way to Canterbury have a number of options. Parts of this semi-official trail are labelled on maps, and there are guidebooks to help with route planning. But there aren't any signposts and, in truth, many of the original stretches of the route are now fast, modern roads. My route, however, avoids the tarmac.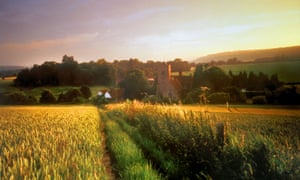 I start at Trosley country park, about nine miles south of Gravesend, which caters to the modern wayfarer's needs with a cafe (excellent cake) and toilets. The first stretch of the walk is high on the chalk escarpment, following the North Downs Way. Trosley's woods are enchanting at this time of year – coppiced beech form an emerald tunnel and, as autumn progresses, the tunnel will turn golden. Through the trees, I get glimpses into the valley on my right but I don't bother with photos until I reach a signpost for Quarry Field: the small detour is worth it for the panorama just beyond the gate. There's also another track along the valley floor that I'll join later – both were already ancient when Geoffrey Chaucer wrote the Canterbury Tales in the late 1300s.
Chaucer's poem follows a group of pilgrims who share a series of tales to pass the time as they travel east from Southwark in London. Some tales are sincere and pious, others bawdy and vulgar – much like, one would imagine, the pilgrims themselves.
For some this would have been a journey of great reverence but for others a pilgrimage to Canterbury may have represented the only chance to escape – albeit temporarily – from a life tied to the household or farm. Time out of the normal rhythm of life, with people they would never meet again, bound together on an exciting adventure.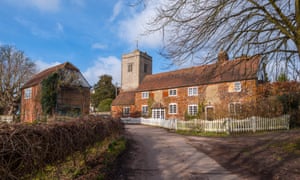 I smile at the idea of knights, abbots, cooks and carpenters telling each other, "What happens on pilgrimage, stays on pilgrimage."
For me, this is also a meaningful foray. Eight weeks ago I had a baby and this is our first "proper" walk. I feel I'm walking to claim a connection back to myself. I also feel somehow transformed – perfect, then, that I'm following paths forged by more than 25 generations of travellers seeking transformation. I'm slightly nervous about how we'll manage, but my legs feel strong, the paths are clear and Cole, my son, seems to be enjoying the ride.
After a mile and a half, the North Downs Way descends into the valley, and we march eastwards towards Birling. I snaffle blackberries on the hoof, and if I had the time I could really get my forage on – the autumnal bounty includes crab apples, sloes and elderberries.
Just beyond Birling Hill, a sharp right on a footpath drops us down to Paddlesworth Farm. The farmhouse is 18th century but sits next to large pylons, a vast industrial barn and shipping containers. I blinker out the 21st century and focus on the humble stone building in the yard. This is St Benedict's church, at least 900 years old, a place where generations of Canterbury pilgrims stopped to pray.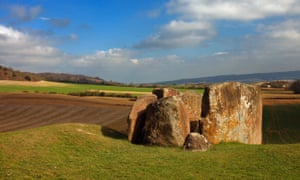 Cole and I settle on a hard wooden bench in the gloom of the tiny nave and he gazes at the windows, eyes wide. His fingers clutch mine and for a bewitching moment I feel we're not alone. Many people have sat quietly here, thinking small thoughts about the big things in life.
The church is the walk's turning point. If we were to continue east we'd reach the River Medway. The pilgrims probably used a number of river crossings – the most likely is Snodland, where there's a ferryhouse in All Saints churchyard – but we turn our backs on Canterbury and begin the journey home. We loop back south, then west, with the wooded escarpment we arrived by to our right.
We pause at Coldrum Long Barrow, the neolithic chambered tombs. . Colourful ribbons left by worshippers adorn the trees standing guard around the tomb. Our last stop is St Peter and St Paul, in Trottiscliffe. This, too, is a pilgrim church, built on Saxon foundations. But unlike the lonely chapel at Paddlesworth, this church is full of life. I buy homemade jam from a table at the back, and spend time in the tranquil churchyard. On the doorway between the tower and the nave, I trace crosses etched by medieval pilgrims.
At the site of Trottiscliffe Court we turn north and ascend through the trees to regain the North Downs Way. The steps are steep but they're the final push. Catching my breath, I look down at my sleeping son's head. What kind of pilgrim will he be, I wonder. Pious or bawdy? A doer or a dreamer? Our walk is over; his journey begins.
Source: Read Full Article