A plane with 14 seat products? Lufthansa gives it a try
Lufthansa's new widebody interiors, debuting this fall and winter, will treat flyers to the most diversely configured aircraft in the skies.
Called Allegris, the product will be introduced on Lufthansa Boeing 787-9 Dreamliner aircraft, with the debut likely to be on a transatlantic route, said Bjorn Becker, head of the company's future of intercontinental experience program, during a March gathering with media. 
Those three-cabin aircraft will offer what Lufthansa touts as seven distinct business-class products, in addition to premium economy seating and four distinct economy cabin products. As varied as those planes will be, the full extent of the Allegris interior won't be seen until early next year, when Lufthansa debuts its four-cabin Airbus A350 configuration, which will offer the aforementioned dozen products plus two first-class suite options. 
"Everybody is different, and every situation is different. So, we want to offer choice to our customers," Becker said. 
Lufthansa, he added, has a different approach to the notion of premium than other airlines. Instead of applying it only to high-end cabin classes, the carrier is seeking to improve comfort and choice from the back of the plane to the front.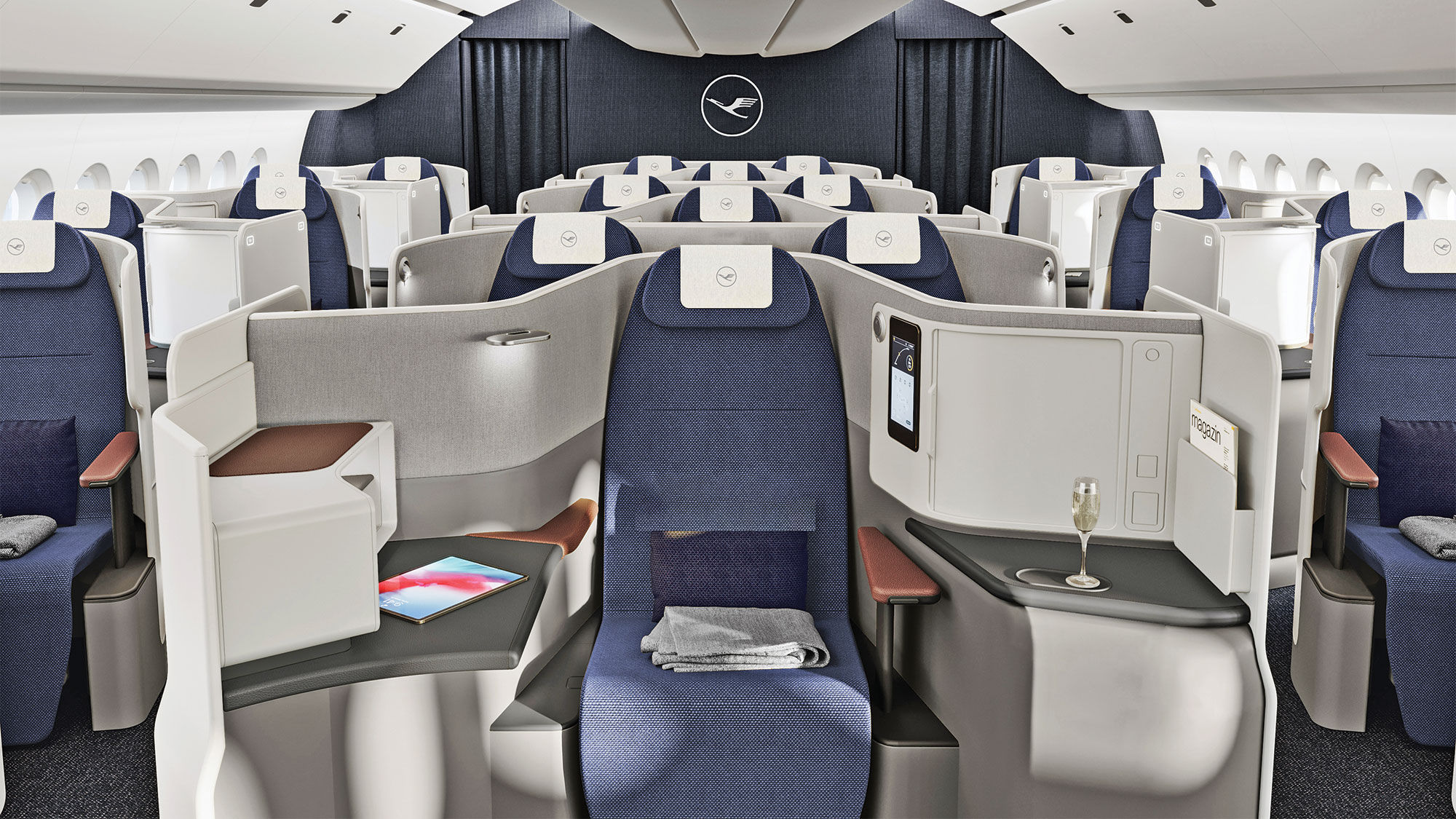 Ultimately, Lufthansa, along with sister airline Swiss, plans to offer Allegris interiors in three- or four-class configurations on more than 100 aircraft, including new Dreamliners, A350s and Boeing 777-9s. The carrier will also reconfigure some of its current widebodies, including its Boeing 747-8s. 
Rob Semple, project director for aircraft interiors with U.K.-based Counterpoint Market Intelligence, said the diversification strategy is "very clever and very Lufthansa-ish," in reference to the carrier being known for the analysis it puts into melding it fleets to its customers.
"They make smart business decisions to maximize revenue. That's how I read all this," Semple said.
What the seat classes offer
In the economy cabin, Lufthansa's four products will include standard and extra-legroom seats. The carrier will also offer a fare product in which flyers can book an open seat next to their own. Allegris configurations will also offer a second-generation version of Lufthansa's Sleeper's Row, which allows for the conversion of a three-seat row into a makeshift sleeper, including a mattress and specially designed seat belts.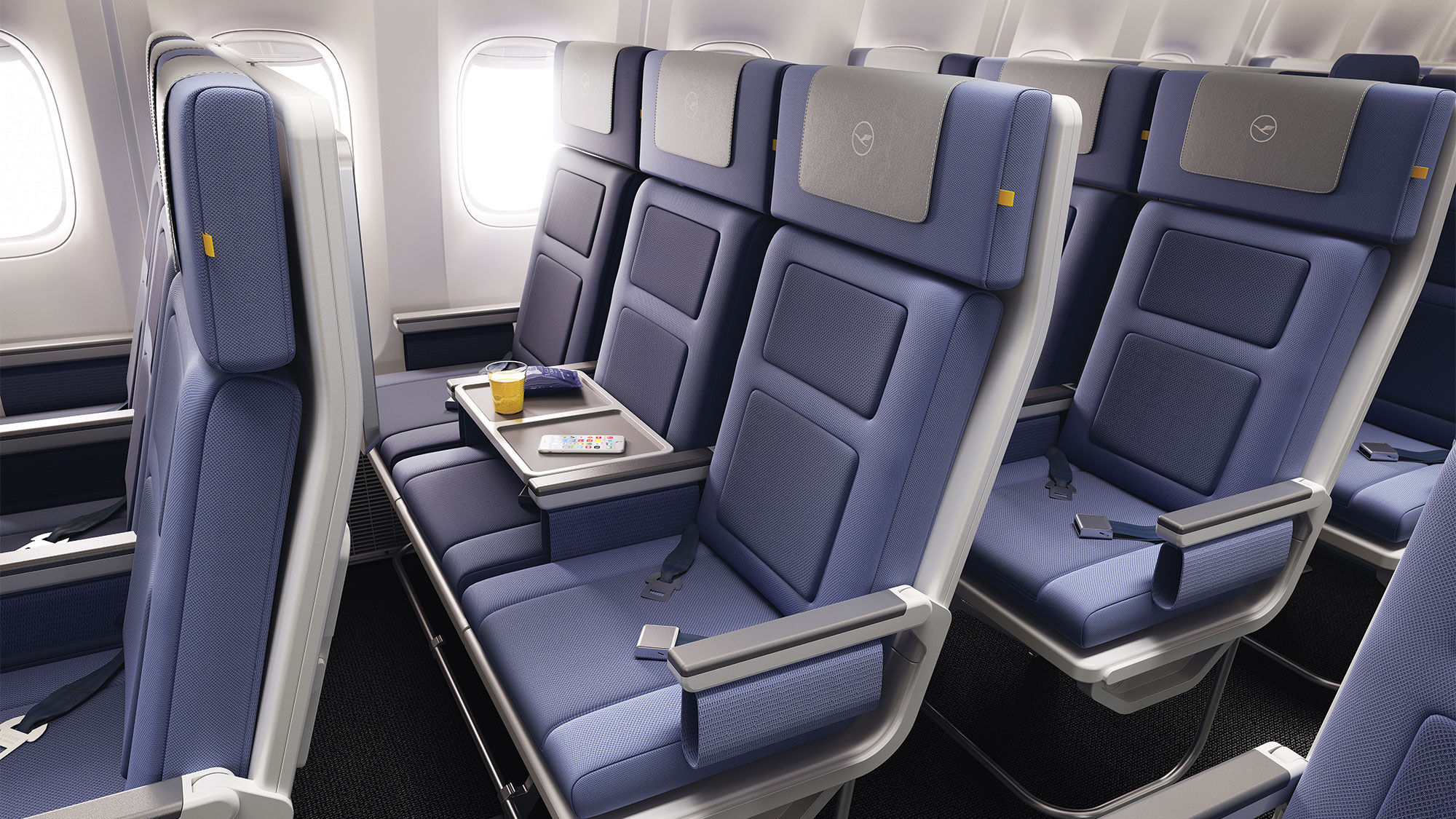 In premium economy, Allegris will feature just one product, a 39-inch-pitch seat encased in a rigid shell so that it can recline without encroaching on the row behind.
Business class will be the most diverse of the Allegris arsenal. Most eye-grabbing of the seven products will be the suites located in the front row of the cabin. They'll feature higher walls than other business-class options — and significantly more room. A double suite will occupy the center section of the front row.
The other business-class products will vary by seat size, bed length and privacy. One of the products will feature a bassinet. A double seat in the last row will also be available via combining two neighboring seats. 
Filling out the Allegris four-cabin interiors will be two first-class alternatives. The largest, called the Suite Plus, will be a double cabin with a table and full door. The private room's two large seats will be combinable into a double bed. The second suite is similar but designed for single occupancy.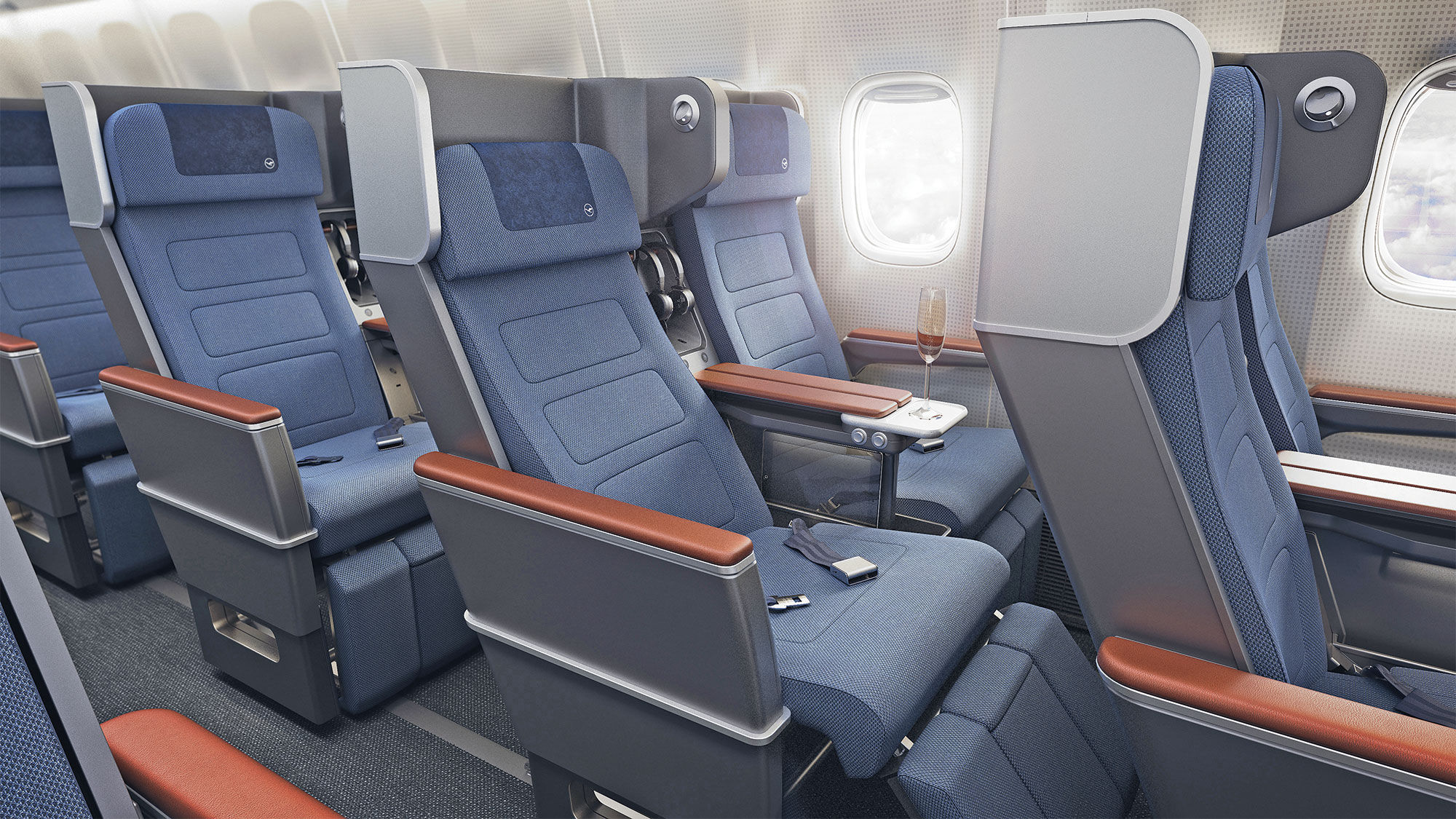 Semple said there's nothing revolutionary about any particular Allegris product. What is trailblazing is an airline putting all of these products on one aircraft. 
For example, he said, airlines rarely offer both an international first-class cabin and an extra-space business-class suite. 
Similarly, Semple said he knows of no airline that sells both an economy sleeper row and the ability to book an adjacent free seat. 
Still, Semple said that part of what will set Allegris interiors apart is the way Lufthansa is marketing them. Due to design necessity, airlines often have four different business-class seats, he said. 
"What is different in what Lufthansa is doing is they're extolling those differences," Semple said. "Most other airlines have differences, but they don't say it's different. They try and have a standard product."
Source: Read Full Article