25 secret marvels of the world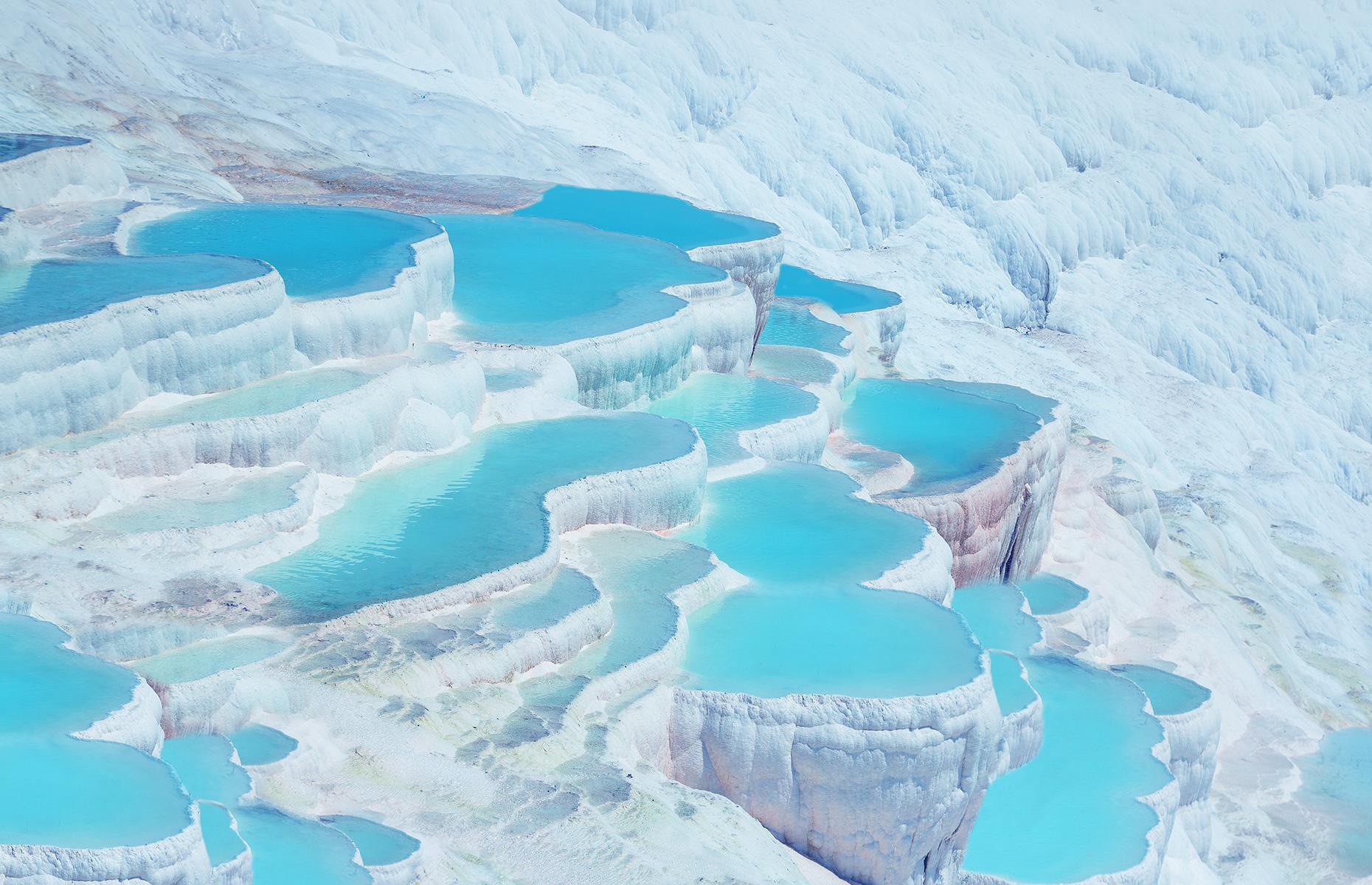 Angkor what?
Some sights, such as the Grand Canyon, Eiffel Tower or Sydney Opera House, are widely recognized and admired, while others are overlooked and slowly fading into obscurity. These off-the-radar places range from the most awe-inspiring to downright crazy. We take a peek at just a handful of the mysterious and wondrous places our world has to offer.
Winchester Mystery House, California, USA
Built by Sarah Winchester, heiress to the Winchester rifle fortune, the Mystery House has over 160 rooms, labyrinth-like hallways, staircases that lead nowhere and chimneys that don't reach the roof. Sarah became obsessed about outwitting ghosts she blamed for the untimely deaths of her child and husband. Allegedly, she always slept in a different bedroom so the spirits, who have been killed by Winchester company guns, couldn't find her. A visit to this house is sure to send a chill up your spine.
Haw Par Villa, Singapore
Rainbow Eucalyptus Trees, Hawaii, USA
One of the most astonishing sights in Maui's rainforest are the eucalyptus trees that reveal vivid shades of reds, purples and greens during different times of bark shedding. The process is ongoing so the arrangement of the colors is constantly changing and evolving. "A grove of living kaleidoscopes" says Lonely Planet.
Lake Kaindy, Kazakhstan
When an earthquake triggered a landslide in 1911, it blocked the gorge, creating a natural dam that eventually filled with rainwater – the sunken forest of Lake Kaindy. Because of the cold water that doesn't exceed 43°F even in summer, the submerged pines still remain on the trees more than a hundred years later. The water is surprisingly clear and you can see deep into the lake, which in winter freezes over and becomes a popular destination for ice fishing, and in summer is a hit among divers.
Abandoned Ghost Ship, Kentucky, USA
Just outside Cincinnati, tucked away behind trees and hidden among driftwood and long reeds, Sachem is rusting away in the Ohio River. First setting sail in 1902 under the name of Celt, the boat served as a luxury yacht, was used for Thomas Edison's experiments, for naval soldier training, fought in two world wars and appeared in Madonna's Papa Don't Preach music video. It was then bought by a Cincinnati native, who more than 30 years ago sailed the ship inland to its final resting place.
Hill of Crosses, Lithuania
Located 7.5 miles north from Lithuania's fourth biggest city Šiauliai, the Hill of Crosses started as a protest against Soviet oppression. During occupation, in 1961, the site was bulldozed, the wooden crosses burned and metal ones melted. But even these KGB efforts to keep the people away didn't help – the site continued to grow higher and wider with people coming here to put up crosses under the cover of night . After the fall of the Iron Curtain, the Hill became a symbol of victory as well as a memorial honoring those deported to Siberia. Pope John Paul II's visit in 1993 solidified its status as a pilgrimage spot and there are now thought to be around 100,000 crosses and counting.
Hell, Cayman Islands
Meteora, Greece
The ancient monasteries of Meteora are hardly a secret – the World Heritage-listed site is one of the most popular destinations in Greece. However, the site itself, as well as the surrounding area, holds a lot of surprises often left unexplored. Visit one of the six active monasteries; don't miss the basket and ropes that were used by monks to bring the building materials to the top of the rocks, and head to Monopatia and its caves, where monks used to live before the monasteries were built. If you're feeling brave, don't miss the knee-shaking experience of traversing narrow rock ledges – routes once taken by intrepid hermits.
Coral Castle, Florida
Latvian immigrant Edward Leedskalnin dedicated almost three decades to creating this massive sculpture park. Carved as a monument to the woman who left him a day before their wedding, the park is shrouded in mystery. A small man at barely five feet and just over 110 pounds, Edward was able to carve more than 1,100 tons of coral with sculptures reaching almost 25 feet. Working alone at night so no one would be able to observe his engineering secrets, it's still uncertain how Edward was able to complete such extensive building work alone.
Fairy Circles, Namibia
Pig Beach, Bahamas
Kaplica Czaszek, Poland
Plastic Beach, Hawaii, USA
Vale da Lua, Brazil
Campanile di Curon, Italy
Cat Island, Japan
With only around a hundred locals on the small Japanese island of Tashirojima, cats outnumber humans by six to one. These felines are believed to bring good luck and fortune because of the island's two historic industries that these cats used to protect – silk and fishing. During the Edo period, cats were used to chase the mice away from silk worms. Later, fishermen got used to the cats eating up the scraps of the day's catch. Before long, cat behavior was used to predict weather and some more superstitious locals even believe cats to be the lucky charm that saved the island from more destruction during the 2011 tsunami.
Lima witches market, Peru
Kubu Island, Botswana
Cave of the Crystals, Mexico
Racetrack Playa, California, USA
For years the moving boulders in California's Death Valley puzzled everyone. Wild theories like aliens, supernatural phenomena and freakish weather were all named as the force able to move 600-pound stones across the flat dry lake. In 2013 scientists finally solved the mystery. In winter, a thin layer of ice occasionally covers the area and, as the air warms, the ice sheet cracks and wind slides the boulders across the wet, muddy terrain. After the temperature rises again, the ice evaporates completely and the ground dries out, leaving just the boulders and their paths behind them.
Valley of Geysers, Russia
The Kamchatka Peninsula in Russia's far east is one of the most remote places on Earth. Only fully explored in the 1970s, the almost four-mile long Valley of Geysers has the second largest concentration of geysers in the world, with over a hundred hot springs and the 250°C (402°F) heat of the stratovolcano Kikhpinych. Its most chilling sight is the Valley of Death. Less than a mile long, this creek accumulates volcanic gases in such high concentration that animals and birds who come too close die.
Pineapple Garden Maze, Hawaii, USA
Pamukkale, Turkey
Translating as "cotton castle", the mineral-rich thermal pools are breathtaking sights. As you approach the enormous wall of snow-white limestone terraces of Pamukkale and the bright-blue water that glistens in the pools, it really is easy to believe the legend of the giants, who are said to have left cotton out to dry, leaving these formations behind. Having suffered heavy erosion and water pollution due to tourism, the terraces, apart from a small footpath running up the mountain face, are currently off limits.
Plitvice Lakes National Park, Croatia
One of the most stunning natural wonders in Europe, Plitvice Lakes National Park in Croatia is home to thick forests and 16 crystal clear lakes that tumble into each other via series of waterfalls and cascades. Walkways and hiking trails winding around and across the water take about six hours to walk. However, if your time is limited, head to the upper section of the lakes that can be explored in two hours. And don't forget to keep your eyes open for the clouds of butterflies that sometimes flutter past the trails.
Source: Read Full Article