A backpacker's guide to Sri Lanka: a one-month itinerary
Why go?
Few countries in Asia can offer such variety in a relatively small area, or are as easily navigable by bus and train – or even in your own tuk-tuk. Away from the main sights it's easy to escape the crowds: instead of Mirissa, whale watch in quieter Kalpitiya – a laid-back destination for kitesurfing – and opt for Wilpattu national park over Yala national park for similar wildlife trips. In the hills, take the train to Haputale, rather than Ella, for less-trodden trails to scenic mountain viewpoints.
One-month itinerary
In Colombo, stroll Galle Face Green, visit the National Museum or weave through the Pettah Market district with a host from Colombo City Walks. Stay at hip Bunkyard Hostels (see below). From here, head north to Kalpitiya (4½ hours by bus), an arid north-western peninsula with a chilled vibe, easy cycling through fishing hamlets and whale- and dolphin-watching trips that are light on crowds. Move onto Wilpattu national park (1½ hours by road), a vast reserve that is home to leopards, sloth bears and elephants.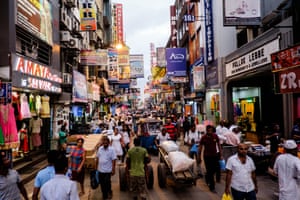 In the centre of the country, the Cultural Triangle brims with (expensive) world heritage sites, and visitors, but there are ways to find less-busy spots. Hike up Pidurangala for views back over Sigiriya's rock fortress at a fraction of the cost, and instead of Dambulla's cave temples, visit Ritigala, an ancient forest monastery dating to the first century BC. Visitors flock to Minneriya national park to see the elephants, yet nearby Kaudulla is just as good and cheaper to visit.
En route to the Hill Country, stop in Kandy to visit the sacred Temple of the Tooth. The hills offer superb walking trails, tea estates and hidden waterfalls, and a railway line that cuts through the most dramatically scenic regions (check in to the Clock Inn – see below). Most backpackers head for Ella, the Hill Country's de facto low-budget hangout, with its hostels (try the Hangover Hostel – see below), cafes, homestays and easy walks. However, also on the mainline railway is Haputale, a town with panoramic views onto the southern plains, walks (a favourite is to Lipton's Seat viewpoint) and tea plantations (Dambatenne is mypick). While hostels haven't quite reached Haputale, there are plenty of affordable guesthouses.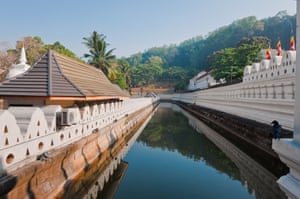 From the hills, go east by bus to Arugam Bay (about 3 hours) for the island's best surf or to visit lesser-known sites such as Kumana national park and the ancient coastal temple site of Muhudu Maha Viharaya, associated with the Ramayana story. Move on to the south coast next, perhaps stopping for a night in Wellawaya to see the seven 10th-century Buddhist rock reliefs at Buduruwagala (the tallest in Sri Lanka), before reaching Hiriketiya (4 to 5 hours by bus), a deep horseshoe-shaped surf bay with beach huts and guesthouses. Dots Bay House on the bay has three rooms and an open-sided dorm with beds from £13. The bay stretches to the quieter Dickwella Beach, a wide, sandy swathe. Mulkirigala rock temple – a mini cross between Sigiriya and Dambulla cave temples – is accessible from here.
Continue west to Galle (1½ hours by road), for atmospheric walks in its 17th-century colonial-era fort, good souvenir shopping and guided bicycle trips inland, through villages and paddy fields. In Galle, Pedlar's Inn Hostel has private doubles from £39, dorms from £10.
Before heading home, make your way inland to Sinharaja, either via Mederapitiya (near Deniyaya; about 3 hours) or Kudawa (2 to 3 hours from Galle), for hikes in pristine rainforest home to 95% of Sri Lanka's endemic bird species and more than 60% of the island's endemic flora, and to cool off in waterfall pools.
Getting around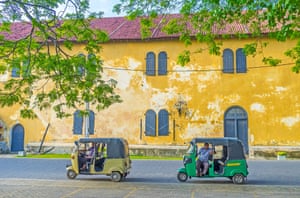 Buses are often overcrowded but cheap, and they go everywhere. Expect to pay about 30p for an hour of travel. Trains are a bargain, too, and more scenic, especially in the hills (the six-hour tea country stretch between Kandy and Ella is a must-do), though the cheapest carriages get jam-packed. It's also possible to self-drive a tuk-tuk with tuktukrental.com, a social enterprise sourcing vehicles from local drivers. It helps obtain licences, while rates include full insurance, a driving lesson and a useful kit of spares.
Accommodation
Although guesthouses are still the go-to option for cheap accommodation, an increasing number of well-equipped hostels – offering wallet-friendly tours, bicycles and on-the-ball staff – are emerging in backpacking destinations such as Colombo, Dambulla, Ella, Mirissa, Weligama and Arugam Bay (here, for example, The Long Hostel, across from the bay, has dorm beds from about £8).
Dorm beds in hostels average £8 (rising to £16), while the cheapest guesthouse doubles go for about £12. Most hostels have doubles, too, and are generally more backpacker-orientated than guesthouses. Homestays are popular in more remote areas: Abode Tours offers homestays in Mannar (west coast) and the Knuckles – a biodiverse mountain range that is superb for hiking and home to some of the island's most remote villages. East N' West On Board connects you with families in sedate Batticaloa, on the island's east coast.
Verse Collective, Dickwella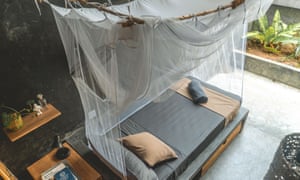 Digital nomads are drawn to this sea-facing cafe-hostel near Dickwella on the south coast for its bijou rooms that are open to the outdoors. As well as dorms it also has doubles and a co-working space. The cafes and bars along surf-orientated Hiriketiya Beach are a 10-minute stroll away.
• Dorms from £19, en suite doubles from £45, on Facebook
Clock Inn, Kandy
This hostel is just 600 metres from the Tooth Temple and Kandy's railway station, and close to the fruit market for cheap healthy snacks. It has bright, air-conditioned dorms, double and single rooms and a few tiny capsule pods, plus communal areas.
• Dorm beds from £9.20, doubles from £38, capsule pods from £8.50, clockinn.lk
Hangover Hostel, Ella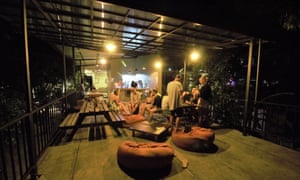 This hostel chain has a handful of properties in key locations across the island. Its Ella hostel is close to the railway station and dorms (including one for women) have air-con, spring mattresses, international sockets and keycard lockers big enough for bulky backpacks.
• Dorm beds from £11.50, hangoverhostels.com
Lal's Homestay, Sigiriya
Less than 30-minutes' walk from Sigiriya and Pidurangala, Lal's has doubles and two family rooms arranged around a quiet garden. The helpful hosts offer bicycles for getting around and serve delicious home-cooked food.
• Rooms from £7, +94 77 704 5386, homestay.com
Bunkyard Hostels, Colombo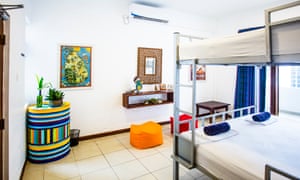 This hip hostel defined by its quirky sustainable decor has a fine location close to the National Museum. Expect dorms and rooms with thick mattresses, filling breakfasts, in-the-know management and shared daily shuttles to Kandy (10am, £9.50, 4+ hours) and Arugam Bay (10.30pm, £14, +9 hours).
• Dorms from £7, doubles from £42, bunkyardhostels.com
Overrated
Game drives in Yala national park. Although leopard sightings are common, the uncontrolled number of jeeps entering the park has resulted in it becoming overcrowded. See leopards and sloth bears at less-visited Wilpattu, on the north-east coast or, for elephants, Udawalawe, Minneriya and Kaudulla.
Underrated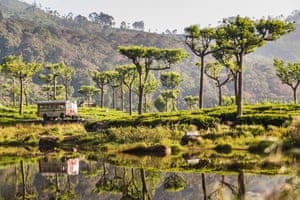 Haputale, Bandarawela and Badulla. View-blessed Ella is teeming with backpackers yet other hill-country towns are just as scenic and offer similar walking trails and viewpoints, and are accessible via the main railway line.
Need to know
Avoid taking photos with your back to a Buddha statue or image, and when you visit a temple or shrine make sure knees and shoulders are covered. In Hindu kovils, men may be asked to remove their T-shirt/shirt. Bikinis and beach attire are fine when on the sand but Sri Lanka is a conservative country so dress modestly when out and about, and especially when using local transport. Every full moon day is an alcohol-free public holiday.
For inspiration
Book Island of a Thousand Mirrors by Nayomi Munaweera. This book tells the sobering tale of two families, one Sinhala, one Tamil, on opposing sides of Sri Lanka's civil conflict, and also weaves in detailed descriptions of the island.
Instagram @lostinceylon. Be inspired by imagery of hills, mountains, waterfalls, beaches, surfing spots, yoga haunts and quirky accommodation sought out by close friends in search of adventure and fun across Sri Lanka.
Blog thesrilankatravelblog.com. Red Dot Tours is an independent travel company based in Colombo and run by Sri Lankans. Its blog has unbiased, interesting posts by locals, from culture to what's on, where to stay and personal recommendations of lesser-known dining spots.
If you eat or drink one thing
Ideal as a quick, filling snack or a small meal, rotis – stuffed flatbread parcels – are a Sri Lankan staple that can be picked up for next to nothing in many places. Look for triangles piled up in the windows of glass-fronted kades. Some rotis are rolled up and filled with meat and fish, too. For traditional (coconut roti) as well as non-traditional flavours, such as chocolate and banana, visit No 1 Dewmini Roti Shop in Mirissa.
Daily budget
Providing you stick to local food joints, as little as £15-£20 a day. Visits to key attractions such as Sigiriya, Dambulla and Polonnaruwa (£23) and national parks (£12pp entry, plus around £17-£24 per jeep) are significant budget-blowers.
Moving on
From Sri Lanka, fly north to India – flights to Goa, Mumbai, Kerala and Chennai with Sri Lankan Airlines are fairly inexpensive, and the network stretches to Delhi, too. Indian-owned low-budget carrier Spicejet covers more ground. You can also head east: Air Asia flies from Colombo to Kuala Lumpur – a major hub for onward flights across south-east Asia.
Looking for a holiday with a difference? Browse Guardian Holidays to find a range of fantastic trips
Source: Read Full Article