Choice Hotels exec Noha Abdalla on midmarket competition and summer travel
In 2022, Choice Hotels International completed its acquisition of Radisson Hotels Americas, bringing brands including the upscale Radisson and upper-midscale Country Inn & Suites into its wide-ranging collection. Hotels editor Christina Jelski spoke with Choice Hotels chief marketing officer Noha Abdalla to get an update on the company's latest campaign, heightened competition in the market and trends for the summer travel season.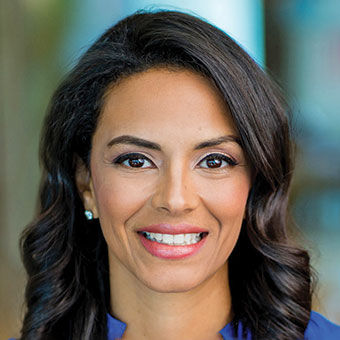 Q: This year, Choice Hotels debuted a campaign starring actress Zooey Deschanel. Why did you feel the time was right for an initiative with this particular celebrity?
A: We're a company that historically has been really strong in the midscale and economy space. But over the past five years or so, we've really started to focus on adding extended-stay and upscale to our segments. And as we've grown into those other segments and really become a leader in extended-stay and a challenger in the upscale space, we know we need to continue to tell our story and evolve the perception of our brand with consumers, franchisees and investors. This campaign is part of that. And bringing in a celebrity allows us to associate ourselves with a personality who embodies some of the characteristics that we want associated with our brand.
Deschanel was selected after a lot of consumer research because she's witty and has this approachability and accessibility that we as a brand want to communicate to our constituents. 
Q: In recent months, we've also seen a flurry of new economy, midscale and extended-stay brand activity coming from other large players. Is there any concern around this wave of coming competition?
A: We've been the leader in those categories for a while, and we believe that we're well positioned, even against these new entrants. From a franchisee perspective, we pride ourselves on our Choice system, which features a lot of proprietary tools that help franchisees manage their business in a way that keeps their cost of ownership as low as possible. It'll be interesting to see whether or not these competitors are able to do that, as they're new to these spaces. And from a consumer perspective, we've got these brands that, again, have been around for a long time and are kind of household names. They have meaning to consumers, and consumers know what to expect. And they have that sense of nostalgia, you know? I think ultimately that that will come into play.
Q: Although there's some economic uncertainty these days, the summer travel season is gearing up to be a busy one. What's your take on top travel trends for this year?
A: Historically, in more challenging economic times, Choice Hotels has performed really well, even vis-a-vis our competitors, because we are known to consumers as having brands that are a good value for their money. That being said, we are also very aware of several main trends that we've positioned ourselves to be able to take advantage of. If you think about, for example, retirees, we're now at a point where every year, there's about 3.5 million more people entering retirement age, and those people have money, and they have time. And they like to take roadtrips. We have over 4,000 hotels that are within a mile off the highway. So, we are well positioned with that age group.
Also, if you think about remote work and this trend toward mixing business and leisure, again, we're well positioned for that, based on where our locations are and our price point. We actually run promotions that encourage people to stay midweek and through the weekend. 
Source: Read Full Article