Passenger punches woman in face after children allegedly kick her seat throughout flight
A woman has been charged after punching a fellow airline passenger several times while still on the aircraft.
Daydrena Jaslin Walker-Williams, 29, admitted to assaulting Nataly Hernandez after their Spirit Airlines flight landed in Portland, Oregon, but alleged she only did so because the latter's children repeatedly kicked the back of her seat during the service.
Walker-Williams said Hernandez ignored requests to intervene and put a stop to her children's behaviour.
She also accused Hernandez of hitting her "on the shoulder" after she made one such request.
Watch more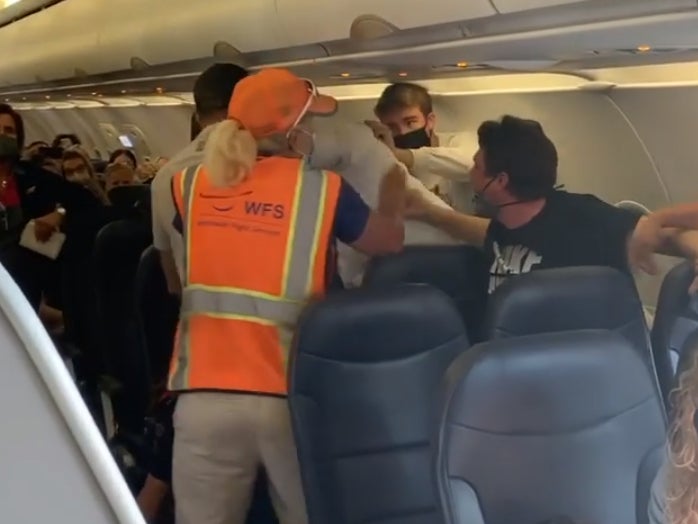 The incident occurred on 3 January and, while witnesses said they'd seen Walker-Williams hitting Hernandez, none could attest to the alleged provocation.
In an affidavit of probable cause seen by local paper The Oregonian, Walker-Williams admitted to hitting Hernandez "two to three times with her fist".
She said "she was upset Ms. Hernandez's children kicked the back of her seat, and stated she told Ms. Hernandez 'to tell her kids to stop it.'"
INDY/GO Weekly Newsletter
TIME TO TRAVEL!
Read our full mailing list consent terms here
INDY/GO Weekly Newsletter
TIME TO TRAVEL!
Read our full mailing list consent terms here
Walker-Williams claimed that she didn't tell a flight attendant about Hernandez allegedly hitting her on the shoulder as her "first reaction was to fight."
She reportedly told police "You do what you got to do," following the incident, and now faces charges of felony assault in the fourth degree and harassment.
It's far from the first time tempers have run high on a flight in recent months.
A fight broke out on a Ryanair flight from Malaga, Spain, to Manchester in October 2020.
Video taken onboard the service shows a woman being escorted down the plane aisle by a flight attendant, saying, "I'll smash him up", after appearing to hit an unseen passenger.
The footage cuts to a fight at the front of the aircraft, and two men can be seen running towards the fracas, while the original woman also gets involved and again looks like she is hitting another traveller.
"Jack, stop it – just come down here," another woman can be heard shouting at one of the men.
The fight is broken up and the passengers return to their seats.
It was followed by a video clip showing police escorting a man at the front of the plane off the aircraft.
It was unclear what had prompted the altercation, which started just as the flight was preparing for landing back in the UK.
Source: Read Full Article