Pilot 'draws' Pac-Man and ghost in the sky over Britain
A pilot "drew" a picture of Pac-Man chasing a ghost in the sky above England.
Taking off from Retford Gamston Airport in Nottinghamshire, the artistic flier used their route to create the Eighties video game legend as they flew across Lincolnshire.
The ambitious drawing took the single-engine Van's RV-8 aircraft just under an hour and a half to complete on 20 December, according to tracking site FlightRadar24.
While Pac-Man appears over the coast, just south of Grimsby, the ghost, complete with somewhat haphazard eyes and a zigzagged bottom, was drawn over the Lincolnshire Wolds.
Watch more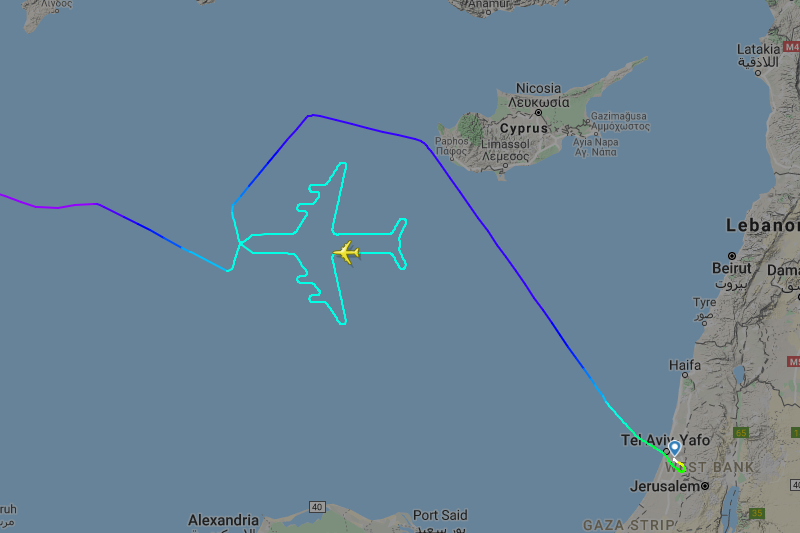 It's far from the first time a pilot has used their flight path to get creative.
Over the summer, a pilot showed his support for George Floyd and the Black Lives Matter movement by "drawing" a raised fist in the sky.
Dimitri Neonakis from Canada designed a flight path that would chart the outline of a fist over Halifax.
INDY/GO Weekly Newsletter
TIME TO TRAVEL!
Read our full mailing list consent terms here
INDY/GO Weekly Newsletter
TIME TO TRAVEL!
Read our full mailing list consent terms here
Taking nearly two and a half hours on Thursday 4 June, the aerial tribute covered 330 nautical miles.
It was followed in July by a Qantas pilot operating the carrier's final Boeing 747 flight using the route as a canvas on which to produce the outline of the airline's distinctive logo.
The jet was on its way to a "plane graveyard" in California's Mojave Desert, where aircraft go when they're retired.
And even more recently, two pilots were investigated after using their flight path to "draw" a penis in the sky over Russia.
Low-cost Russian airline Pobeda's flight DP407 from Vnukovo to Koltsovo on 11 November could be seen flying as normal for the majority of the journey.
However, around three quarters of the way through, flight tracking site FlightAware shows the aircraft made a very specific set of detours to make a phallic outline in its flight path.
The Boeing 737 jet landed without incident 22 minutes later than scheduled.
Source: Read Full Article