Swiss town of Vevey enlivened by ambitious art festival – in pictures
Sixty-one bodies of work by photographers and artists from 19 countries are on display until 30 September. Each illustrates or explores the theme: Extravaganza – Out of the Ordinary.
The festival is enlivened by the inventive staging of its exhibits. Works of both established and emerging photographers are displayed in an astonishing variety of unconventional venues and locations.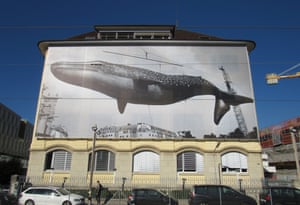 A tale of II Cities 4, Paris, 1989 by Daido Moriyama.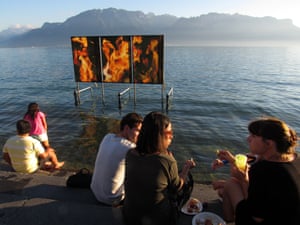 Feu (au lac), by Philippe Durand.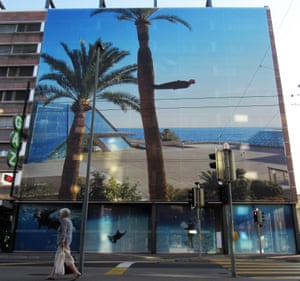 Promenade irrationnelle, by Philippe Ramette.
A railway platform, a phone booth, a church, a dilapidated hardware shop, even the waters of Lake Geneva serve to showcase the pictures.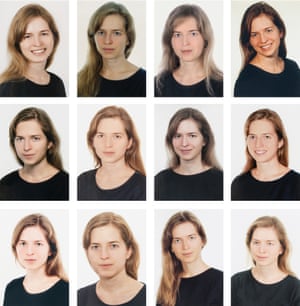 Photography studios, by Antonina Gugala.
Gugala's project exploring Warsaw's portrait businesses is installed adjacent to Vevey's sole remaining, and soon-to-close, photo studio.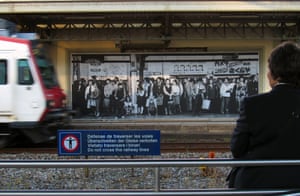 Platform, 1977, by Daido Moriyama.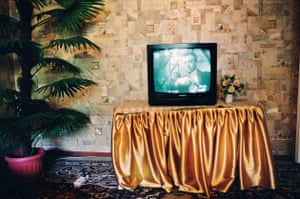 Courir après la pluie, Bishkek, Kirghizistan, 2009, by Magali Koenig.
For Stefano Stoll, the festival's director, such theatricality helps encourage a broad public engagement with the work, which he insists must be readily comprehensible. Furthermore, he hopes that the use of locations around the town will add layers of meaning to the pictures, whether these are playful, serious or ironic. Thus placing a photograph of an airborne whale high above viewers' heads, or photographs of the pages of Frank Sinatra's phonebook on the inside of a phonebooth, or pictures of detention cells behind the bars of a former prison, adds to the experience.
Sunday Sun, on the facade of the Hotel des Trois Couronnes, 1937, by Rodney Graham.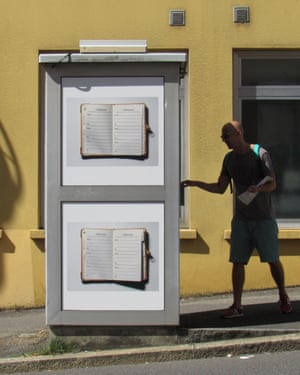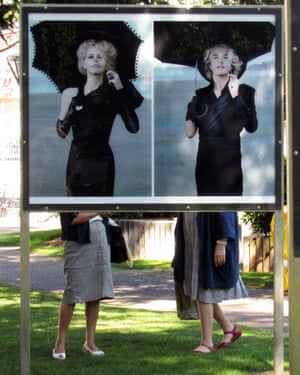 Hi There, by Henry Leutwyler (left), the pages from Frank Sinatra's phone book, displayed on a phone booth; Copying Claudia, by Pachi Santiago (right).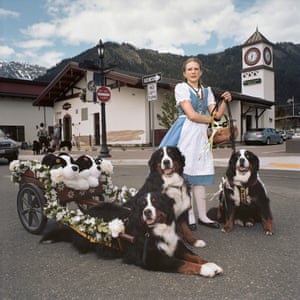 The Last Indian Wars, Brezno, by Naomi Harris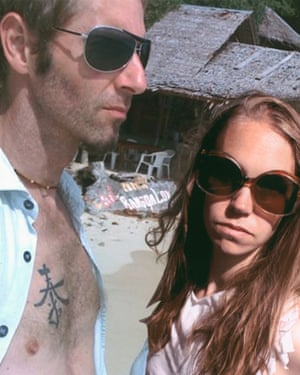 I would also like to be – A work on jealousy, by Jenny Rova (left); (right).
Six to see
Arnold Odermatt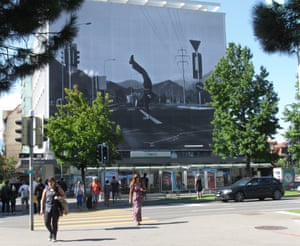 Stans, 1973, by Arnold Odermatt, exhibited on a facade in the Place de la Gare.
Arnold Odermattdocumented the daily life of his colleagues in the Swiss police force for more than 40 years. His work is positioned – not without irony – alongside the busy main thoroughfare through Vevey. While waiting at the lights motorists can take a moment to enjoy the work of a one-time chief of transport police.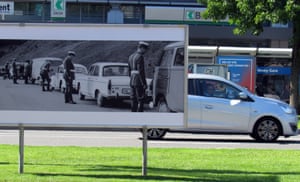 Odermatt's traffic police at work.
Jun Ahn
Self Portrait, NYC 2011, by Jun Ahn, Courtesy Christophe Guye Galerie
Jun Ahn's dizzying self-portraits on skyscrapers and window ledges show the artist pushing herself to a literal limit. However she might appear, she says she is not without fear. Ahn says: "Some media described me as a fearless artist, but I'm really not that. I really have a fear and this is about that fear and how the photography medium subverts the context of the fear." Her work is installed in the Hôtel des Trois Couronnes, where she appears poised on a window ledge, and perched on one of its balconies.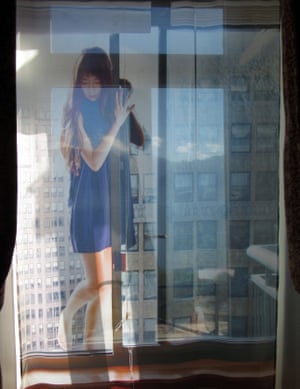 A self-portrait displayed before an open window.
Jono Rotman
Mongrelism – Greco Notorious South Island RIP, MMVIII, by Jono Rotman, displayed in Vevey's Grande Place.
Jono Rotman's unnerving portraits are of members of New Zealand's Mongrel Mob, an infamous gang of predominantly Maori bikers. Over a 10-year period Rotman established a relationship with them marked by trust and confidence. Their reputation for violence, adoption of nationalistic symbols, and indeed their appearance, guarantee their marginal status in New Zealand. In Vevey their pictures are on show in the bustling Grande Place, the heart of civic life.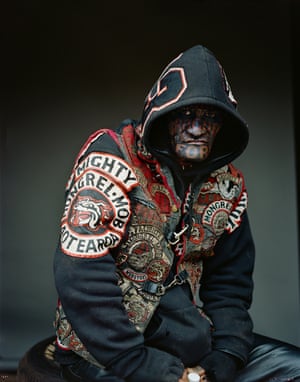 Shano Rogue, Lifer MMX, by Jono Rotman.
Lorenzo Castore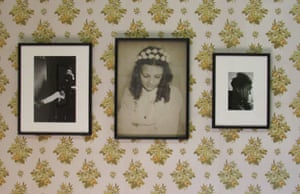 From the series Ewa & Piotr, by Lorenzo Castore, displayed in a former hardware shop.
Castore's work focuses on an elderly lady and her brother, Ewa and Piotr, whom he befriended in Kraków. Though the two were leading isolated, lives in a run-down apartment, even lacking hot water, it emerged that they had once enjoyed a wealthy upbringing. Castore juxtaposes his portraiture with earlier pictures from Ewa's own collection. They are displayed in an appropriately neglected former hardware shop.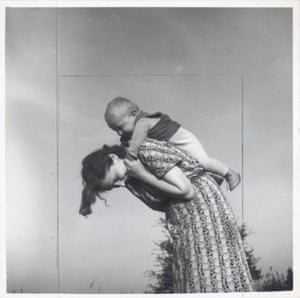 From the series Ewa & Piotr, by Lorenzo Castore.
Erik Kessels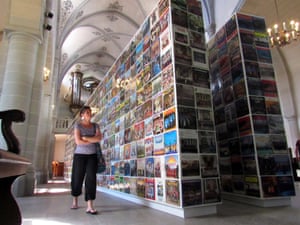 Group Show, by Erik Kessels, inside Eglise Sainte-Claire.
Erik Kessels, tireless champion of vernacular photography, is exhibiting some 2,000 album covers inside Église Sainte-Claire. The sleeves all feature photographs of large choirs or bands, the more members the merrier. A cacophonous multilayered choral soundtrack adds an other-worldy element.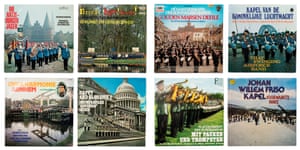 Group Show, by Erik Kessels
Angélique Stehli
Pink Cells, 2013/2017, Angélique Stehli, installed behind bars in the town's former prison.
Angélique Stehli's arresting photographs of pink detention cells are themselves behind the bars of a former prison. According to certain psychological opinion the colour pink has a calming effect on those it surrounds, thus explaining its popularity in some Swiss detention centres.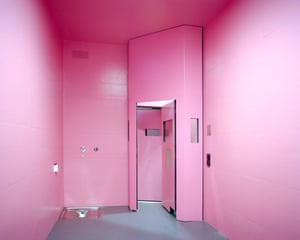 Pink Cells, 2013/2017, Angélique Stehli.
Festival Images runs until September 30th.
Source: Read Full Article