From Facebook group to franchisee: Moms at Sea's fantastic voyage
In a recent post on the Facebook group page Royal Caribbean Moms at Sea: A Family Cruising Guide, a cruiser noted that her cabin on an upcoming sailing had obstructed windows. She asked whether she should consider switching to a nearby cabin.
The post garnered dozens of useful comments, including from cruisers who had stayed in similar cabins — one had even been booked into the same room. With helpful input from others, the poster decided to keep the first cabin.
The active group of more than 43,000 members always seems happy to weigh in, whether offering tips on must-haves for cruising with kids (magnetic wall hooks are a popular one), trip highlights or quick questions such as whether the cruise line will wash guests' soda cups between drinks (BYO dish detergent, members recommended).
The Facebook group was started by Jamie Margolis Ross and became the catalyst for her travel agency, Moms at Sea, a Dream Vacations franchise. Based in Carmel, Ind., the agency has four independent contractors and plans to add more. In 2022, Moms at Sea has more than $3 million in sales and already has $1.7 million on the books for 2023 and $700,000 for 2024.
Within two days of opening sales for Royal Caribbean's Icon of the Seas in October, Moms at Sea booked 232 passengers representing $350,000 in sales. 
She met her husband on the Carnival Dream
Ross caught the cruise bug 10 years ago, after spending most of her life thinking cruising wasn't for her. She took a trip on the Carnival Dream in 2013, where she met her future husband, Michael, who is from a family of cruisers.
Ross was hooked, and the couple became frequent cruisers. Their first daughter, Audrey, now 6, was booked on a cruise before she was even born (the Rosses have another daughter, Palmer, now 3). 
That 2017 sailing with Audrey on the Allure of the Seas ended up being a pivotal moment in Ross' career.
"We got off feeling a little bit defeated and deflated, because I had not known about all of the amazing resources [for kids] that they had," she said. "I didn't even know there was a nursery onboard, so I didn't utilize that the entire time."
She also didn't know the ship had a splash pad that children in diapers could use: Her research had only pointed to the fact that diapered kids can't use cruise ship pools, per the CDC. Ross also experienced a lot of postpartum anxiety on that first trip with her daughter.
She started the Facebook group that initially focused on women (it has now expanded to all parents) as a forum to talk about details and tips and tricks they discovered. It was meant to be a resource that goes beyond the level of detail cruise lines offer on their websites as well as a place to just talk about traveling with kids, including issues like the postpartum anxiety Ross experienced and travel anxieties in general. 
"It evolved," Ross said. "It's not just a Facebook group. It is a community."
The pandemic meant a temporary halt to cruising, but Ross kept nurturing the group and a complementary blog she runs, making sure accurate information was being shared. She continued once cruising restarted. 
Some travel advisors in the group tried with little luck to offer their services to members. Ross realized that as the person who had created the relationship with the group, "if anyone's going to sell these cruises and going to help these families, it's got to be me."
A little help from Royal Caribbean's Vicki Freed 
She reached out to Vicki Freed, senior vice president of sales and trade support and service for Royal Caribbean International, who shared resources with her and explained the different ways to start a travel agency.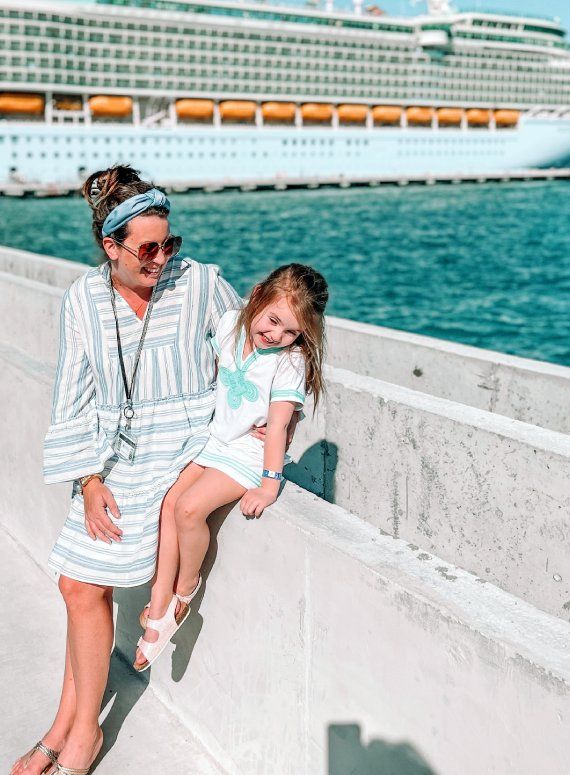 In August 2021, Ross opened her Dream Vacations franchise. She introduced the concept to the Facebook group, and it started to catch on. "And then," she said, "it was a tsunami."
"Jamie took a passion of her love of cruising and her love of family and wanted to spread the word on how families can enjoy cruising on Royal Caribbean," Freed said. "Her social media presence on Facebook was very popular with helping families understand cruising as a great vacation and provided tips for families.
"She was able to then transition her passion into selling cruises and, in such a short time, created an amazing business ranking as one of the top Dream Vacations franchise owners," Freed added.
Ross said she expects to end the year firmly in the top 20 of Dream Vacations franchisees, based on sales numbers.
And Moms at Sea is looking to grow. Ross is in the process of onboarding a team of experienced Disney cruisers to expand into selling Disney Cruise Line, and from there she hopes to expand her product portfolio to include Adventures by Disney and AmaWaterways.
Part of her goal is to provide other women with the opportunity to get into the travel industry and balance work and family life. She hopes to onboard as many independent contractors as she can support.
Source: Read Full Article