Hotels and resorts dive into boating amenities
Hotels and resorts worldwide are adding charter boats, private piers and an array of nautical experiences to their amenity mix, giving guests more in-house and exclusive experiences on the water.
"Boats are a pretty high-caliber offering that guests are often happy to have access to," said Laura Madrid, founder of Atlanta-based luxury agency Resort to Laura Madrid. "And it's not just a great service to provide to clients, but it can be a fantastic revenue stream for hotels. Instead of sending guests off to a charter company or outside vendor, they can offer a more exclusive in-house experience."
That exclusivity factor is certainly top of mind for properties like BLVD Hospitality's The Georgian hotel in Santa Monica, Calif. This summer, the historic, 84-room hotel debuted a "premium yacht adventure" amenity, with guests granted exclusive access to excursions aboard the privately-owned Riva Virtus yacht.
The Georgian's inaugural yacht program has three packages for up to 10 guests each, ranging from the $6,000 "Stay Local" half-day to a $12,000 eight-hour "Go Far" package that includes a visit to Catalina Island. Customized charters are also available.
Jon Blanchard, CEO of BLVD Hospitality, said he has yet to hear of a similar amenity being offered among The Georgian's comp set. 
"When putting this together, we were influenced by [markets like] Lake Como and the Amalfi Coast," he said. "And it's very rare to have an opportunity to do something like this with a large Riva. Within the first 24 hours of launching it, we received over a dozen inquiries."
In Greece, hotels and resorts with in-house charter boats may be more common, but on the popular tourist hub of Mykonos, few properties offer private vessels in combination with seafront access.
Opened last year, the 40-villa Cali Mykonos is one such hotel, offering access to both a private dock and two luxury motor yachts: an Axopar 37 Sun-Top or a Cranchi A46. Guests can arrange for personalized excursions to neighboring islands, beaches and other attractions. Prices for a two- to three-hour excursion start at just under $1,200 during low season and approximately $1,450 during peak season.
Island-hopping excursions to Delos, Paros and Antiparos, as well as transfers to Mykonos beach clubs such as Nammos, Scorpios and Spilia, have been among some of the more popular yacht experiences at Cali Mykonos this season, according to the property's managing director, Kyriakos Mourkakos.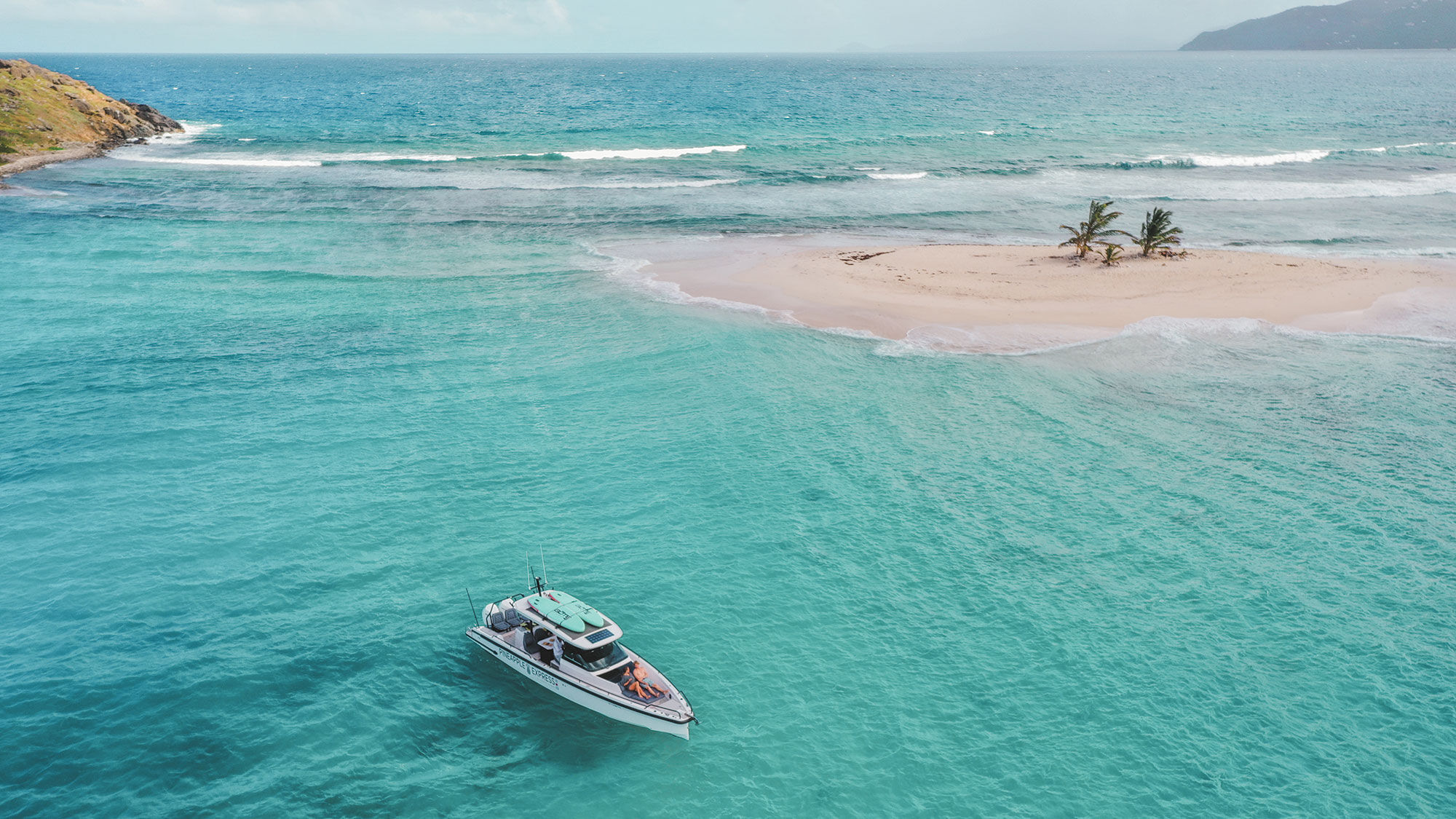 In the Caribbean, the recently redeveloped Frenchman's Reef on St. Thomas unveiled a new partnership with RED Hospitality & Leisure to grant guests at its Morningstar Buoy Haus Beach Resort at Frenchman's Reef, Autograph Collection and Westin Beach Resort & Spa at Frenchman's Reef access to not just one or two boats, but eight.
The options: Two Axopar luxury charter boats, a Boston Whaler 370, two VanDutch 40 luxury charter boats, a rigid-hull inflatable boat, a 57-foot ferry and excursion vessel and the Flying Frenchman, a 65-foot catamaran with a capacity of up to 125 passengers. The boats can be booked for activities like snorkeling, fishing, private-charter pleasure cruises, sunset sails, ecotours and shopping and dining excursions. A nonprivate, one-and-half-hour sunset sail aboard the Flying Frenchman starts at $119 per adult.
While RED's boats aren't available solely to resort guests, those staying at either of the two Frenchman's Reef properties do get priority access to bookings. Guests also benefit from their proximity to the Frenchman's Reef private dock, which the fleet calls home.
The partnership with Frenchman's Reef taps into what Jason Campbell, senior vice president of sales and marketing, brand and product development at RED, views as a pandemic-era shift in guest mindset.
"There continues to be a trend, which has definitely been heightened by Covid, of both leisure and group guests looking for unique experiences," he said. 
Groups, in particular, have been eager to book private charters, said Michael Lorenz, director of sales and marketing for Frenchman's Reef.
"A lot of our higher-end groups and incentive groups are taking a day off their scheduled event and chartering one or multiple boats for an activity," said Lorenz. "And our wedding groups really enjoy that as well. We've got a couple of weddings that are doing pre- and post-event charters from our pier for their guests."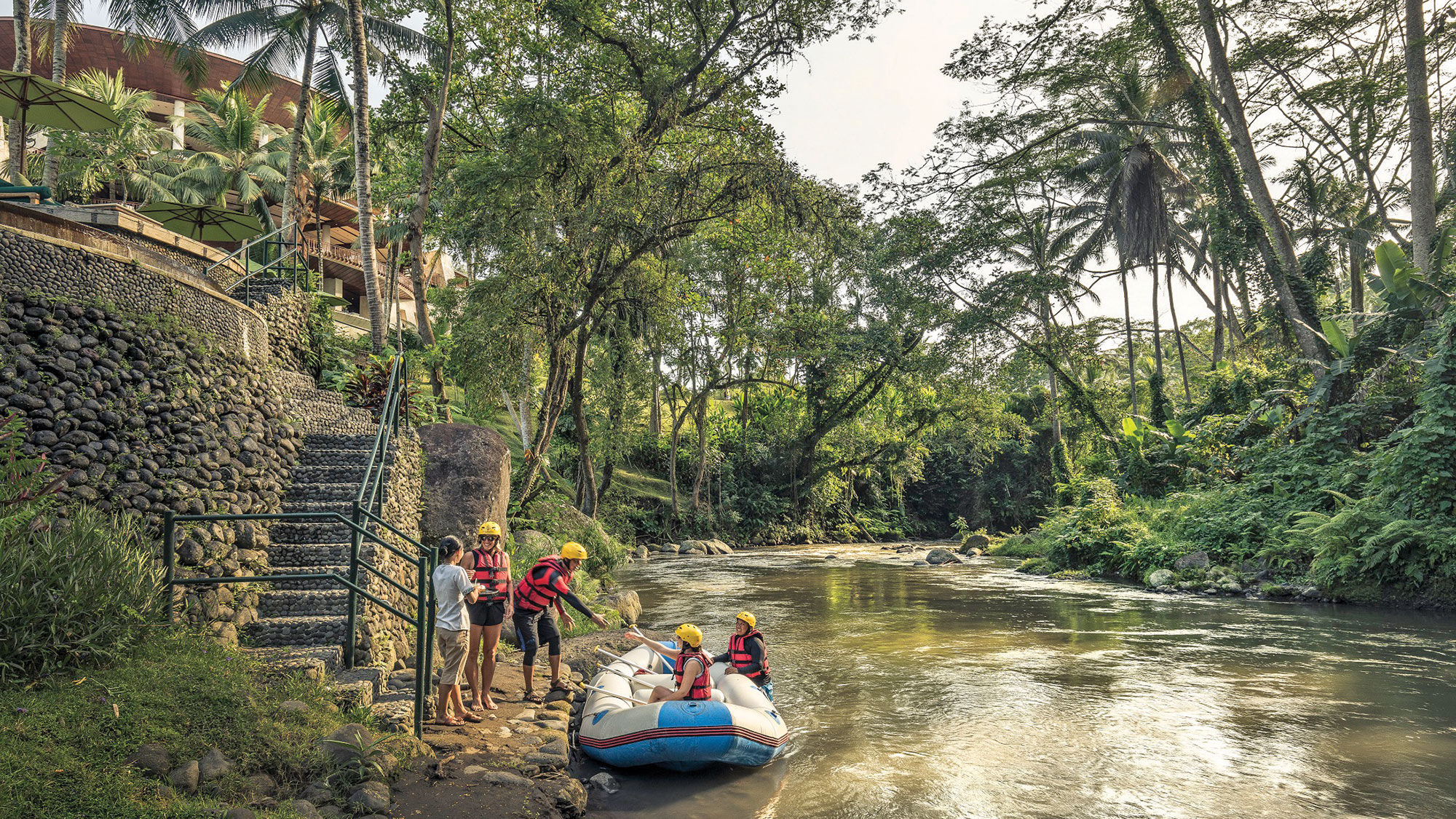 And it's not just luxe yachts that are proving high in demand.
In Bali, guests transferring to Ubud's Four Seasons Resort Bali at Sayan from its sister property at Jimbaran Bay can now travel between the properties by way of an exclusive Four Seasons river raft. The private raft transfer (starting at around $290 for two guests) debuted in mid-2019, replacing a rafting experience that was previously outsourced to a third party. 
The Sayan property also rolled out two additional private rafting experiences, available exclusively to guests of the property: a two-hour river excursion through jungle and rice fields (around $220 for two) and a raft-to-lunch adventure (around $260 for two) with a three-course meal.
"I think there's a certain comfort level for guests if a boat service is being provided by the hotel you've already trusted to spend your money on and stay with," said Madrid of Resort to Laura Madrid. "You know they're running it, or they've vetted and approved it. And if it's only being offered to in-house guests, then that's also a huge benefit."
Source: Read Full Article