The Black Bull, Cumbria: 'Stylish in a sober, luxurious way' – hotel review
Lying on what, in Lake District-tourism terms, is the "wrong" side of the M6 in that beautiful-but-confusing bit where Cumbria and the Yorkshire Dales national park overlap, Sedbergh is literally a fringe destination. But ever since the 2001 foot-and-mouth outbreak, this tiny town – about 20 minutes by car from the mainline Oxenholme station – has worked hard to exploit its natural assets: as a base for walkers, birders and cyclists, stargazers or students of early Quakerism, while offering new reasons to visit.
Most notably this is one of only three UK book towns (Wigtown and Hay-on-Wye are the others). Main Street – a narrow cut of crooked historic buildings and tight ginnels – is home to an unusual cluster of bookshops, and round the corner on Long Lane (Howgill Fells looming in the near-distance) is the vast Westwood Books, which relocated here from Hay-on-Wye. Each October, Sedbergh Book Town Festival (5-7 October 2018) pulls all this love of print into even sharper focus.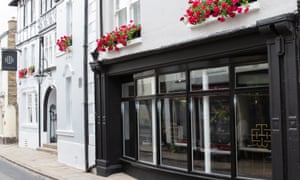 If you are scrapping for attention in Cumbria, good food helps too – which is where Nina Matsunaga and James Ratcliffe come in. Veterans of Manchester's street food scene, they originally moved to Sedbergh (Ratcliffe grew up nearby) to open the Three Hares. An ambitious "cafe", it has won national acclaim for its principled sourcing (James works closely with Cumbrian farmers), its self-sufficiency in curing and smoking, and chef-baker Matsunaga's eclectic menus.
The newly opened Black Bull is the couple's attempt to transpose that ethos – hyper-local sourcing, global outlook – on to a much-larger canvas. This warren-like 17th-century coaching house is now an 18-bedroom hotel (three rooms are dog-friendly), pub and restaurant, with an events space and cookery school to come.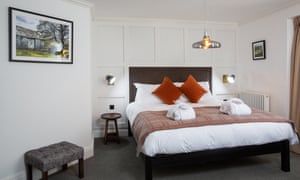 Stylish in a sober, luxurious way – sleek, clutter-free, muted colour schemes – the bedrooms have been micro-managed right down to the heavy paper stock and natty paperclips used in the personalised welcome notes. Your biscuits are fresh from the kitchen. The teacups are by a local artist-potter. Bespoke toiletries come from Sedbergh Soap Company. Milk and freshly ground coffee are left at your door each morning.
The Black Bull's immaculately white-tiled, hi-spec bathrooms may split opinion, given they are see-through, glass-walled spaces ("It's a pervert's paradise," laughed one of the builders) but you can pull the modesty curtains across if you prefer. The only significant demerit was for a lack of soundproofing (and, boy, was someone snoring in a nearby room), though that is a common issue in older buildings. Bring earplugs.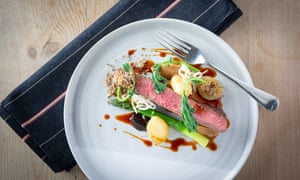 For all its stylistic flourishes, this is no hermetically-sealed Cumbrian cocoon. Sedbergh is a working town where the Black Bull (B&B offers from £99.99 until November) has to compete for trade with the neighbourhood Italian, Al Forno, or the cosy Dalesman Country Inn. Downstairs in the bar – logburners, dark wood, blood-red banquettes, dramatic landscape photography by Rob Whitrow – you will find several generations of locals nattering over pints of Black Sheep (from £3.40) and hipper craft beers from regional stars such as Fell Brewery. There's an affordable bar menu, which changes regularly. On my visit, it featured maple pea hummus and Hereford beef pie, while the burger was a great meaty mitt of pleasure, topped with pale ale cheese sauce that I could drink by the gallon.
If you concentrate (an ornamental beer stein here, a Japanese bath tub there), there are nods to Matsunaga's heritage – born in Germany to Japanese parents – throughout the Black Bull. In the restaurant those references are more pronounced. There is a Germanic slant to the adventurous wine list. Kokedama moss balls decorate the tables. Yuzu and shimeji mushrooms pop up on dishes of local duck and wild venison. Note: Matsunaga's meat-free dishes are equally creative.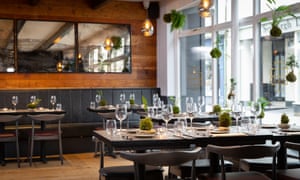 Occasionally, this idiosyncratic approach jars. I'm not convinced heavy cardamom and rye brot makes good toast to serve with the Black Bull's otherwise spot-on full English. But generally Matsunaga's cooking is the most successful British-Japanese crossover this side of Nissan Sunderland. Poached Whitby sea trout served with cucumber, a rich cucumber cream and salty cured slices of the same fish, is clear and clean – powerful in its subtlety. A dessert of ewe's milk cheesecake and tart, apple-y greengages scattered with popcorn-like toasted barley is even better.
The hotel's warm, affable staff seal what is a hugely persuasive deal. Book-lovers and birders may insist it's already there but the Black Bull deserves to put Sedbergh firmly on the map.
• The Black Bull, 44 Main Street, Sedbergh, Cumbria (doubles from £125 B&B), 015396 20264, theblackbullsedbergh.co.uk
Ask a local
Heather Thomas, Sedbergh Town project manager, sedbergh.org.uk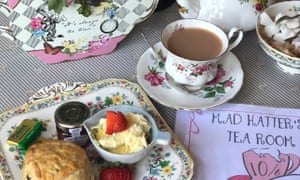 • Book trail
A real treasure trove, Westwood Books used to be a cinema and is now home to around 70,000 secondhand books. Other bookshops include Clutterbooks and Sleepy Elephant, while you'll also find books – dealers' collections and specialist selections – at the Tourist Information Centre, Farfield Clothing and even in the bus shelter, now book shelter, on Main Street.
• Arts and crafts
A restored Victorian woollen mill, Farfield Mill now houses artist-maker studios and hosts textile-art exhibitions. You can see the artists working, shop for locally made items and have a cuppa and cake in the cafe.
• Eat
No 6 Finkle Street is a beautiful boutique gift shop that also has the Mad Hatter's Tea Room upstairs. It serves gorgeous afternoon teas (from £10.50pp).
The Sedbergh Book Town Festival takes place from 5-7 October, focussing on themes of landscape and wellbeing
Looking for a holiday with a difference? Browse Guardian Holidays to find a range of fantastic trips
Source: Read Full Article