The complete guide to spending the perfect weekend in Helsinki
Finland celebrated 100 years of independence from Russia in 2017, but it's only recently that its capital has begun to carve out an identity as a weekend destination to rival other top European cities. Come for the eclectic architecture – from the sparkling white Lutheran cathedral to the icy marble of Finlandia Hall – and stay for late nights at the sauna and the city's thriving club scene, where Finns gather to drink and chat long after the sun has set over the Baltic Sea.
What to do
Heat up in the sauna
No trip to Finland is complete without a visit to a sauna. There are plenty to choose from – 80 per cent of Finns are said to have a sauna in their homes– but few are like the state-of-the-art ones at Loyly, where sleek lines and sustainable wood combine to create the illusion that the building blends seamlessly into the coastline. Two hours costs €19, which includes a towel, seat cover and soap for the shower – there is no charge for the customary cold dip in the ocean. Many chose to stay on after the sauna, for an Aperol Spritz with ocean views.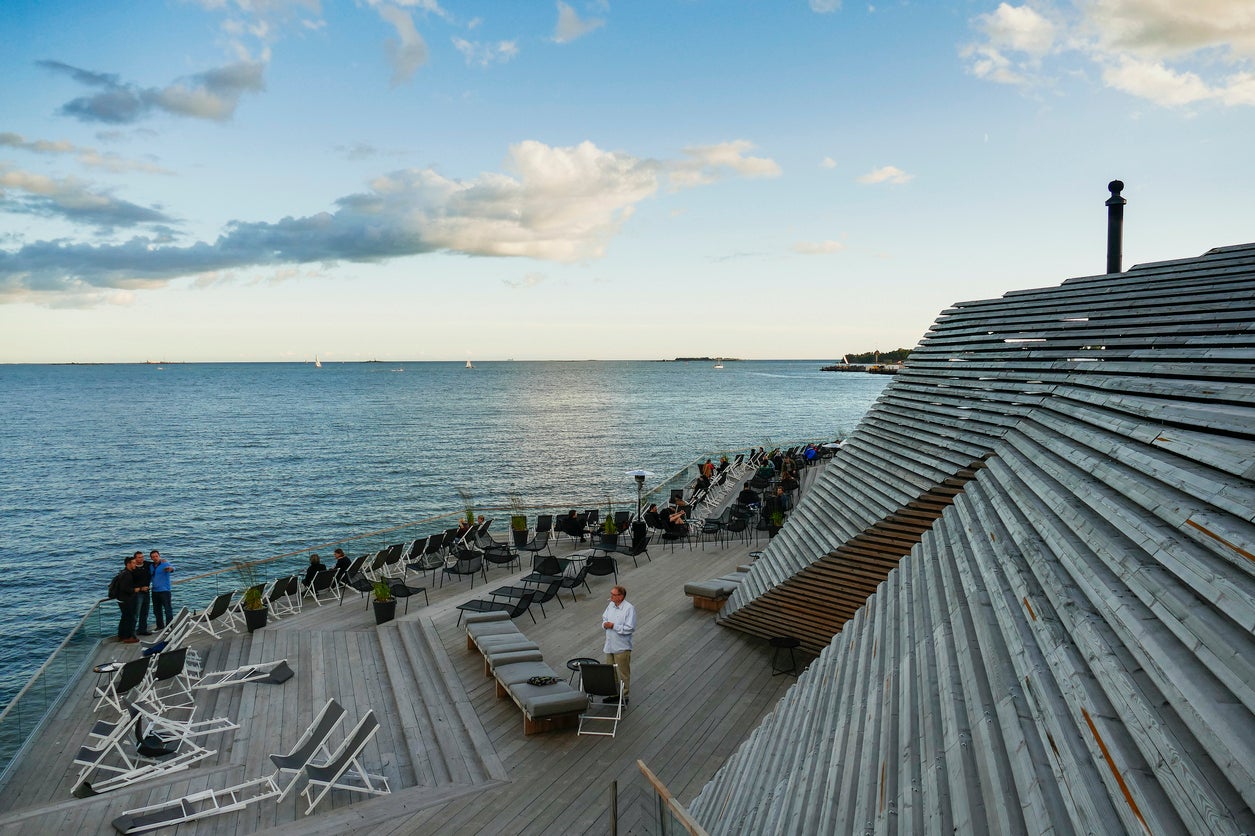 Next to the market square, Allas is a family-friendly sauna with three open air pools – one in the sea, and two heated options. Entry costs €14 for a wristband that doubles as a locker key, but bring your own towel.
Soak up the architecture
More than 30 architectural styles crowd Helsinki's city streets, which are made for walking. Spot gargoyles spying on passersby from ornate, neoclassical buildings; then head to Töölönlahti Bay to gaze at Finlandia Hall, a concert hall designed by masterful Finnish architect Alvar Aalto. The Kiasma Museum of Contemporary Art is unusually sleek in comparison – it was designed by a foreigner, the American architect Steven Holl in the 90s. A segway tour (€75 for 90 minutes) covers the main sites if you're pressed for time.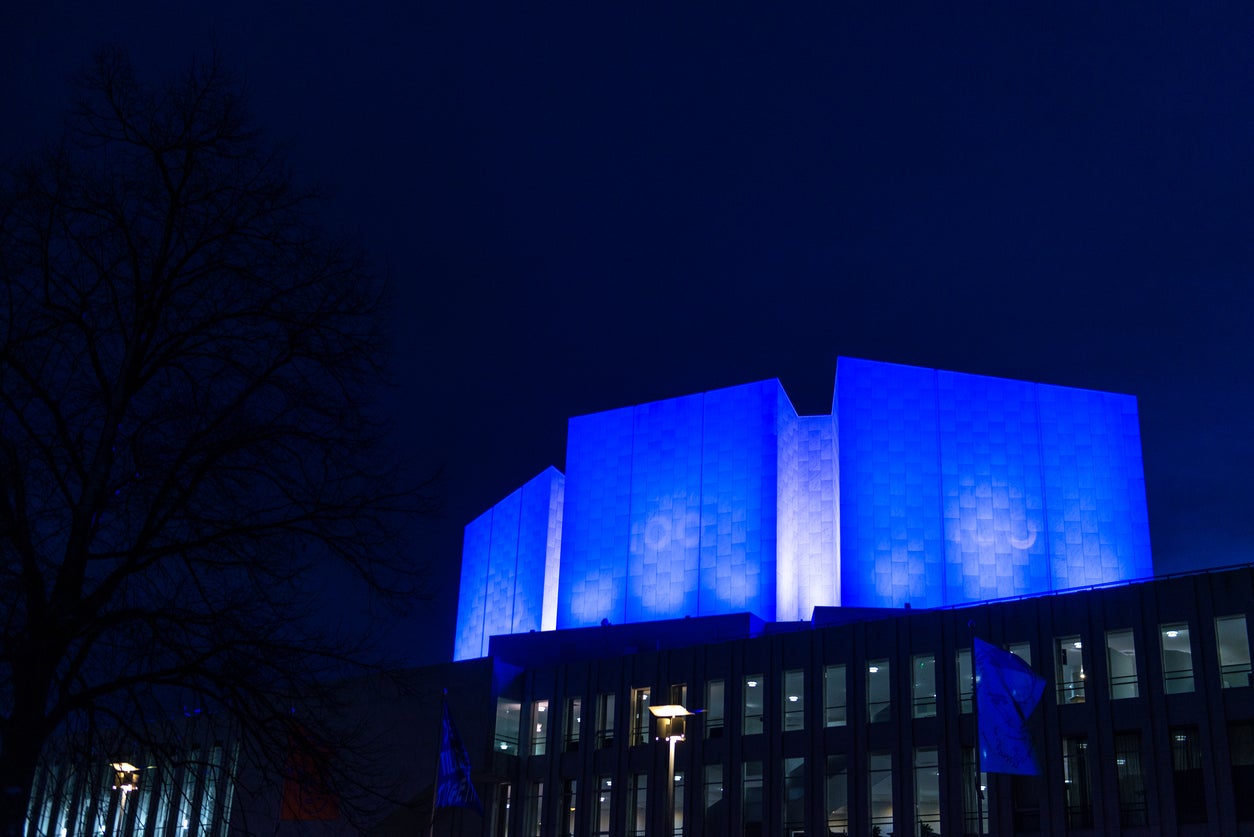 Island hopping
The archipelago of Helsinki consists of around 330 islands, including Pihlajasaari, famous for its sandy beaches; and beautiful Lonna, once a base for storing mines and now home to an a magnificent restaurant of the same name, specialising in Finnish and seasonal fare. Boats leave regularly from the market square. The JT-Line Island Hopping route allows you to spend a whole day travelling between Lonna, Suomenlinna and Vallisaari. The latter is a good spot for a hike and a pleasant picnic.
Where to stay
Hotel F6, a central, boutique-style hotel, is just around the corner from the market square, with stalls selling fresh berries and fried fish. Yet, it feels pleasantly set apart thanks to a central courtyard reminiscent of a Moroccan riad, with seating areas and blankets for cooler evenings. Doubles from €250, including a delicious Finnish breakfast of rye breads, smoked fish and boiled eggs.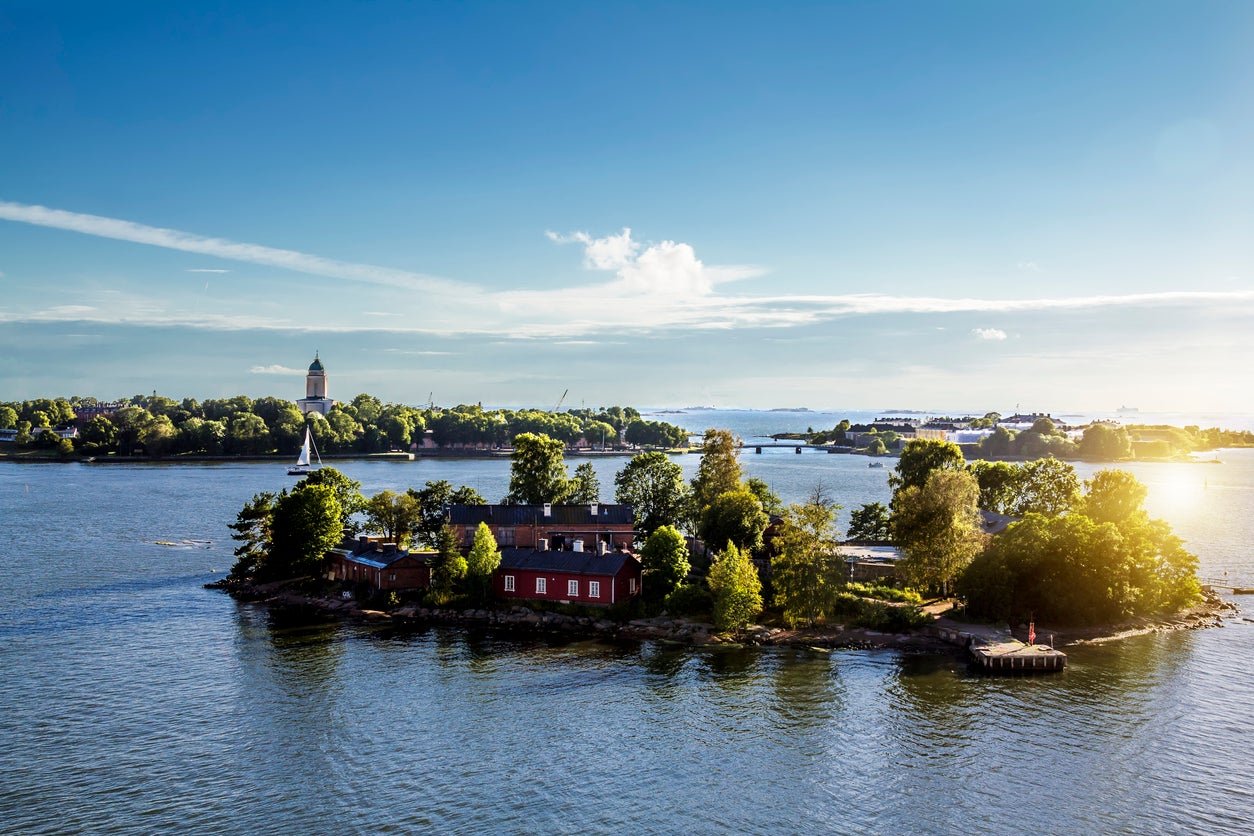 A 15-minute ferry from Helsinki takes you to Suomenlinna, an island hostel in a fortress that is also a Unesco World Heritage Site. The hostel itself is just a short stroll from the beach, in a former Russian elementary school from the 1900s, offering dorm beds from €24 and private rooms from €65. Breakfast is provided for an extra €7.90.
Where to eat
Finland has a reputation for being expensive, and while the city now offers a plethora of fine dining options, sometimes it's handy to know where to get the best cheap bites. Fafa's is that place – a chic falafel bar serving stuffed pitta breads from €8.90 at multiple locations around the city.
Helsinki has five Michelin-starred restaurants including Grön, which adapts traditional Scandinavian dishes, jazzing them up with plant-based innovations. The chef's menu costs €49 for four courses and showcases local fruits and vegetables, including wild mushrooms, nettles, flowers and dried berries.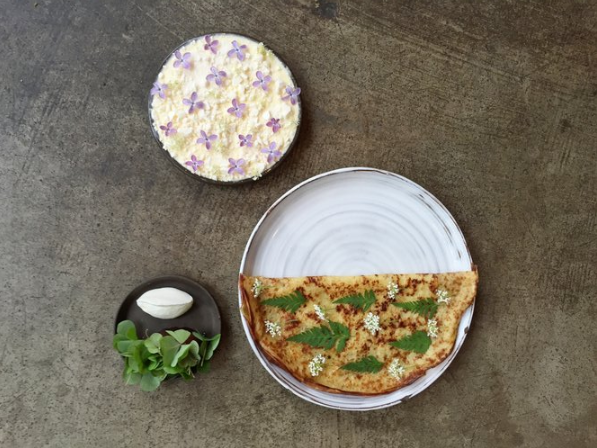 Put a hangover to bed with another pint and the all-you-can-eat brunch at Fat Lizard (€36 excluding drinks). This newly opened restaurant is steps from the Aalto-yliopisto stop on the metro and gives a foodie base to the Fat Lizard breweries, whose ales are on tap alongside other Finnish craft beers behind the bar. Brunch, while not cheap, is excellent quality and runs the gamut from pizza, ribs and salmon to piles of salads, plus plenty of cream-based desserts.
Where to drink
Finns are regularly named the biggest coffee drinkers in the world, but it's only recently that the quality coffee scene has exploded here. Good Life, based in up-and-coming Kallio, serves coffees mostly by three Finnish roasters: Kaffa Roastery, Turun Kahvipaahtimo and Helsinki Coffee Roastery. They also serve eggs, if you can bag a table in the cosy interior.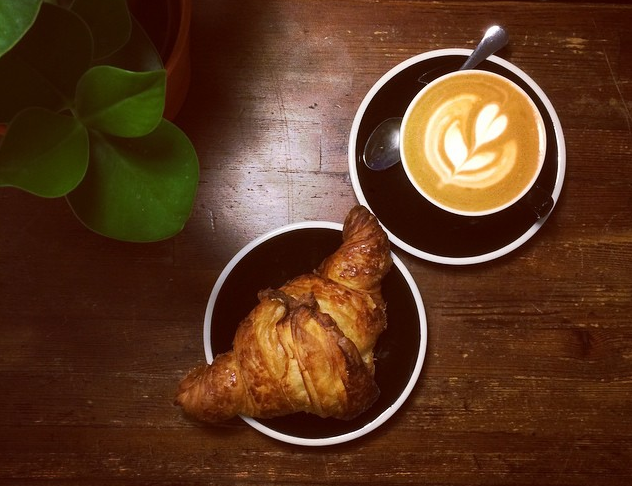 Late night spot Kaiku is a club with two different rooms, typically catering for fans of hip hop and techno in the same place. The 400-capacity venue in an old matchstick factory retains its industrial character, leaving a wide open space for dancing in the main room and a massive terrace for cooling off with a Long Drink, a can of fizzy gin and grapefruit that is popular with locals.
Where to shop
Helsinki Design District is home to more than 200 boutiques and ateliers catering for fans of the functional Scandinavian aesthetic, from the pleasingly minimal homewares at Lokal, to the muted colours and fine tailoring of Samuji. Pick up a Design District Helsinki map to find the shops and cafes spread across Kaartinkaupunki, Kamppi, Punavuori and Ullanlinna. Look out for open studios where you can meet the artists in their own workrooms, which typically double as stores.
Made famous when Jackie O wore it for the 1960 presidential campaign, Marimekko remains Finland's most famous export. Marimekko's designers favour bright colours and flower patterns to keep the wearer cheerful through the long Finnish winters. Spot the branded totes worn by Finns as you travel the city and try on the iconic poppy dress at one of the many stores.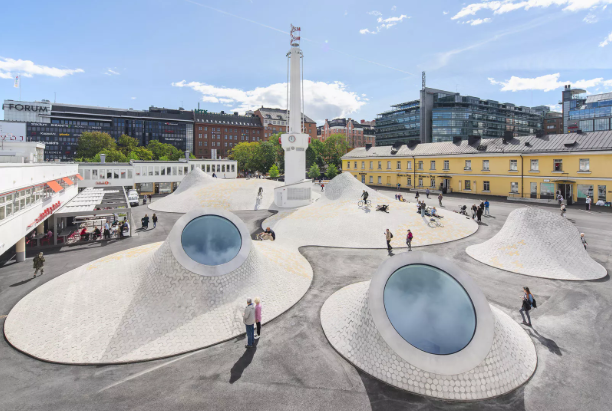 Architectural highlight
Contemporary art gallery Amox Rex opened its doors to the public after a full renovation in August 2018. Inside it is all sleek curves and sans serif fonts, with underground galleries lit by circular portals to the sky.
Nuts and bolts
What currency do I need?
Euros.
What language do they speak?
Finnish.
Should I tip?
Tipping is not expected.
What's the time difference?
GMT+2.
What's the average flight time from the UK?
Two hours and 50 minutes. A handful of airlines fly direct to Helsinki from the UK, including Norwegian, Finnair and British Airways.
Public transport
Helsinki has one metro line and a comprehensive system of buses and trams. One travel card can be used across all three; buy from the blue machines and tap in when you board (single trip €2.90, day pass €11).
Best view
Take a winding spiral staircase up from the 12th floor of the Sokos Torni Hotel to find the Ateljee Bar, where you can drink in views of the city on all sides while sipping cocktails.
Insider tip
Warm up from the inside on a cold Finnish day with the traditional seafood soup at Soppakeittiö, a soup restaurant in the Old Market Hall, where an enormous serving plus unlimited bread costs around €10.
Source: Read Full Article