Why Gdansk is Poland's coolest city break destination
When it comes to planning a city break in Poland, Gdansk may not roll off the tongues of most UK travellers, but this gem on the Baltic Coast is one of the most scenic, cultural and historically significant cities in the country.
Increasingly popular with young Poles keen to live by the sea, it has some of Poland's finest museums, while burgeoning regional food and nightlife scenes make Gdansk a great choice for a budget short break.
What to do
Check out the street art
Just four stops from Gdansk Glowny is the Gdansk Zaspa district. This largely residential area may not have many traditional "attractions", but the facades of its communist-era tower blocks are painted in intricate and often colourful murals – an ideal stop-off point for photographers.
Visit the museums
Gdansk has some of the best museums in Poland. The European Solidarity Centre tells the story of a steelworkers' strike which set in motion a cultural movement that spread around Poland and ultimately led to the fall of communism. Poignant and stunningly designed, it also has a rooftop looking out over the shipyard and Old Town. The Museum of the Second World War, which opened last March, is even more extensive, giving detailed insight into the 20th century's biggest conflict, which began in the city (then named Danzig) in 1939.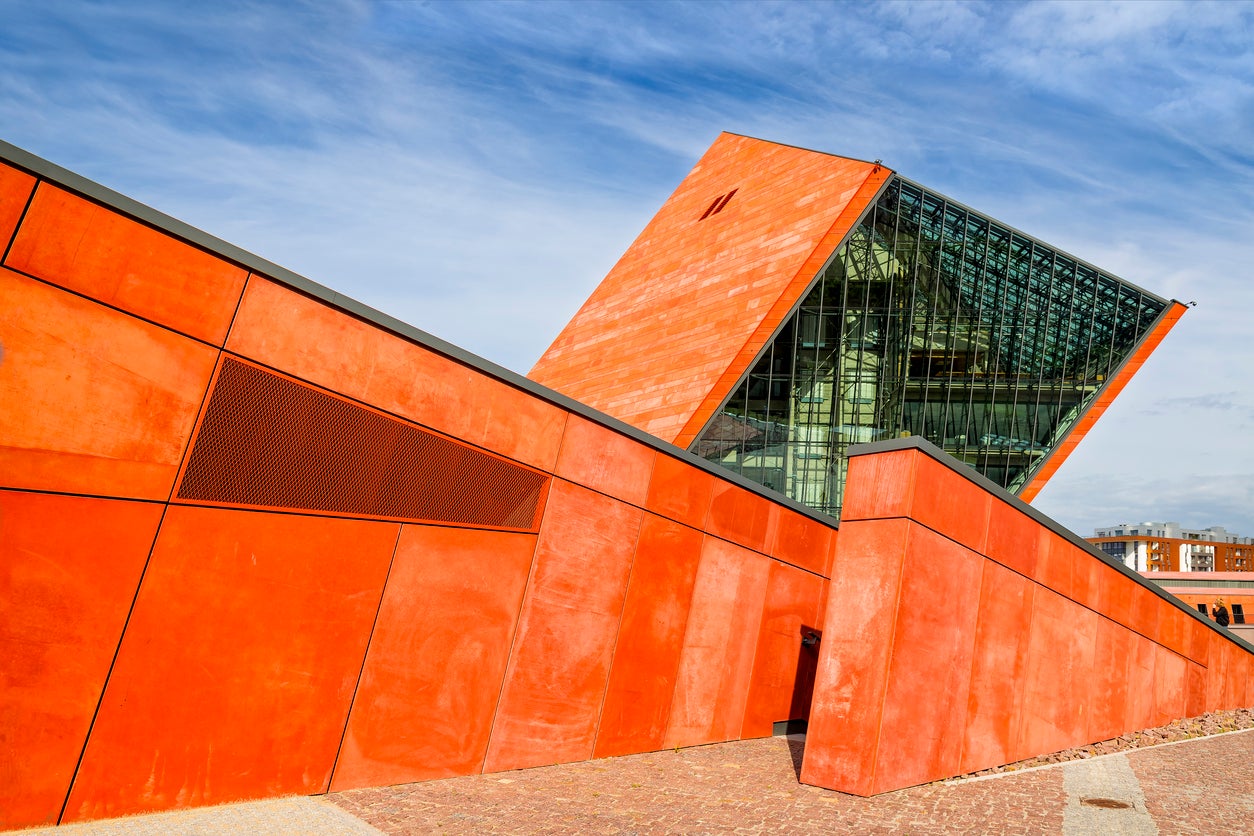 Head to the theatre
Gdansk was a key stop-off point for travelling actors in the first half of the 17th century and the city is reported to have been the first outside England where Shakespeare's plays were performed. Gdansk now has its own Globe Shakespeare Theatre, which hosts troupes from around the world; many plays are performed with English subtitles.
Explore the Old Town
While undeniably the most touristy (and busiest) part of the city, Gdansk Old Town is beautiful and a walk around is an essential part of any visit. Each building carries a story, from the seemingly "medieval" facade close to the Golden Gate (which was actually painted by Soviet authorities), to the statues atop buildings rebuilt after the Second World War. A walk alongside the marina is a must when the weather is good, and the historic Soldek ship is also worth checking out.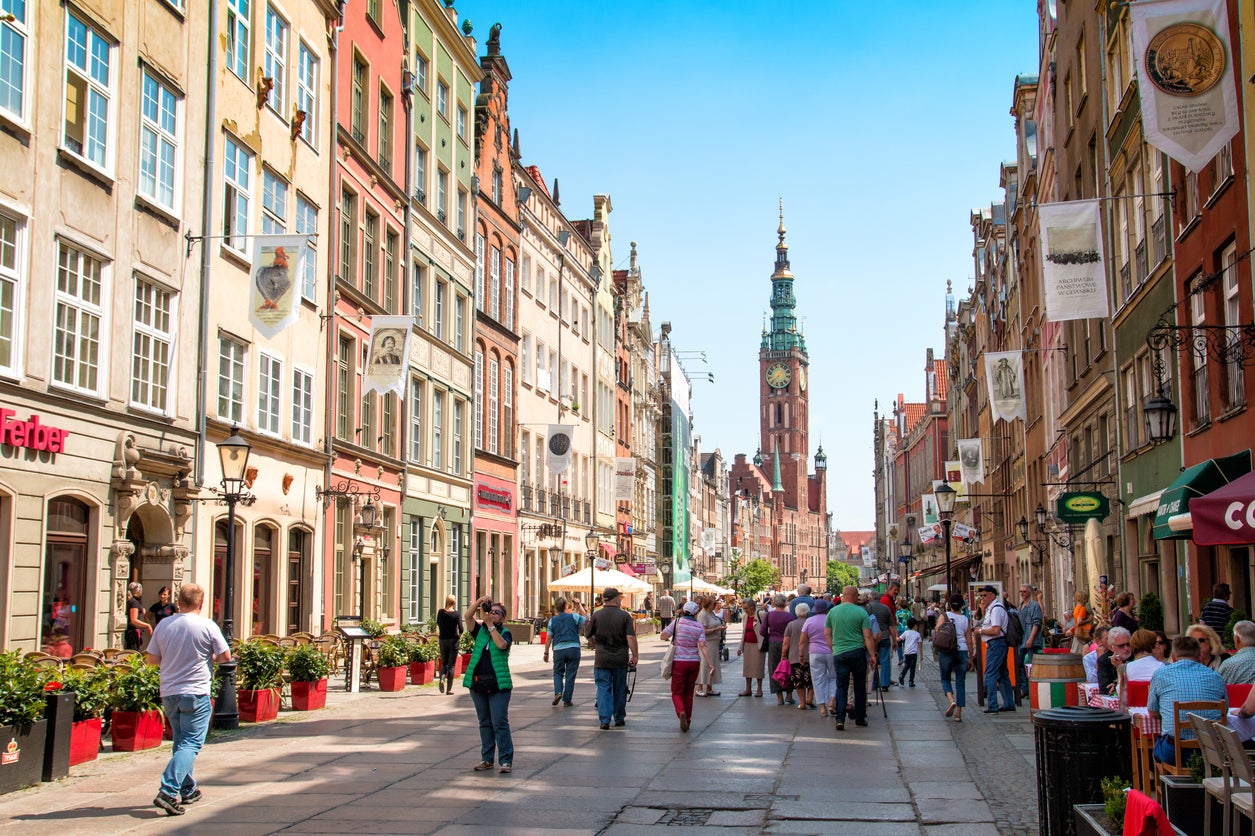 Take a food tour in Gdynia
Gdansk is part of the Tricity region which includes nearby Gdynia and Sopot. The former is just a 30-minute train ride on the SKM railway and well worth a visit. A former fishing village, it was founded in 1926 and became a salubrious part of the region with its modernist architecture and seaside location. The Eat Polska food tour is excellent, including a pitstop for fresh cod aboard a Baltic boat and soup at Sztuczka, a fairly new restaurant recognised by Gault & Millau for its excellence.
Where to stay
Puro Hotel in Stare Mesto (Old Town) is a short walk from the city's iconic St Mary's Church (currently under renovation) and right beside the Motława river. The design is chic and modern, beds are comfy and staff are friendly and accommodating. Moreover, guests can enjoy a sauna or treatments at the Prisma Spa and grab a cocktail at one of the hotel's two bars on the ground floor and rooftop. Doubles from £69, B&B.
Three-star Hotel Number One is located in the same area of Old Town as Puro, and boasts a wellness zone and a daily changing breakfast buffet. Doubles from £30, B&B.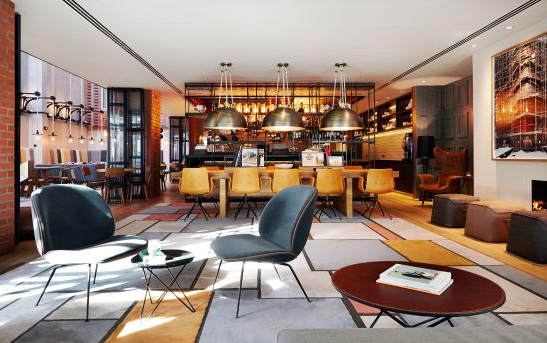 Where to eat
Długa ulice, a street which runs from the city's historic Golden and Green Gates, has numerous restaurants serving both traditional Polish and international cuisine. However, for a less touristy experience, it's easy to veer away from the main thoroughfare without having to traipse too far.
Along the waterfront, Brovarnia Gdańsk is famed for its excellent beers, made onsite, but is also a great spot for food – the fresh cod in Prosecco sauce with bavarian mustard is particularly good.
Paulo Gelateria has a number of organic ice creams in weird and wonderful flavours, including pumpkin seed oil.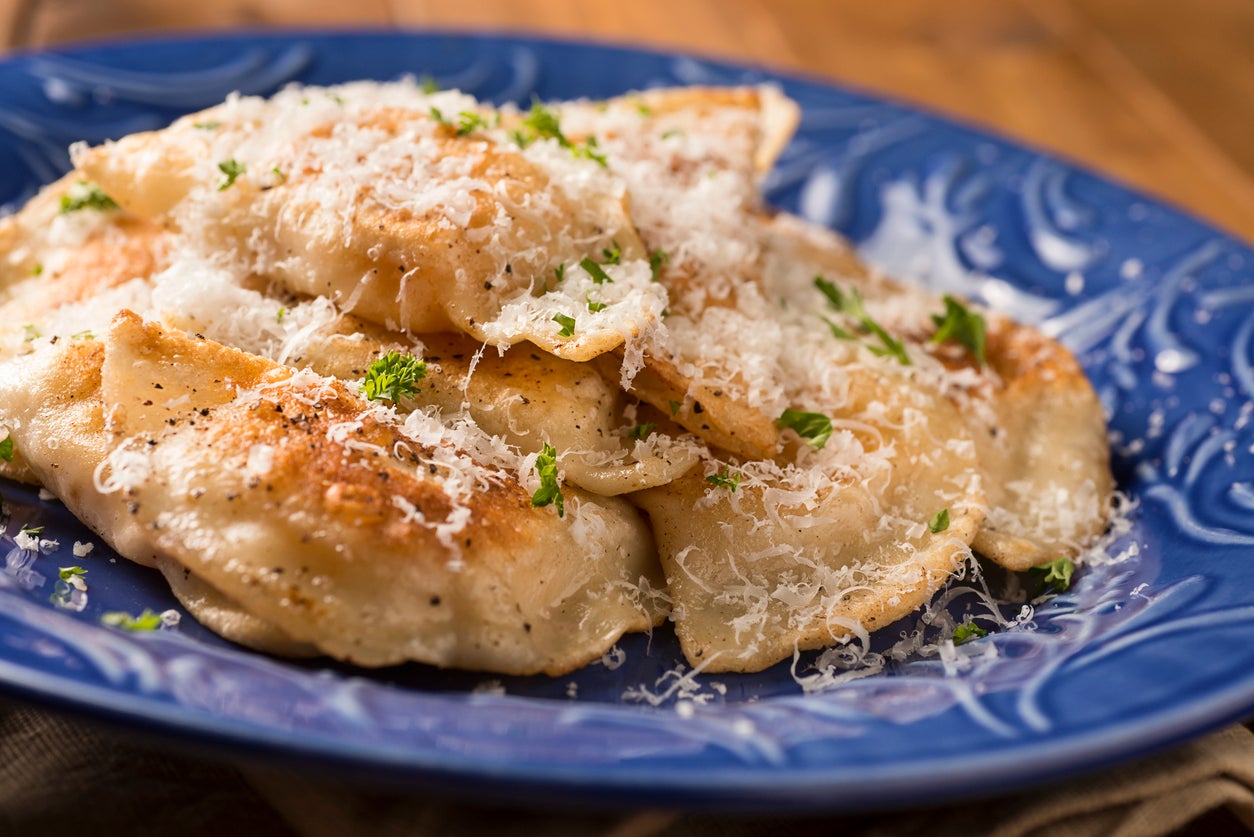 Healthy eaters should head for Guga Sweet and Guga Spicy, two adjacent cafes which specialise in vegan and vegetarian food.
Piwna 47 is an excellent restaurant in the Old Town, with a fine selection of meat, fish, pasta and salad dishes, and the option to sit outside or in the elegant conservatory.
To try traditional Kashubian food (Gdansk is the capital of the Kashubian region) try Tawerna Mestwin – dishes include pierogi and soup in a bread bowl.
Where to drink
Locals consider nearby Sopot (part of the Tricity region) as the area's nightlife hotspot, but Gdansk itself has plenty of good cafes and bars. For coffee, Pi Kawa is a centrally located cafe with an extensive menu of hot drinks and desserts.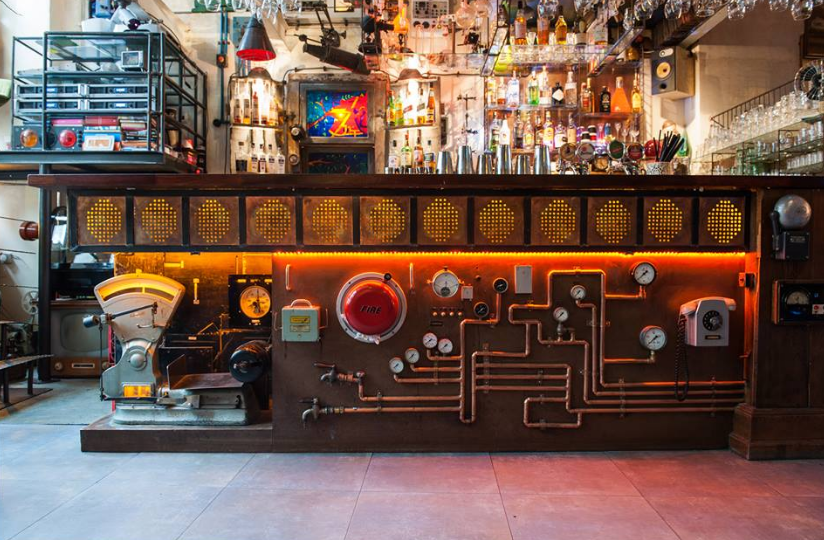 Cafe Josef K is a lively evening spot with dimly lit interiors and a pleasant outdoor seating area, while Cathead Multitap has a rotating list of craft beers and stouts and an outdoor seating area which looks out over the city's refurbished granary buildings.
Where to shop
Ulica Mariacka in the city centre retains its pre-Second World War terraces and is now home to a number of artisan shops selling amber jewellery, for which Gdansk is famous.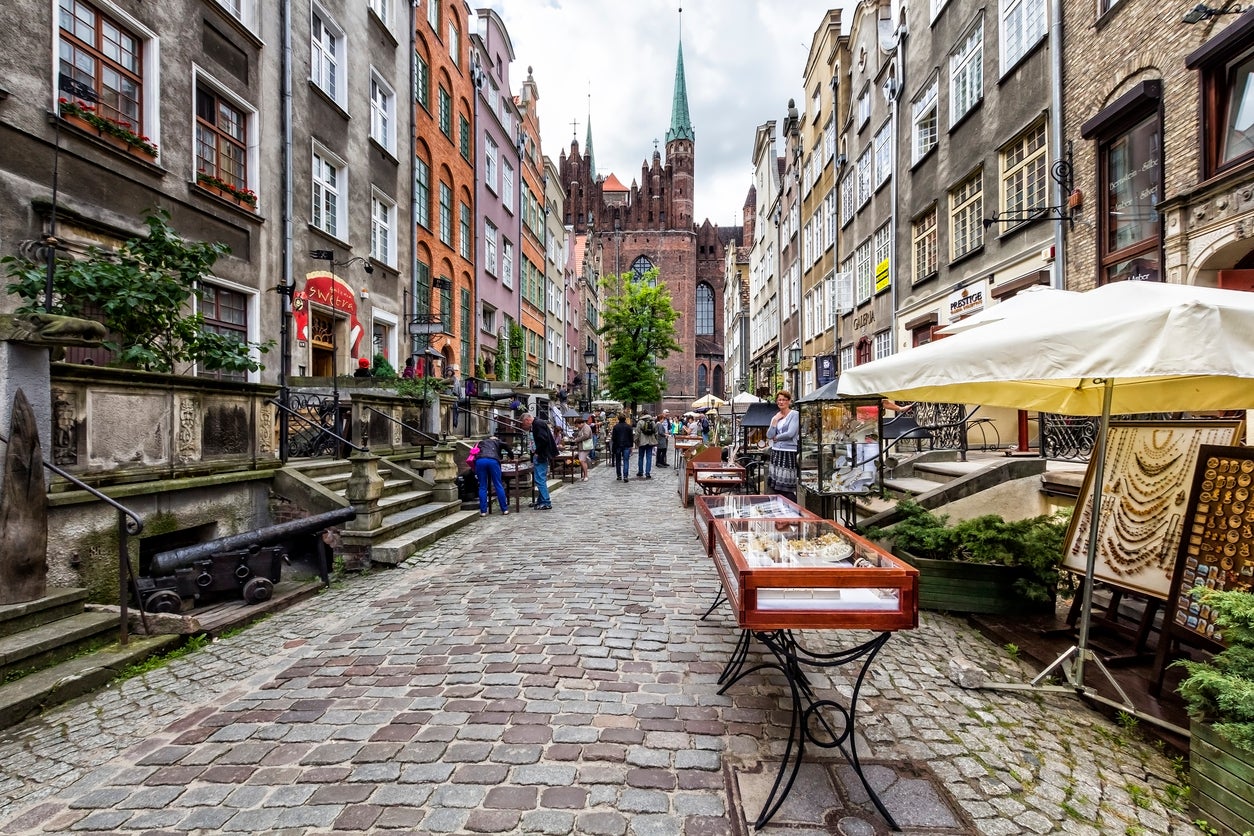 Large, mall-esque shopping centres have flourished in Poland in the post-Communist era. Galeria Bałtycka is a new centre just a short walk from Gdańsk Wrzeszcz station, with over 200 shops, bars, cafes and restaurants.
Architectural highlight
The intricate design of the Solidarity Museum takes first place.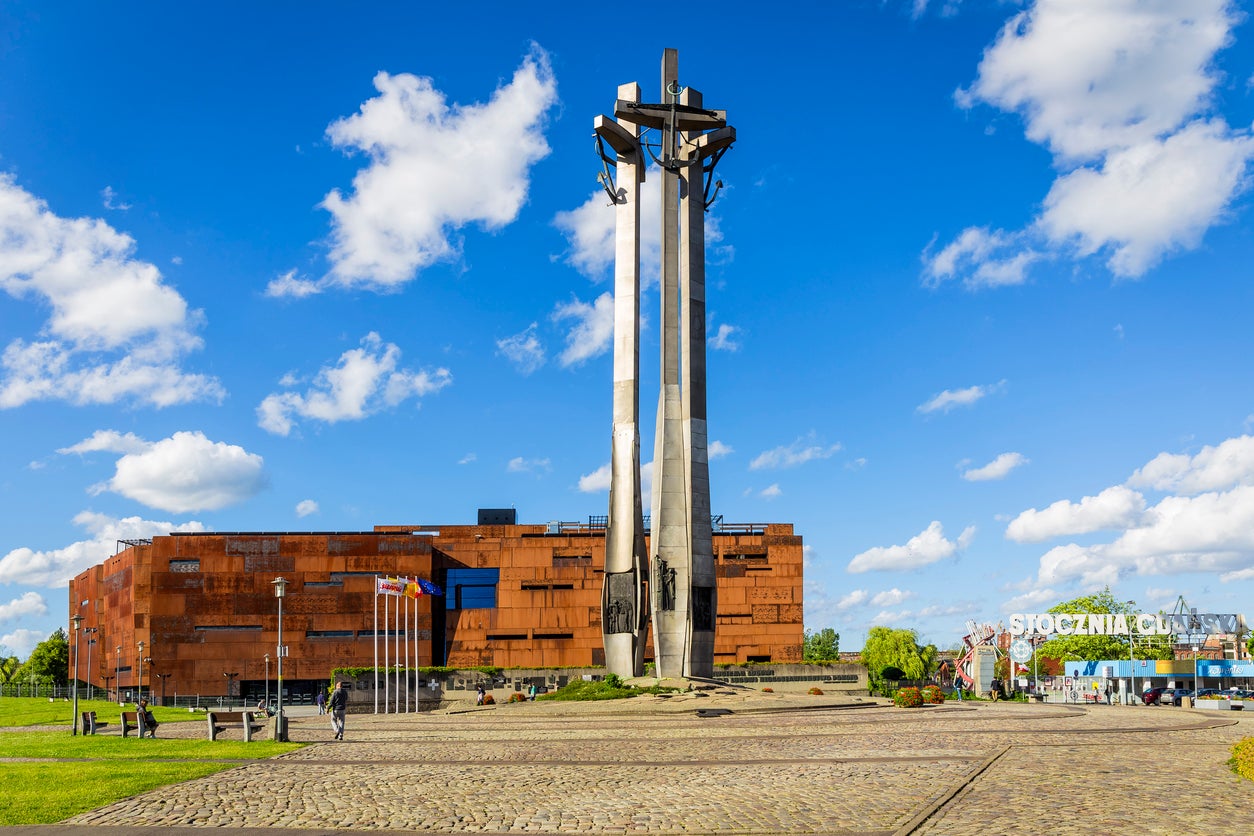 Nuts and bolts
What currency do I need?
Polish Zloty
What language do they speak?
Polish. English is widely spoken.
Should I tip?
Tipping around 10 per cent is generally expected, 15 for excellent service.
What's the time difference?
Gdansk is GMT+1
What's the flight time from the UK?
Direct flights from London take one hour and 50 minutes.
When's best to go?
The weather's best between May and October.
Public transport
Gdansk is easily walkable, but the tram and train infrastructure is very good.
Best view
The viewing tower at St Mary's Basilica is generally considered to be the best in the city. Other great spots include the deck at Solidarity museum and the rooftop bar at Puro Hotel, while the city's seasonal ferris wheel provides excellent panoramic views.
Insider tip
If you're interested in the museums, allow plenty of time for each as the exhibits are extensive and thorough.
Source: Read Full Article