Metropolitan Touring's Galapagos trip is a perfect mix of land, sea
It was what social media users might call a #firstworldproblem.
Last fall, I was in the enviable position of having to choose between two assignments: a weeklong cruise in the Galapagos or a 10-day trip to Ecuador that included a shorter Galapagos cruise plus a few days each in the capital of Quito and a private rainforest reserve.
Curious to see more of Ecuador but leery of missing anything in the bucket-list destination of Galapagos, I went back and forth more than once, finally opting for the land and cruise option with Metropolitan Touring.
I made the right choice. For to travel to the Galapagos but miss out on the rest of Ecuador would be a shame, like going all the way to South Africa for safari without stopping in Cape Town or the country's famed wine region.
Our five-day cruise in the eastern Galapagos on Metropolitan's 24-cabin yacht La Pinta offered ample opportunity to learn about and explore the archipelago's smaller islands. We snorkeled with sea lions, delighted as their babies learned to "walk" and swim and watched the Galapagos albatross practice their mating dance and very awkward landings. We got up close and personal with blue- and red-footed boobies, land and water iguanas and, of course, the islands' famed giant tortoises. Me and a fellow traveler even got chased along the beach by a young, male sea lion, who one of our guides joked was in training to be a beach master.
From Quito it was off to Metropolitan's Mashpi Lodge. While technically still in the Metropolitan District of Quito, the lodge set on a private rainforest reserve is three hours and two climates away. We left the moderate temperatures of 9,000-foot-high city of Quito, passed through warmer temperatures as we crossed the equator, then ascended into the drizzly, cloud-covered reserve.
Arriving at the lodge felt a bit like stepping into a luxurious glass treehouse. The central restaurant and bar area has two-story, floor-to-ceiling windows. And the rooms are situated for maximum privacy, so you never have to close the curtains on the glass exterior walls that also look out on to the rainforest.
The 6,000-acre reserve is essentially a private playground and scientific research center that is home to 400 species of birds, trees, frogs and other fauna and flora. The lodge's expert guides took us on hikes through rivers and hilly trails. One day we stopped for a swim beneath a waterfall. We took a leisurely ride on the Dragonfly Canopy Gondola and spotted a sloth while riding the Sky Bike that peddles through the treetops on a zipline. We drank wine while bird-watching, visited the reserve's hummingbird farm and butterfly house and took a night walk to experience the nocturnal world of the rainforest.
And did I mention the food? The cuisine at both properties as well as on La Pinta offers daily samplings of Ecuadorian dishes (think ceviche, potato soup and tigrillo, a breakfast dish made with green plantains).
To the sea
La Pinta was also a pleasant surprise. The upscale yet casual yacht has remarkably spacious cabins (176 to 247 square feet) for a boat its size and features what Metropolitan says are the largest windows of any ship sailing the Galapagos. There are also plenty of public spaces indoors and out, including a library where you can learn more about the islands. And as one of the pioneers of Galapagos cruising, Metropolitan's guides and onboard lecturers, like those at Mashpi, are top-notch.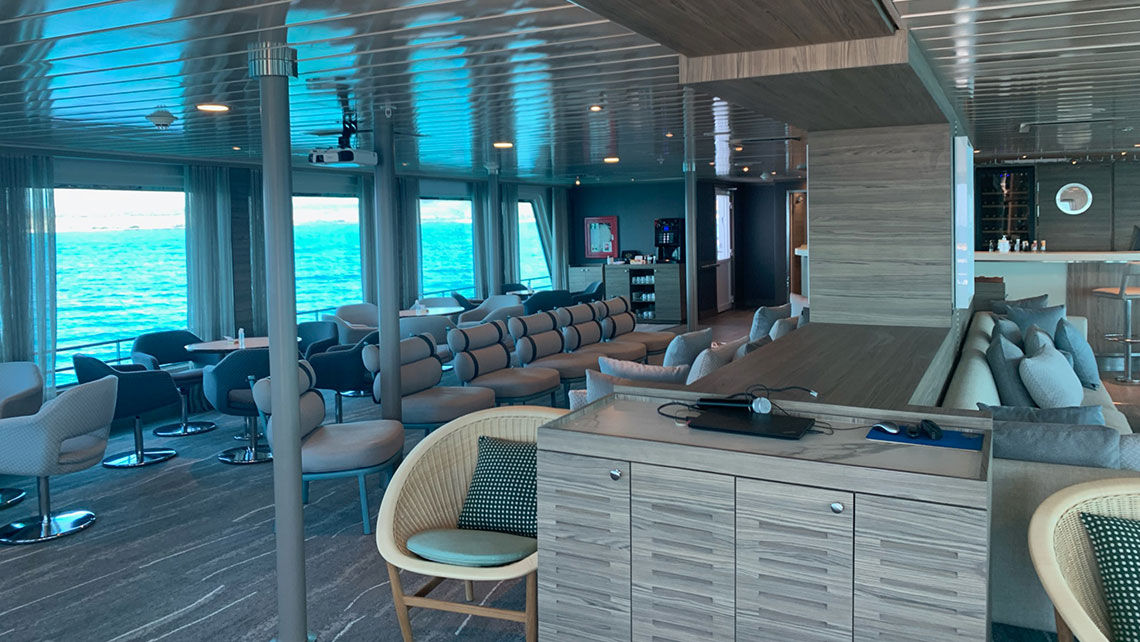 We sailed the eastern islands, one of three different four-night, five-day itineraries offered by Metropolitan aboard La Pinta and Metropolitan's 20-cabin Isabella II. And while company officials say the shorter routes have become increasingly popular with guests wanting to also explore more of Ecuador or neighboring Peru or Colombia, guests seeking longer cruises can sail on its largest ship, the Santa Cruz II, which this year is being operated by Metropolitan under the Hurtigruten flag, or combine more than one of the shorter sailings.
One couple onboard was doing all three circuits, with a relaxation and spa stop between the activity-packed sailings at Metropolitan's Finch Bay hotel, the only beachfront hotel in the Galapagos.
Yes, in a perfect world with unlimited time and resources, the ultimate Galapagos bucket-list trip would include everything. But for the rest of us, the 10-day land and sailing itinerary offers more than enough time to sample the diverse worlds that make up Ecuador. 
Source: Read Full Article