Ritz-Carlton luxury with 'less is more' touches on Evrima
Every high-end luxury cruise line aspires to timeless design — and the latest brand to enter the segment is no exception.
But when Ritz-Carlton is part of your name, that aspiration can be tricky. Does timeless mean classic in the traditional way that "Ritz-Carlton" once implied, with tufted leather chairs, heavy curtains and Greek columns?
That's not the road taken by the Ritz-Carlton Yacht Collection, which for its first ship, the Evrima, has opted for pared-down architecture with a mostly neutral color palette. It is modern timelessness, in the vein of the architect Mies van der Rohe, often credited with the phrase "less is more."
Minimalism, however, can be a little too minimal for some, as one of Mies' contemporaries summed up in his rejoinder "less is a bore." So the Evrima also has a few fun, colorful features that add a dash of excitement and whimsy to the mix.
It doesn't get much more whimsical than the chairs installed outside the ship's Observation Lounge on Deck 10. Upholstered in white, they are mounted on metal pedestals bolted to the deck and look like the fighting chairs one might find on a charter fishing boat.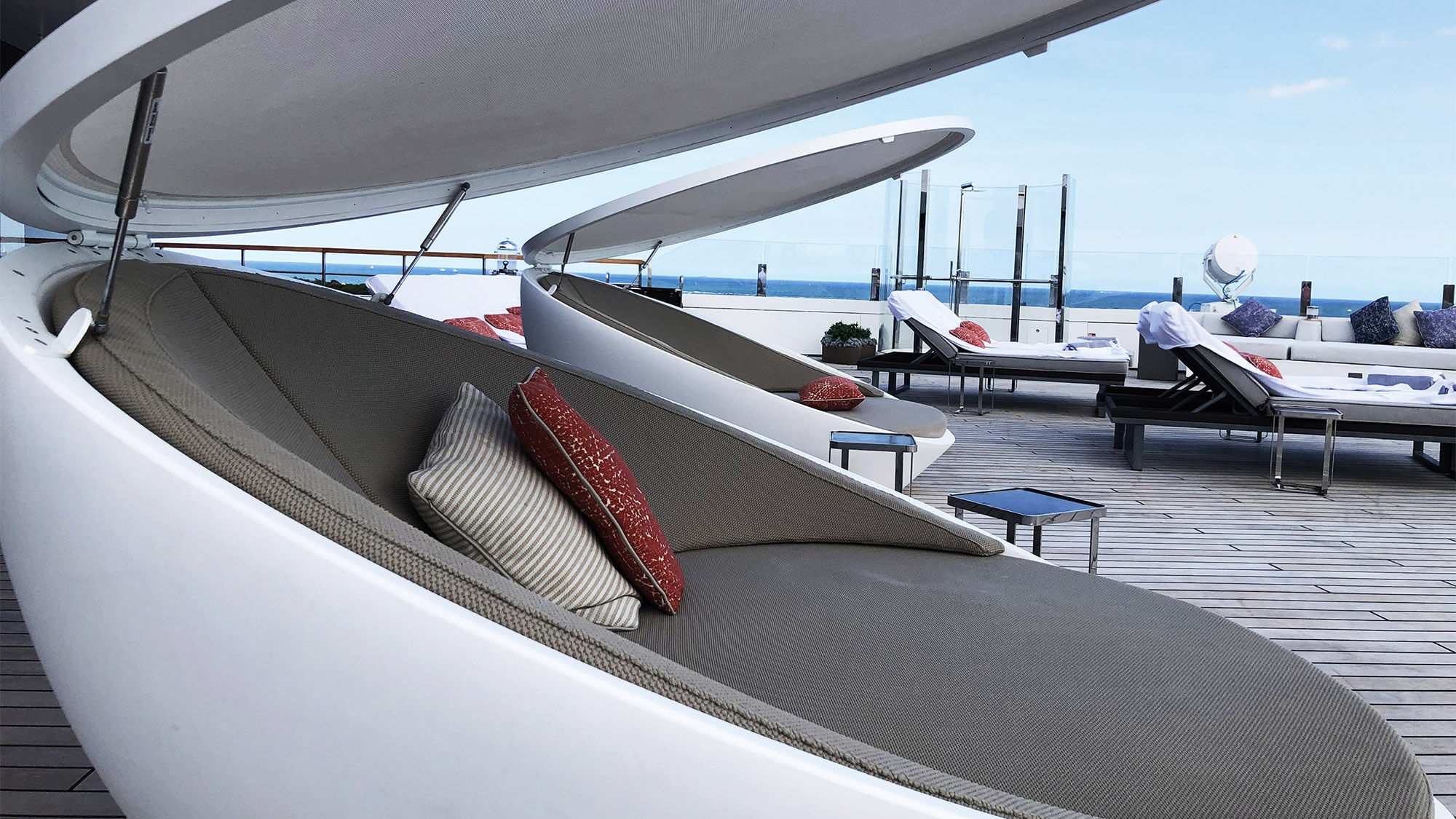 One deck below there is another outdoor deck with a shaded hot tub and a pair of oversize loungers with hinged lids that have the appearance of giant clams waiting to swallow a pair of unsuspecting sunbathers.
Another quirky feature one might not expect is a series of duplex suites, with rooms on Decks 4 and 5 connected by a narrow staircase. The 12 Loft Suites were built because Deck 4 is too close to the waterline for a balcony and Ritz-Carlton wanted to ensure balconies were part of every accommodation.
The stairs may not suit everyone but could work for some travelers, such as families seeking separate spaces.
Speaking of families, the 298-passenger Evrima is one of the few ships its size with a dedicated children's facility. Although the ship hosts only a handful of kids outside of holiday sailings, a space for kids is a brand requirement at every property run by Marriott International, Ritz-Carlton's parent company.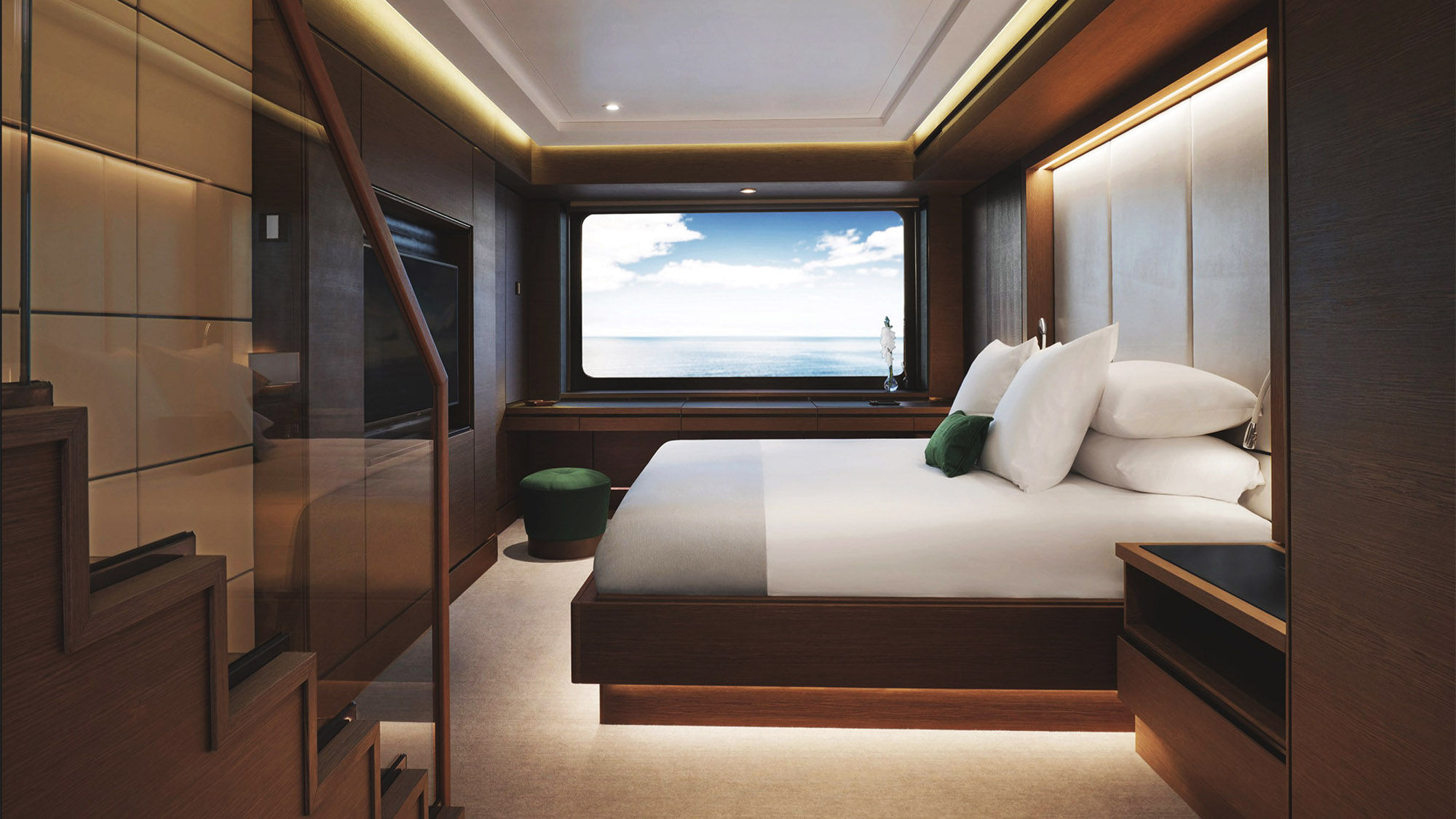 Restaurant within a restaurant
Another atypical design feature is the restaurant within a restaurant on Deck 6. The gourmet venue S.E.A. is surrounded on three sides by the larger Southeast Asian restaurant Talaat Nam but has vertical ribbon windows that give diners glimpses of the sea. The menu and staff training for S.E.A. comes from chef Sven Elverfeld's Aqua, a Michelin three-star restaurant at a Ritz-Carlton in Germany.
Several other restaurants make up the balance of the culinary roster. The Evrima Room, the ship's main restaurant, can accommodate most of the guests at one seating and is a careful balance of privacy and social connection, the cruise line says.
Alfresco options are Mistral, an inviting space on Deck 7 that serves Mediterranean cuisine; the Outdoor Grill, which provides informal fare on Deck 8; and the Pool House, another casual indoor/outdoor area adjacent to the pool on Deck 5.
Also worth a mention are the Marina Terrace on Deck 3, which serves craft cocktails and light bites, and the Living Room Cafe, part of a multipurpose area where coffees, pastries and premade snacks are available throughout the day.
The Living Room, like similar spaces on other small ships, suffers from trying to do too much and nothing in particular. It is at once a corridor, a boutique, a cafe, an arts and performing space, a library, a lounge and a reception area for guests coming and going from the ship. 
You may have thought that smoking at sea was a thing of the past, but the Evrima's Deck 10 cigar lounge, the Humidor, has proven so popular that the line plans to expand it on its follow-up ships, the Ilma and Luminaria, due in 2024 and 2025, respectively.
Ritz-Carlton has chosen to devote prime viewing space on Deck 9 to the ship's fitness center and spa, which allows bright light to flood the exercise space and permits a series of outdoor treatment cabanas for the spa.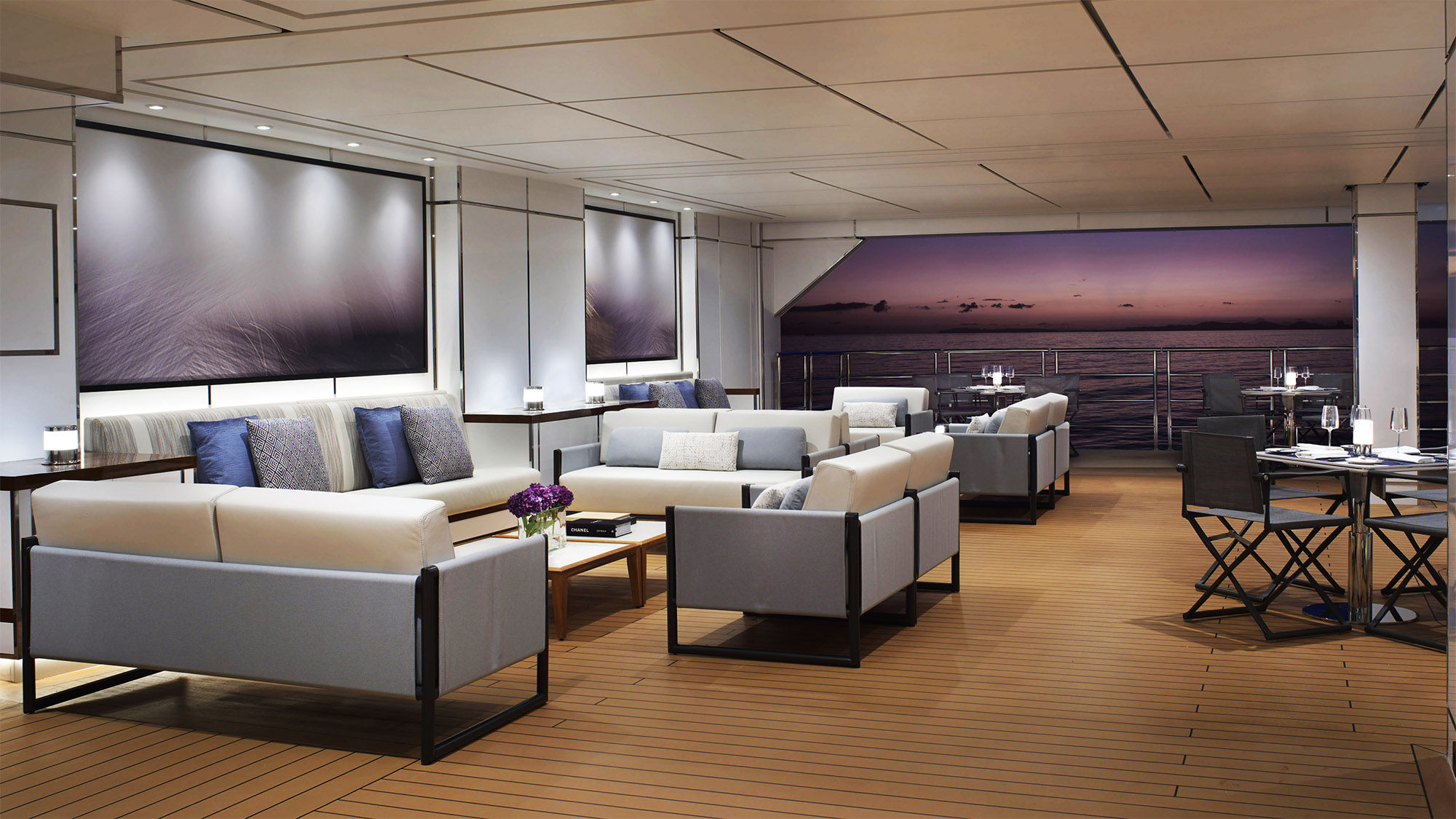 Marina platform and suites
Six decks below, at the aft just above the waterline, sits the Marina platform, an exceptionally spacious area that unfortunately must be closed when the ship is traveling. The adjacent Marina Terrace, one of my favorite spots on the Evrima, is a lounge that stretches the width of the ship and beyond, with the aid of shallow projecting patios on either side.
Both in the public spaces and in the suites, a subdued walnut brown is the Evrima's most prominent color, complemented by accents of dark green, blue and red. Nearly two-thirds of the accommodations are entry-level, 300-square-foot Terrace Suites, with king beds and verandas.
On the top end, the two 1,091-square-foot Owner's Suites offer a pair of bathrooms but only one bedroom. Each has a hot tub on its 635-square-foot terrace.
In-between suite categories include four View Suites, 14 Grand Suites and 27 Signature Suites, in addition to the dozen Loft Suites.
The Evrima is scheduled to spend most of its first year in the Caribbean and Mediterranean. Its timeless minimalism, punched up with a few contemporary twists, should please both past Ritz-Carlton hotel guests and luxury cruise fans seeking to try something new. 
Source: Read Full Article