Dispatch, Brightline: A Florida train tour with cultural and culinary highlights
The following is the second of two dispatches from Nicole Edenedo's Brightline experience.
After a recent press trip I took with Brightline, I'm rethinking what I thought I knew about visiting central and south Florida and what it has to offer.
We were in town to see the unveiling of Brightline's new Orlando station ahead of service launching between Orlando and Miami this summer. And high on the company's agenda was showing our group a glimpse of the tourism possibilities for travelers using Brightline's high-speed rail service.
Our four-day press trip visited Orlando, West Palm Beach and Miami — all cities that Brightline's trains serve — and included one-night stays in unique and artsy hotels within a short walk or ride away from the stations.
We dined at innovative and award-winning restaurants on our trip, a couple of which have earned Michelin stars and recognition in the past year, and we also took advantage of neighborhood walking tours and riding the free community shuttles via what I think might be Florida's favorite kind of vehicle: golf carts.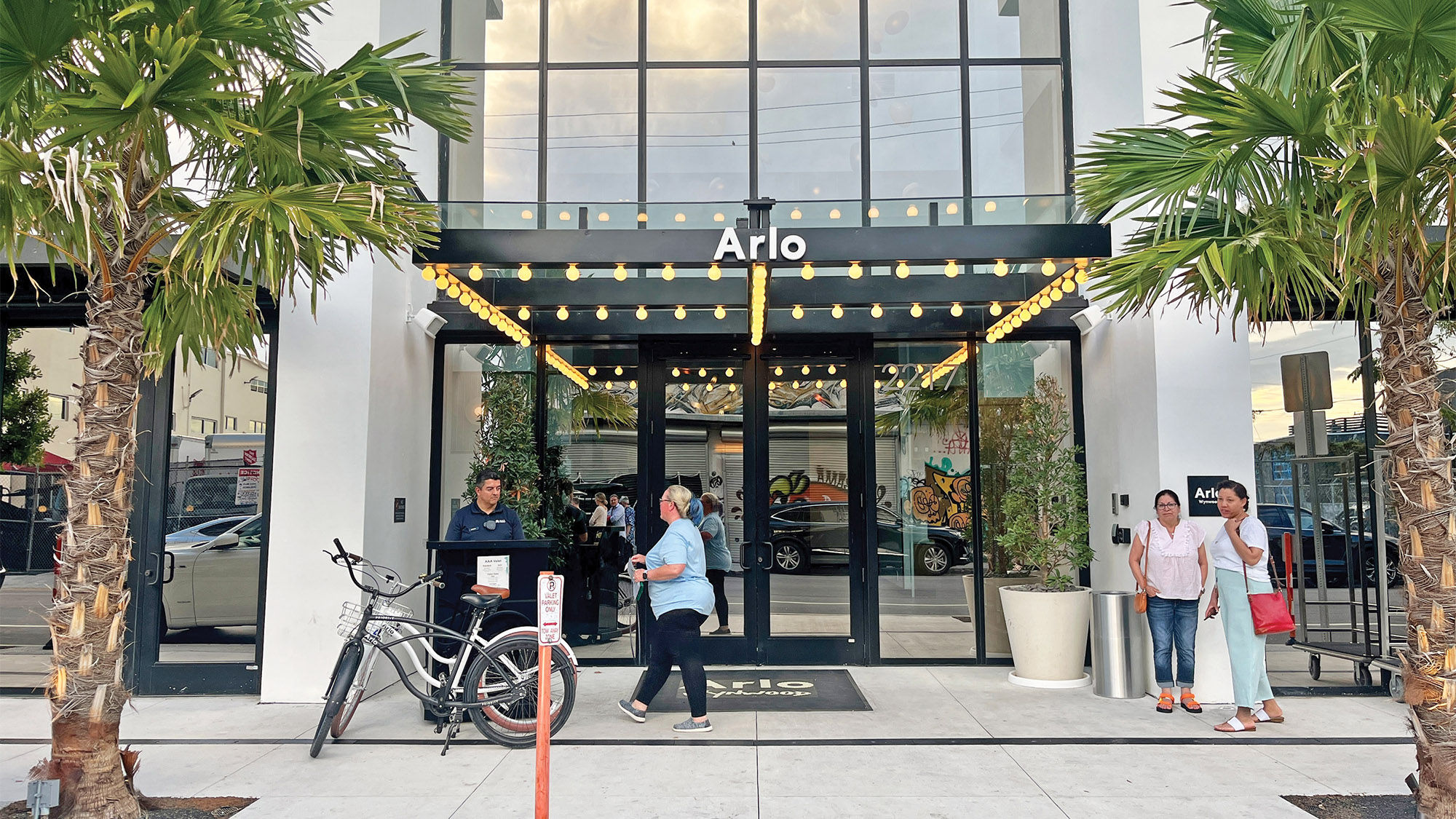 "As Brightline prepares for Orlando, we continue to tap into the expertise of our destination marketing organization (DMO) partners like Discover the Palm Beaches to connect our guests with great hotels and resorts," said Patrick Goddard, president of Brightline. "They help us identify properties like the new Arlo Wynwood in Miami, Orlando's Lake Nona Wave Hotel and Hilton West Palm Beach, that are both convenient and align with the Brightline guest experience."
Orlando's hidden gems in Lake Nona 
The first stop on our 'sights and bites' tour was Lake Nona in Orlando. If you've never heard of Lake Nona, I can say that after one visit I'm curious to see more. 
What got me hooked was our visit to the Lake Nona Wave Hotel, a privately-owned luxury boutique hotel with the most stunning contemporary art collection I've ever seen in a hotel.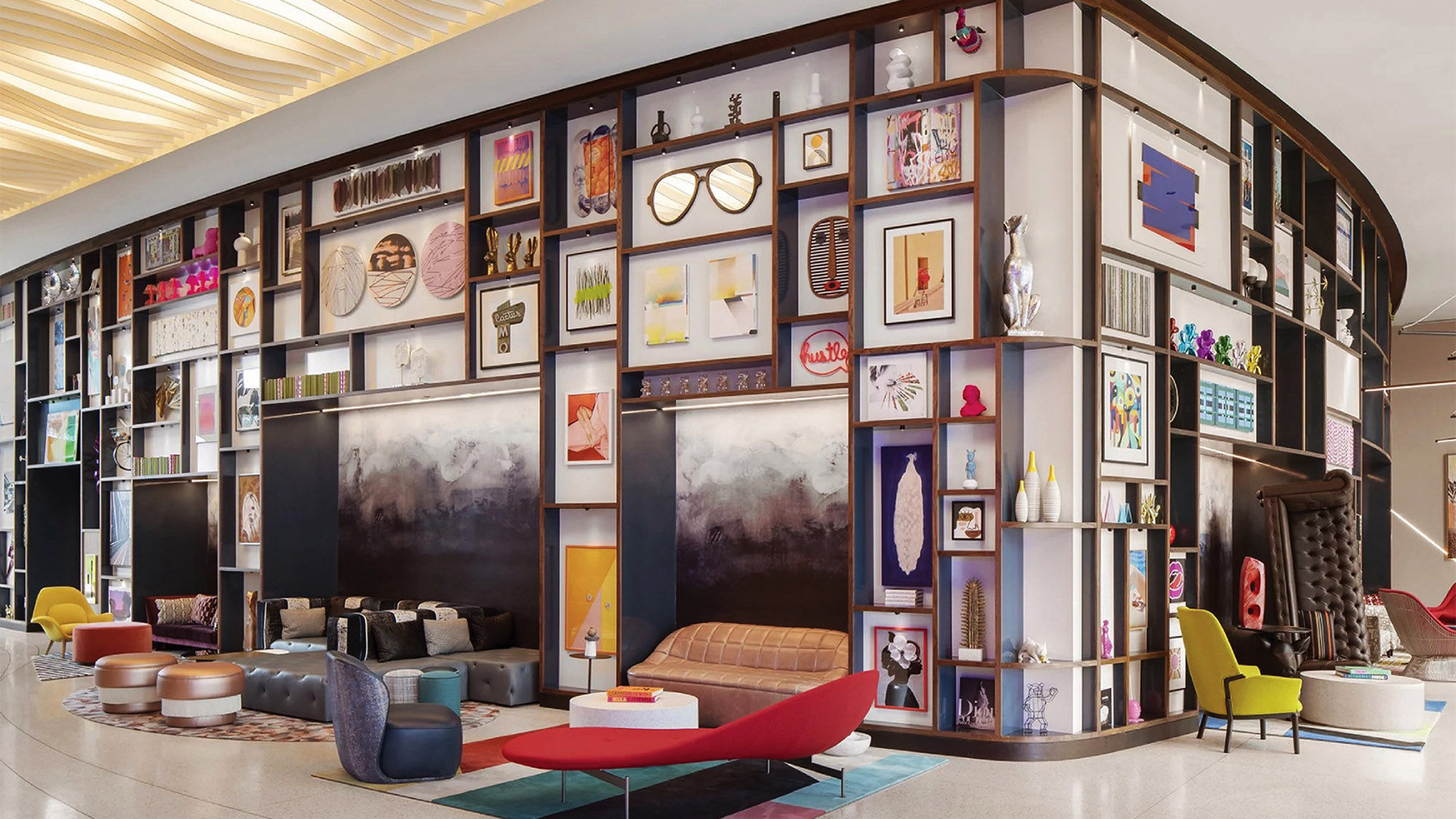 Since it's only a quick 7- to 10-minute drive from Orlando International Airport, which is where the new Brightline Orlando station is located, Lake Nona Wave Hotel should be on your radar when looking for places to stay near the airport and the train station. 
You might think you landed in Wynwood, one of Miami's most popular art neighborhoods, instead of central Florida, given the presentation the Wave Hotel offers upon walking inside — and that's probably the point.
Whether you're lounging in the art-stacked lobby, sipping drinks in the indoor amphitheater under the LED-lit cherry blossom tree or roaming through the giant sculpture garden outside, the Wave Hotel launches guests elsewhere into their own pop cultural bubble and offers a kind of vacation continuity on your travels while you're waiting to catch your flight or Brightline train. 
Our press group didn't stay overnight at the Wave Hotel (unfortunately), but we certainly feasted at the hotel's restaurant, Bacan, a Michelin-recommended restaurant in the Orlando area serving boldly flavored dishes inspired by cuisine of the Americas. And every dish we had was delicious, from the grilled octopus to the smoked pork belly and steak tartare to the creatively crafted desserts.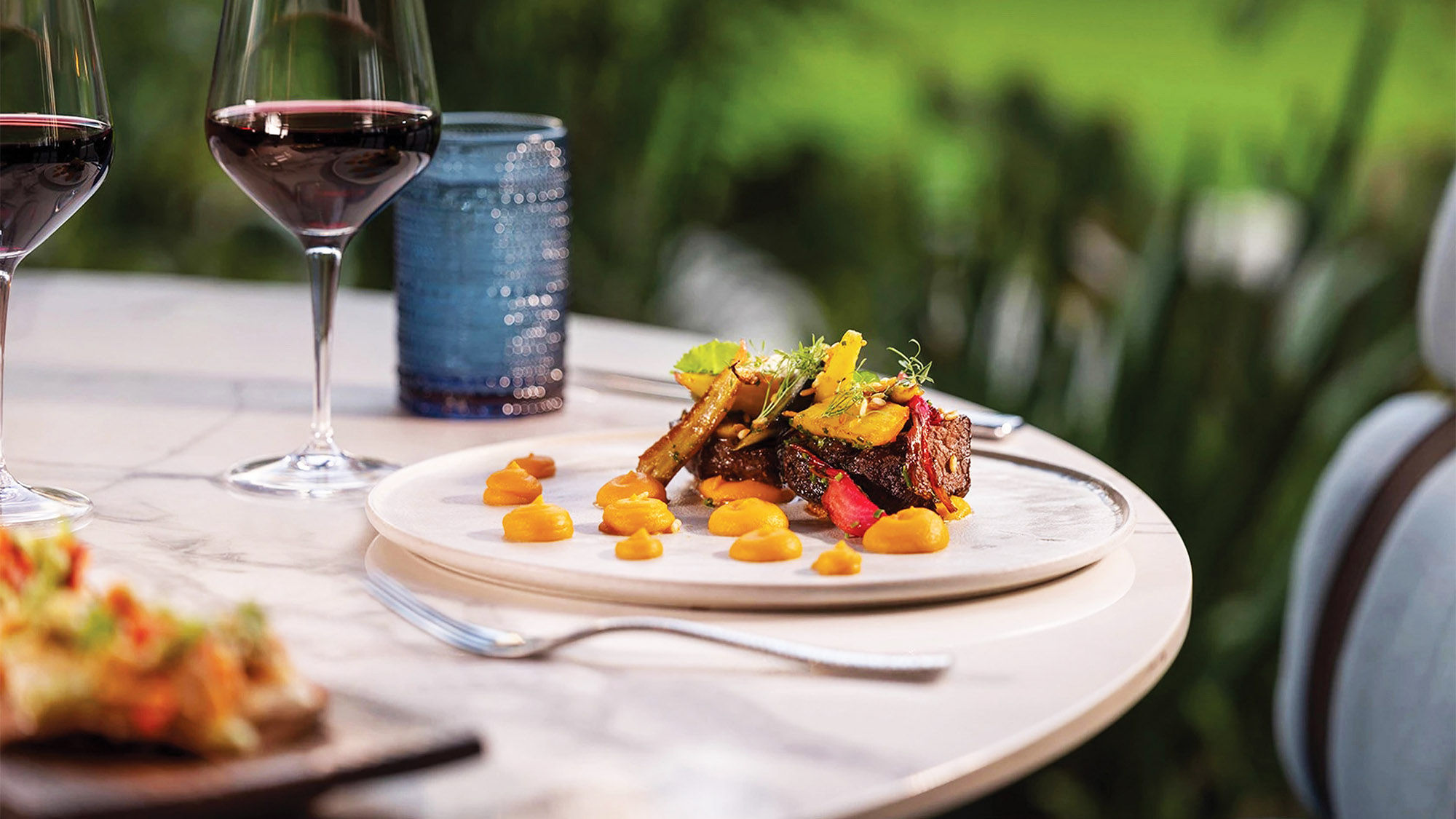 West Palm Beach's laid-back vibes 
Our second day on the Brightline tour took us to West Palm Beach. We drove there from Orlando since train service from Orlando to South Florida doesn't start until the summer. 
West Palm Beach was a new place for me. I had never been before and didn't know what to expect to see other than over-the-top displays of mega wealth that I've seen in movies like the 2001 film "Heartbreakers," where Rolls-Royces seem to be as common Honda Civics and a day at the beach means cruising on a multimillion-dollar super yacht. 
But I was wrong and pleasantly surprised by how down-to-earth West Palm Beach is. We did two types of tours around the area: a golf cart tour on the free shuttle service Circuit and a walking tour of the downtown area.
Circuit is a free electric shuttle service in the city that can take travelers to different spots within the designated Circuit Zone, which covers quite a bit of ground. It can drop guests off downtown, at the Brightline West Palm Beach Station, the beach area and more, and makes for a fun and unique way to get acquainted with the area. 
On our walking tour, we visited The Square, which is a popular neighborhood for shopping, dining, events and trendy residential apartments. We learned about the important role murals play in West Palm Beach and how the city deeply invests in supporting local artists from diverse backgrounds to bring their works center stage into the area.
We stayed overnight at the Hilton West Palm Beach in spacious suites and had yet another feast, this time at Galley, the hotel's restaurant. If food is the way to your heart, then pork belly and octopus would certainly be the quickest way to mine, as they were two of my favorite dishes on the menu (yet again).
The Brightline experience 
The next day we set off for Miami and took the Brightline train from the West Palm Beach station, a 90-minute ride. It was great to see that Brightline has its own bikeshare program at this station.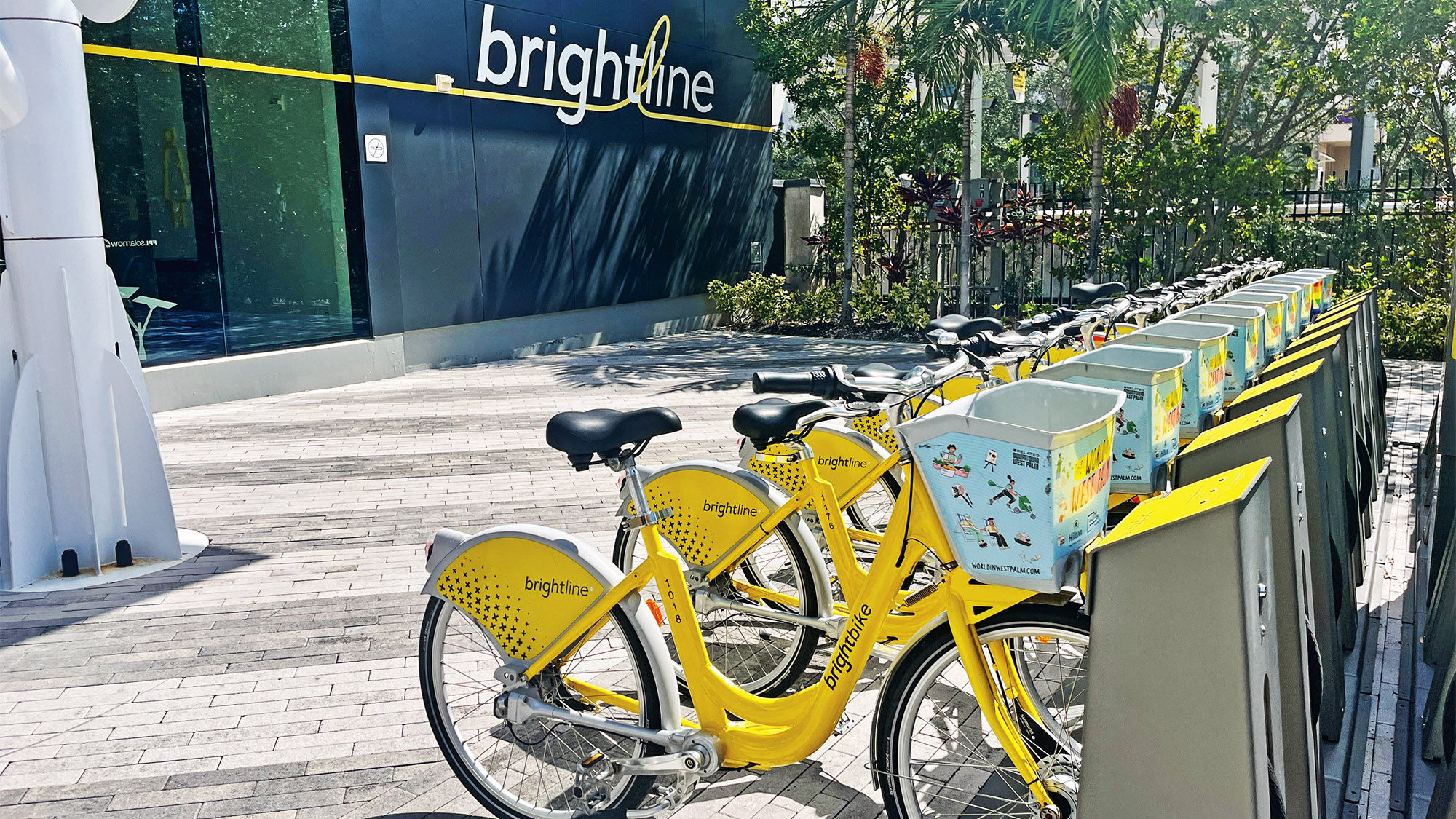 Inside the Brightline station, we headed up to the Premium Lounge to wait for our train to Miami. Even though we had just eaten that morning at Pura Vida, a trendy café serving healthy fare, we were pleased to see plenty of snacks to nibble on in the lounge and unlimited beverages, including beer and wine. We had a comfortable 30-minute wait inside the lounge before the station announced our train was ready to board.
Onboard the Brightline train, I suddenly felt like I was in Europe or Japan. The interior layout looked just like the trains there with nice comfortable seats that are assigned, complete with personal foldout tables and set beside large windows so you don't miss a thing. I loved the food and beverage cart service onboard, too.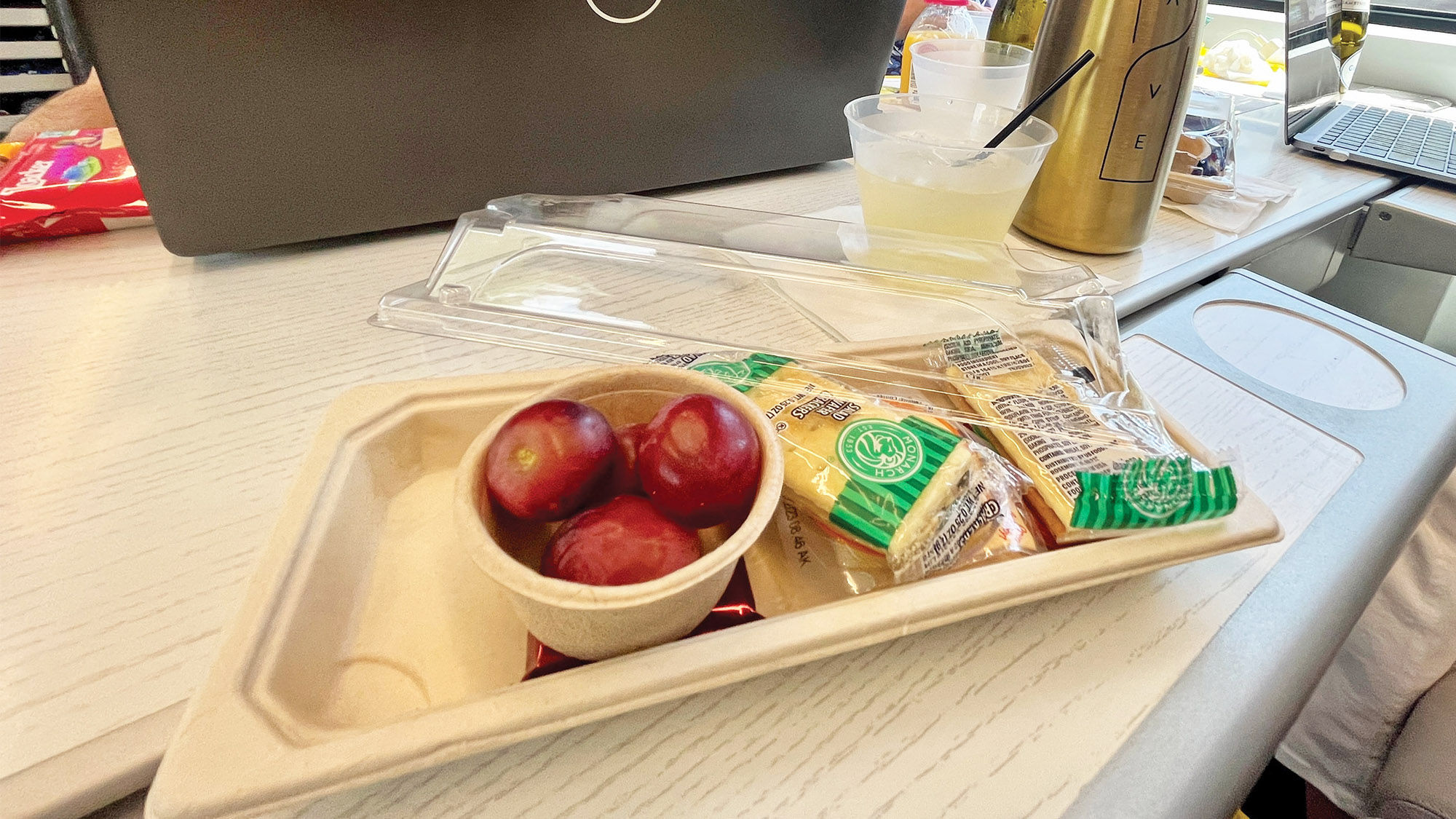 Wandering through Wynwood's art-filled streets
When we arrived in Miami, we headed straight for the Arlo Wynwood Hotel, which I was surprised to find out is the only hotel in the emerging cultural arts district. 
We had a few hours to kill before needing to meet up again in the early evening, so I took full advantage of the (heated!) rooftop pool, which has  bar and food service and made for a really nice way to spend the bulk of the afternoon. 
Before our evening program kicked off, we grabbed a few hearty bites at the Arlo Wynwood's restaurant, MaryGold's, which has an upscale retro, art deco vibe that felt quintessentially Miami. I had another jaw-dropping food moment here as well when chef Brad Kilgore brought out oxtail beignets, a culinary game-changer that tastes as good as it sounds.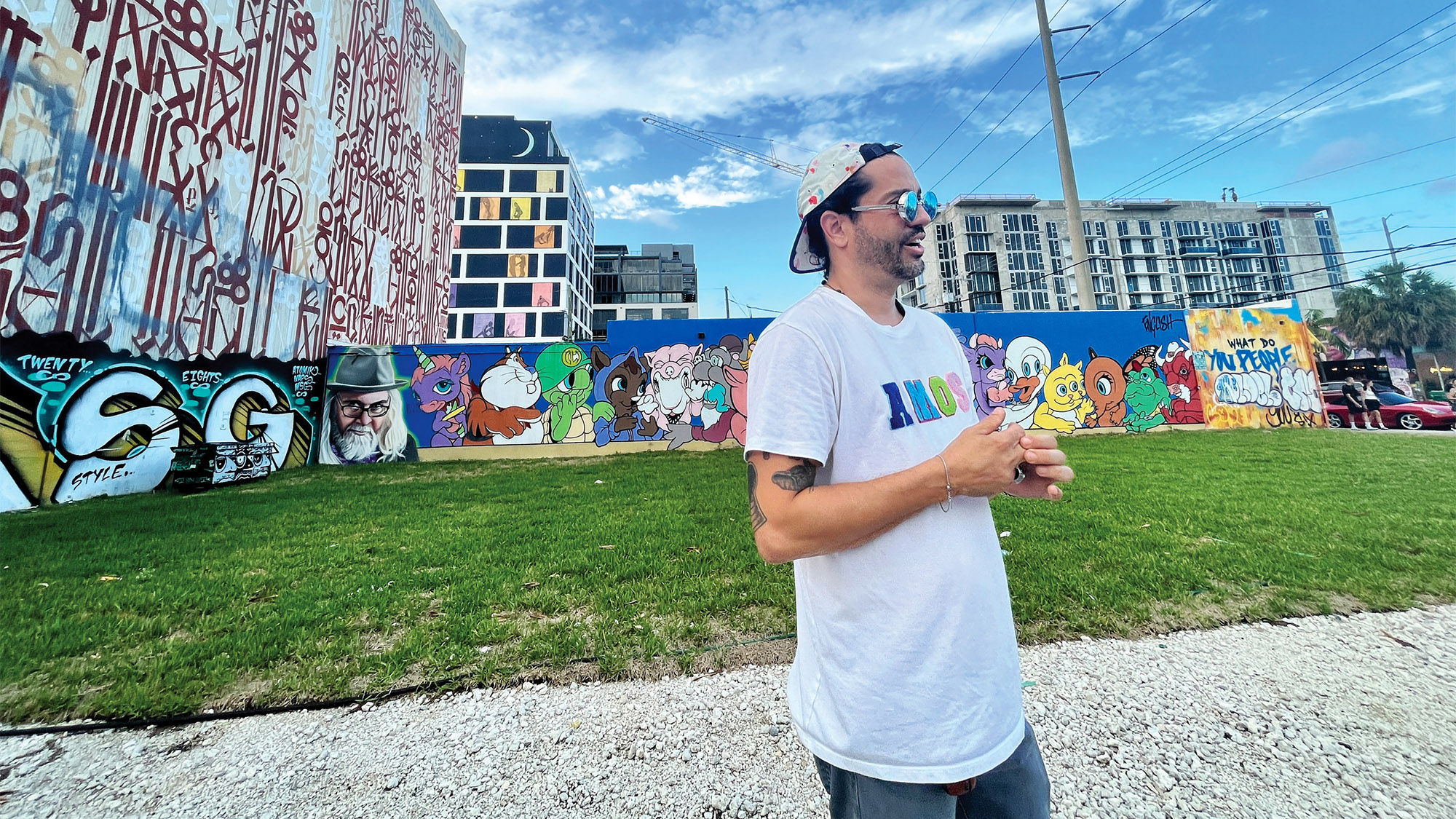 Next, we ventured onto the streets of Wynwood to take a street art and graffiti tour of the neighborhood via — you guessed it — golf carts, courtesy of Miami's Best Graffiti Guide, a local tour operator in Wynwood.
Our guide, street artist and company owner Pedro Amos, showed us Wynwood's extensive public street and graffiti art collection. He discussed the history of the oft-maligned art form and how artists like Shepard Fairey and Banksy have helped catapult the medium to mainstream acceptance, which has helped give more street and graffiti artists a platform to find success. 
Self-guided in South Beach
My last day and a half in Miami was spent in South Beach, where I made my way over to The National Hotel, a historic, art deco property that is perfectly preserved with just the right touch of modernity.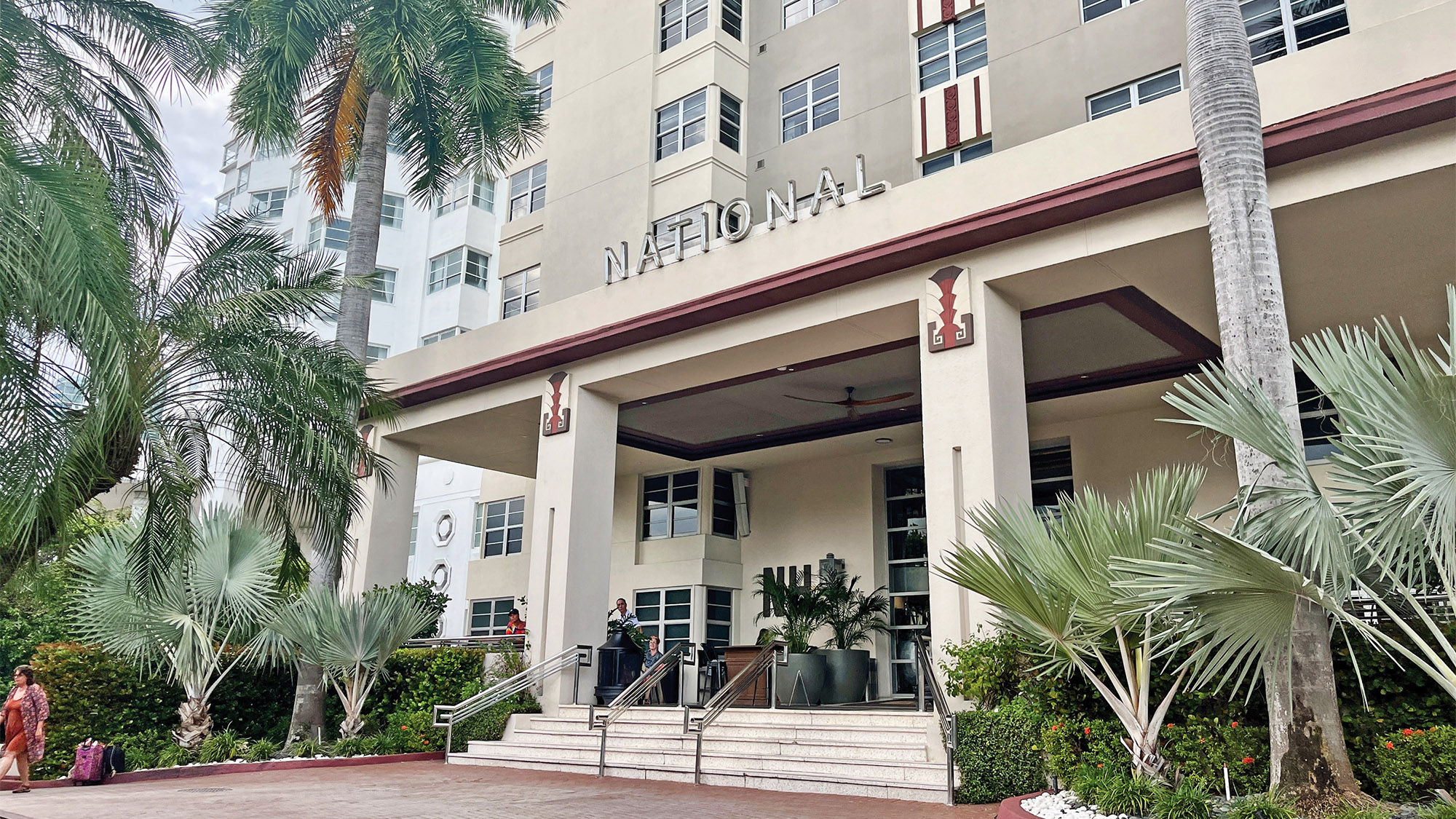 The adults-only hotel is dripping in Old Hollywood glamor, from its larger-than-life prints of stars like Elizabeth Taylor, Paul Newman and Marilyn Monroe adorning the walls, to all of the corner nooks and canopy-covered hideaway spots outside that make guests feel as if they found the perfect escape from the paparazzi's flashing light bulbs.
The nooks and lush canopies coupled with the safari-themed interiors — a design scheme that I appreciated — made me feel wild with possibilities for what the rest of the day could bring, ready to pounce on the evening I had ahead.
The hotel does have direct beach access since it sits right on South Beach, but the pool area is really where you want to be. The National Hotel has the longest pool in South Beach, which runs about 205 feet in length. It's not heated but its second, smaller pool and also has less shade for those wanting to sunbathe while cooling off.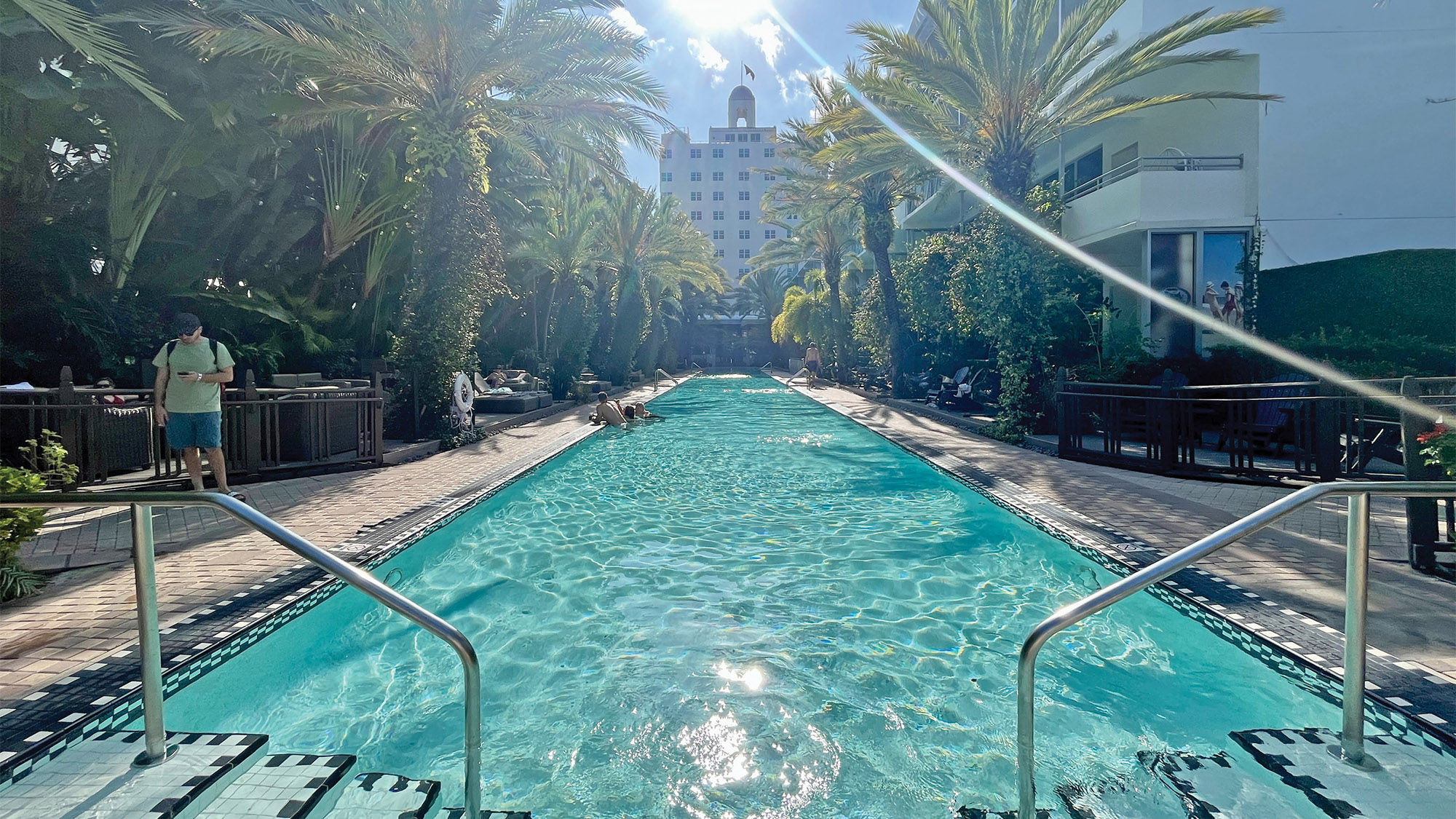 I had eaten my way through central and south Florida by this point. On my last night, I decided to finish strong by visiting Stubborn Seed, a newly Michelin-starred restaurant located about a mile and a half south of the hotel.
The tasting menu was phenomenal, as were the craft cocktails, and while I don't know the process of what it takes to earn a Michelin star, I can see why this place had one. The dishes were interactive in a lot of ways, with each playing a role in the story that was slowly progressing toward a dramatic end with every plate (or bowl, or slab of stone) put in front of you. 
My favorite dish  — the spring nettle raviolo — was the turning point; the dishes before it were light and playful, with flavors that seemed to be building up to something, and the dishes that came after it completely swept me away in an endless sea of rich flavors. 
Stuffed and satisfied, I decided to walk back to the hotel. I strolled along Collins Avenue, which is lined with historic art deco buildings, some adorned in retro neon signs of a bygone era. I had never seen this side of Miami before and just like all the meals I had on this trip, I savored every step. 
That was probably my favorite part of this storied four-day trip — the end. Not because I was ready to go home, but because I couldn't wait to come back.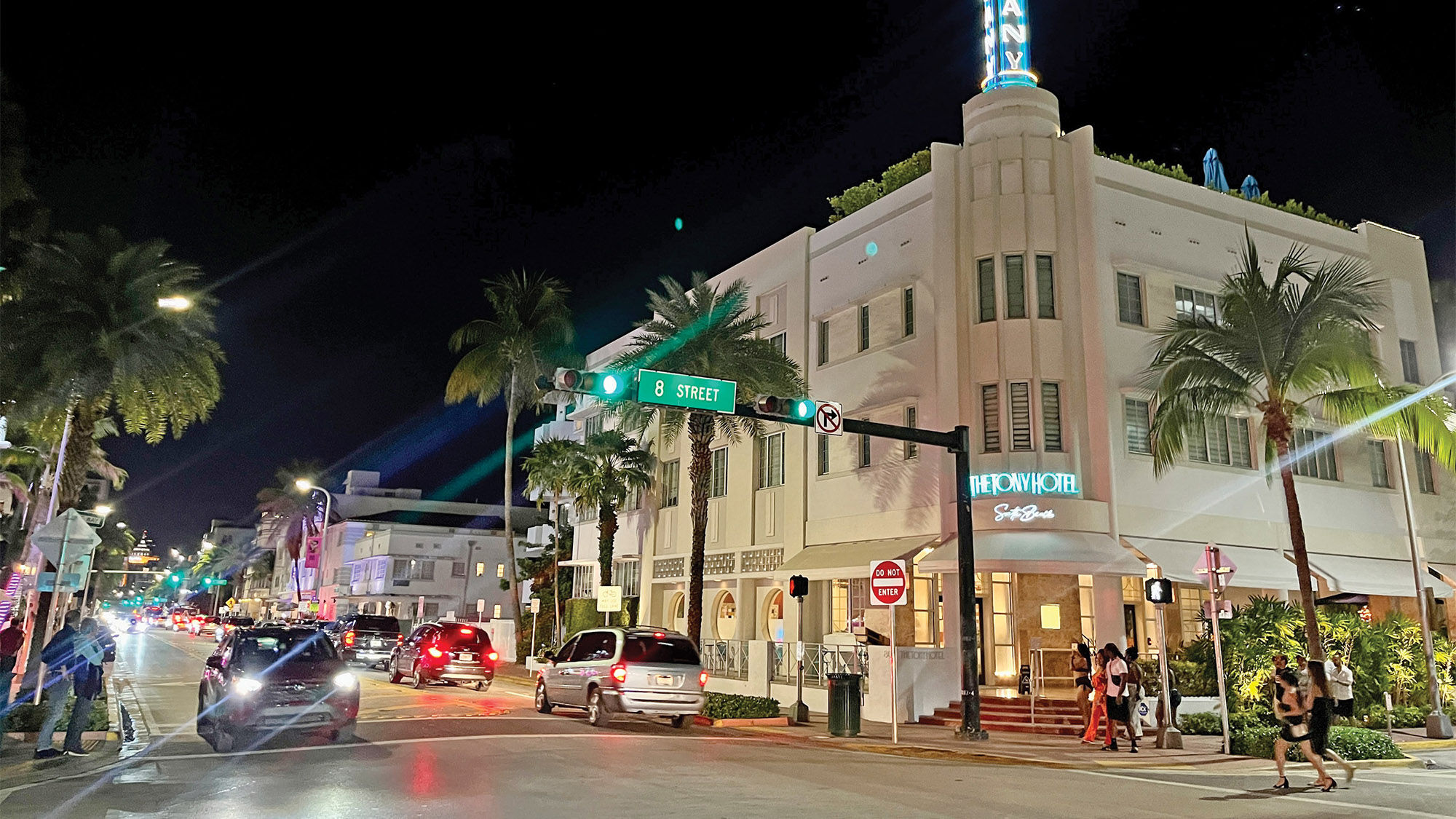 Source: Read Full Article