French Polynesia's president Edouard Fritch on tourism: Travel Weekly
Earlier this month, Windstar Cruises' Star Breeze called at Tahiti, Bora Bora, Raiatea and Moorea to celebrate its connections to that French overseas territory for 35 years. Onboard for a portion of the cruise was French Polynesia's elected president, Edouard Fritch. He spoke with Travel Weekly editor in chief Arnie Weissmann during the sailing in an exclusive interview. Hironui Johnston, a senior government advisor, served as translator.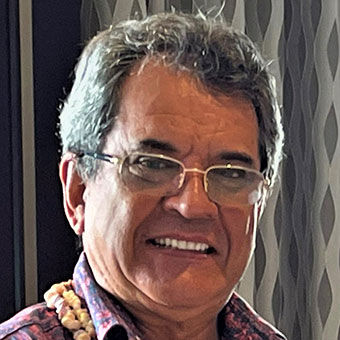 Q: In addition to your other duties, you assumed specific responsibility for tourism in February. Why?
A: I'm responsible for the economic development of the outer islands. I saw that tourism is less destructive and can bring more jobs than other forms of development. After consulting with residents, we came up with a strategy. Its name, Fari'ira'a Manihini, means "to accept guests." That is the underlying concept. For example, when you are visiting friends in their homes, you are living as they are living, you are eating the same food and you're enjoying the experience. The population on these islands has the desire to share their culture with the world and can do it through tourism while also increasing prosperity.
Q: During the pandemic, many residents of Hawaii were delighted that there were no tourists. They had the beaches to themselves, traffic was less congested and there was the feeling among some residents that, without tourists, "we have our islands back." That added a level of urgency to initiatives that were underway to involve local communities more in tourism marketing decisions. Did something similar happen in the more-visited islands in French Polynesia?
A: No. In Hawaii, you have 400,000 Hawaiians surrounded by 6 million tourists. Our goal is to have one tourist arrival per resident. That is the only way for everybody to live together. During the pandemic, those who were involved in tourism activity suffered, because tourists are part of their life.
Related: How advisors can conquer overtourism sentiments in Hawaii
Q: How did your vision for tourism evolve during the pandemic?
A: In French Polynesia, we had always been advocates for high-end hotels. It's far from the U.S., far from Europe. So, we thought that those who invested a lot of time to come here were entitled to high-end service, and focused on high-end tourism. But there are different types of tourists who sacrifice to come and visit our islands. A normal French family may save for half their life for one trip to French Polynesia. They should also be entitled to discover the islands. We realized it is not about luxury, it is about quality.
Look at Bora Bora. It's a small island. We know we will never win on volume, but we will win on quality. If you look at Fiji, 15 years ago, we were at the same level of arrivals. But today, they have millions of tourists coming through, yet the economic impact of their mass tourism is maybe just 25% higher. We don't want that here. We want to preserve our environment.
Q: Many destinations have found that it has been difficult to manage the period coming out of the pandemic. Are you facing challenges?
A: It is complicated because, for two years, there is a lack of stable indicators and reliable data. We have lived with uncertainty. In part, that is why I'm on this cruise. I want to thank Windstar president Chris Prelog for not waiting longer. Windstar was among the first lines to restart. He took risks. We have a good relationship with Windstar, in part because it has a ship [the Wind Spirit] that first sailed here 35 years ago. Not just visiting and going. 
It's my dream that, as Windstar visits each island, a group of singers or dancers comes onboard to perform and other people from the islands board to exhibit their handcrafted creations on the deck.
Related: Focus on Cruise: Windstar's Tahiti turn
Q: With climate change, the oceans will rise. Some of your inhabited islands are only about four or five feet above sea level. Will you be moving those people to other islands?
A: It's very difficult. The people do not want to leave the islands. It's their cultural identity, they're attached to the land. They would rather die on their island than move. We are looking for other solutions. 
Source: Read Full Article