US travel ban to be tightened: How will it affect your holiday?
The US has been off limits to travellers from the UK for 10 months. 
Just before he steps down, Donald Trump has revoked the travel ban on British visitors (as well as those from Europe and Brazil) as one of his last acts in the White House.
But president-elect Joe Biden has indicated that the rules will actually get tougher because of concerns over emerging Covid variants.
These are the key questions and and answers.
What are the current rules for prospective visitors?
At present, UK residents are not allowed to leave home for the purposes of leisure travel. There is no clear date for when that might end.
On the other side of the Atlantic, the presidential proclamation of 14 March 2020 banned UK travellers to the US because their presence "threatens the security of our transportation system and infrastructure and the national security". It prevents holidays and non-essential business or family trips to the US.
The principle exception: "Any alien whose entry would be in the national interest." That is usually Nigel Farage, Brexit campaigner and cheerleader at Donald Trump's election rallies.
INDY/GO Weekly Newsletter
TIME TO TRAVEL!
Read our full mailing list consent terms here
INDY/GO Weekly Newsletter
TIME TO TRAVEL!
Read our full mailing list consent terms here
What has happened now?
Watch more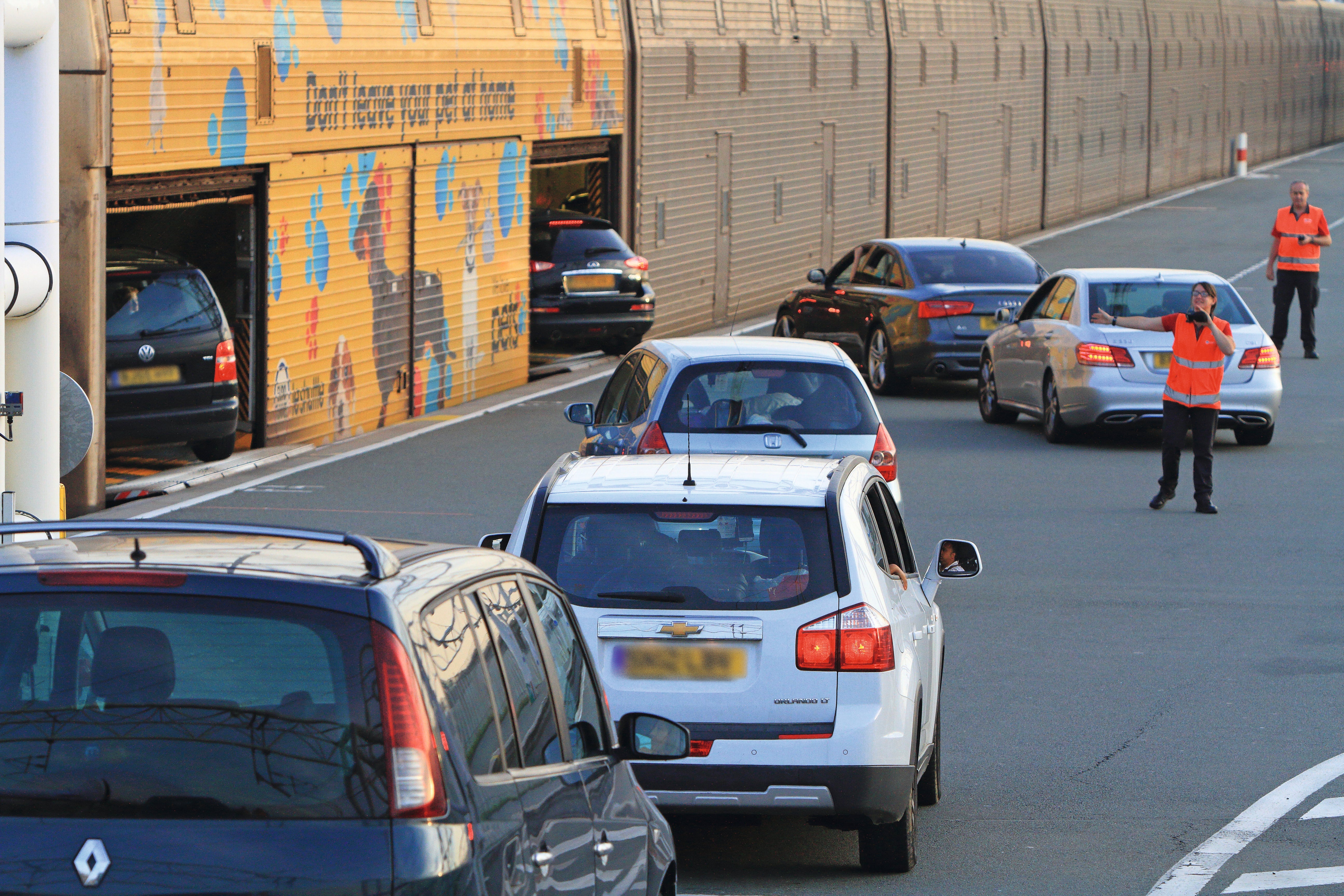 One of President Trump's final proclamations is to lift the ban on travel from the UK, Europe and Brazil from 26 January.
The outgoing president says it is a good moment to do so because of a new Centers for Disease Control and Prevention (CDC) stipulation for arrivals to the UK. They must have evidence of "a negative Covid-19 test or documentation of having recovered from Covid-19".
Mr Trump said: "This action is the best way to continue protecting Americans from Covid-19 while enabling travel to resume safely."
Why did Donald Trump want to relax the rules?
There has been considerable speculation, mostly suggesting that it is out of self-interest: wanting to be seen to try to open up the tourism industry in a bid to attract support from voters in areas dependent on international visitors and/or to stimulate demand for his many tourist business interests in the US.
What happened next?
Within minutes Joe Biden's team let it be known that they would immediately reverse the proclamation and step up the rules restricting access to the US – fearing variants of coronavirus that would make an already bad situation in the US even worse.
The president-elect's spokesperson, Jen Psaki, tweeted: "With the pandemic worsening, and more contagious variants emerging around the world, this is not the time to be lifting restrictions on international travel.
"On the advice of our medical team, the [Biden] Administration does not intend to lift these restrictions on 1/26 [26 January].
"In fact, we plan to strengthen public health measures around international travel in order to further mitigate the spread of Covid-19."
It is not clear what further measures there might be, but they could include self-isolation on arrival.
But the rest of the world is opening up?
In places, with the Seychelles, for example, deciding to ease almost all restrictions from mid-March – by which time the bulk of its population is due to have been vaccinated. But there is a huge difference between tourism-dependent nations and the US.
The American economy is among the biggest in the world and well able to endure a sustained reduction in tourism from three of its biggest markets: the UK, Germany and Brazil.
There is also less of an imperative to restart the travel industry for overseas visitors because of the change in behaviour of American citizens. Every sign is that they will be travelling abroad far less than they did in 2019. Instead, they are taking vacations at home, which is helping to limit the damage to US tourism.
I have a US trip booked next month. Will I be able to go?
That seems unlikely. The travel world has been waiting to see what Joe Biden's attitude will be to the tourism industry; it is clearly cautious.
If the new president gets on top of the awful coronavirus situation in the US, it may be that there is some relaxation. But it is likely to be several months rather than weeks.
I was supposed to go to New York last year. I rolled it over for this April this year. What are my options?
Many people are in this invidious position: knowing that you have hundreds or thousands of pounds sunk into a holiday, with no idea of when it might go ahead nor how closely it will resemble what you originally booked.
Sadly, once you decide to accept an alternative holiday rather than exercising your entitlement for a full refund, your rights are restricted.
If your holiday is unable to go ahead in April, which seems quite likely, you will have to look at switching to some date in the future. But talk to your travel firm and see what they may be able to offer – it could be that you may change to a very different destination.
When will it be safe to book a trip to America?
So long as you book a proper package holiday there is no reason beyond your personal cashflow limits why you should not book right now: you will either get the holiday you wanted or your money back.
Indeed, if you are interested in a Florida holiday or a California fly-drive for July or August, arguably you may get a better deal now than you would nearer the time.
But you might prefer to wait to see the stipulations that are in place, and the conditions in America from theme-park systems to restaurant restrictions before committing.
What will this do to travel firms specialising in the US?
Tightening restrictions is the last thing needed by UK businesses that send visitors to the US. Right now, they should be taking in plenty of bookings and mountains of cash, but with such deep uncertainty it is understandable that many people are unwilling to commit.
At this time of year there is very little leisure travel to America through to the end of March. But some signs of life are needed from Easter onwards to rescue some North American specialists.
Virgin Atlantic, and its partner Virgin Holidays, are particularly exposed to prolonged closure due to so much of their normal business being dependent on flying people from the UK to the US.
British Airways, too, will be dismayed at the continued restrictions on business markets to New York, Boston, Washington DC, Chicago and California. I have asked both airlines for responses.
A snap Twitter poll conducted for The Independent asked: "When do you predict British visitors will be able to take a hassle-free American holiday, with no quarantine in either direction?"
The overwhelming view (seven out of 10 of the 2,600-plus respondents) was no earlier than September. Eighteen per cent believed a July or August visit would be possible; one in 10 opted for May or June; and only 2.8 per cent believe it could be earlier.
The views of self-selecting respondents may not resonate in the White House, but it suggests that people will not be booking imminently.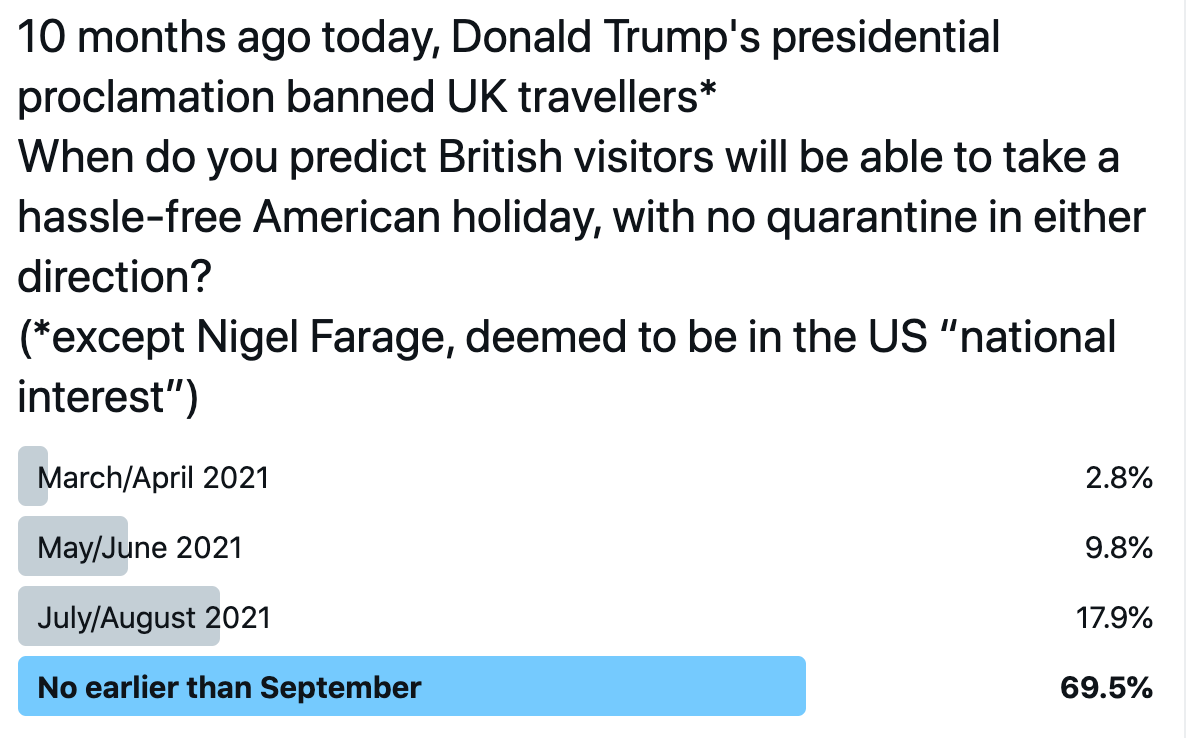 Source: Read Full Article