A glimpse of the future at Marriott's new headquarters hotel: Travel Weekly
BETHESDA, Md. — Of the 130-plus hotels in the Washington area with the word "Marriott" in their names, the location of the new Marriott Bethesda Downtown at Marriott HQ sets it apart from the others: It's steps from Marriott International's new global headquarters, separated only by a small plaza.
As the closest hotel to CEO Anthony Capuano's desk, I initially surmised that this property might encompass the latest thinking on how Marriott hotels should be designed, built and operated.
And after a two-night stay at the 244-room property in late May, I believe my assumption was correct.
"The Marriott Hotels brand has really gone through quite a journey, transformation and repositioning," general manager Kat Burns said when I spoke with her about a month after my stay.  It's about catering to the modern business traveler who might also bring their family, extend their trip by a few days and look for something that works both for business and visiting a local area, Burns said. "I think this hotel really represents the brand very well."
Burns said that the Marriott Bethesda Downtown was the 8,000th hotel the company has opened. "So from that standpoint, it's very special."
And after 7,999 hotels, what might the contemporary traveler find in the latest?
Among its features: A lobby with live plants and floor-to-ceiling windows that flood the space with light; guestrooms with minimal clutter and tech power outlets galore; a casual, high-quality restaurant and bar that seamlessly blends into the lobby; indoor-outdoor options; and LEED Gold-certified design processes.
But more broadly, the theme that seems to run through the Marriott Bethesda Downtown is the concept of localism, a hotel that feels integrated into a city neighborhood.
In an FAQ about its move downtown from its longtime headquarters in a suburban office park, Marriott International said that "relocating to a new, urban environment was essential" to realizing goals like providing a cutting-edge, attractive and functional space that would help it attract top talent.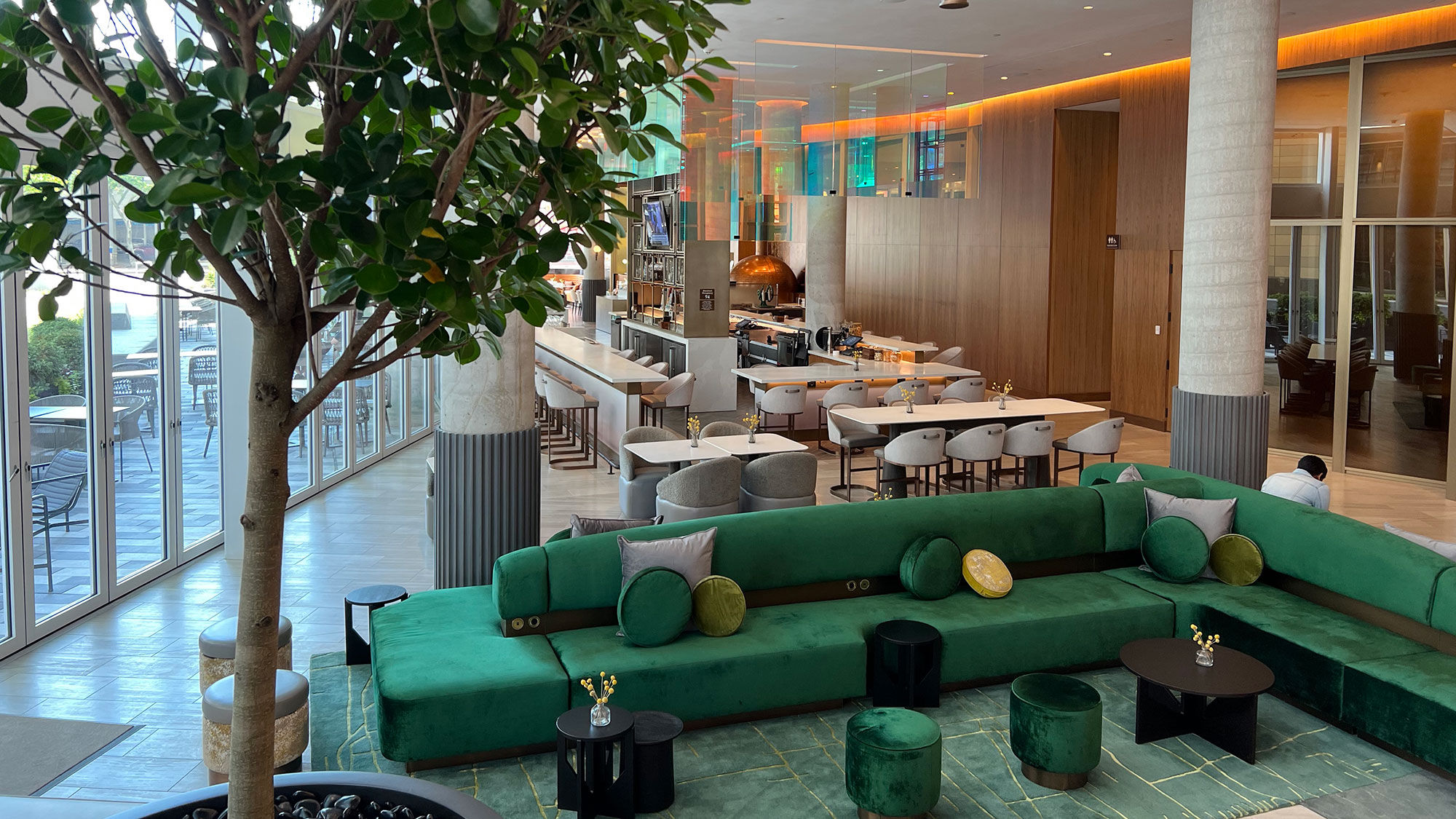 Marriott's prized attributes include convenient transportation options and access to a "vibrant, mixed-use urban community" with restaurants, shops and entertainment.
Examples of residential amenities, Marriott-hotel-style, include fire pits on the plaza for alfresco gatherings and a relatively small check-in area with a discreet desk that de-emphasizes the traditional "hotel" look. 
Burns said the popularity of mobile options, such as check-in and chat, had influenced the design, as many guests won't even stop at the check-in station. 
"As we look to the future, the front desk we have here is what you will see," she said. "It just feels very residential, not a massive desk." 
A preponderance of local art and influences help create a sense of place. The lobby's focal point, the Seventh State restaurant, takes its name from Maryland's place among the colonies in ratifying the Constitution; its draft beer menu even lists the miles from the hotel to the breweries.
And what is a modern hotel without a rooftop amenity? At the Marriott Bethesda Downtown it's the Hip Flask bar, an indoor-outdoor space that's popular with locals and guests alike.
One area of the third floor was still closed off during my visit. That space, Burns said, will be devoted to concept rooms, part of the Marriott Design Lab, the hotel giant's research facility. In the Lab, it will build and test new technologies and products, and the space is unique to the Marriott Bethesda Downtown. 
Source: Read Full Article