Updates keep the Grand Velas Riviera Maya fresh
The Grand Velas Riviera Maya all-inclusive in Playa del Carmen opened its doors in 2008. But the grande dame certainly wasn't showing its age when I paid a visit in March.
Part of that youthful vigor could certainly be attributed to rigorous upkeep. The pools were perfectly sparkling, paint jobs were fresh and the resort's signature magenta bougainvillea plants, which adorn the Grand Velas' ocean-facing balconies, were painstakingly manicured and in full bloom.
But some of that pristine feeling could also be credited to the fact that the resort made plenty of pandemic-era updates in 2021. My guestroom, located within the Grand Velas Riviera Maya's adults-only, oceanfront Grand Class section, had clearly had a refresh and was exceptionally spacious, bright and outfitted with sleek, modern furniture and an earthy, neutral color palette.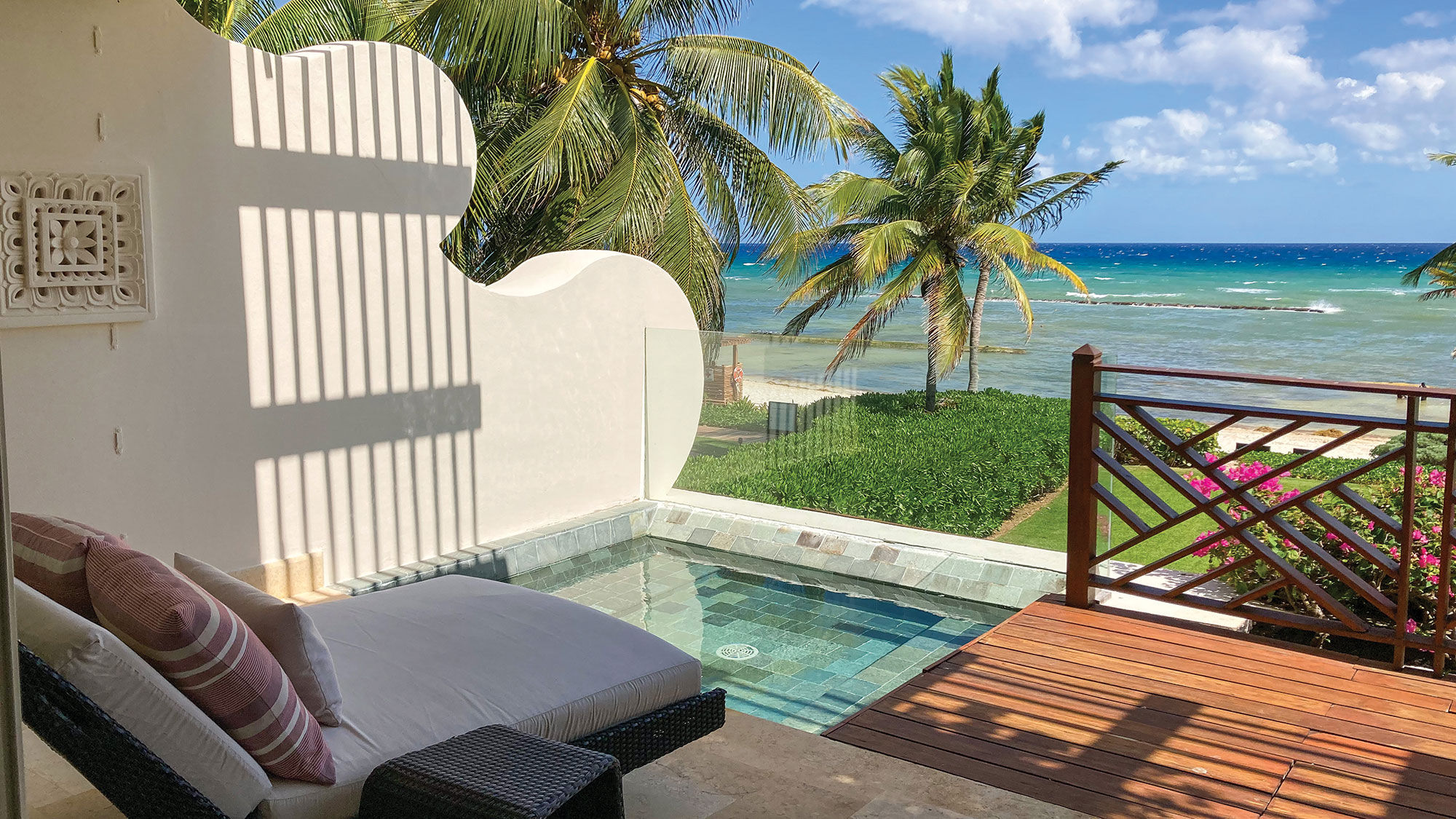 Ask travel advisors for a list of their top tried-and-true luxury all-inclusives, and one name is likely to come up more frequently than any other.
The room's showstopper, however, was its sizable outdoor terrace, which offered plenty of privacy and featured a plunge pool, cushioned lounge bed and a table for two. When relaxing on the terrace, the ocean was close enough — and the surroundings quiet enough — for one to hear the soothing sound of lapping waves.
While the 90-room Grand Class section offers a relaxing, retreat-style feel, with its own dedicated pool and restaurant, the entire 539-room Grand Velas Riviera Maya complex is quite serene, thanks to the property's sprawling grounds, large pool areas and division into three separate sections, giving guests plenty of room to spread out.
In short, there's no need to stake out lounge chairs at 6 a.m. in order to snag a prime spot here.
In addition to the Grand Class, the resort features the oceanfront, 195-room Ambassador section and the wellness-focused, 254-room Zen Grand section, which sits farther back from the beach and is a short shuttle ride away from the Grand Class and Ambassador main campus. Both of these sections are family-friendly.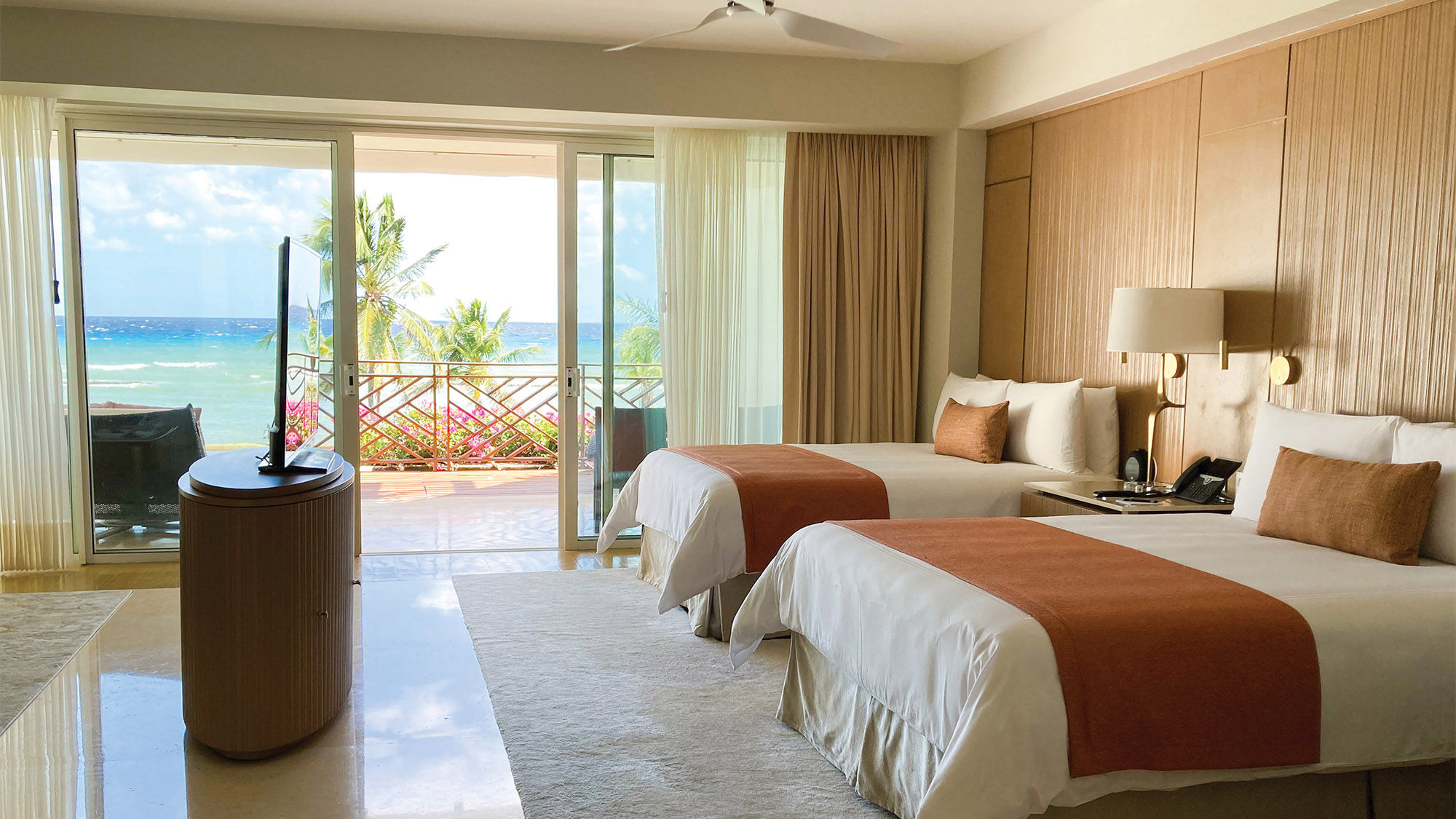 Spa time
Tucked away in junglelike surroundings, the Zen Grand area is also home to the Grand Velas Riviera Maya's SE Spa by Grand Velas. While the spa has plenty of highlights, its crown jewel is its cavernous hydrotherapy area, with access to the space complimentary for guests booking spa treatments of 50 minutes or more.
Spa guests can opt to use the space independently or participate in a guided "hydrotherapy water journey ritual," which involves sauna, ice room and steam room sessions and alternating between hot and cold water in a Kneipp walking area as part of the experience.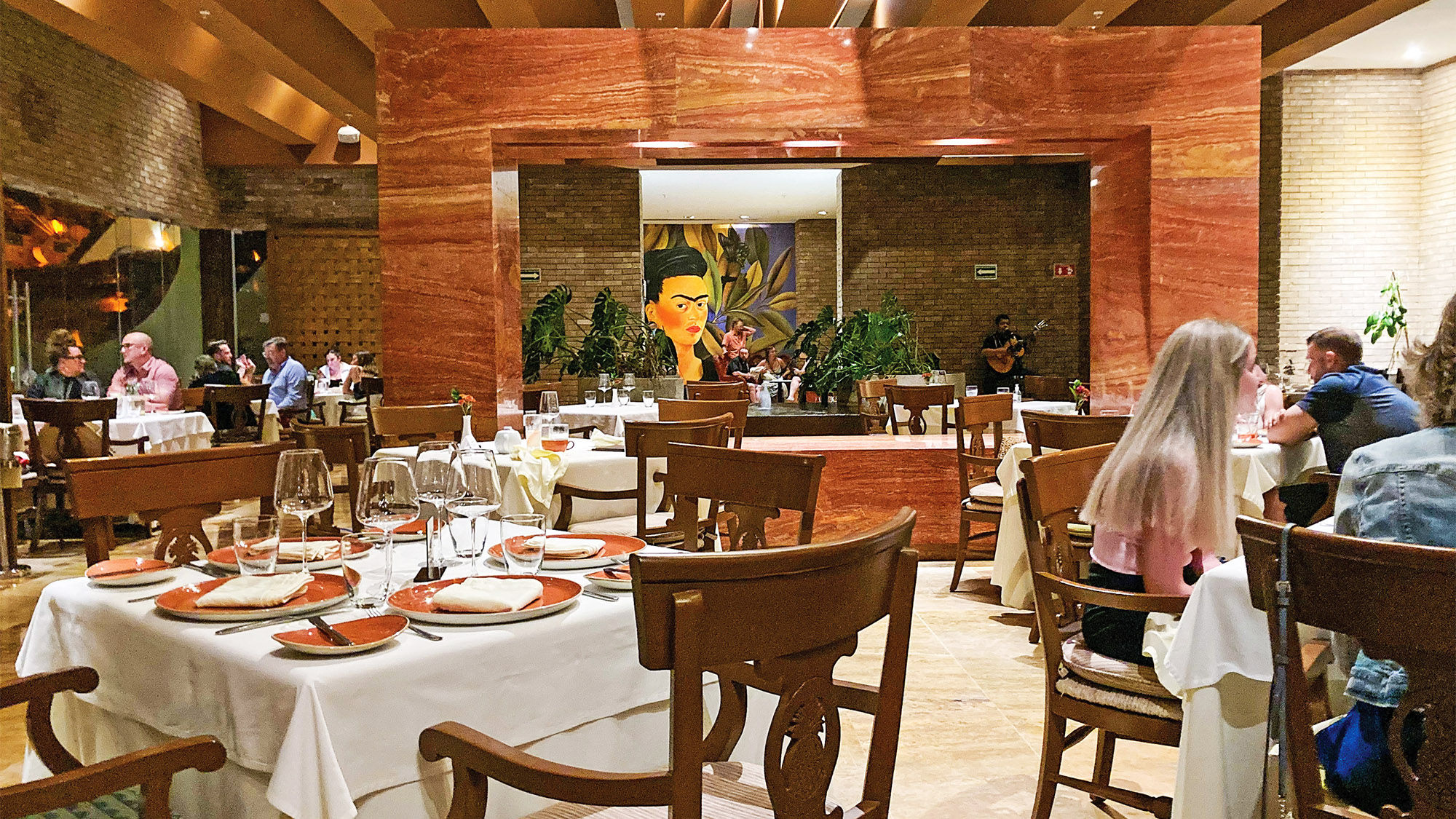 On the menu
Any discussion of a Grand Velas-branded resort, however, would be incomplete without mention of the food and beverage program, which is elevated far beyond the typical all-inclusive fare.
Favorites during my stay included dinner at Frida, a high-end Mexican culinary concept named for the iconic artist Frida Kahlo. Blending traditional Mexican cuisine with modern influences, the restaurant offers unique dishes like a crispy seafood chimichanga with smoked cheese and black pepper dressing and vegan stuffed zucchini with nopal, mushrooms and a poblano chili sauce.
That said, the most memorable dish was a black bean "cappuccino," which, despite being presented like a frothy coffee drink, was actually a delicious savory black bean soup topped with a cotija cheese foam.
Frida also doesn't shy away from authenticity. Accompanying a starter course of guacamole and salsas was a side of cooked ants, which my server told me are a local delicacy.
On my last night, dinner was at Cocina de Autor, where guests are treated to a multicourse tasting and wine-pairing experience led by chef Nahum Velasco. The menu-free restaurant bills itself as offering an "uninhibited gastronomic adventure," and it certainly delivered on that front.
Setting the tone for the meal was a refreshing starter cocktail made with St. Germain, vermouth, prosecco and a dusting of sugar. That was followed by a parade of beautifully plated dishes, including a jackfruit gazpacho with mushrooms, a housemade brioche served with bone marrow and Uruguay-sourced caviar and Mexican striped bass with tapioca, sauteed jicama and a seaweed emulsion.
Dessert, meanwhile, was just as exciting, thanks to unexpected offerings like a honey ice cream accompanied by blueberry jam and a Pop Rocks-inspired crumble, which fizzed in my mouth, and an olive oil and citrus gummy that packed a surprising amount of flavor into a single bite.
It was a fitting end to a satisfying stay, delivering further proof that the 15-year-old Grand Velas Riviera Maya continues to set a high bar. 
Source: Read Full Article