First Call: Emerald Azzurra punches above its 'premium' weight: Travel Weekly
ONBOARD THE EMERALD AZZURRA — The 100-passenger Emerald Azzurra, which recently made its debut in the Red Sea, offers travel advisors a product in a class of its own. 
Smaller cruise ships like this one tend to be built either for the luxury or expedition markets, but the Azzurra is positioned as a premium ship, with pricing of roughly $600 a night. Beer and wine are included with meals, and there is one included excursion per port of call.  
I took half of an 11-day voyage between Aqaba, Jordan, and Athens to experience the ship, the first oceangoing vessel for Emerald Cruises, which has been operating river cruises for nine years. We circled the Sinai Peninsula, with a stop at Egypt's Sharm el-Sheikh resort area, a transit through the Suez Canal and a visit to Israel, where I disembarked as the ship continued to Greece. 
The Azzurra may be billed as premium, but I found the food and service up to luxury standards. From hot tomato soup to pleasantly al dente risotto, from a mouthwatering rack of lamb to a flawless eggs Benedict, the meals were a highlight of each day.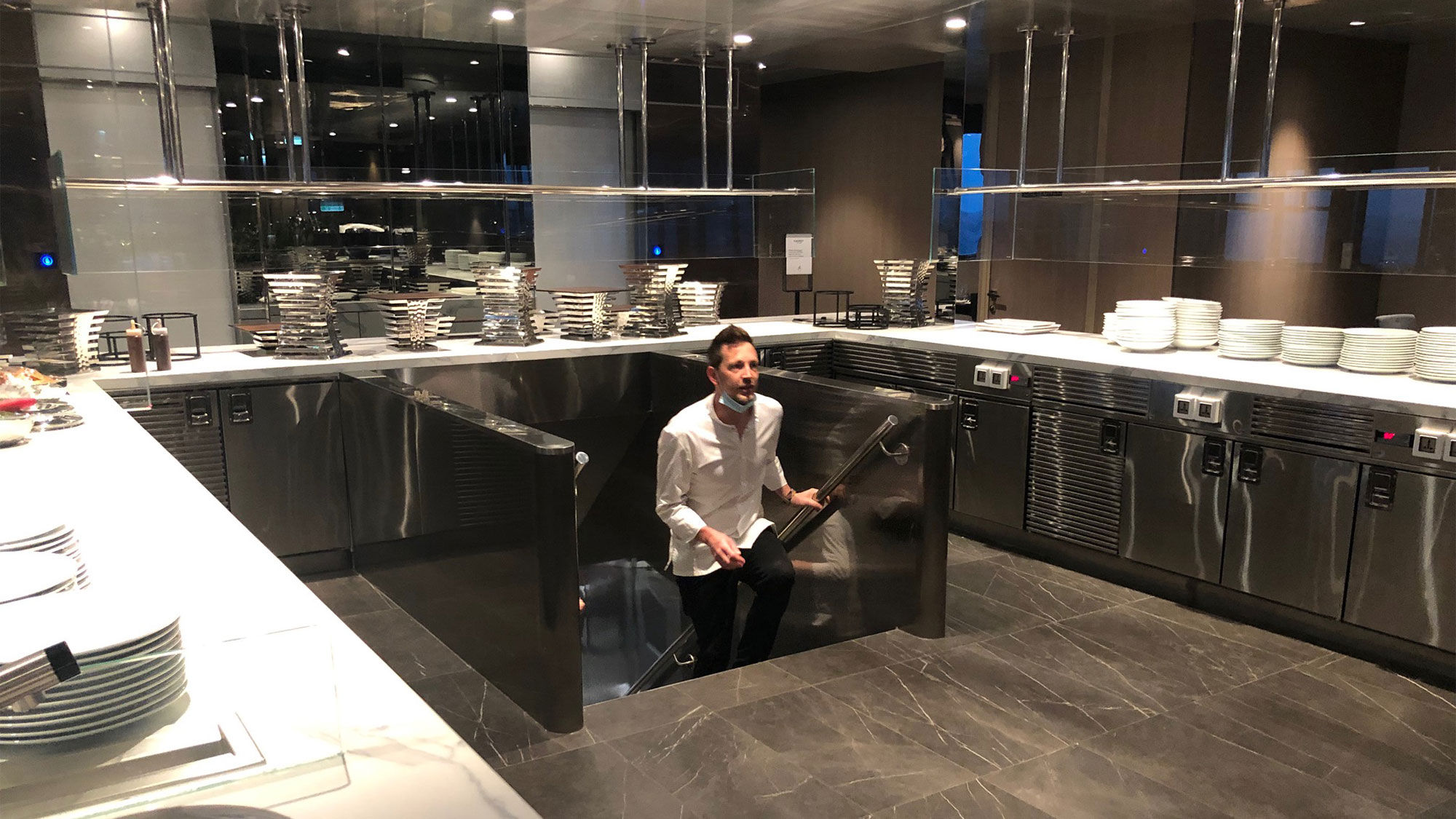 The kitchen setup has been adapted from river ships, with a large, square buffet area surrounding stairs leading down to the galley. Indoor and outdoor dining is available, and there's lots of space between tables. 
The staff, some of them ex-Seabourn employees, were truly helpful, genial and considerate. Everyone gets to know everyone pretty quickly on a 100-passenger ship, and I was sorry to leave my crew friends behind on departure. 
The Azzurra has some cozy, relaxing public spaces, such as the forward-facing Observation Lounge with games, books, coffee and a panoramic view of the sea ahead. The aft Aqua Lounge surrounds the infinity pool with loungers and daybeds plus a snack bar that begins serving coffee at 6 a.m. 
On a gentle summer night in the Med, I can think of no better spot than the top deck Sky Bar; unfortunately for me, it was mid-March when I sailed, and the deck was a bit windswept. At the bottom of the ship, there is a handsome spa and fitness center that seems larger than it is. A sauna that uses infrared heat, rather than radiant heat, was a novel bonus.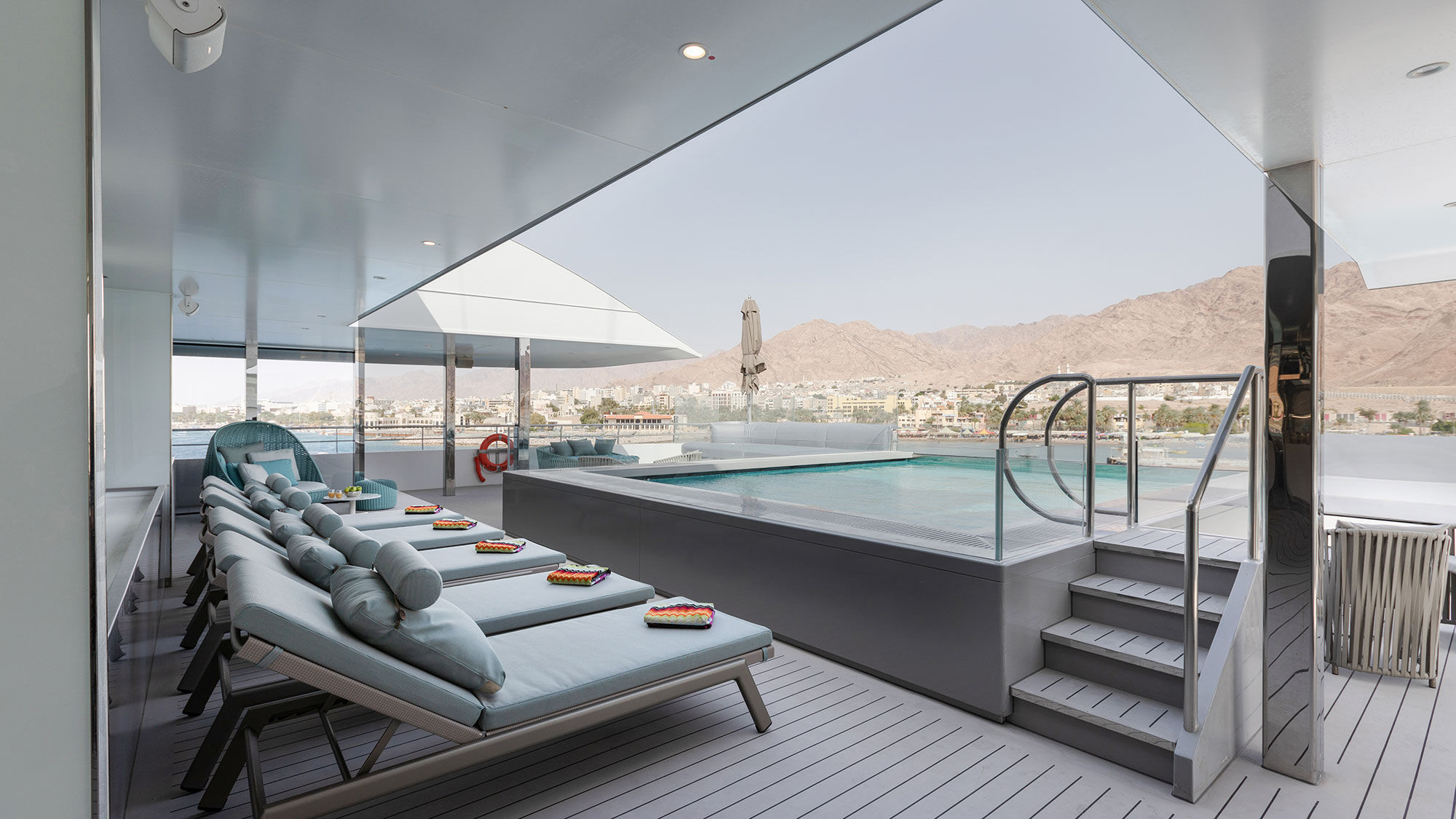 Two-thirds of the accommodations are balcony cabins of 285 to 306 square feet, with a half dozen each of oceanview cabins and larger suites rounding out the total. My bed was as comfortable as any I've slept in at sea. Another favorite feature was a tiny, red night light in the bathroom that eliminated the florescent shock of a midnight call of nature.  
A large "garage" below deck holds three 34-passenger aluminum tenders that exit the side of the ship by means of an ingenious winch system. We didn't get to use the tenders, or the aft marina platform, but they both look like assets for Azzurra.  
The look and feel of the ship was a bit hard to judge because many of the furnishings and art pieces did not arrive for our sailing, another casualty of the global supply-chain bust. But the general idea is of a contemporary yacht, with a color scheme of grays and greens and a lot of reflective surfaces, which serve to open up smaller spaces. 
I was curious to see whether there would be any entertainment at all on a ship of 100 passengers. It fell mainly to Pablo, a singer/guitarist from Venezuela whose versatile repertoire and musicianship offered something for everyone.
We also heard modern show tunes one night from cruise director Adam Illsey, who has West End theater experience and a powerful tenor voice.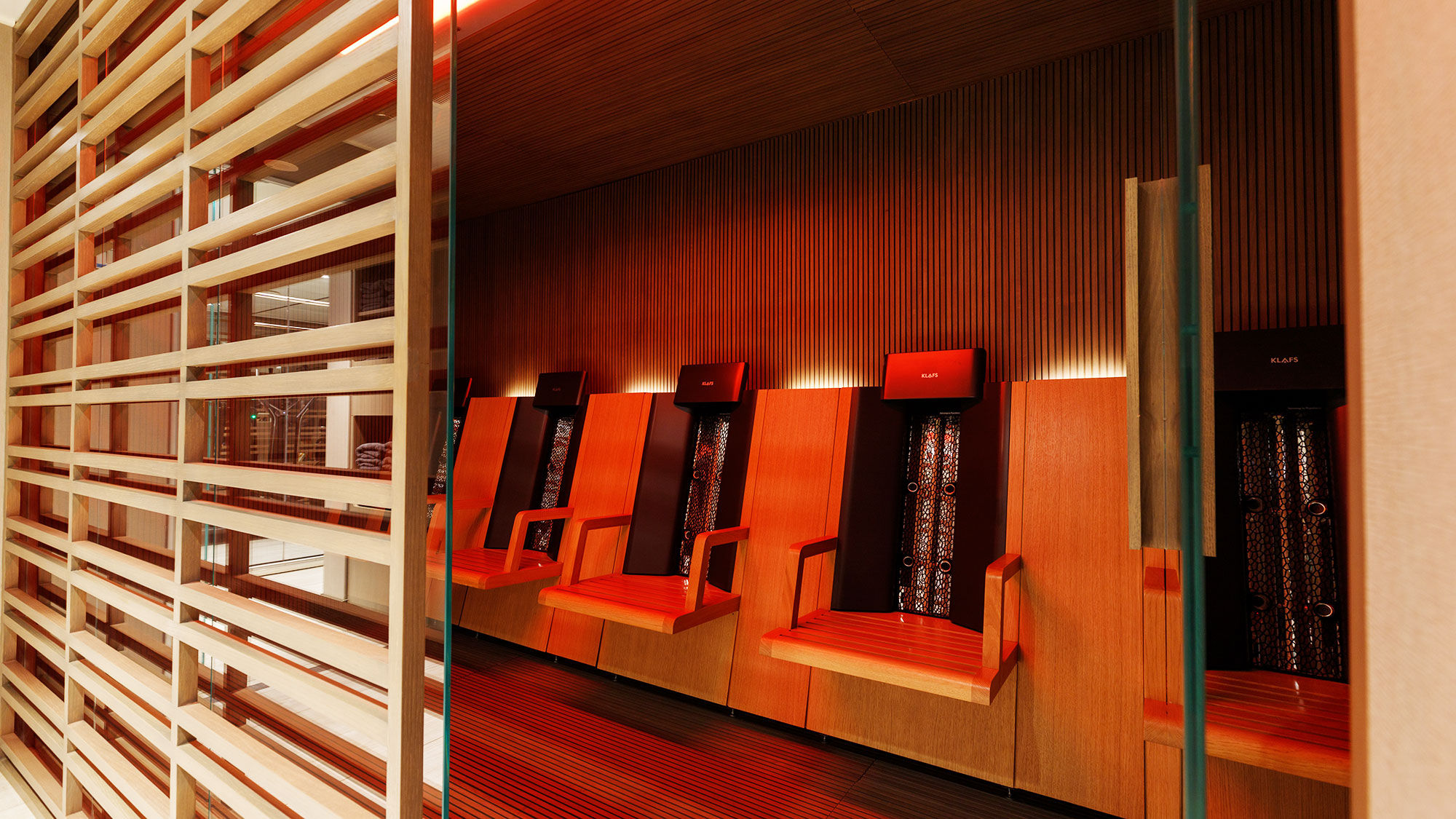 I took tours by bus to Jordan's lost city of Petra and Egypt's pyramids of Giza. The guides were knowledgeable, and the small size of the tour groups made the loading/unloading simple. The ship was able to arrange an independent snorkel tour for me and two other guests through its port agent in Sharm el-Sheikh, a guest services favor that might not happen on a big ship. 
In its first year, in addition to the Red Sea, the Azzurra will spend time in the Adriatic and the Eastern and Western Med. A sister ship, the Emerald Sakara, is set to be delivered in 2023 and will extend Emerald's reach to the Black Sea (geopolitical factors permitting) and the Indian Ocean.
Source: Read Full Article