Three passengers attack airline staff after being questioned on size of hand luggage
Three passengers have been banned from flying with Spirit Airlines after they allegedly physically assaulted two gate agents following an argument over hand luggage.
The two employees were both injured and one was hospitalised following the attack at Detroit airport on 17 January.
According to the airline, the altercation was sparked when staff questioned the size of the travellers' carry-on bags.
"The agents asked the group to verify that their carry-on bags were sized appropriately for the aircraft prior to boarding, at which time the passengers became combative," said a Spirit Airlines spokesperson.
"The agents attempted to calmly defuse the situation but were physically assaulted by these passengers as they closed a door to stop them from boarding the aircraft."
According to the carrier, the three passengers then boarded flight 646 to Atlanta without authorisation.
Two of the passengers were arrested while the third was issued with a police citation and released.
INDY/GO Weekly Newsletter
TIME TO TRAVEL!
Read our full mailing list consent terms here
INDY/GO Weekly Newsletter
TIME TO TRAVEL!
Read our full mailing list consent terms here
Video of the incident shared on social media shows one person hurling an agent to the ground with force, before others join them to pile on top of the airline worker.
Shocked onlookers can be heard on the video audio exclaiming: "Oh my God!"
The Spirit Airlines spokesperson added: "This violent behaviour is completely unacceptable and has absolutely no place in airports or any other place of business.
"We will not tolerate abusive behaviour of any kind and these passengers will be banned from any future travel with Spirit."
Watch more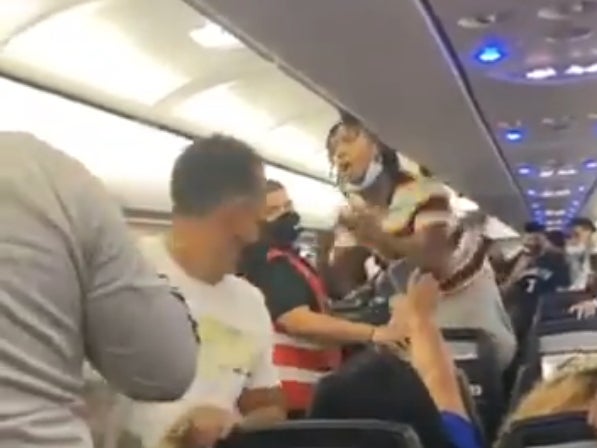 It's far from the first time airline passengers have become violent.
In October, a fight broke out between two passengers on a flight in the US after one of them allegedly refused to wear a mask.
A fellow traveller shared a video of the altercation, which took place on an Allegiant Air service from Mesa-Phoenix, Arizona, to Provo, Utah.
In the footage, one man can be seen pulling another man's hair, while surrounding passengers try to pull them off each other.
An Allegiant Air spokesperson told The Independent: "On Saturday, 3 October, a passenger was removed from flight 607 with service from Mesa, Ariz. to Provo, Utah, for refusing to comply with our mask policy.
"While the passenger was being escorted off the plane, he had an altercation with another passenger. Law enforcement was called to assist."
Source: Read Full Article